FALL ARTS 2018 THEATER: 'Macbeth,' 'King John' and Kahn's swan song
Iron Crow tackles 'Laramie Project,' Synetic offers 'Sleepy Hollow'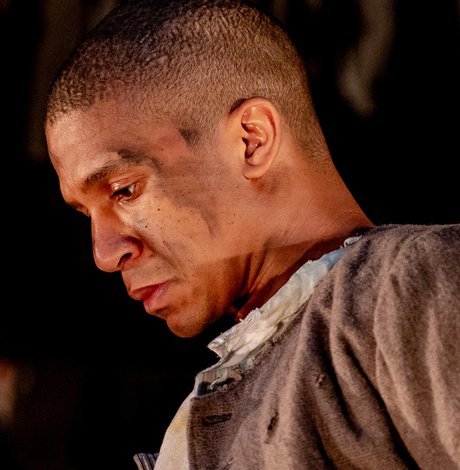 The fall theater season is proving to be an exciting mix of classics, area premieres and some promising new works. And, like always, LGBT theater professionals are playing a big part in making it happen. 
In memoriam of the 20th anniversary of Matthew Shepard's death, Baltimore's award-winning queer company Iron Crow Theatre (45 West Preston St., Baltimore) presents"The Laramie Project" through Sept. 23. With just eight actors playing about 60 characters, the seminal 2000 work weaves together interviews, journal entries and published news reports about the hate crime murder of the gay University of Wyoming student. It's written by out playwright Moisés Kaufman and the members of Tectonic Theater Project and John Knapp directs. Full details at ironcrowtheatre.org. 
Signature Theatre (4200 Campbell Ave., Arlington) continues with its season opener, an exquisite production of Stephen Sondheim's "Passion" through Sept. 23. Set in 1860s Italy, Passion portrays the unlikely but intense relationship between a dashing young soldier and his commanding officer's plain and ill-fated cousin Fosca. Out actor Claybourne Elder and Natascia Diaz give stellar performances. It's beautifully staged by out director Matthew Gardiner. 
Also, at Signature, out director Joe Calarco helms "Heisenberg" Sept. 18-Nov. 11. In this hit Broadway play, Simon Stephens ("The Curious Incident of the Dog in the Night-Time") writes about a chance encounter on a London train that changes two people's lives. Full details at sigtheatre.org.
Folger Theatre (201 E. Capitol St., S.E.) has kicked off the season with a wildly entertaining production of William Davenant's Restoration era adaption of Shakespeare's "Macbeth" (through Sept. 23). There's a lot happening here: fabulous period music performed by the Folger Consort, expanded roles for the witches and Lady Macbeth, and lots of blood and flourish. What's more, director Robert Richmond has opted to stage a play within a play and set the action in London's notorious Bedlam asylum. The uniformly excellent large cast includes Ian Merrill Peakes in the title role and Kate Eastwood Norris as his wife. Also featured is out actor Jaysen Wright as an asylum inmate with PTSD who's been cast to play Lenox 
Next up at Folger, Aaron Posner directs Shakespeare's epic royal power struggle, Shakespeare's "King John" (Oct. 23-Dec. 2). The cast includes Kate Eastwood Norris as Philip the Bastard and out actor Holly Twyford as Constance. Full details at folger.edu/folger-theatre.
Taffety Punk (Capitol Hill Arts Workshop, 545 7th St., S.E.) presents Sadie Hasler's dark comedy "Pramkicker" through Sept. 29. Find out what happens after a woman loses it in a café, kicks a pram and is then arrested and sent to anger management training. Details at taffetypunk.com.
At Mosaic Theater Company (Atlas Performing Arts Center, 1333 H St., N.E.) it's "Marie and Rosetta," running through Sept. 30. Geroge Brant's terrific play with music takes a glimpse into the personal/professional relationship of gospel singer and rock and roll pioneer Sister Rosetta Tharpe and singer/pianist Marie Knight. It's cleverly staged by Sandra L. Holloway with vibrantly memorable performances by Roz White and Ayana Reed. Full details at mosaictheater.org.  
Woolly Mammoth Theatre Company (641 D St., N.W.) starts the season with "Gloria," running through Sept. 30. Penned by Branden Jacobs-Jenkins, the 2016 Pulitzer Prize finalist centers on the cutthroat culture of the New York magazine world. The cast includes talented out actor Justin Weaks. Kip Fagan directs. Full details at woollymammoth.net.
Through Oct. 7, "South Pacific" runs at Olney Theater Center (2001 Olney-Sandy Springs Road, Olney, Md.). The Rodgers & Hammerstein's timely classic about love, war and racism is directed by Alan Maraoka. Full details at olneytheatre.org.
Theater Alliance (Anacostia Playhouse, 2020 Shannon Pl., S.E.) opened the season with "The Events," running though Oct. 7. Scottish playwright David Greig tells the story of Clare, the lone survivor of a mass shooting. Colin Hovde directs. Full details at theateralliance.com. 
GALA Hispanic Theatre (3333 14th St., N.W.) is presenting the U.S. premiere of the romantic comedy "Como agua para chocolate (Like Water for Chocolate)," through Oct. 7. Adapted from the novel by Laura Esquivel, the play (performed in Spanish with English surtitles), is the story of a young woman trapped by traditions who finds freedom in cooking "so magical it inspires people to laugh, cry and burn with desire." The cast includes Luz Nicolás and out actor Carlos Castillo. Full details at galatheatre.org.
Studio Theatre (1501 14th St., N.W.) enters fall with "If I Forget," through Oct. 14. Written by Bethesda native Steven Levenson, it's the story of a modern, D.C. Jewish family grappling with aging parents, Israel and real estate. Matt Torney directs. Full details at studiotheatre.org.
Ford's Theatre (511 10th St., N.W.) presents "Born Yesterday" (Sept. 21-Oct. 21). Directed by Aaron Posner, this terrific satirical comedy about an opportunistic tycoon who arrives in 1940s Washington with his naive girlfriend to game the political system (sound familiar?). Kimberly Gilbert stars as Billie Dawn, the role that Judy Holliday made famous. Full details at fords.org.
The Klunch (D.C. Arts Center, 2438 18th St., N.W.) opens its season with the world premiere of "How to Win a Race War" (Sept. 21-Oct. 30). Written and directed by The Klunch's out artistic director Ian Allen, the three-part comedy is "a parody of white supremacist 'race war' fiction, which has proliferated in the years since Timothy McVeigh named William Pierce's "The Turner Diaries" as inspiration for his brutal 1995 bombing of a federal building in Oklahoma City." (18 and older only). Full details at theklunch.com.
Shakespeare Theatre Company (Lansburgh Theatre, 450 7th St., N.W.) kicks off legendary out artistic director Michael Kahn's final season with "The Comedy of Errors" (Sept. 25-Oct. 28). Staged by out director Alan Paul, the Bard's madcap farce revolves around mishaps of two sets of twins, each with the same name. The top-notch cast includes out actors Sarah Marshall and Tom Story. 
Later into STC's season, Michael Kahn directs David Ives' "The Panties, The Partner and The Profit: Scenes from the Heroic Life of the Middle Class" (Dec. 4-Jan. 6). Moving from Boston in 1950 to Wall Street in 1986 to lavish Malibu today, Ives' funny new work is an adaption of Carl Sternheim's epic trilogy, "Scenes from the Heroic Life of the Middle Classes." Full details at shakespearetheatre.org.
Synetic Theater (1800 South Bell Street, Chrystal City) is set to give its movement-based interpretation of the spooky tale of Ichabod Crane and his encounters with the Headless Horseman in "Sleepy Hollow" (Oct. 3-Nov. 4). Details at synetictheater.org.
At Round House Theatre (4545 East-West Highway, Bethesda) Amber Paige McGinnis makes her directorial debut staging out playwright Paula Vogel's magnificent "How I learned to Drive" (Oct. 10 – Nov. 4). The award-winning play heartbreakingly chronicles a woman's attempt to break the silence and cycle surrounding sexual abuse. Ayssa Wilmoth Keegan stars as Li'l Bit. Details at roundhousetheatre.org.  
Constellation Theatre Company (1835 14th St., N.W.) begins its "Epic Love" season with Elton John and Tim Rice's "Aida" (Oct. 11- Nov. 18). Staged by out director Michael J. Bobbitt, the musical follows a love triangle involving Nubian princess Aida who's been kidnapped from her country; Radames, the Egyptian captain who enslaved her people; and his fiancée Princess Amneris. Details at constellationtheatre.org.  
At the National Theatre (1321 Pennsylvania Ave., N.W.) fall is filled with music — new and not so new. First, it's "Beetlejuice" (Oct. 14-Nov. 18). Alex Timbers directs the pre-Broadway world premiere of this new musical comedy, based on Tim Burton's quirky iconic film. After that, it's the road show of the Tony Award-winning Broadway hit "Beautiful: the Carole King Musical" (Nov. 27-Dec. 30). Details at Thenationaldc.org. 
At Theater J (offsite performance, Arena Stage, 1106 6th St., S.W.), it's Anna Ziegler's provocative new play "Actually" (Oct. 17-Nov. 18). Johanna Gruenhut directs this provocative new play about issues surrounding sexual consent at American colleges. The cast features Sylvia Kates and out actor Jaysen Wright. Details at Theaterj.org.
WSC Avant Bard (Gunston Arts, 2700 South Lang St., Arlington) presents the intriguing "Illyria, or What You Will," a work freely adapted from Shakespeare's "Twelfth Night" (Oct. 18-Nov. 19). Conceived by Jonelle Walker and Mitchell Hébert and directed by Hébert, the piece "reimagines Shakespeare's comedy of mixed-signal love in a downtown Manhattan dive bar in the early 1980s, where identity, sex and gender are what you will." The 11-person cast features out actors Christopher Henley and Frank Britton. Full details at wscavantbard.org.
The Kennedy Center presents "Anastasia" (Oct. 30-Nov. 25), a romantic musical by Lynn Ahrens and Stephen Flaherty about the fabled Grand Duchess Anastasia who may or may not have escaped execution during the Russian Revolution. Details at kennedy-center.org.
Arena Stage (1101 6th St., S.W.)  presents "Anything Goes" (Nov. 2-Dec. 23). Staged by Arena's artistic director Molly Smith, this Cole Porter comedy musical about love and hijinks on a New York to London bound luxury cruiser features — among many standards — "You're the Top" and "I Get a Kick Out of You." Corbin Blue plays young lovestruck Wall Street broker Billy Crocker. Full details at arenastage.org.
D.C.'s company dedicated to the LGBT experience, Rainbow Theatre Project (D.C. Arts Center, 2438 18th St., N.W.), presents "Jeffrey Higgins: A Deafening Sound (a cabaret)" (Nov. 23-24).  Directed and performed by Higgins, it's the exploration of a gay life through song. Details at rainbowtheatreproject.org. 
New Studio Theatre production explores misery of addiction
Slogging through the work of recovery in 'People, Places & Things'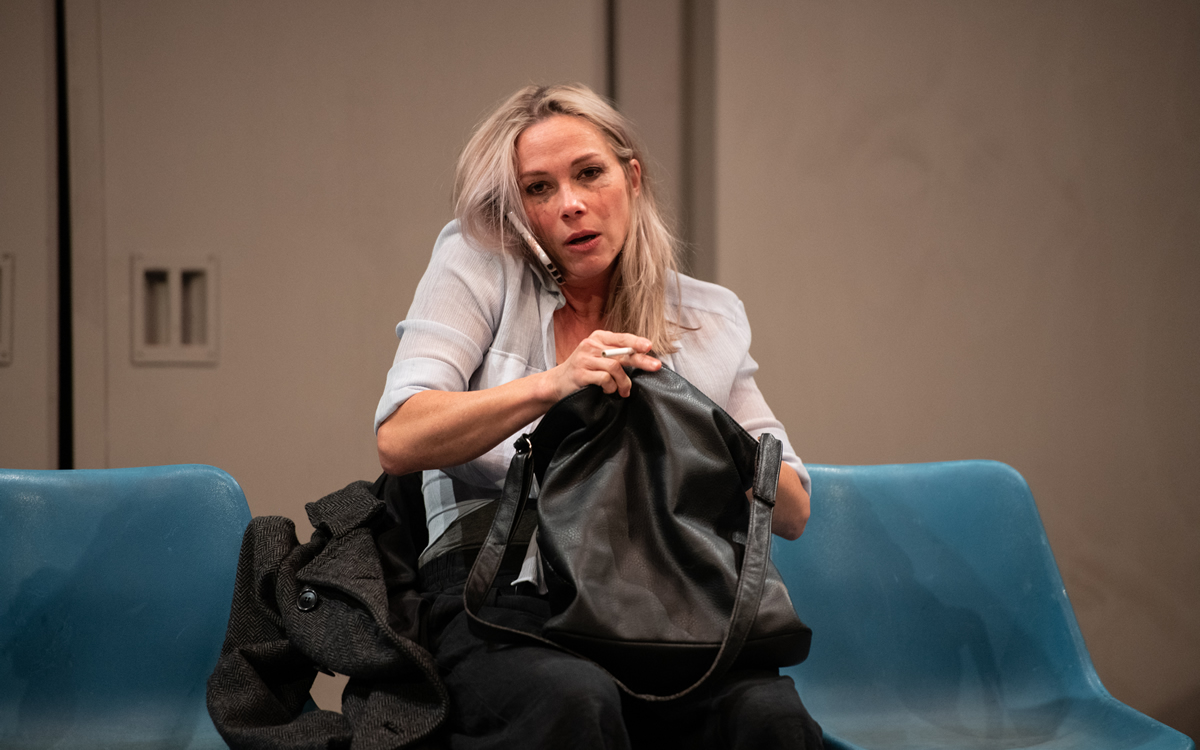 'People, Places & Things'
Through Dec. 11
Studio Theatre
1501 14th St., N.W.
$65-$95
Studiotheatre.org
Meet Emma, working actor and addict.  
After a lot of hard partying and an onstage collapse, the relapsing heroine of Duncan Macmillan's "People, Places & Things" devises a sort of strategy. She'll do a short stint in rehab and get back to work as soon as possible, sort of breeze in and breeze out. But things don't quite pan out as planned.
In Macmillan's superbly written and aptly named work (the title references a recovery slogan about triggers and relapse), the English playwright takes a lucid and, at turns, funny and mordantly perceptive look into the misery of addiction and the vicissitudes of recovery. At the center of his work is Emma — dishonest, witty, very toxic, but in spite of everything, likeable.
At Studio Theatre, director David Muse succeeds in leading an inventive design team and strong cast, particularly Kristen Bush as wily Emma, in bringing this not unfamiliar but compellingly told tale to life.
After a major professional screw up, (a wasted Emma implodes during a performance of Chekhov's "The Seagull"), she voluntarily checks into a British clinic. At intake she's still high and in an uncharacteristically honest moment, readily admits to having recently indulged in a panoply of pills, weed, coke, speed, and ibuprofen washed down with gin and a good bottle of Rioja.
Unsold on the 12 steps, she's resistant. Still the show must go on – loads of therapy (one-on-one and group) and role-playing sessions ensue. The medical professionals, staff, and patients are played effectively by Nathan Whitmer, Lise Bruneau, Tessa Klein, Maboud Ebrahimzadeh, Emily Erickson, Derek Garza, Lynette R. Freeman, and the excellent David Manis.
Jeanne Paulsen plays Emma's helpful doctor and later and more startling, her mother. Jahi Kearse adds an inspiring presence as a fellow addict.
Watching an addict slog through the yeoman work of recovery, and in this case an unenthusiastic patient's passage from detox to therapy to departure, isn't anything new; but here, the unfolding journey feels fresh despite or maybe due to the protagonist's dearth of pink cloud elation. There's also a real true-to-lifeness about it.
Studio's new Victor Shargai Theatre has been configured as alley staging (it's like a catwalk with banked seating on either side), making for an intimate experience. Debra Booth's institutional grey set changes fairly seamlessly and entertainingly to different spaces, all interconnected in Emma's recovery – a stage, an after-hours club evoking both allure and dread, offices, therapy rooms, and bedrooms.
Lighting by Andrew Cissna and Lindsay Jones's music contribute to a sometimes-unsettling mood. 
Macmillan wrote "People, Places & Things" with a meaty female role in mind. It premiered at London's National Theatre in 2015 and moved to New York a couple of years later. The production proved a great success for everyone involved, including Denise Gough who created the role of Emma. Bush is garnering a similar reaction at Studio.
As the action moves steadily toward an ending, contributing factors regarding Emma's dysfunction are revealed – cold family, a brother's death. Some definite headway is made. Still, there's no denying that over turbulent years, she's left some very hurt and disappointed colleagues and family in her frenzied drug fueled wake.
The actor/addict leaves rehab markedly less messy. Reentering the world as a different Emma, she lands at the home of her unsympathetic parents, not the most cushiony place for a sober re-launch.
Her future is unclear, and like her sobriety, can't be taken for granted.
D.C. theaters offer something for every holiday taste
From 'Hip Hop Nutcracker' to plenty of Scrooge productions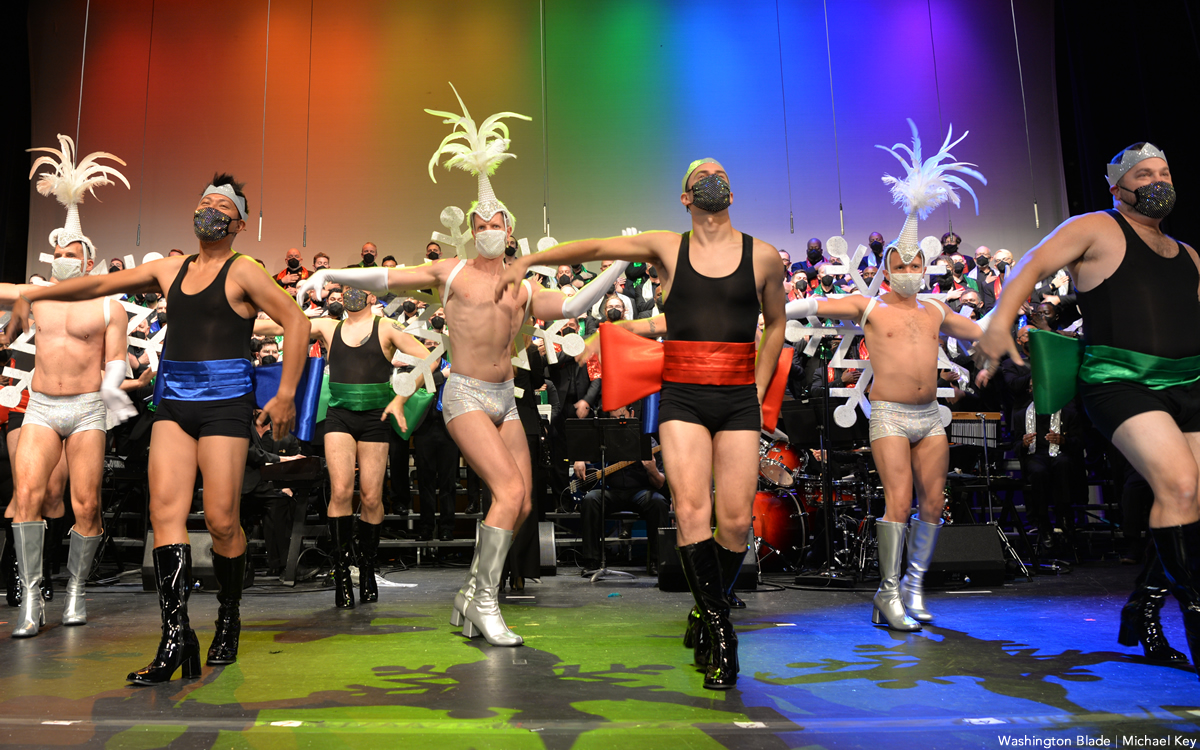 For many Washington area theatergoers, it wouldn't be the holidays without seeing an old chestnut or two. At the same time, newer productions are rapidly becoming yuletide traditions in their own right, and with every unfolding holiday season, the DMV scene is additionally gifted with fresh and exciting works.
It's a lot. Here's a sampling.
National Theatre presents "A Magical Cirque Christmas" (Dec. 16-18), an evening of varied performers and spectacular double-jointed cirque artists accompanied by your favorite holiday music performed live. Mistress of Magic Lucy Darling hosts this exciting and enchanting holiday entertainment for the entire family (well, almost, children under four are strictly verboten). Broadwayatthenational.com
At Synetic Theater in Crystal City, it's "Snow Maiden" (Dec. 1 – 23) based on a 19th century folk tale about a lonely man who creates a woman out of snow and created by Helen Hayes Award-winning choreographer and Synetic co-founder Irina Tsikurishvili. Synetictheater.org
In Falls Church, Creative Cauldron is conjuring magic with "The Christmas Angel" (Dec. 2-18). Married collaborators Matt Conner and Stephen Gregory Smith's musical is based on a little-known 1910 novel by Abbey Farwell Brown about a lonely woman who finds happiness through a box of old toys. Creativecauldron.org
The season now upon us offers myriad opportunities to experience Charles Dickens' "A Christmas Carol," the redemptive tale of Ebenezer Scrooge, perhaps the most celebrated Christmas character after Santa, Rudolph, and the baby Jesus.
Historic Ford's Theatre version of "A Christmas Carol" (through Dec. 31) has been a popular Washington tradition for more than 30 years. The beautifully produced and consistently well-acted take on the Dickens' classic (originally conceived by Michael Baron), features Craig Wallace reprising Scrooge, who after a night of ghostly visits, rediscovers Christmas joy. fords.org
At Olney Theatre, Paul Morello lovingly revisits his celebrated take on the "A Christmas Carol" (through Jan. 1). In his solo adaptation of Dickens' ghost story (created and performed by Morello), he brings to life more than 40 different characters including Scrooge, the entire Cratchit family, the specters, and numerous celebrants.
Olney is also reviving its holiday musical success "Disney's Beauty and the Beast" through Jan. 1, and reprising roles in the tale as old time terrific are out actor Jade Jones as Belle and Evan Ruggiero as the Beast. Out actor Bobby Smith plays Lumiere. Marcia Milgrom Dodge directs. Olneytheatre.org
In various books and interviews, movie star Bette Davis recounts how as a young girl, she most looked forward to finding theater tickets under the tree (a Davis family Christmas tradition). Perhaps you know a youth or adult, who'd like receive tickets this holiday season? The Kennedy Center Opera House is tempting audiences with a traveling production of the Broadway blockbuster "Wicked" (Dec. 8-Jan. 22), the much-loved prequel of the "Wizard of Oz." Kennedy-center.org
Signature Theatre adds to the holiday fun with "Into the Woods" (through Jan. 29), Stephen Sondheim and James Lapine's unique musical spin on treasured fairytales and "happily-ever-after." The large, uber-talented cast features — among other big names — Nova Y. Payton, out actor David Merino, and Maria Rizzo. Matthew Gardiner directs. Sig-theatre.org
Then there's always "The Nutcracker." Here are four from scores of local productions.
The Washington Ballet presents its charming version at the gilded Warner Theatre through Dec. 30. With Tchaikovsky's timeless music and splendid choreography by Septime Weber, this 1882 Georgetown-set production features historical figures including George Washington and King George III, along with the usual suspects like children, rats, fairies and a mysterious godfather. Washingtonballet.org
Bethesda's Music Center at Strathmore presents "The Hip Hop Nutcracker" (Dec. 19-22), Tchaikovsky's classic re-imagined with MC Kurtis Blow ("White Lines"). Strathmore.org
And Kansas City Ballet's celebrated seasonal tradition, "The Nutcracker," is at the Kennedy Center through Nov. 27, so you'll need to move fast.
The beloved Puppet Co. located within Glen Echo Park presents its 34th annual "The Nutcracker" through Jan. 1. The delightful puppet show includes Tchaikovsky's familiar music and the story of Clara and her prince, with some Puppet Co. nursery rhyme spin. (Recommended for ages 4+. Run time approximately 50 minutes.)
Running nearly concurrently at the Puppet Co. is "Hershel and the Hanukkah Goblins" (Dec. 1-30). "Hershel just wants to celebrate Hanukkah with the community, but the Queen and King of the Goblins have forbidden the lighting of the candles. Can Hershel save the day and lift the curse for this shtetl (village)?" (Recommended ages 5+. Run time approximately 60 minutes.) Thepuppetco.org
And for those who might find themselves all Nutcracker-ed out, Ballet Hispánico returns to the Kennedy Center with internationally renowned choreographer Annabelle Lopez Ochoa's "Doña Perón" (Nov. 30-Dec. 3), a truly exciting portrait of Eva "Evita" Perón. Kennedy-center.org
And for something festive, edifying, and relaxed, try the National Symphony Orchestra's "Ugly Sweater Holiday Concert" at The Anthem on Dec. 6. Go ahead, why not don something hideous and enjoy your favorite holiday songs?
Gay Men's Chorus of Washington is back with "The Holiday Show" (Dec. 3-11), an annual extravaganza that promises sparkly snow, tap dancers, and over-the-top costumes at their usual venue, the historic Lincoln Theatre in the U Street Corridor. Slated for the program are songs like "Sleigh Ride," "Underneath the Tree," "The 12 Rockin' Days of Christmas," "God Rest Ye Merry, Gentlemen," and "Hard Candy Christmas" performed by the full Chorus, soloists, all GMCW ensembles, and the GenOUT Youth Chorus. Gmcw.org
Poignant 'Sanctuary City' depicts two immigrants struggling to get ahead in America
Undocumented friends navigate post-9/11 New Jersey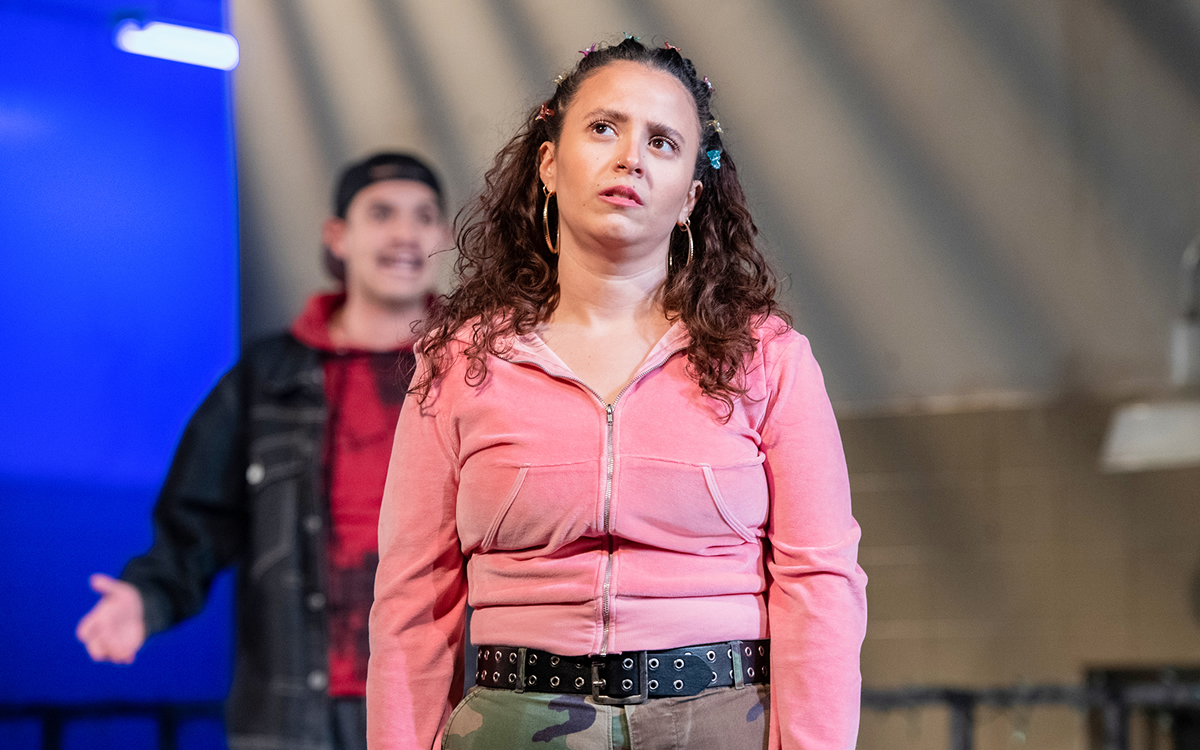 'Sanctuary City'
Through Nov. 27
Arena Stage
1101 Sixth St., S.W. 
$41-$95
Arenastage.org
As a kid growing up in San Juan, Puerto Rico, María Victoria Martínez was obsessed with musicals, Broadway shows like "West Side Story" and Disney movies were on nonstop rotation. She knew the scores by heart and longed to play not the ingenues or princesses, but rather character roles like "The Little Mermaid's" villainous Ursula and Miss Hannigan, the comically bitter lush in "Annie."
"Imitating the singers is how I learned English," says Martínez, 30. It also ignited a passion for theater that ultimately lured her into show biz (though she doesn't do musicals).
After earning a bachelor's degree from the University of Puerto Rico followed by a master's degree from A.R.T. (American Repertory Theater Institute for Advanced Theater Training at Harvard University), she kicked off a career as a multifaceted actor. Martínez follows the work, but splits most her time between San Juan and New York City: "It's my idea of a bicoastal existence," she says.
Currently Martínez, who identifies as queer, is at Arena Stage starring in Pulitzer Prize-winning playwright Martyna Majok's "Sanctuary City," an Arena/Berkeley Repertory Theatre co-production directed by David Mendizábal with associate direction and transfer direction by Cara Hinh.
Set in Newark, N.J., not long after 9/11, a time when anti-immigrant sentiment was on the rise, the new work is a timely and poignant piece. Martínez and out actor Hernán Angulo play longtime undocumented friends (simply called G and B, respectively), struggling to get ahead in America, the only home they've ever known.
Without giving too much away, adds Martínez, G's position in the U.S. is more stable than B's. Still, she's willing to fight to help secure his fate. He is arguably her only friend.
WASHINGTON BLADE: Would you describe your character, G, as the fierier of the two?
MARĺA VICTORIA MARTĺNEZ: Yes. As I read the play, I definitely saw this ardent fire in G. When she feels safe the fire burns but she feels in danger, her fire is combustible and liable to burn everything down. G is the engine that tries to keep B going, to uplift him, to find ways for him to stay in the country.
They share moments when they seem like brother and sister, sometimes friends, and even lovers. It's left open for audience to interpret as they watch the play. It's messy. And that's what makes it good.
BLADE: Was it tough moving the production across country?
MARTĺNEZ: Transferring theaters was tricky – they're very different spaces. In Berkeley we were in a black box almost in full round. Arena's Kreeger Theater is proscenium, so we've had to flatten out our blocking. But in doing so we found new moments in the show.
Audiences are different in every city. In California, there were certain moments in the show where audiences were really cracking up and here, we don't hear a peep. But after all, theater is a living organism and moving gives new and different life.
BLADE: In "Sanctuary City," you and Hernán Angulo play such incredibly close friends. How is that relationship offstage?
MARTĺNEZ: We were so fortunate to have been cast together. We got along right off the bat and now we're very close. I identify as queer and he identifies as a gay man. But it's really our Latinidad (Latinness) that brought us together. And we both love to laugh a lot. When apart we Facetime and share Tik Toks and serious articles too.
I'm Puerto Rican and he's Mexican American from the Bay Area. I'm interested in Mexican culture. Spanish is my first language; and Hernán speaks Spanish, so there's that too.
BLADE: Have you witnessed the courage and pain of undocumented people firsthand?
MARTĺNEZ: In Puerto Rico most of the immigrants are Dominicans. We're generally welcoming to them. But I have seen some bad things, and when I witness that aggression, it doesn't make sense to me. I can't understand blocking someone from seeking refuge.
BLADE: Anything directed at you personally?
MARTĺNEZ: Yes, I experienced some unsettling xenophobia when Trump was first elected. I was still at A.R.T. and traveling home to San Juan. At the airport, I was speaking Spanish and a lady purposely bumped into me and told me to go back to my country. I hold a U.S. passport, so you can only imagine what happens to people who are more vulnerable.
These things are really important to talk about. And I'm happy and proud to be doing the show in D.C. I think it gives it even more meaning.