August 30, 2019 at 3:53 pm EST | by Patrick Folliard
Brave Soul Collective explores rage at Page-to-Stage fest this weekend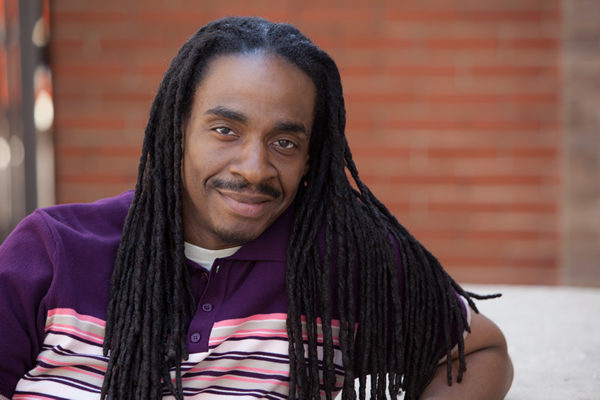 Page-to-Stage New Play Festival
Aug. 31-Sept. 2
The Kennedy Center
2700 F St., N.W.
Free
The Kennedy Center's Page-to-Stage New Play Festival has a lot to celebrate. This Labor Day weekend marks the 18th birthday of the free annual event dedicated to introducing new plays in progress. Among the many concert readings and workshops by over 60 area theatrical companies participating in even more performances, there are a number of compelling pieces focused on the LGBTQ experience.
Brave Soul Collective's #BlackGayRage (Saturday at 2:30 p.m. in the Atrium), an assemblage of short scenes, monologues, poems and personal testimonies performed by a cast of seven, speaks to what it's like for black queer people living at the intersection of racism and homophobia.
"We don't put pretty bows on this shit. We want you to feel uncomfortable," says Monte J. Wolfe, Brave Soul's out artistic and managing director. "But we're not trying to send anyone out of the theater with a loaded gun or want to slit their wrists. It's definitely an emotional roller coaster."
Conceived by Wolfe, #BlackGayRage is a collaborative effort performed by seven actors (including Wolfe) and penned by a group of writers (also including Wolfe and out playwright Alan Sharpe whom Wolfe describes as "the Mr. Miyagi to my Karate Kid.") Without Sharpe, Wolfe says he wouldn't be half the artist or black gay man that he is today.
Wolfe founded the Collective in 2006 after testing positive for HIV. The idea came to him at a spiritual service focusing on love.
"Not just romantic love but also self-love and self-worth," he says. "My spirit spoke to me. I needed to give a voice to the experience of black gay men living with HIV. It's something have to do, because no one else is going to tell our stories."
Prior to his epiphany, the Howard University graduate had been afraid to pursue his artistic goals. "The diagnosis changed everything," he says. "I thought to myself, 'OK, the worst thing just happened. Now what?' So, I reached out to collaborators, began staging performances and created a network for black LGBTQ artists. I moved forward."
D.C.'s Rainbow Theatre Project is presenting a reading of out writers Tim Caggiano and Jack Calvin Hanna's "Blue Camp" (Monday 6:30 p.m. in the Israeli Lounge), the story of gay and criminal soldiers housed in adjoining barracks waiting to be dishonorably discharged from the army at the beginning of the Vietnam War.
For a while, Caggiano had been kicking around an idea inspired by a gay friend's similar army experience. He'd envisioned the show as a sort of comedy/cabaret/musical. It never got off the ground. Then he joined forces with Hanna, and together the longtime friends reshaped the material into something entirely different, "a tragedy with comic overtones."
"Blue Camp" takes place in 1964, a pivotal time in Vietnam War history, but rather than focus on the military angle, it was the prospect of telling men's stories that drove Hanna and Caggiano. It was those difficult stories surrounding coming out, replete with relatable pathos and information, that they felt duty-bound to explore.
"There's lots of interaction between the groups while waiting to be discharged — taunting, and all kinds of back and forth. And through the course of the play, they're forced to work together. There's a grudge match baseball game," Hanna says. "All the characters — gay guys and criminals alike — are given a chance to tell their stories, what brought them to the place where they are."
Caggiano adds, "Our culture takes people that are demonizes and dehumanized and has them do the heavy lifting for very little pay. People are serving with a sword of Damocles hanging over them, fearing that they'll get kicked out an lose their benefits. For me, it's about that."