August 15, 2019 at 5:27 pm EDT | by Patrick Folliard
National 'Evan Hansen' tour is fun, noble and slightly bloated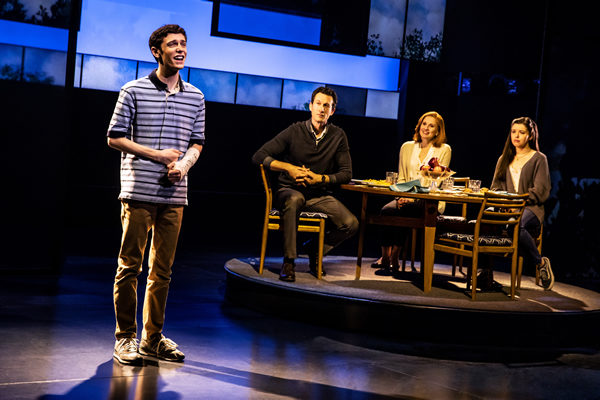 'Dear Evan Hansen' 

Through Sept. 8

The Kennedy Center 

2700 F St., N.W. 

$79-175

 202-467-4600
A lot has happened since "Dear Evan Hansen" premiered at Arena Stage four summers ago. After a buzzy, successful run in town, the story of a sad but likable adolescent connecting with the world moved to Broadway (where it's still running) and won six Tony Awards including best actor for Ben Platt in his star-making turn in the title role (though incidentally, Platt did not receive a nomination from the Helen Hayes Awards).
What's more, since its debut, the popular coming-of-age musical has garnered a cultish following among young theatergoers, guaranteeing boffo box office certainty.
And now, "Dear Evan Hansen's" first North American tour has come to where it all began. But rather than revisiting Arena, it's at the Kennedy Center's Eisenhower Theater where it will remain moored through early next month.
American high school, a ruthless arena where merciless peers blithely relegate misfits to four years of perdition, seems the perfect place for artists to work out feelings of angst and alienation. It depicts 17-year-old Evan, friendless and percolating with anxiety, who's about to embark on his final year of suffering. But this time it will be different. Death and lies will improve his lot in ways he never imagined possible. And judging from ticket sales, Evan's experience resonates.
As Evan Hansen, actor Ben Levi Ross is wearing the now-familiar, blue-and-white-striped shirt and a cast on his broken forearm is both silently despondent and an angsty raw nerve. He's the embodiment of the lonely youth who's happiest holed up in his bedroom tapping away on a laptop. Rarely home, but genuinely concerned is his mother Heidi played by Jessica Phillips, who despite unfashionable jeans looks more Bergdorf blonde than harried, overworked single mom.
Steven Levenson's libretto cleverly turns on a letter (hence the show's salutation-inspired title). At the suggestion of his therapist, Evan composes a letter to himself reflecting his thoughts on the dreaded first day of school. What's meant to be an exercise in self-esteem building asks, "Would anyone even notice if I disappeared tomorrow?" The letter also mentions Zoe Murphy (Maggie McKenna), the seemingly self-assured girl Evan admires from afar but would never dare approach.
As fate would have it, that fraught letter is found at the printer in the computer lab by another outcast student, Connor Murphy (Marrick Smith), an intimidating loner who also happens to be Zoe's older brother. When Connor unexpectedly kills himself, the letter, now misconstrued as a suicide note from Connor to his secret friend Evan Hansen, is found in his pocket.
Connor's heartbroken parents — Larry (Aaron Lazar) a corporate lawyer, and Cynthia (the reliably excellent Christiane Noll), a stay-at-home who dabbles in Eastern religions — are curious to learn more about Evan, a stranger who speaks well of their difficult son. Zoe isn't entirely convinced of the friendship or that her brother was anything other than awful.
While Evan initially intends to set the record straight, he's reveling in the attention from Connor's parents and enjoying his newfound proximity to Zoe far too much to come clean.
So, to keep the charade going, Evan enlists assistance from Jared (the very funny Jared Goldsmith), a mocking, money-focused family friend who composes a fake yet uplifting email correspondence between Evan and the dead boy, and grating classmate Alana (Phoebe Koyable), who claims Connor as her friend too, and encourages Evan to join her in creating a memorial blog.
Evan's story is an amalgam of smarmy and heartwarming. By lying, he eases the pain of a grieving family. He conjures a son who is sensitive and appreciative, and a brother who beneath the sibling warfare, truly cares for his sister. And for himself, Evan creates closeness and memories surrounding the best friend he never had. He also stands to advance his standing in the world.
With a soft rock score passionately sung by a mostly talented cast, out composer Benj Pasek and his songwriting partner Justin Paul, give the characters an outlet for unspoken feelings, especially Evan's poignant "Waving Through a Window" and "For Forever," both sung beautifully by Ross.
The second act takes a disappointing turn. The spotlight moves from the very personal to something much broader and less interesting. In seeking to serve as a balm for all the lonely and unhappy people out there, things become a little tiresome.
True to out director Michael Grief's original staging, the touring production seamlessly brings together the real and virtual worlds that so many of us straddle. Designer David Korins' set is made up of moving scrims on which are projected Facebook pics along with myriad posts and comments from Instagram and Twitter feeds. But without Platt as Evan and Rachel Bay Jones playing his mother, the show loses some of its original zip and impact. And while a set redolent with social media remains relevant, its fresh effect has faded.
Millions of cheering fans will undoubtedly disagree, but I suspect I'd prefer "Dear Evan Hansen" as a 90-minute, intermission-less chamber piece. A pared-down take on Evan's story featuring a small cast backed by just a few looming images of social media's pretty, happy, sunny people.