August 8, 2019 at 2:43 pm EDT | by Patrick Folliard
Out actor/singer Ben Chavez relishes sidekick role in 'Aladdin'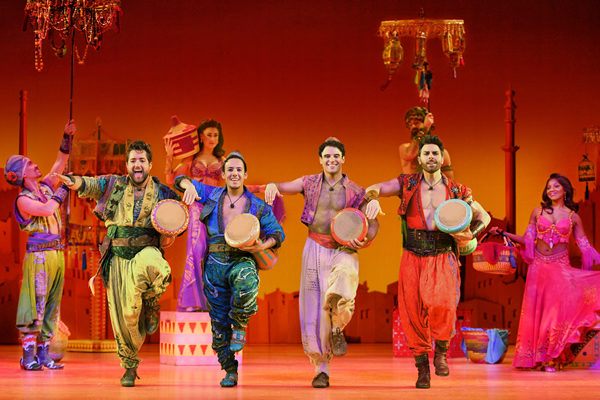 Disney's 'Aladdin'

Through Sept. 7

Kennedy Center Opera House

$39-179

202-467-4600
There's a ground rule in improvisational comedy. It's called "yes, and" — the idea is that you never reject what your improv partner throws at you. Rather than shut it down, you go with it and add something to the scene.
Out actor Ben Chavez, part of the national tour of Disney's "Aladdin" (now at the Kennedy Center Opera House), describes "yes, and" as his personal mantra.
"I'm open to whatever's being put into my path. In this moment it's travel, 'Aladdin,' and exploring a social life as a single gay man. I'm saying yes and seeing where it all takes me."
Chavez plays Omar, one of three sidekicks who follow likeable Aladdin (Clinton Greenspan) through an exciting adventure that spans from street hustling to princely pursuits. The pals are different, Chavez explains. While Babkak (Zach Bencal) is obsessed with food and Kassim (Colt Prattes) is a hot head who wants to take the lead, Omar is rather noble, trusting and sentimental.
And though Omar comes off as more than a tad fey, Chavez doesn't perceive him as gay. In his storytelling, Omar is straight, a little Latin lover who carries a cute torch for Princess Jasmine (Kaenaonalani Kekoa).
"I sprinkle some of my background (Italian and Salvadoran) into the part," Chavez says. "I'm a type: a short Latin guy with an atypical look. I'm cast in character roles. Sidekicks. Funny bits. That's my niche. Omar is exactly that."
Initially, the trio was intended to be part of the animated film in the '90s. But animal sidekicks were in vogue, so the guys were replaced with a monkey named Abu, Chavez says. But for the Broadway musical, a human trio works better than recreating a beloved monkey on stage.
Choreographed and directed by hitmaker Casey Nicholaw, "Aladdin" recently marked its fifth year on Broadway. The North American has been underway for about two years. Chavez joined the company as Omar four months ago.
It's a big glitzy show filled with Disney magic and familiar tunes ("A Whole New World," and Genie and Aladdin's "Friend Like Me"). There's some grownup humor and romance. It makes a perfect date, Chavez says.
As Omar, Chavez is living his dream.
"I'm not only traveling and working with a national tour, but I'm bringing Broadway to people. And I'm giving kids a glimpse into theater maybe for the first time."
For Chavez, geography has figured prominently in his destiny. From his childhood home in Rutherford, N.J., he could see the Manhattan skyline. It was like Broadway beckoned. Over the years, he frequently made the short trip into the city for lessons in dance, voice (he's a tenor) and acting — everything from pirouettes to Shakespeare, he says. And to see shows ("Les Misérables" was his first).
For Chavez, New York City was the ideal place to come out, and not for the reasons one might initially suspect.
"In New York, there are some beautiful Christian communities of faith that are extremely welcoming and LGBTQ affirming. That's something I didn't know existed, and it was an exciting discovery. We all need a spiritual home whether it's church, a group, yoga class or some kind of mediation. Since coming out in my freshman year at N.Y.U., I've been on an exciting journey to marry Christianity with sexuality. For a long time, I thought they were mutually exclusive, but they aren't."
Also, an accomplished composer who has played piano since age 3, Chavez takes time to write songs on the road (every theater offers access to a piano).
"Writing music is like a diary, a place where I can explore my deepest feelings and thoughts," he says. "And unlike performing, I have total control when I compose."
His goal on tour is to write a new song in every city. Thus far, he's been successful. Chavez hasn't begun his D.C. song yet, but says "There's definitely lots to work with here."