October 3, 2019 at 4:44 pm EST | by Thom Murphy
Tegan and Sara look back to the '90s on stunning new album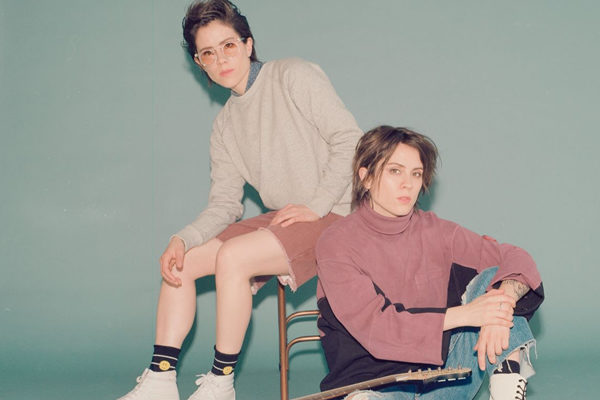 This week I had the chance to see the jukebox musical "Moulin Rouge" on Broadway, based on the 2001 film of the same title. And while the singing, dancing and set were beyond anything I've seen so far, I couldn't help but leave feeling a bit depressed about the hollowness of the music — most of it recent pop — which felt more like a collection of marketing jingles.
What a relief it was to be reminded that this isn't the condition of all current music by Tegan and Sara, whose newest album, "Hey, I'm Just Like You," was released last Friday on Sire Records. "Hey, I'm Just Like You" is their ninth studio album, following a long chain of recordings beginning with their 1999 debut "Under Feet Like Ours." But the record does something rather unusual — the twin sisters have re-recorded and re-worked a number of songs they wrote while in high school in the mid '90s. This comes in conjunction with the release of their new memoir "High School," which focuses on their high school years in Calgary, their struggles with queerness and the inception of their musical project.
Nostalgia glimmers on the new record, like a vintage car that has been carefully restored to a better condition than it ever knew in its heyday. As such, the new album easily capitalizes on the '90s as focus of so much nostalgic feeling: The internet before Cambridge Analytica, overalls, and of course Alanis Morisette's "Ironic."
The album plunges into this world straightaway with the first track, "Hold My Breath Until I Die." The song has an uptempo, alternative pop-rock sound and an instrumentation that is neither over produced nor excessively busy, typical of a distinctive '90s rock sound. Lyrically the teenage angst comes through distinctively: "Late at night, when your words are eating me alive/does it make you sad to leave me here like that?/in my dreams' the blood runs from my eyes/if I fall' will you catch me in your arms?"
This is not to say that the new album sounds exactly like their early stuff. On the contrary. Re-listening to "Under Feet Like Ours" and their second album "This Business of Art" (2000) one can't help notice a grittier, tougher sound, one that fades away slowly through subsequent releases and ultimately evolves into the sisters' 2013 record "Heartthrob," which is basically just synth pop. The new album layers the grit of their early sound with the sentimental gloss of nostalgia. It makes for a seemly balance of the music of yesteryear and a contemporary sound.
The lead single "I'll Be Back Someday" functions as an teen anthem, pulsing with the restless energy that only puberty can supply: "I run, run, run, run, run away/get, get, get, get, get away/but I'll be back someday." It's a head-banging, must-see-live kind of concert song. But it is also another example of the fusion between old and new. The bridge offers something akin to a mellow synth pop sound, linking together the riotous refrains.
"Hello, I'm Right Here" is one of the slower, sadder tracks on the album. Largely piano driven, it's a testament to the versatility of the sisters. And it captures the mournful and ubiquitously teenage desire to be seen. "I Don't Owe You Anything" is a slower, synth-heavy rock track. Another successful integration of contemporary pop sound with angsty lyrical content. It's impossible not to belt along, without falling into the mindless earmwormery that is everywhere so pervasive.
The album does a great job of making peace between the old and new. Opening with an almost wistful sound, it seamlessly integrates the more poppy tracks, including the pop apex of the album, "We Don't Have Fun When We're Together Anymore." It's masterfully moody yet fun album, an absolute treat for anyone suffering from residual '90s nostalgia. Let's hope it catches on.