October 12, 2019 at 8:12 pm EDT | by Brian T. Carney
New Almodovar film 'Pain and Glory' is sublime instant classic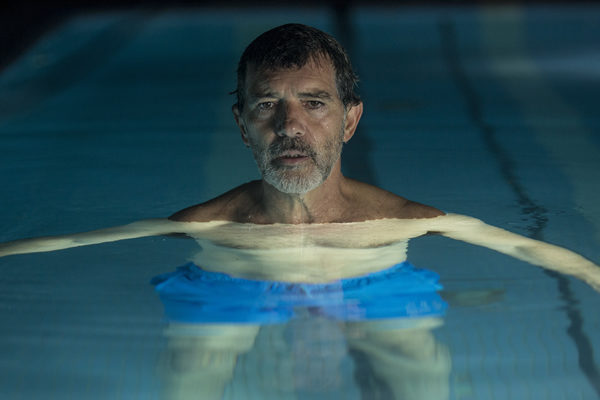 "Pain and Glory" ("Dolor y Gloria"), the 21st film by out Spanish writer/director Pedro Almodóvar, is a sublime masterpiece by a queer auteur at the top of his game. It's a profound and effortless journey through themes that have obsessed the master filmmaker throughout his amazing career: desire and sexuality, the need to create and communicate, the blurred lines between past and present and between reality and fiction, the lure of drugs, religion, the complicated bonds between mothers and sons and the challenges of maintaining both friendships and romantic relationships. Passionate and precise, it's a dazzling artistic achievement and a glorious collaboration between a master craftsman and his long-term creative colleagues, along with a few new partners.
The semi-autobiographical "Pain and Glory" (it opens today in Washington in Spanish with English subtitles) is about the trials and tribulations, and ultimate triumph, of filmmaker Salvador Mallo. (Almodóvar says it's part of an unintentional trilogy with "Law of Desire" and "Bad Education," which also focus on male film directors and their artistic and personal obsessions.) Mallo is played by frequent Almodóvar collaborator Antonio Banderas, who won the best actor prize at the Cannes Film Festival for his incandescent portrayal of man in search of redemption.
As the movie opens, Mallo is at a standstill, waylaid by a variety of physical and psychological conditions. (Juan Gatti's delightful animations accompany Banderas' recitation of his many ailments.) Suffering from chronic back pain, he's unable to write and fears that he will never have the physical strength to work behind the camera again. Under the influence of several drugs (prescribed and otherwise) and unable to move forward, Mallo is adrift in a sea of memories.
In memory, Mallo is reunited with his late mother Jacinta, played as a young provincial woman by Penelope Cruz and as an old woman by Julieta Serrano. (Both women are long-time Almodóvar collaborators and both turn in searing performances.) Newcomers Asier Flores and César Vicente play Salvador as a 9-year old boy and Eduardo, the handyman who is the object of Mallo's first crush.
In reality, the restoration of Mallo's film "Sabor" ("Taste") leads to a series of reunions. He meets up with the actress Zulema (Almodóvar veteran Cecilia Roth) and with two of the most important men in his life: his former lover Federico (Leonardo Sbaraglia) and the actor Alberto Crespo (Asier Etxeandía) who starred in "Sabor."
The line between memory and reality becomes porous when Alberto convinces Salvador to let him stage his short story "The Addiction" as a dramatic monologue. "The Addiction" is about the passionate relationship between Salvador and Federico during the wild period in Madrid in the 1980s following the fall of Franco.
These fascinating threads weave seamlessly together as Mallo slowly gathers the strength to pull his life together and resist the allure of living in the past. With the help of his devoted friend Mercedes (Nora Navas), he begins work on a new project called "The First Desire." The final tableau is sublime.
Almodóvar's brave and daring work in "Pain and Glory" is simply stunning. He is in complete command of the camera and every shot displays his mastery of sound, color and pacing. His work with long-time collaborators José Luis Alcaine (director of photography) and Alberto Iglesias (original score) is amazing, as is his work with new partner Teresa Font (editor).
The design of the film is exquisite. The visual contrast between his childhood in the poor provincial village of Paterna in Valencia and his present-day life in Madrid is arresting. It's fascinating to note that the design is so deeply influenced by Almodóvar's own life. Banderas' hair is styled the same way as the director's and the actor is often dressed in clothes from the director's own closet. Mallo's Madrid apartment is based on Almodóvar's residence and the set was filled with the director's own furniture and furnishings.
The acting is outstanding. Banderas turns in a magnificent, multi-layered performance as the artist in crisis. This is the eighth film Almodóvar and Banderas have made together. Both men started their careers as part of the artistic resistance to the autocratic regime of General Francisco Franco. Banderas made his film debut in Almodóvar's "Labyrinth of Passion" (1982) and was featured in several of the director's early films. After successful careers in Hollywood and Madrid, the two men enjoyed a cinematic reunion in "The Skin I Live In" (2011).
Based in part on their long artistic partnership, Banderas creates a nuanced portrait of an artist who is clearly based on Almodóvar but who is clearly not Almodóvar. Banderas captures Mallo's physical pain and growing despair with remarkable clarity. Banderas is also at the top of his game and it's wonderful to see him in a role that's worthy of his talent.
The rest of the cast is equally strong. Cruz and Serrano are magnificent as Mallo's mother in different time frames. Vibrant young Jacinta blazes with her fiercely over-protective love for her son, yet also joyously breaks out in song while washing clothes in the river with the other women of the village. Frail old Jacinta is bitter, isolated in the big city and poisoned by her homophobia. Remarkably, the two wonderful actresses create one seamless performance. Likewise, Flores' fine performance as young Salvador shows the roots of the man he will become.
It's destined to be a classic movie in the LGBT canon and is a must-see for all queer cinephiles.