October 18, 2019 at 11:35 am EDT | by Brian T. Carney
Blade 50: Blade film reviews cover wide spate of queer content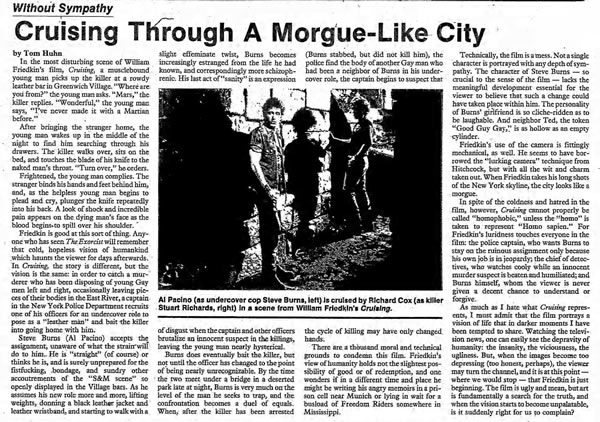 Happy 50th birthday Washington Blade!
I've had the privilege of being the Blade's movie critic since September 2011. I also served as an arts writer from 1993-1995. It's been a fascinating time for LGBT filmmakers and a fascinating time for queer film criticism.
I'm a proud card-carrying member of GALECA (the Society of LGBTQ Entertainment Critics). Every year our 200-plus members present the Dorian Awards to outstanding films and television shows. We celebrate excellence (and sometimes campiness) on the big screen and the small screen, but we proudly shine a spotlight on outstanding LGBT works and artists (and allies). Our awards are covered by Variety and The Hollywood Reporter and are catalogued by the Internet Movie Database (IMDB) and Wikipedia.
We've celebrated LGBT representation in great movies like "The Favourite," "Moonlight" and "Carol" and in amazing television shows like "Transparent," "American Horror Story" and "Pose."
But we've also been there to talk about the overall lack of diversity in Hollywood studios and to highlight problems with LGBT representation on the big and small screen. I've written about the homophobia in "Green Book" and "Bohemian Rhapsody" and Hollywood's problem with casting out LGBT actors in LGBT roles.
I've also had the opportunity to offer a queer perspective on movies like the Dick Cheney biopic "Vice" by the (straight) award-winning director Adam McKay. Most mainstream critics didn't mention the character of Cheney's lesbian daughter Mary, played by Alison Pill, or mentioned her only in passing. But a closer look at her appearances showed how McKay tried to humanize Cheney by focusing on his (partial) acceptance of her sexuality. Did it work? No. Dick Cheney is still a monster. But, it's an interesting moment for the representation of lesbians in Hollywood. And the Blade was there.
In the 50 years the Blade has been around, there's been a rather remarkable shift in the way Hollywood depicts LGBT characters. Speaking very broadly, we've gone from coded sissies (like Bert Lahr's Cowardly Lion in "The Wizard of Oz" and "the only good gay is a dead gay" (think "The Children's Hour") to pleas for tolerance and demands for acceptance (think "La Cage aux Folles" or "Torch Song Trilogy") to contemporary movies where sexuality is a personality trait and not a problem in and of itself (think "Booksmart" or "Love, Simon"). It's been a remarkable journey, although there's still a long way to go, especially in increasing the visibility of trans and genderqueer characters and actors.
It would take some major time and a deep dive in the Blade archives to determine when the paper started running movie reviews. We know it wasn't immediately — the first issues were mimeographed one-three-sheet editions. Theater and music reviews were more abundant in the paper in the '70s. But by the dawn of the 1980s, movie reviews were common in the paper.
A story by Dave Walter on the front page of the Feb. 7, 1980 edition told of a movie chain, General Cinema Corporation, that refused to show the highly controversial movie "Cruising," the William Friedkin ("The Exorcist") movie with Al Pacino about a serial killer targeting gay men. But it wasn't out of any sense of solidarity for gay people — the chain told the Blade the movie, "In our judgement, should be X-rated," and thus didn't meet its criteria for exhibition.
In the following week's edition, critic Tom Huhn called the movie "technically a mess" but said it was more dark and grim than homophobic.
Through seasonal previews and annual reviews and top ten lists, as well as participation in GALECA's Dorian Awards, the Blade has come to play an important role in regional and national film coverage. But the Blade plays a very special role in celebrating and promoting LGBT creators and queer content.
For example, the D.C. metro area is host to several great film festivals. The Blade has played an important role in spotlighting queer content at these festivals and has also encouraged events to up their diversity game when necessary. This weekend (October 17-20), the wonderful Middleburg Film Festival includes great films by and about queer people, as well as some cool sneak peeks at upcoming Academy Award contenders. Next weekend (October 25-27), D.C.'s fabulous Reel Affirmations Film Festival celebrates LGBT filmmakers from around the globe.
The Blade is there to follow the career arc of great queer auteurs like Pedro Almodóvar from his early movies ("Pepi, Luci, Bom and Other Girls Like Mom") to his latest masterwork ("Pain and Glory"). His movies are celebrated around the world, but amazingly, there are mainstream critics who fail to note Almodóvar's proud identification as gay man (which is crucial to understanding his work) or to fully discuss the queer themes in his work (not to mention Antonio Banderas' decades-long work as a queer ally). That's why the Blade's queer film criticism matters.
The Blade is there to discuss the new work of great LGBT narrative filmmakers like Angela Robinson ("Professor Marsden and the Wonder Women"), Ira Sachs ("Little Men" and the upcoming "Frankie"), Gus van Sant ("My Own Private Idaho," "Milk" and "He Won't Get Far On Foot") and Wash Westmoreland ("Colette") as well as great queer documentarians like Kimberly Reed ("Prodigal Son" and "Dark Money,") Matt Tyrnauer ("Scotty and the Secret History of Hollywood" and "Where's My Roy Cohn?") and Ryan White ("Ask Dr. Ruth").
The Blade is also there to profile fascinating LGBT and genderqueer actors including Murray Bartlett, Asia Kate Dillon, Ser Anzoategul and Natalie Morales (not to mention cool allies like Taylor Swift's boyfriend Joe Alwyn and Andrea Riseborough).
Perhaps most importantly, the Blade has been there to spread the word about emergent queer filmmakers, many of whom got crucial early exposure through Reel Affirmations: Fawzia Mizra ("Signature Move"), Sudhanshu Saria ("Loev"), Janelle Williams-Thomas ("Water in a Broken Glass"), Desiree Akhaven ("The Miseducation of Cameron Post"), Ellen Smit ("Just Friends") and Lucio Castro ("End of the Century").
Finally, as the growth of streaming television has increased the opportunities for LGBT representation on the small screen, the Blade has widened its focus to look at the pansexual superheroes on the CW, to the lesbians playing a central role in the resistance on "The Handmaid's Tale," to California teens exploring their gender and sexual expression on "Euphoria," to the futuristic drama of "Years and Years" to the delightful family-friendly LGBT-affirming adventures of "The Bravest Knight" and "The Dark Crystal: Age of Resistance."
Here's to another 50 years of the Washington Blade being a bold voice in exploring LGBT representation in Hollywood.