February 13, 2019 at 12:00 pm EST | by Brian T. Carney
Nominees the least controversial thing about this year's Oscars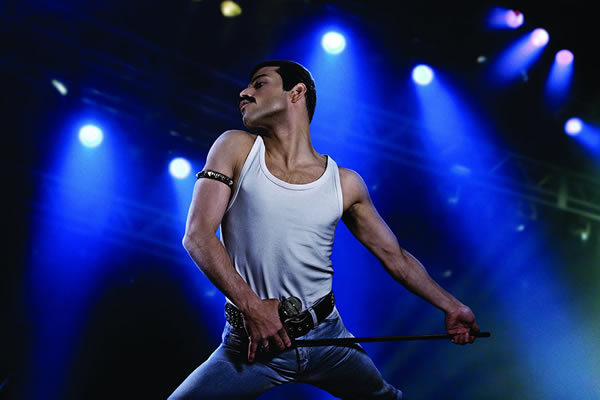 This year's Oscars show, which will be broadcast on ABC this Sunday (Feb. 24), will be like a cinematic Zen koan. The 91st annual Academy Awards honoring movies from 2018 will be its queerest show ever, but there won't be many openly LGBT people onstage.
And since there are no clear front runners, there shouldn't be any upsets or controversies during the ceremony. Instead, thanks to some wild missteps by the Academy, most of the Oscar drama happened before the red carpet was even rolled out.
Following years of bad reviews, falling ratings and bloated runtimes, the Board of Governors of the Academy of Motion Picture Arts and Sciences decided to make changes for the 2019 awards ceremony.
In August 2018, in an ill-conceived attempt to bridge the gap between popular favorites (which don't win Oscars) and critical favorites (which do), the Academy announced the creation of a new category: Best Popular Film. The Academy did not release any criteria for how these films would be selected and the proposal met with widespread derision.
The following month, the Academy announced that the introduction of the category would be delayed to "examine and seek additional input regarding the new category."
In October, the Board of Governors announced that producers Michael De Luca and Jennifer Todd would be replaced by Donna Gigliotti and Glenn Weiss.
In December, the Academy announced that comedian Kevin Hart would host the Oscars ceremony. When homophobic jokes and tweets from the actor surfaced, LGBT film fans and their allies instantly demanded that Hart be removed as host. Despite Ellen DeGeneres' attempt to serve as an intermediary between a somewhat apologetic Hart and the Academy, Hart quickly stepped down as host.
Since the awards date was rapidly approaching, and since a number of previous hosts (including DeGeneres, Neil Patrick Harris, Seth McFarlane, Chris Rock and Jimmy Kimmel) publicly stated they had no interest in hosting the 2019 show, the Academy announced that there would not be an official host for the ceremony. Instead, a long string of performers and celebrities would present the awards. The last time the Academy tried this at the 61st ceremony in '89, it was widely panned.
Last month, the Academy shot itself in the foot again. In order to shorten the show, the Academy announced that only two of the five nominated songs would be performed live. Kendrick Lamar would sing "All the Stars" from "Black Panther" and Lady Gaga and Bradley Cooper would sing "Shallow" from "A Star Is Born."
There was an immediate backlash from audience members and industry musicians, most notably previous nominee and "Mary Poppins Returns" star Lin Manual Miranda. The Academy reversed its decision six days later.
Finally, earlier this month, in another attempt to shorten the broadcast, the Academy announced that awards in four categories (Best Cinematography, Best Film Editing, Best Live Action Short Film and Best Makeup and Hairstyling) would be presented during commercials breaks. Audiences could stream the presentations live online and edited acceptance speeches would be aired later in the ceremony.
Led by angry fans, the Hollywood guilds and several prominent directors, the backlash was again fast and furious.
The Academy reversed course four days later and announced that all 24 awards would be presented on live television.
In the midst of all these self-inflicted injuries, the announcement of the nominees went off remarkably smoothly. In the wake of #OscarsSoStraight and #OscarsSoWhite, the slate of 2019 Oscar contenders seemed much more diverse, despite the inevitable stumbles and snubs.
Of the eight films nominated for Best Picture, out of a possible 10, five had significant LGBT content. "The Favourite" was a bawdy reexamination of English history focusing on a lesbian love triangle in the court of Queen Anne. "A Star Is Born" featured Ally's gay BFF and "Vice" featured Dick Cheney's lesbian daughter Mary. Real-life gay musicians were front and center in "Bohemian Rhapsody" and "Green Book."
In a robust show of inclusion, the other Best Picture nominees included a strong female-centered narrative in "Roma," an African-American cop named Ron Stallworth fighting the Klan in "BlacKkKlansman" and a black superhero (with some fierce female colleagues) in "Black Panther."
However, once the initial celebrations of LGBT representation died down, some problems became apparent. Three of the Best Picture nominees engaged in significant straight-washing.
In "BlacKkKlansman," writer/director Spike Lee and his colleagues left out the fact that in real life, Stallworth and his partner thwarted the bombing of two gay bars in Denver.
In "Bohemian Rhapsody," a film billed as a biopic of Freddie Mercury (Rami Malek) turned out to be a well-made concert film about the creation of Queen's big hits and their performance of those hits at Live Aid. Mercury's bisexuality is largely erased and his sexual life is reduced to a redemption narrative as he staggers from the bad influence of his manager (Allen Leech) to the good influence of his monogamous boyfriend (Aaron McCusker).
Despite great performances and good intentions, "Green Book" relies on tired cinematic tropes to tell the story of civil rights pioneer Don Shirley, a classically trained, African-American musician who toured the South in the early 1960s with the assistance of his white driver Frank "Tony Lip" Vallelonga. The script combines the feel-good racial sentimentality of "Driving Miss Daisy" with the uplifting appeal of the Hollywood legend of the "Great White Savior." In this case, Tony Lip becomes the "Straight White Savior" who, among other things, teaches Shirley how to be a black man by making him listen to R&B songs and feeding him fried chicken.
Along with these problem with LGBT representation, the Best Picture nominees also have a problem with LGBT inclusion. None of the queer characters are played by queer actors and none of the writers or directors are LGBT.
But it is interesting to note that the bisexual Lady Gaga plays a straight character in "A Star Is Born." That's a small but important step for Tinsel Town.
In addition to these problems with representation and inclusion, two major LGBT films were not nominated for Best Picture, even though two of the 10 possible slots were unfilled.
"Can You Ever Forgive Me?" is the true tale of a lesbian literary forger and her gay accomplice. Melissa McCarthy and Richard E. Grant won well-deserved nominations for their outstanding acting. Screenwriters Nicole Holofcener and Jeff Whitty, the openly gay creator of "Avenue Q," were nominated for their adaptation of Lee Israel's memoir.
However, the movie was not nominated for Best Picture and Marielle Hiller was not nominated for Best Director. In fact, no women were nominated in the Best Director category.
"Will You Be My Neighbor?" was popular with both critics and audiences but was not nominated for Best Picture or Best Documentary. In telling the story of ground-breaking and boundary-breaking broadcaster Fred Rogers, director Morgan Neville featured the story of François Clemens, the black gay opera singer who played Officer Clemens on "Mister Roger's Neighborhood."
Outside of the major categories, a handful of LGBT artists and films with LGBT themes were nominated for Academy Awards this year. The lesbian-themed "Marguerite," one of four Oscar nominees that was screened at D.C. Shorts, is up for Best Live Action Short. Rob Epstein and Jeffrey Friedman, the openly gay directors of the Oscar-winning "Common Threads: Stories from the Quilt" are nominated for Best Documentary Short Subject for "End Game." Marc Shaiman and Scott Wittman are nominated for their musical work on "Mary Poppins Returns."
Other out nominees include Scott Rudin, who produced "Isle of Dogs," a nominee for Best Animated Feature Film, and John Ottman who is up for Best Film Editing for "Bohemian Rhapsody." The LGBT-themed "Mary Queen of Scots" was also nominated in two design categories.
This year's field is wide open; the usual predictors are all pointing in different directions.
As for my personal preferences, I'm surprised that John C. Reilly wasn't nominated for Best Actor for his great performance in "Stan and Ollie," especially given the lackluster field in that category. Among the nominees, I don't care much.
I also wish Andrew Dice Clay had been nominated for Best Supporting Actor instead of his "A Star Is Born" castmate Sam Elliott. He gave an indelible performance in a more interesting role. Choosing among the nominees: Adam Driver.
The female acting categories are an embarrassment of riches. All the nominees were great and I still wish there was room for Felicity Jones in "On the Basis of Sex," Annette Bening in "The Seagull," Linda Cardellini in "Green Book," Kiki Layne in "If Beale Street Could Talk," Nicole Kidman in "Boy Erased" and the practically perfect Emily Blunt in "Mary Poppins Returns."
Among the nominees, I pick Glenn Close and Amy Adams. That means Lady Gaga had better win Best Original Song.
Along with "Won't You Be My Neighbor?," I also wish "Dark Money," the powerful documentary about campaign finance by trans director Kimberly Reed had been nominated. Among the nominees: "RBG."
As for the other categories, although "Roma" may prove unconquerable, I hope "The Favourite" sweeps everything else.
It was, after all, the best — and queerest — film of 2018.