February 13, 2019 at 2:03 pm EST | by Joey DiGuglielmo
QUEERY: Eleana Figueroa/DJ Eletrox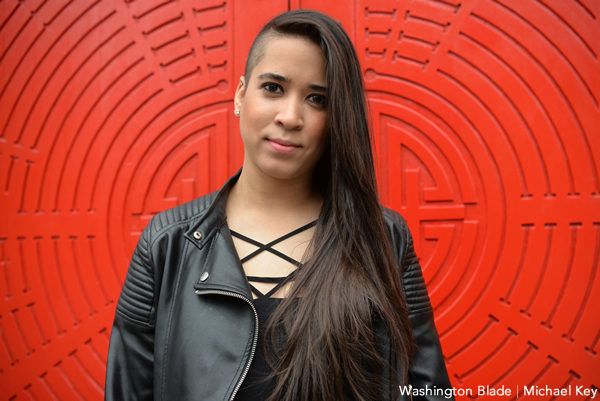 Eleana Figueroa, who performs as DJ Eletrox, first saw drag queen Bombalicious Eklaver (aka Ed Figueroa) performing at Night OUT at the Nationals and was instantly smitten.
"She was doing one of her amazing performances and we instantaneously became friends," Eleana Figueroa says. "I really love working with her. She really knows how to make every member feel appreciated for their performances and unique skills."
The two are collaborating on the new Bombalicious party BLOWOUT, a new LGBT dance party. It launched last weekend in Baltimore. A Washington version debuts on Saturday, Feb. 16 at 11 p.m. at Songbyrd Music House (2475 18th St., N.W.). Tickets are $7 at eventbrite.com or look for the event on Facebook.
Figueroa says the Baltimore show was "amazing."
"It was a very fun opening party," the 31-year-old Tegucigalpa, Honduras native, says. "All the performers and DJ … were on point."
Figueroa plans to perform monthly at both events. She spins top 40, throwback, hip hop, punjabi, Latin, deep house, EDM and more. She got started DJing six years ago to fulfill a teen dream. She spins mostly every weekend at various parties — mostly queer events — and this is her full-time work.
Figueroa settled in Maryland upon coming to the U.S. and moved to Washington eight months ago for work. She is in a relationship and lives on Capitol Hill. She enjoys painting, cooking, Netflix, hiking, the beach, photography and more in her free time.
How long have you been out and who was the hardest person to tell?
In 2007, I was talking with my best friend Fer, and we ended up coming out at the same time. During one of our conversations, we both realized how we always felt attracted to the same gender. I came out of the closet during my family's Thanksgiving dinner. I feel so lucky that my family and friends have always been supportive of me. The hardest person to tell was my mom.
Who's your LGBT hero?
Sylvia Rivera was a queer, Latina, self-identified drag queen who fought tirelessly for transgender and gender-nonconforming people's rights.
What's Washington's best nightspot, past or present?
The best past night spots were Apex and Town. Now we have so many options. My favorite places to go are A League of Her Own/Pitchers, Trade and many others. Every fourth Saturday of the month, the Ivy Project at Big Chief, which I started with my best friend, and the Blowout every first and second Saturday at the Crown.
Describe your dream wedding.
A wedding on the beach with everyone wearing beach white clothes and flower crowns on their heads.
What non-LGBT issue are you most passionate about?
Pro-immigration. Stop deportations.

What historical outcome would you change?
Donald Trump becoming a president. Because it feels wrong to see how one person can encourage people to hate each other, do hate crimes and also help authorities to separate families, partners and friends out of this country.
What's been the most memorable pop culture moment of your lifetime?
Madonna!
On what do you insist?
Loyalty should be always applied by people we trust.
What was your last Facebook post or Tweet?
My last post was about the Blowout & Ivy Project party.
If your life were a book, what would the title be?
People wouldn't be able to finish reading about my life because I have so many stories to tell, but it would be called "The 100 Lives of Eleana."
If science discovered a way to change sexual orientation, what would you do?
I would make all the homophobic Republicans LGBT.
What do you believe in beyond the physical world?
I believe in heaven and karma.
What's your advice for LGBT movement leaders?
Work together and do not leave out any community members such as trans or non-binary or asexual or any gender identities.
What would you walk across hot coals for?
For sushi!
What LGBT stereotype annoys you most?
Nothing annoys me.
What's your favorite LGBT movie?
"Blue is the Warmest Color"
What's the most overrated social custom?
That everyone assumes that a woman only can be happy with a man.
What trophy or prize do you most covet?
My championship soccer trophy and my double ninja sword.
What do you wish you'd known at 18?
That it's OK to be gay.
Why Washington?
Because mostly everyone here hates Donald Trump.