June 8, 2019 at 12:03 pm EDT | by Brian T. Carney
Elton John musical biopic helmed by 'Rhapsody' vet Dexter Fletcher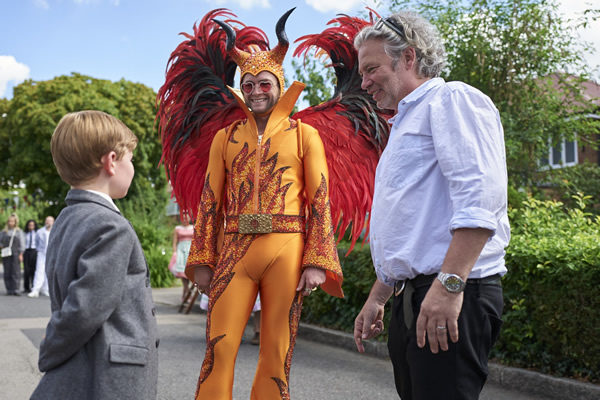 "Rocketman" director Dexter Fletcher says his new movie is "a magical musical retelling of Elton John's formative years." This vision of the film guided Fletcher through many script revisions and long days on the set and resulted in an unusual cinematic experience that reimagines the Hollywood musical and the traditional biopic and that is both visually stunning and deeply moving.
Fletcher, whose work as actor and director stretches back to an appearance in Alan Parker's kiddie gangster movie "Bugsy Malone" (1976), says that his involvement in "Rocketman" was a matter of "being in the right place at the right time."
If it does well — it opened in third place in the U.S. last weekend and got largely strong reviews — it could be an interesting comeuppance for Fletcher, whose name was taboo at award season earlier this year. He took over for a fired Bryan Singer on "Bohemian Rhapsody," but Singer's name stayed in the credits as per Directors Guild guidelines. It won four Oscars.
In 2015, Fletcher (who's straight) directed "Eddie the Eagle," which starred Taron Egerton and was produced by his old friend Matthew Vaughn. Fletcher also knew that Vaughn was working with Egerton and Elton John on "Kingsman: The Golden Circle" (2017).
"Then," Fletcher says, "I heard on the grapevine that Matthew was thinking about Taron playing Elton and I just thought it was a genius idea. I knew Taron, I knew the kind of person he was and I knew that he could sing. And having been around for 50 years, I knew something about Elton's life. When Matthew said come talk about it, I was ready."
When the director met with David Furnish, Elton John's husband and a "Rocketman" producer, and screenwriter Lee Hall ("Billy Elliott") to discuss the script, he had a revelation.
"The movie should be a full-out musical."
Fletcher realized he could "use the songs to keep the film and storytelling moving seamlessly and to create something that would genuinely explode off the screen."
Instead of restricting the songs to onstage performances, Elton John's music would be used to tell his life story from his lonely childhood as Reginald Dwight, a musical prodigy from a broken home in 1950's London, through his rise to international stardom as superstar Elton John to his life-saving stint in rehab in 1990.
"I took the musical element and upped it by 50, 60, 70 percent," Fletcher says. "It was a very holistic journey. It was all inspired by the script that Lee wrote and the stories that Elton told him."
Fletcher's work on the script started by adding "The Bitch Is Back" as an opening number. Set in the London suburb where Reggie Dwight (Matthew Illesley plays Young Reggie) grew up, the brilliant choreography by Adam Murray and the stunning cinematography by George Richmond establish the blurring of reality and fantasy that will take place throughout the movie.
The scene is a traditional English suburb in the 1950s, but Fletcher notes, "everything is a bit too perfect. The neighbors are all very cheery and everybody's waving to Reggie but he sings about being a bitch. Then you have the older Elton in his devil costume in the middle of it all trying to stop it, close it down."
"I knew that dramatically, Elton considered himself to be a bitch and a bad person and he thought he's always been that person," Fletcher says. "It takes his journey through rehab to realize he was just a boy who wanted a hug."
Then Fletcher added the song "I Want Love" as a quartet for Reggie and his troubled family.
"I got to that moment in the story and I knew I needed to hear the inner voices of these characters," Dexter says. "That's what the music gives us. All of the artifice and all of the masks that we wear in day-to-day life fall away. The characters can sing what's in their hearts. They all just sing about what they need, what they want. They're family, but families don't always work. They all want love, but they're just all in the wrong place. There are no villains."
Fletcher's most audacious alteration to the script was perhaps the astounding "Saturday Night's Alright for Fighting." The sequence starts with Older Reggie (Kit Connor) playing piano in a London pub. He sneaks out of the pub and into a fabulous "funfair"; in a time-honored theatrical trick, Older Reggie is transformed into Elton John (Egerton) in the middle of the number.
Fletcher says the number is really the centerpiece of the movie, "because it is really about Elton stepping out into a wider world."
"There's so much storytelling crammed into it," the director says. "Elton is seeing the things that are the genesis of his musical influences. I wanted to make sure it became a journey into his youth and his emergence as a young man. I wanted to be very aware that there were other cultural influences coming into Britain at that time that he would have been aware of, as well as his own discoveries about himself. It seemed like a great adventure."
Filming the sequence was definitely an adventure for Fletcher and his colleagues. It required 300 extras, 50 dancers, four cameras, three cranes, 10 dodgems and a Ferris wheel. The action also jumps from the 1950s to the 1960s, requiring a wide variety of costumes and dance moves. Finally, to capture the intensity of Elton's experience, the sequence was shot in one single tracking shot.
"We rehearsed it for six weeks," Fletcher says. "We shot it over three days — three nights, in fact. I just loved the diverse flavor I could pull into that one place. It was a place that was full of light and color and magic and all the things I wanted the film to have and all the things that inspired Elton as a young man. It's about his discovery."