October 12, 2019 at 2:00 pm EDT | by Brian T. Carney
Region's fall film festivals return heaped full with LGBT programming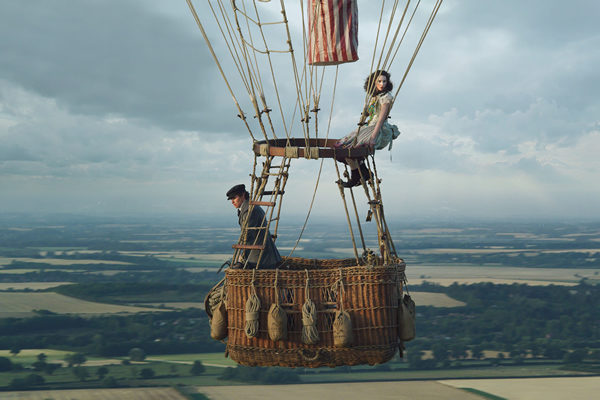 Now that fall has finally arrived, it's time to celebrate the season with two of the region's most celebrated film festivals. The Middleburg Film Festival, the annual meeting of powerbrokers from Hollywood and the Potomac, runs Oct. 17-20. Reel Affirmations, D.C.'s celebration of international LGBT cinema, runs Oct. 25-27.
The Middleburg Film Festival opens with the highly anticipated "Marriage Story" starring Scarlett Johansson and Adam Driver. Director Noah Baumbach will be on hand to accept the festival's Spotlight Director Award following the opening night screening of his film.
Susan Koch, executive director of the festival since its founding seven years ago, is thrilled with this year's slate of films and activities. "We really try to provide a diversity of films and voices," the documentary filmmaker says. "We encourage people to step outside of their usual film zone."
Koch says she, "likes all of the films and for different reasons," but she does recommend two lesser-known films. "Atlantics," about Senegalese workers in search of a better future, was directed by Mati Diop, the first black woman to compete in the Cannes Film Festival. (She took home the Grand Prix.) Koch describes "The Cave," a documentary about a dedicated team of female doctors in war-torn Syria, as "riveting."
The festival's queer content includes "Portrait of a Lady on Fire," a shimmering historical drama about an artist in 18th century Brittany who finds herself falling for the reclusive bride she's been commissioned to paint; "The Capote Tapes," a new documentary about gay author Truman Capote based on never-before-heard interviews for the Paris Review helmed by out director and former White House staffer Ebs Burnough; "Oliver Sacks: In His Own Words," a new documentary about the openly gay writer and neurologist recorded months before his death; and "Frankie," by out writer and director Ira Sachs and starring Isabelle Huppert (recently seen in the feminist thriller "Elle" and the camp thriller "Greta") as an aging actress who gathers three generations of her family (including her gay ex-husband) around her during a vacation in Portugal.
As always, the festival offers wonderful sneak peeks at movies that are already generating Oscar buzz. Directed by Kasi Lemmons, "Harriet" tells the story of iconic American freedom fighter Harriet Tubman (Cynthia Errivo). The cast includes Janelle Monáe, Joe Alwyn and Leslie Odom. Jr. "The Irishman" is Martin Scorsese's epic crime drama with Al Pacino, Robert DeNiro and Joe Pesci. "The Two Popes" is an intimate drama about the ideological clashes between Pope Francis (Jonathan Pryce) and Pope Emeritus Benedict (Anthony Hopkins), including their differing views on homosexuality.
Director Marielle Heller ("Can You Ever Forgive Me?) turns from queer literary larceny to the life of beloved television icon Fred Rogers in "A Beautiful Day in the Neighborhood" and "Star Wars" director Rian Johnson turns from intergalactic rebels to feuding family members in the star-studded modern murder mystery "Knives Out." In "The Aeronauts," Felicity Jones and Eddie Redmayne turn from the life of physicist Stephen Hawking to the lives of pioneering meteorologist James Glaisher and daredevil balloon pilot Amelia Wren.
The festival experience also includes artist Q&As after several movies, as well as a concert honoring composer Terence Blanchard and conversations with screenwriter Anthony McCarten and cinematographer Rodrigo Prieto.
"The festival is able to attract the participation of these great artists because of the devotion of the audiences," Koch says. "Filmmakers really pick up on that energy."
The full festival schedule, along with information on venues and some of Middleburg's fine wineries and restaurants, can be found at middleburgfilm.org. Koch also says there will be food trucks on hand this year so that filmgoers can grab a quick bite between films.
Reel Affirmations kicks off with the fabulous documentary "Queen of the Capital" which follows the glamorous drag artiste Muffy Blake Stephyns as she campaigns to become Empress of D.C.'s Imperial Court. The Friday programming also includes "The Sympathy Card," an unconventional lesbian rom-com about a dying woman who encourages her wife to find a new partner while she's still around to approve of her choice, and "Sell By," a smart ensemble comedy about romance in the smartphone era.
Saturday's programming at Reel Affirmations starts off with the fascinating Indian drama "Ek Aasha" about a young transgender woman named Aasha who joins a hijra, a traditional transgender community, but who struggles to achieve her dream of becoming a teacher. The journey continues with "Daughters of Fire," about an erotic polyamorous road trip through southern Argentina that changes the lives of three women; "Fabulous" about renowned international transgender dancer Lasseindra Ninja who returns to her native Guyana to offer voguing workshops to both straight and queer teens; and "Jonathan Agassi Saved My Life," a new documentary about the famous Israeli porn star by Israeli documentary filmmaker Tomer Heymann ("Who's Gonna Love Me Now?" and "Mr. Gaga").
Sunday's offerings begin with "Seahorse: The Dad Who Gave Birth," the amazing documentary about a gay transgender man who wanted to become a parent and decided to carry his own baby. The day continues with two excellent programs of short films. "IRL…In Real Life" offers several films that playfully explore the space between the personas we create and the people behind the profiles. "Crossing the Line" presents shorts that probe the boundaries between friendship, identity, sexuality and desire.
Finally, the festival closing film is the fascinating German drama "Before We Grow Old" about a straight couple who are interested in exploring polyamory.
All movies screen at the Gala Hispanic Theatre on 14th Street. A complete schedule for Reel Affirmations, along with information on festival passes and volunteer opportunities, can be found at thedccenter.org/reelaffirmations.