'Boys Don't Cry' at 20: rethinking trans actors
Cis actress Hilary Swank won the Oscar playing a trans man but would it happen today?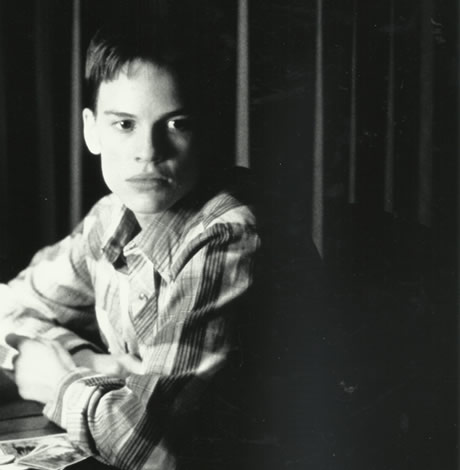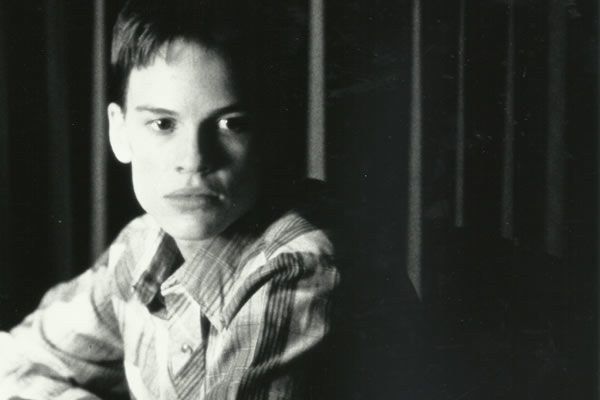 It's been 20 years ago this month since the release of "Boys Don't Cry," the Fox Searchlight movie that depicted the true story of Brandon Teena, a trans man played by Hilary Swank, who adopts a male identity in Nebraska but is murdered in a hate crime.
Directed by Kimberly Peirce, whose interest was piqued by a 1994 Village Voice article about Teena, the film was made for $2 million and made $20 million at the box office. It premiered Oct. 8, 1999 at the New York Film Festival and went into wider release later in the month.
Swank won a bounty of awards for the role including prizes from the New York Film Critics Circle, the Chicago Film Critics, the Boston Society of Film Critics, the Independent Spirit Award, the Golden Globe and the Oscar. It was both widely praised in reviews at the time and holds an 88 percent fresh rating on Rotten Tomatoes.
It's unlikely, though, that Swank would get cast in the role were it made today. With trans actresses Mj Rodriguez, Indya Moore, Dominique Jackson, Hailie Sahar and Angelica Ross having been cast on the Ryan Murphy FX drama "Pose," and Scarlett Johansson all but forced to withdraw last year from her planned movie "Rub & Tug" (she was to play a trans character based on Dante Gill, who ran massage parlors in the '70s and '80s that were brothel fronts) after a backlash ensued, many say it's a new day for trans actors. Of Johansson, trans actress Trace Lysette (Shea on "Transparent") wrote on Twitter, "Not only do you play us and steal our narrative and our opportunity but you pat yourselves on the back with trophies and accolades for mimicking what we have lived."
Cisgender backlash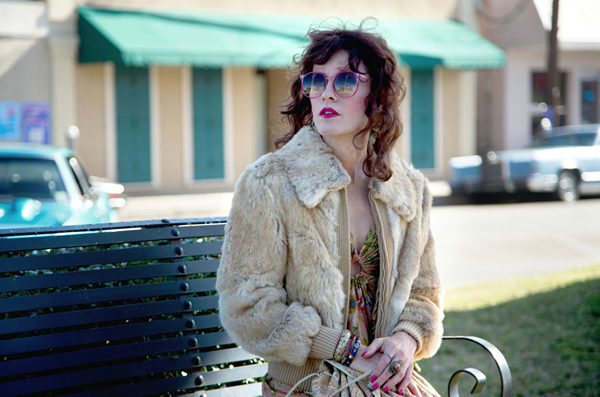 Elle Fanning drew ire the year before for being cast in "3 Generations" as Ray, a female-to-male trans teen. A groundswell had been building with actors like Matt Bomer in "Anything" (2017), Eddie Redmayne in "The Danish Girl" (2015) and Jared Leto in "Dallas Buyers Club" (2013) drawing muted but present backlash.
Conversely, on TV, trans actress Candis Cayne earned the distinction of being the first trans actress to play a recurring trans character on a primetime show when she played Carmelita on ABC's short-lived "Dirty Sexy Money" (2007-2009). Trans actress Nicole Maines plays the first trans superhero as Dreamer/NiaNal on The CW's "Supergirl." In its latest report, GLAAD says there are 26 trans characters currently on TV, vs. 17 in its previous report.
Leto ended up winning a Best Supporting Actor Oscar for his role. Redmayne won the Best Actor Oscar for his and back in 2005, Felicity Huffman was nominated for playing trans in "Transamerica." A trend was clearly at play — playing trans is Oscar catnip for cisgender actors.
That's a problem, working trans actors today say.
"The Academy seems to see it as some heroic transformation, but is it any more a feat of acting than what, say, Daniel Day-Lewis did as Lincoln, or any number of great performances you could name," says Samy Nour Younes, a trans male stage and screen actor in New York. "Beyond the fact that they're playing another gender identity, the roles are usually not that good. If you watch 'Boys Don't Cry,' 'Transamerica' or 'Dallas Buyers Club,' which is the worst among them, they're not particularly well written characters period, not because they assumed a marginalized identity, but we think there's something inherently taboo or exotic, but in a stigmatized kind of way, about it. Like, 'Oh, you're so brave, you deserve an Oscar,' when it actually wasn't that great."
Younes says "Transparent," the hit 2014-2019 (it just wrapped with a musical finale on Amazon Prime Video Sept. 27) show on which he guested twice in its fourth season, was a game changer just before "Pose" hit big. Although cis actor Jeffrey Tambor played Maura, a retired college professor who comes out as trans, creator Jill Soloway enacted a "transfirmative action program" for the show (cast and crew) where trans applicants were hired in preference to cis applicants. Tambor ("The Larry Sanders Show," "Arrested Development") left the show in late 2017 amid sexual misconduct allegations.
"Just letting trans people in the room — directors, writers, consultants — makes a huge difference," Younes says. "That's when we start getting layered and nuanced characters that tell stories beyond their transitions, with interesting people. We're seeing less and less of a need for the Eddie Redmaynes of the world who say, 'Oh, I did so much research,' which I call bullshit on that because if you'd really done so much research, you'd have an understanding that we're not just some costume you can slip on which just helps solidify the Academy's thinking that that's all it is and playing trans becomes a farce."
The casting conundrum
Tammara Billik, a veteran Hollywood casting director known for her work on "Married … with Children" and the famous coming-out episode of "Ellen" in 1997, says things have come a long way since the "Boys Don't Cry" era.
For one, she says, TV has come into a "golden age" that has "provided a lot more opportunities for all kinds of inclusive roles."
"Not just with 'Pose' and 'Transparent,' but now there are a number of trans actors," Billik, a lesbian, says. "I just read something about their being a trans actor in a series regular role on 'The Politician' with Ben Platt. I didn't know anything about that. It's happening without a big splash, it's happening on weekly shows, so I think there is tremendous progress in terms of the trans actor community, particularly on TV."
Film, she says, is different.
"When 'Boys Don't Cry' came out, gosh, I don't think I knew a trans actor at the time. … It certainly wouldn't have been a time when a trans actor would have been cast. Now you would be hard pressed to cast that role with a cis actor," Billik says. "You just wouldn't do it, right?"
She says the Johansson episode was "a giant shift."
"In both a good and bad way," Billik says. "It's good for the actors and a good way to show more diversity on television but we've also seen a backlash against particularly trans women of color. I'm not saying 'Pose' is responsible for it, but people get angry when you show them the truth. We're all wondering why so many trans women of color are being targeted for violence. Is it because we're seeing their images more on TV, is it because people have been emboldened by Trump? I don't know the answer to that."
It's an issue GLAAD has been working on for years. Nick Adams and Alex Schmider, GLAAD's Transgender Media Program team, work with TV networks, production companies, showrunners, script writers, casting directors and agencies as well as PR firms to help bring what it calls "fair and accurate representations for transgender people to the screen."
They say things are improving dramatically.
"Hollywood is beginning to tell more accurate and well-rounded stories about transgender people and casting trans characters more authentically," Schmider said in an e-mail comment to the Blade. "Not only are trans characters starting to be written with more nuance, complexity and humanity in the worlds in which they exist, but casting has also begun to evolve in positive ways."
By their count, there's only one cis actor still playing a trans role on TV.
The issue is a bit more complex, casting vets say, than "casting more authentically." Alexa L. Fogel, casting director for "Pose" and a slew of HBO shows such as "Oz," "The Wire," and others, says it's "a really complicated issue" that has multiple angles.
"TV is easier in that you're creating characters, you're creating roles, you're creating stars," she says. "In the case of 'Pose,' none of these people were known before. A lot of them hadn't really acted before. These roles could be crafted around these people's strengths to some degree, not so much in the character of Elektra, with her we had to find someone who could deliver what was on the page, and that was challenging for sure, but I think the other side of it is that certainly with films, there are certainly situations in which you need to sell tickets to things. Certain things might not get made without movie stars. These are complicated questions and I don't know that anyone knows the answers to them all yet, but it's a conversation."
The decision to cast trans actors on "Pose" was made prior to Fogel's involvement with the show. She says that added a layer to the casting process, but she didn't see it as an extra burden.
"It's part of the joy of the job," says Fogel, who declined to state her own sexual orientation or gender identity. "It's about rising to the challenge. I never considered that it couldn't be done. It was just about, you know, doing the research, getting ambassadors to the community, making sure I had enough time to meet enough people. Anytime you do something that's less visible, it's more time consuming."
How deep was the talent pool?
"I wouldn't say it was a huge talent pool, but I've done a lot of projects where you just have to really put your head down and do extra research and this was one of them," she says. "It was challenging but it never felt that it was going to be impossible. It just meant we had to do extra work."
She's not aware if the Screen Actors Guild tracks its members' gender identity (SAG did not respond to requests for clarification on that). Fogel says membership is easy to secure once she casts a lead role.
Could 'Pose' be a fluke?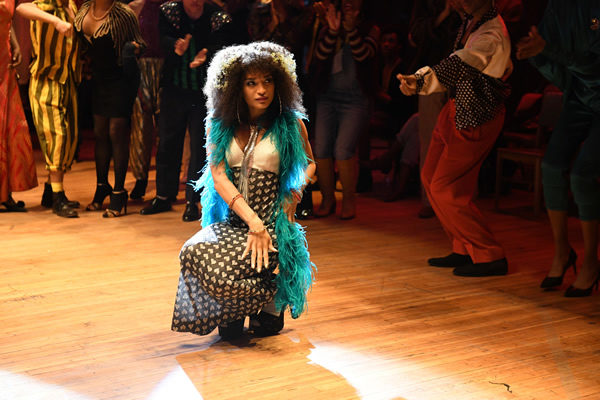 Is "Pose" a one-off or a game changer?
"I don't have a crystal ball, but I think yeah, the ground is certainly shifting in terms of the conversation," Fogel says. "I think it's ultimately about the writing, about the culture and what people feel like they want to see. People want real representation and that seems to be happening across the board."
Billik agrees.
"'Pose' is telling a story that's really spectacular and a lot of people are really responding to it, so I don't think it will be a one-off," she says. "I think we'll see a whole slew of trans actors cast because of it."
Aneesh Seth, a trans actress on the Netflix show "Jessica Jones," says there's still "a long way to go."
"Athough trans folks have gained some control over the types of trans narratives out there, they can still tend to be reductive and focused on our trauma," she said in an e-mail. "Where are the stories of trans folks winning? Falling in love? Having successful marriages and careers?"
Is this the end, at least, of the big stars taking home Oscars and nominations for all the major trans movie roles? And how realistic is it — theoretically — for a trans actor to have given the caliber of performance Swank gave in "Boys Don't Cry"?
Some say it's a chicken-or-the-egg argument. If trans actors had been given time to build up their resumes on equal footing with a Swank or a Jared Leto, who knows what they might have achieved? That's not to say they had easy rides — Swank and her mother, for a time, lived out of a car upon moving to Los Angeles as Swank pursued her dream. But inarguably, upon starting her acting career, she got cast in varied roles far faster and more regularly than any trans actor would have fared, especially in the '90s.
Fogel, especially, says it's hard to account realistically for "what ifs."
"You can't really know the answer to that without doing the work," she says. "I couldn't have answered any of these questions about 'Pose' before I'd done it. The process is so important when it comes to casting. You really have to do the work to find the people, it's all about the process."
Looking ahead
The path ahead, many agree, is bright.
"I actually think Time magazine jumped the gun a little bit when they put Laverne Cox on the cover for 'Orange is the New Black' and said it was 'The Transgender Tipping Point,'" Younes says. "Not to take anything away from her, but I think the tipping point is actually now because it's not just one, it's multiple roles. There's a brand new pool of talent and we're more open to the fact that it could come from anywhere."
Several folks interviewed for this piece mentioned bit parts they'd seen trans actors cast in of late. Billik just saw "Moulin Rouge" on Broadway and said one of four ladies in the opening number was trans. Younes knows a trans colleague in the ensemble in "Tina: the Tina Turner Musical," which opens at the Lunt-Fontanne Theatre on Broadway next month (previews are in October). He also cites two trans actors with brief speaking parts in this summer's "Spider Man: Far From Home."
GLAAD reps helped cast Zoey Luna, a trans Latina actress, in "The Craft" reboot from Sony as Lourdes, one of the lead girls in the coven who happens to be trans. In 2018, not one of the 110 major studio films released included a trans character, according to GLAAD.
"So this casting and character are game changers in the film landscape," Schmider says.
Non-binary actor Asia Kate Dillon on Showtimes "Billions," is another positive step, many agree. And Daniela Vega made history in "Fantastic Woman," a 2017 Chilean drama that won an Oscar. Vega was the first trans presenter in the history of the Academy Awards when she presented in 2018.
"This isn't a trend, this isn't just the topic du jour," Younes says. "For decades, all we could get were playing the dead hooker on 'Law & Order: SVU.' … I hope it's a continuing trend for trans people making inroads in entertainment."
SIDEBAR: 'Boys Don't Cry': problematic in retrospect?
Although it was seen as fairly groundbreaking in its day, the 1999 film "Boys Don't Cry" hasn't aged particularly well, some argue.
Donna Minkowitz, the writer of the original Village Voice story that inspired the movie, apologized last year in a piece she wrote (also for the Voice) called "How I broke, and botched, the Brandon Teena Story."
"For years, I have wanted to apologize for what I now understand, with some shame, was the article's implicit anti-trans framing," Minkowitz wrote. "Without spelling it out, the article cast Brandon as a lesbian who hated 'her' body because of prior experiences of childhood sexual abuse and rape. … At the time, I was extremely ignorant about trans people. Like many other cis queer people at the time, I didn't know that there were gay trans men, trans lesbians, bisexual trans folks, that being trans had nothing to do with whether you were straight or gay, and that trans activism was not, as some of us feared, an effort to stave off queerness and lead 'easier,' more conventional heterosexual lives."
The trope of the butch lesbian who takes things "just a little too far" and comes out as trans, is a recurring one, trans actor Samy Nour Younes says. He, too, found the film adaptation "problematic."
"There was a similar storyline on 'The L Word,' when Max Sweeney starts taking hormones and becomes this raging monster, a really awful storyline. Seeing some of those things and 'Boys Don't Cry' were the first representations I saw of a trans masculine storyline and stopped me from coming out sooner."
Camp classic 'Mommie Dearest' turns 40
Digital re-issue offers fans new insights, John Waters commentary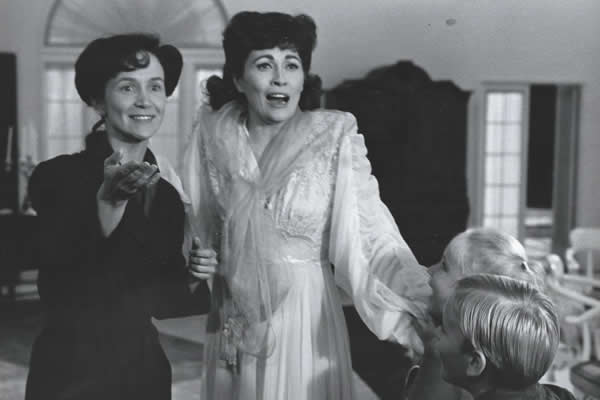 In a 2016 People magazine interview, Oscar-winning actress Faye Dunaway admitted to regretting her over-the-top portrayal of Joan Crawford in the 1981 movie "Mommie Dearest" (Paramount), newly reissued on Blu-ray and digital as part of the Paramount Presents series. Of the movie, based on the equally OTT memoir by Crawford's adopted daughter Christina, Dunaway said, "I should have known better, but sometimes you're vulnerable and you don't realize what you're getting into. It's unfortunate they felt they had to make that kind of movie. But you can't be ashamed of the work you've done."
"That kind of movie" pretty much tanked Dunaway's career after that. However, it also titillated and delighted countless fans upon its release and in the 40 years since. A multitude of lines have become iconic in the LGBTQ vernacular and classic scenes have become sources of endless entertainment. So, how good or bad is it?
From the minute the gloved hand of actress Joan Crawford (Dunaway) turns off her alarm at 4 a.m. and saunters into the bathroom to begin her morning routine, we know we're in for something out of the ordinary. Dressed to kill, she heads to the studio, reading scripts and autographing photos in the back of a limo, Crawford was nothing if not devoted to her craft and fans.
She was also devoted to cleanliness, an obsession that would become one of the contributing factors in her descent. In one iconic scene, she berates a housekeeper, "I'm not mad at you, I'm mad at the dirt."
A first-rate performer in all aspects, Crawford's annual Christmas gift-giving extravaganza at an orphanage stirs up her desire for motherhood. Unable to conceive, the twice-divorced actress discovers she is not a candidate for adoption, despite believing she can be a mother and a father, providing both a "wonderful and advantaged life." Her lawyer boyfriend Greg (Steve Forrest) pulls some strings and Crawford becomes mother to baby Christina.
It doesn't take long (OK, a few years) before the cracks start to show, beginning with a birthday party for Christina (Mara Hobel, in a thankless role), complete with a carousel, an organ grinder and monkey, and a new baby brother named Christopher. Signs of tension are present in Joan's interactions with Christina, including her bristling at her daughter's tone of voice. When Joan catches Christina mimicking her while seated at her mother's vanity, she flips out, butchering her hair.
Christina isn't the only object of Joan's aggression. Greg walks out on Joan after a disagreement, and she deals with it by cutting him out of every photo they took together. Studio head Mayer (Howard Da Silva) sends her packing, utilizing the creative differences excuse. This leads to the famous rose garden freak out (of "Tina, bring me the ax" fame). Shortly after winning the Oscar for "Mildred Pierce," Joan discovers a wire hanger in Christina's closet leading to the notorious "No wire hangers, ever!" beating scene.
Not even teenage Christina (Diana Scarwid), away at boarding school is safe from Joan's wrath. After Christina is caught getting intimate with a boy, Joan removes her from the school. Back at home, where a journalist is busy writing a story about Joan, Christina and her mother have a heated argument, resulting in the classic slap sequence and the delivery of the "I'm not one of your fans" lines.
Having almost killed Christina, Joan sends her off to convent school. After graduating, Christina returns home to discover that not only has her mother remarried – to soft drink king Al Steele (Harry Goz) – but she has put her home up for sale with plans to relocate to New York. Needless to say, the mother/daughter relationship never improves, which explains Christina's barbed-wire memoir.
Perhaps Dunaway, who worked with uneven director Frank Perry ("The Swimmer," "Diary of Mad Housewife," and "Play It As It Lays," and the bombs "Hello Again" and "Monsignor") in the past, should have known better. Regardless, "Mommie Dearest" went from shocking biopic to camp classic at light speed, and for that, we are forever grateful. Plus, with Halloween just around the corner, "Mommie Dearest" is a fab reminder of what a great (and terrifying) costume Joan Crawford can be.
In a 2015 interview with the Blade, actress Rutanya Alda, who played long-suffering maid Carol Ann in the film, talked about her surprise at first seeing the film.
"When the audience laughed, I was like, 'Oh my gosh,' I was kind of taken aback because I knew (producer) Frank Yablans and (director) Frank Perry's intention was to make this really serious drama and of course it turned into this kind of camp happening right from the get go," Alda said. "Even Paramount was caught off guard and they didn't know how to promote it because it became such an audience experience right away. … I was actually quite pleased because the audience really got into it. It was just amazing to me."
Alda added that Dunaway should have embraced the campy results of the final film.
"The audience of 'Mommie Dearest' is a great audience and I think they are disappointed that Faye has never embraced the film," Alda said. "If I were Faye Dunaway, I would have said, 'Look, I was great in the part, I did great things. OK, maybe I had an over-the-top performance, but it worked, didn't it?' … She's really deprived herself of a great audience of people who love the movie and it's a detriment to her. Look at all the joy she missed."
Blu-ray special features include commentary by drag legend Hedda Lettuce and filmmaker John Waters, "Filmmaker Focus" with Frank Perry biographer Justin Bozung, short features including "The Revival of Joan," "Life With Joan," and "Joan Lives On," as well as a photo gallery and the original theatrical trailer. Rating: B-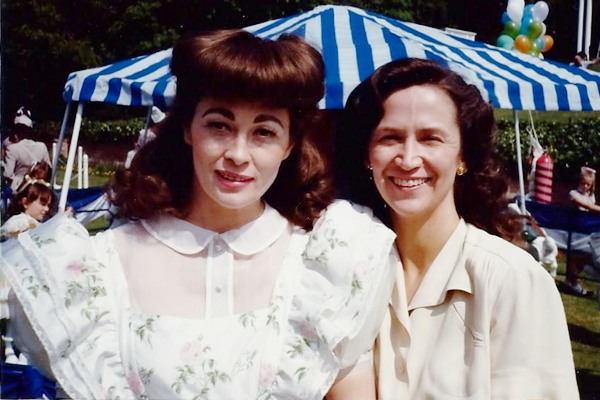 Stupid things not to do when you get old
Steven Petrow's new book on aging is funny yet poignant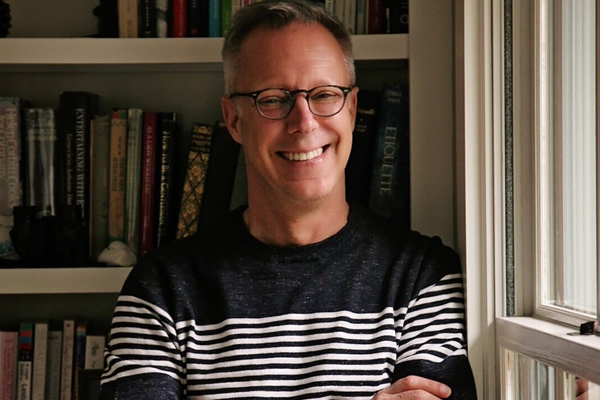 Diane Sawyer, the former ABC News anchor, gave award-winning journalist Steven Petrow some advice on what he could do to look younger. "Anchors don't get older, they just get blonder," she told him.
For many years, Petrow, who is gay, took Sawyer's wisdom to heart. He had his salt and pepper hair colored. This went well, until a new colorist offered to use a new "natural" coloring process that would remove a third of his gray hair. Petrow came away "a honey brash blonde" whose hair "screamed dye job."
This is one of the many funny, yet poignant, stories that Petrow with Roseann Foley Henry tells in "Stupid Things I Won't Do When I Get Old: A Highly Judgmental, Unapologetically Honest Accounting of All the Things Our Elders Are Doing Wrong."
Written by Petrow with Henry, "Stupid Things I Won't Do When I Get Old" is part memoir and part manifesto.
Few things are more fraught with fear, anxiety and ageism than knowing that, if we live long enough, we'll get old. Whether hetero or LGBTQ, no matter how much we love our parents, we don't want to become like our folks when we're elders.
Shortly after he turned 50, Petrow, who writes about aging, health, manners and civility, began to confront his ageist beliefs and vowed not to let aging limit or diminish his life.
As he reached the half-century mark and his parents "entered their sunset years," Petrow began to make a list of what he called "the stupid things I won't do when I get old."
The list, which kept growing longer and longer, "proved to be a highly judgmental, not-quite-mean-spirited-but-close accounting of everything I thought my parents were doing wrong," Petrow, now 64, writes in the book's introduction.
Petrow first wrote about his list in a popular New York Times essay "Things I'll Do Differently When I Get Old." "Stupid Things I Won't Do When I Get Old" grew out of the essay.
Petrow's list is, by turns, laugh-out-loud funny and incredibly moving.
He vows not to, as his Mom did, "forgo a walker because it wrecked my outfit."
In one chapter, he promises that, "I Won't Become a Miserable Malcontent, a Cranky Curmudgeon, or a Surly Sourpuss."
Yet, in other more serious chapters, Petrow says that "I Won't Lie to My Doctor Anymore (Because These Lies Can Kill)," "I Won't Burden My Family with Taking Care of Me" and "I Won't Forget to Plan My Own Funeral."
Petrow, a columnist for the Washington Post and USA Today as well as a regular New York Times contributor, talked with the Blade by phone and email.
Petrow, whose previous books include "Steven Petrow's Complete Gay & Lesbian Manners," "The Lost Hamptons" and "When Someone You Know has AIDS" (3rd edition), grew up in New York City.
In 1978, Petrow graduated from Duke University with a bachelor's degree in history. He graduated from the University of California, Berkeley with a master's in history in 1982.
A former president of NLGJA (the Association of LGBTQ Journalists), Petrow lives in Hillsborough, N.C. His 2019 Ted Talk, "3 Ways to Practice Civility" has been viewed nearly two million times.
Petrow was born with journalism in his DNA. His father, journalist Richard Petrow, taught journalism for decades at New York University.
"My Dad was a great teacher," Petrow said, "He traveled – got to meet people. I wanted to do what he did."
In 1984, Petrow was diagnosed with testicular cancer. This experience is one reason why Petrow became a health care journalist. "I wanted to focus on health and medicine to teach people how to negotiate the health care system," he said.
Negative buzz about aging is everywhere in the culture from magazine ads to birthday cards. "We start to become invisible when we're in our 50s," Petrow said, "this may be even more true – ageism may come earlier for gay men, and separately, more true, for women."
"Old age ain't no place for sissies," Petrow added, quoting Bette Davis.
Research shows that the damage inflicted by ageism is real, Petrow said.
When we associate getting older with negative stereotypes about aging, our lives are shortened. "This ageism is as bad as smoking," he said, "it takes seven years off our lives."
It can be hard for people to find support and friends when they get old. But finding support is often more difficult for many in the queer community. There is more isolation among queer people as they age, Petrow said. "Many in their 60s lost their circle of friends during the height of the AIDS epidemic."
Petrow seeks out multigenerational friendships. "I'm open to different perspectives," he said, "I've learned so much from younger people."
Petrow thinks outside the box of generational labels (boomers, millennials, etc.). He identifies as a "perennial."
"Perennials are curious, engaged, passionate, and compassionate," he said, "Millennials can be perennials. Boomers can be perennials. Anyone can choose to be a perennial."
Petrow, who is often referred to as "Mr. Manners," became interested in manners on a blind date in the 1990s. He and his date ended up as good friends. Through this connection, a book editor asked Petrow to do a book on gay manners.
"I've always been a bit like the weird person who's fascinated with collecting and reading about arcane rules," Petrow said. Wisdom can be found in etiquette books from decades ago, Petrow said. One of his favorite finds was in the first edition of a 1922 etiquette book by Emily Post. Just as we should think before we tweet, "It cautions people," Petrow said, "not to write love letters that could end up on the front page of the newspaper."
Generally, manners are the same for LGBTQ and hetero people. But there are some etiquette issues that apply specifically to queer people.
For example, what is the etiquette around revealing that someone you know – a family member, friend or co-worker is LGBTQ? "This is for an individual to do for themselves," Petrow said, "not for any of us to do for another."
Civility and manners are important to all of us in the COVID era, he reminds us.
"Throughout the pandemic I've been talking about, 'we, not me,' which is about thinking about others before self," Petrow said, "And that's really the only way we will get out of this."
Schock treatment: an interview with Gina Schock of the Go-Go's
Drummer on her new book and upcoming Hall of Fame induction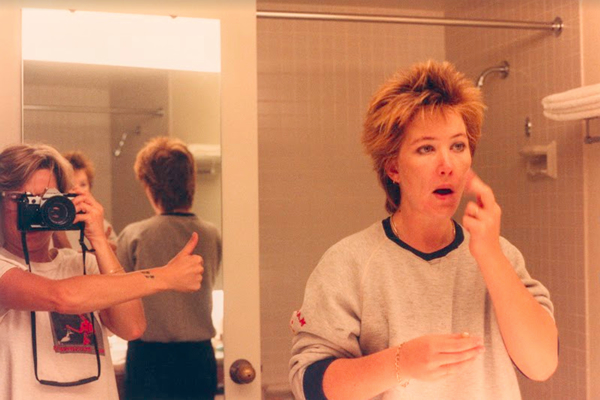 Too much of the Go-Go's is never enough. In the 40 years since the all-female punk band burst on the scene with its unforgettable debut album "Beauty and the Beat" to some of the band members' solo careers that followed its break-up to its ongoing reunion and the eye-opening 2020 documentary about the band, we just can't get our fill.
But wait, there's more! Gina Schock, the Go-Go's legendary drummer (she's got the beat!), has just published a sensational coffee-table book, "Made In Hollywood: All Access with the Go-Go's" (Black Dog & Leventhal Publishers, 2021) that features photos from Schock's own stock, as well as her own personal recollections of her life in music. She made time for an interview before the publication of the book as well as the Go-Go's long-awaited induction into the Rock and Roll Hall of Fame later this month.
GREGG SHAPIRO/WASHINGTON BLADE: I'd like to begin by congratulating you, as well as the rest of the Go-Go's, on your upcoming induction into the Rock and Roll Hall of Fame. How do you feel about it?
GINA SCHOCK: It took so long for this to happen, and at first we were sort of like, "Hell's bells! We don't even care anymore." Every year, we'd think "Maybe it's gonna happen next year," and it just wasn't happening. Then it happens! We were all dumbfounded. We couldn't really believe that we were nominated and then we got inducted! Everybody was pleasantly surprised. This is kind of great, kind of neat. I'm really happy about this now [laugh].
BLADE: At the same time, your memoir "Made in Hollywood: All Access with the Go-Go's," is being released. What did the experience of writing such a book mean to you?
SCHOCK: Actually, Gregg, it's not a memoir. Kathy (Valentine) wrote a memoir. Mine is actually a book of photography.
BLADE: Right, but you also tell your story in the book.
SCHOCK: There's a lot of writing in it, too. But I basically put this together because I had tons and tons of photographs. I've been moving them all over. Putting them in the closet here, under the bed there. I was like, "I have to do something with this. All these years of taking photos of the band." Of course, everybody in the band was like. "Gina, you really need to put a photo book together!" I finally found the right guy to do it with and he helped me get it together, organize it, and help me work on the book. I couldn't believe that along with the list of my credits will be photographer and author. It's kind of mind-blowing. Things that you don't think you're capable of, and then when you have an opportunity to do something and maybe make a difference…certainly for The Go-Go's. This needed to be out there. This is way long overdue; a book of photos with all of us. Photos that I've had that people have never seen. Also, you're getting these photos from a band member's perspective. With writing from one of the band members about what was going on during that period of time.
BLADE: I'm sure that looking at the pictures brought back lots of memories, but were you also a journal or diary keeper?
SCHOCK: Check this out! I don't have a journal, but since 1978, Gregg, I have been keeping daily planners every single year. I've written down things that were going on during that time period. Not big, long stories, but this happened today, that happened yesterday, next week we're going to be doing this. I used that as my reference. It was invaluable in the process. I now need to make room for them in the closet. I've got them all in drawers in cabinets in my office. It's like, "OK, there's no more room here [laughs]!" They were invaluable, like I said, in putting this together. What exact date did this happen? What was going on in November of '83? It was important to have.
BLADE: Do you see the book as an extension of Alison Ellwood's 2020 Go-Go's documentary?
SCHOCK: No, but I'll tell you that 99% of the photos in Alison's documentary are mine.
It's not an extension of that. This book has been in the works for decades. I just needed to find the right person to help me get it together. But when Alison was interviewing, I'd show her a photo and she would say, "Gina, can we come back and get some of these photos for the documentary?" I was like, "Of course, you can!" The majority of what you saw are my photos.
BLADE: The book is full of marvelous personal history details, such as performing with the late Edith Massey, known to many from her performances in some of John Waters' movies. What do you think Edie would think of the book?
SCHOCK: She would be, [imitating Massey] "Oh, Gina, I'm so happy about your book! Finally, it's about time!" Bless her heart and soul. I was doing an interview yesterday and I said, "If it wasn't for Edie, I don't know if The Go-Go's would exist. Certainly not in the way that they have for the last more than 40 years. Things happen in a magical way, how it all comes together. No one really knows why somebody meets someone on that particular day at that particular time, and then something comes out of that that you can't believe. Edie gave me the opportunity to come out to LA and San Francisco and New York and actually play in clubs. We got to play at Max's Kansas City and CBGB's; what a thrill that was. Then to come to LA and do three nights of the Nuart Theater and then play The Warfield up in San Francisco. That was the first time I'd ever been on a plane! After doing that with Edie, the minute I got back to Baltimore I realized it was time to make a move. It gave me the courage to believe that I could go back to any one of these places and I'm going to do something! By the way, Edie was such a lovely person. A sweetheart.
BLADE: Another scoop for the readers that I loved was the part about the Go-Go's performing with ska in the early 1980s, leading to the collaboration with Terry Hall on the song "Our Lips are Sealed," which was a much bigger hit for the Go-Go's than for Terry's band Fun Boy Three. Do you know how he felt about that?
SCHOCK: I have no idea how he felt, but I'm sure he was happy because all Terry Hall was hearing was "ka-ching, ka-ching, ka-ching [laughs]." I think Terry was quite happy about that. I would be. When Jane brought in the song, she was scared to death to play it for us because it was basically like a love letter that she readjusted a little bit lyrically and put some chords and a melody to. She played it for us, and we were like, "Jane, this song's great!"
BLADE: We are all saddened by the recent passing of Charlie Watts, drummer for the Rolling Stones. In your book, you wrote about the Go-Go's opening for The Rolling Stones. Can you please say a few words about what Charlie meant to you as a fellow drummer?
SCHOCK: There were two drummers that were my heroes growing up. That was Charlie Watts and John Bonham (of Led Zeppelin). Those two guys are part of the reason I started and kept playing drums. To think that many years later I actually got to meet my hero and talk to him. I got to sit on his drum kit! I talked to his drum tech!
That was one of the biggest thrills of my life. Then to be able to just open for the Stones, I mean, God! Wow, what a thrill! He was, of course, a gentleman. Very quiet kind of guy; soft-spoken. A lovely guy; very personable, very sweet. I didn't have a lot of time to talk to him, but when I did my heart was pounding. I couldn't believe it. Meeting David Bowie was the same sort of thing. You have such adoration for these people. The impact they have on your life in many ways, not just musically.
BLADE: You put some personal thoughts and experiences in the book, including your open-heart surgery to correct an atrial septal defect, yours and the band's encounters with drugs and recovery, the break-up of the band and issues with songwriting revenue. Was it painful or freeing to revisit these subjects?
SCHOCK: It was a little bit of both. It brought up some really heavy things that went down. But all those things have been ironed out and taken care of. Everything is good now and it has been for many years. The songwriting splits were a big part of why the band broke up. It seemed very unfair to me. I have to tell the truth [laughs]. I have to be honest with the people that I'm working with. They are my family, and nobody can hurt you worse than somebody in your family. I think I explained it all in the book the best that I can.
BLADE: Following the original break-up of the Go-Go's, you formed the band House of Schock with Vance DeGeneres, brother of Ellen DeGeneres. What are the chances that, aside from the Smothers Brothers, two funny people would come from the same womb?
SCHOCK: Yeah, right [laughs]? It's crazy, right? Vance was fresh out of New Orleans and I don't know how I met him; (through) a friend of a friend or something. We hit it off right away. I don't like to do anything by myself, Gregg. I always want a partner in crime. I like a team! That's why I always want to be in a band. I never want to be a solo anything. I like being in a band. I like having other people to bounce ideas off of. I'm not the greatest at anything, but I'm pretty good when you put me with somebody else who's talented as well. Vance and I worked great together. Ellen had just come to town and she was just starting out in the comedy clubs. We'd meet and have dinner. She'd ask me lots of questions about who I thought was a good agent to see. It was very sweet to watch everything happen for her. One of the funniest things, I told this to somebody the other day, I'll never forget this. Ellen said to me, "Gina, do you think if I make a lot of money one day, would you sell me your house [laughs]?" I don't remember what I said, but I'll never forget her asking me that. Because Ellen could buy a city block!
BLADE: In 2018, the Go-Go's went to Broadway with the musical Head Over Heels, featuring the band's music. What was that experience like for you?
SCHOCK: That was another unbelievable moment being in the Go-Go's. To think that this punk band, so many years later, has a musical on Broadway is absurd. But it happened! It's another crazy thing that just happened! There's a lot of work involved, don't get me wrong, and years and years of being in this band and working our butts off to achieve the status that we have in the industry. But it was still an incredible thrill. To meet all the Broadway actors and all, my God, those people can really sing and act! I was never a big fan of Broadway, but I am now. I was knocked out! They're so fucking talented. It's such a thrill to watch them interpreting our songs woven into this 17th-century short story.
BLADE: Recently, Belinda's son (James) Duke (Mason), posted a happy birthday message to you on social media in which he referred to you as his "Auntie."
SCHOCK: Yes! I love Dukie! I watched that little boy grow up. I just adore him. I will always be in his life. He's very precious to me.
BLADE: When Duke came out, Belinda became a very outspoken advocate for the community. Would you mind saying a few words about your connection to the LGBTQ+ community?
SCHOCK: I don't know what my relationship really is. All I know is that I'm who I am. I'm a musician and I will fight for anything or anybody that has had a difficult time in society. Just live your life. Society creates its own do's and don'ts and rights and wrongs for people, which is just a load of crap to me. Everyone should be allowed to be who they are, and love who they want to love, and marry who they want to marry. Love is love; it has no gender. It's the most important thing we can give to one another. It's what this world needs now more than ever. Never think for a second you haven't got the right to love whomever you fall for because love is always right. It is a human right!