October 9, 2019 at 4:24 pm EDT | by Joey DiGuglielmo
QUEERY: CV Viverito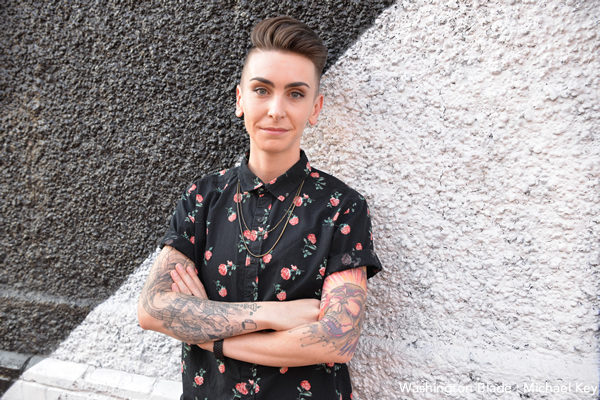 Out & Equal bills itself as "the world's premier nonprofit organization dedicated to achieving LGBTQ workplace inclusion" and it's a mission CV Viverito is passionate about.
Working as senior manager of global initiatives for the organization, Viverito is responsible for managing programs mainly focused in Brazil, China and India with some programming reaching other parts of Latin America. Through partnerships with NGOs and multinational and national corporations, Viverito and their department organize forums, roundtables and resources to "foster networking and learning spaces and promote best practices in LGBTQ workplace inclusion and belonging."
The Out & Equal Workplace Summit runs Oct. 14-17 in Washington featuring 90 workshops, discussion groups, networking mixers, receptions and more. Details at outandequal.org. Viverito will oversee global programming and content at the conference.
"Around the world, there has been a nationalist backlash that threatens LGBTQ lives," the 30-year-old South Brunswick, N.J., native says, "as well as the lives of other marginalized folks such as immigrants and women. I feel privileged and proud to be part of the global effort to create a kinder world."
Viverito, who previously worked at the Victory Institute and Human Rights Campaign, says they proactively sought out LGBTQ advocacy work.
"I'm called to social justice," Viverito says. "And although I'm passionate about numerous issues, I fell into the LGBTQ work first because I felt most pulled to it at the time. I moved into global work because I enjoy meeting inspiring activists around the world and working in partnership to combat injustices. I'm always learning and growing within this role."
In their spare volunteer time, Viverito does small research projects on other social justice issues as well as volunteer weekends to sustainably restore hiking trails in the area.
Viverito came to Washington in 2012 for work. They and fiancé Jennifer Grijalva live together in Anacostia. Viverito enjoys climbing, hiking and Netflix in their free time.
How long have you been out and who was the hardest person to tell?
I came out as queer in 2009 and as nonbinary in 2017. Since I am very privileged to have had a mostly seamless experience, the hardest to come out to was probably myself both times.
Who's your LGBTQ hero?
I think it will always be Audre Lorde. Her worked changed the way I see the world.
What LGBTQ stereotype most annoys you?
When people think gender identity and gender expression must be tied together.
What's your proudest professional achievement?
It all blends together for me. I'm very humbled and proud to have worked alongside inspiring LGBTQ leaders from around the world and to know that we've played a part in other people's personal growth on the issues, as well as created real structural change.
What terrifies you?
Climate change and the fact that we're not doing nearly enough.
What's something trashy or vapid you love?
Oh, give me ALL the trashy '90s outfits.
What's your greatest domestic skill?
Cooking
What's your favorite LGBTQ movie or show?
"Queer Eye," more specifically Jonathan Van Ness.
What's your social media pet peeve?
I don't have social media — it's one giant pet peeve.
What would the end of the LGBTQ movement look like to you?
It's hard to envision what an "end" would entail, but definitely more queer/trans people of color in decision-making positions.
What's the most overrated social custom?
Using gendered language.
What was your religion, if any, as a child and what is it today?
I was raised Roman Catholic, but not super practicing. Today my religion is Beyoncé.
What's D.C.'s best hidden gem?
Naked Girls Reading (it's exactly how it sounds — Google it).
What's been the most memorable pop culture moment of your lifetime?
Sam Smith coming out as nonbinary and using they/them pronouns.
What celebrity death hit you hardest?
As an adult I don't know that I've ever felt that connected to a celebrity, but as a kid I did cry when Left Eye died.
If you could redo one moment from your past, what would it be?
Although I've veered down some wrong paths, I can't say I would change anything. Who are we without learning from our mistakes?
What are your obsessions?
I'm pretty obsessed with my Sphynx cat, Puma. He's the most handsome boy in the world.
Finish this sentence — It's about damn time:
we dump Trump.
What do you wish you'd known at 18?
That it's OK to explore my self-expression, mix it up and not follow the crowd.
Why Washington?
It's queer, diverse and politically active.