Adam Rippon on new life, loves, memoir and skating naked
Rippon says Ashley Wagner abuse allegations, Coughlin suicide rocked skating world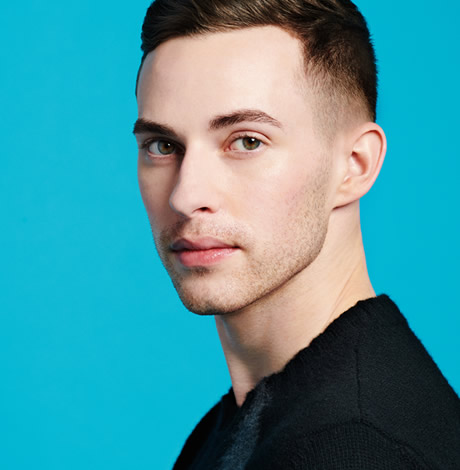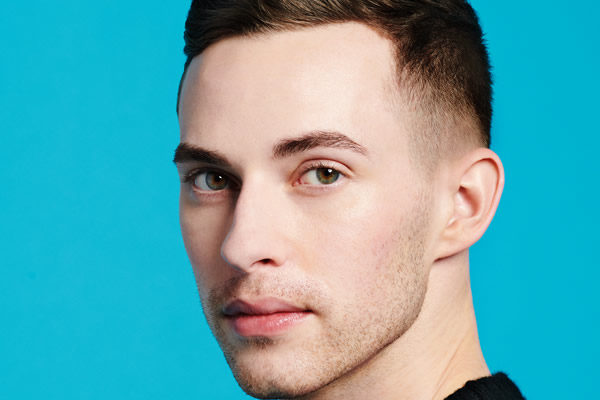 Adam Rippon

In conversation with Liz Dolan

Wednesday, Oct. 16

7 p.m.

Sixth & I Synagogue

600 I St., N.W.

Tickets: $20

ticket+book: $32

two tickets+book: $45

(books will be pre-signed but photos with Rippon will be taken)
We blitzed through a torrent of questions with Adam Rippon by phone last week. The bronze medal-winning gay breakout star (and self-proclaimed "America's sweetheart") releases his memoir "Beautiful on the Outside" Oct. 15. He and skier pal Gus Kenworthy each came out in 2015 and last year became the first openly gay male U.S. athletes to compete at the Winter Olympics. Rippon is in Washington (at Sixth and I Synagogue) Wednesday, Oct. 16 as the second stop on a 13-city book tour. His comments have been slightly edited for syntax and length. 
WASHINGTON BLADE: How did the book come about?
ADAM RIPPON: Well, right after the Olympics, my team was saying that it might be a fun idea to write a book and I thought that this, like, really felt like a full chapter of my life sort of coming to an end and a new one was starting so I felt like it would be a really therapeutic almost experience. And I thought it would be a good thing for me to do, to kind of debrief and sort of be my moment to soak in everything that was like going on. So it was my team's idea but then ultimately it was something that I did truly want to pursue. 
BLADE: How long did it take to write?
RIPPON: About six-seven months. It wasn't too long but it was a substantial amount of time.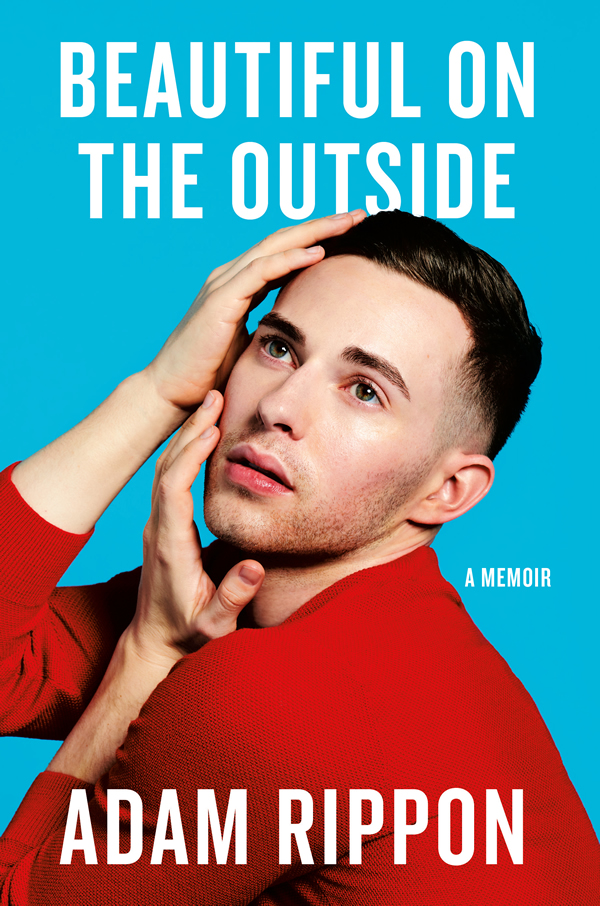 BLADE: A lot of your appeal is the way you come across on camera. Were you concerned that that might not translate to the written page?
RIPPON: Totally. One thing that I really focused on was (making sure) the writing felt very in person, so that whatever you were reading felt like I could have been sitting right next to you like on a couch telling you this story and you were hearing my voice. So that was really important to me because I feel less like a writer and more like a storyteller. So I wanted to make sure, especially when I would be doing the audiobook, that it really felt like I wasn't adding any words or saying any words that I wouldn't say in a conversation. 
BLADE: You share a lot of hard-won wisdom in the book. Were those convictions about life already in your head and bones or did the process of writing the book kind of help you distill and articulate some of that?
RIPPON: I think when I wrote the book, that was such an important thing for me to add into it because those are lessons and scenarios and things that I had learned and they were just so important to me, that was something really I wanted to add into the story. …  Sometimes I just laugh at myself and move along through life through different struggles and things of that nature, but I really did learn a lot about myself, it really prepared me for the bigger moments. 
BLADE: A lot of the book is about how what was going on in your head affected your skating. Did you ever work with a sports psychologist when you were competing?
RIPPON: I did but … it's funny now, post skating career, I see a therapist but when I was skating, I felt like, no that's weak, I'm not going to go to a sports psychologist, I'm going to just suck it up. I wish I had, but it's harder because when you're a competitive athlete. One you don't have a lot of means to go out and find someone on your own and they do offer someone but it's like someone that everybody uses, like all of your competitors are going to use the same sports psychologist, so in a way I was like, "Am I really going to tell my deepest fears with somebody's who's then gonna work with all of my competitors too?" I was like, no, I'm gonna tell this bitch that yeah, everything's fine and I've never felt better. So it's hard but now as an adult, I can go out and find someone on my own who's personally mine and that was just something I did not have access to when I was competing because it was really expensive.
BLADE: How often are you on the ice these days?
RIPPON: Maybe once or twice a month now. Just skating for myself. Sometimes if I have a day off, I'll go work with one of the skaters I used to train with, Mariah Bell. Working with her some makes me feel connected to skating, but I don't skate very much on my own anymore.
BLADE: Would you like to do more skating exhibition tours?
RIPPON: I would, but they take so much time and energy to prepare for and I would not ever want to do one and not feel like I was giving my best. … Right now I really do want to focus on pursuing these other endeavors that are available to me now and I do want to pursue them because I do think the time to do that is right now and if there is something comes up in skating, it'll make sense. Right now, I think I'm really focused on writing this book and that kind of hustle. 
BLADE: It looks like you've stayed in great shape. Do you feel pressure to have perfect abs? I mean the shape you were in for Olympics has to be impossible to maintain I imagine.
RIPPON: Well, you know what? I'm gonna be super honest. After the Olympics, I went to the gym and I was like, "I can't do this anymore. I've gone here every day of my life for 20 years and I just don't have the motivation," and that was OK. But I didn't go to the gym for maybe a year.
BLADE: Oh wow.
RIPPON: Yeah, I know. It was a lot.
BLADE: But you didn't gain 300 pounds or anything. I haven't seen you lately but you look like you were in great shape on "Dancing With the Stars." 
RIPPON: I'm not 300 pounds yet, but no. … I realized I just needed to find new goals at the gym because it's something I really enjoy. So I've been going for like the past month and have been working out pretty regularly with my old trainer again and, of course, the workouts are totally different, because it's no longer about trying to be as good a skater as possible. But I really love the rush you get from finishing a workout.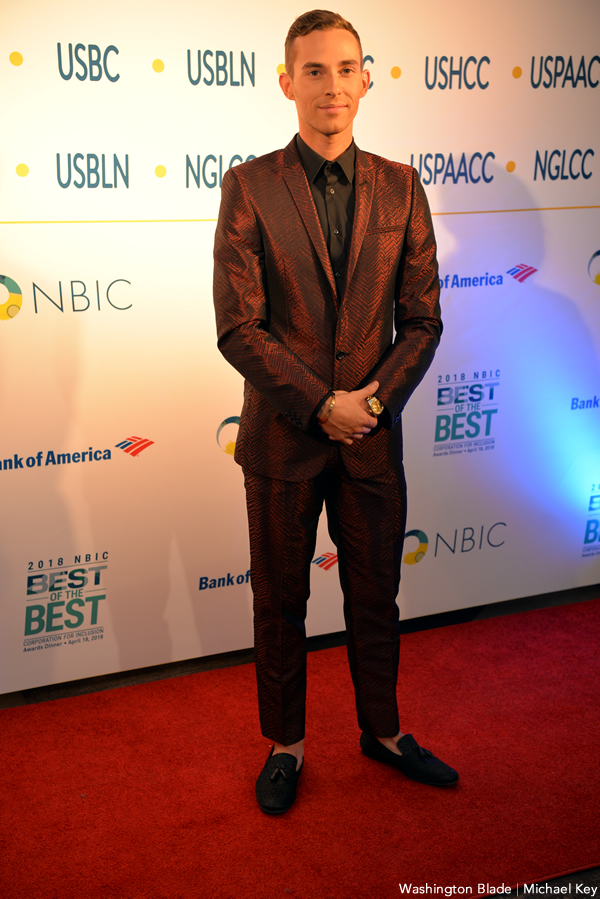 BLADE: You make a joke in the book about your hook-ups not believing you had an office job because nobody with a desk job would have an ass like yours. What kind of currency has having that kind of butt given you in your personal life? Is it something your boyfriends have gone on and on about or it something that maybe seems more exaggerated from afar? Tell me about your ass, Adam.
RIPPON: Well, here we go. How much time do you have? (laughs) No, I'm kidding. Um, the one thing I've noticed, now surrounding myself with people who are not athletes by profession is that everybody who works out and goes to the gym, the hardest thing for them is legs. I've noticed going back to the gym, that's always been my upper hand because I've done only legs for so long. With my boyfriend, he's mostly envious that I have these bigger legs and, like, a butt that really fills out my pants. Mostly he's jealous but he does like it, which is good because I can't really get rid of it.
BLADE: At one point in the book you say you were having trouble with quad toe so you had to switch to quad lutz. Why not quad sal?
RIPPON: It's a little different with the quads. That's why you see these Russian junior girls and some of them won't do triple axels but their only two quads are toe and lutz. The lutz may be the hardest because that entrance is so hard but when you have the torque just right, it really snaps the quickest into rotation. I think when you're learning triples, the skill of how you should learn them is correct, but with quads, it's more like which do you feel and I think difficulty sort of comes in second.
BLADE: Did you ever play around with quad loops or flips?
RIPPON: Yeah. I think in my life, I've landed a (quad) flip, a salchow. It was just one day and it's going really well, then the next day I'm just doing like cheated triples and I'm like, "Oh, OK, here we go."
BLADE: Have we hit the ceiling on quads? Is it realistic to think somebody might land a quad axel someday?
RIPPON: I think so. I never thought I'd see a day where somebody has a program like Nathan Chen's planned programs and it's something he actually does and it's not, like, a joke. And it's the way he does it really effortlessly and you don't really actually notice he's doing all these quads 'cause they're so well done, which is the scariest part of his skating.
BLADE: Have you stayed in touch with him?
RIPPON: I've stayed in touch with pretty much everyone I competed with and with Nathan, we had the same coach for a while. I have such a soft spot for him and the things that he does. I'm always cheering for him. He's just a really, really good kid and, you know, works super hard and is so well rounded. I love catching up and seeing how he's doing.
BLADE: I know it's probably hard to put into words, but how much harder is the triple loop than the triple toe as the second jump in a combination?
RIPPON: Adding the triple loop onto something is much harder because the room for error and correction on landing the first jump is so small. When you're doing a triple loop in a combination, the biggest thing is you cannot readjust or fix the landing position of that first jump because it happens so quickly and it immediately needs to come together. With the toe loop, you can readjust the tap into the ice, you can tap a little further, tap quicker, you can jump a little more from the assistance of the free leg, so it's still incredibly difficult but a triple loop combination is by far much harder than a triple toe loop combination. 
BLADE: Were you more team Zagitova or Medvedeva in the ladies' event last Olympics? 
RIPPON: You know, I think that I was really impressed with Zagitova, I thought she skated very well, but I do have to say the way that Medvedeva handled herself as like a two-time world champion, and then to go out and skate two clean programs, I just felt she had a lot of substance to her skating maybe her style wasn't the I don't know, wasn't everybody's cup of tea. She performed, she had everything that an Olympic champion should have and I really felt that she kind of earned it. Zagitova skated a little bit like a really excellent junior lady in her first year senior. It wasn't as refined and Medvedeva was a two-time world champion heading into that event, she was very refined and in that moment and was incredibly young, but yet had some womanly flair to her, which I really admired. I completely see why Medvedeva was the silver medalist and Zagitova was the gold medalist, I understand, but if I were judging I would have had Medvedeva first.
BLADE: Did it bother you that Zagitova back-stacked all her jumps? (Jumps completed in the second half of the long program are weighted in scoring.)
RIPPON: No. I mean, of course I want to be like, yes, it doesn't make for a nice program, but then at the end of the day, we have rules and we have points and you know I think if Eteri's goal, their coach, is that she has a student who wins, and that they compete and there's no pecking order of who should win and who shouldn't win, you're gonna go and you're gonna do the most that you can do. So, I mean she played the game within the rules and she knew that Medvedeva had better style, so the way to make Zagitova more competitive against Medvedeva would be to just technically you know, put everything at the end. So is it annoying, like a little bit, but is she cheating? No. Everybody had that option and everybody knew that, so it doesn't bother me. I kind of look at it like I don't like it, but you're smart. 
BLADE: Why are they wrapping everybody up in those goddamn jackets now the second you step off the ice? They never used to do that.
RIPPON: It's a sponsor thing. While you're just sitting there in kiss and cry, they want the sponsor logo to be visible on TV. Obviously you couldn't skate with a logo, but when you're just sitting there waiting for scores, you can see what it says on the label.
BLADE: I wasn't a big fan when they changed the rules to allow vocal music. You took advantage of it. What was your opinion?
RIPPON: I didn't like it at first, but then I really enjoyed it as a skater. I just thought it opened the door for a lot of really cool ideas. 
BLADE: How was Tonya Harding on "Dancing With the Stars?" Did you develop any camaraderie with her?
RIPPON: I wouldn't say camaraderie, but she was super nice and she's fun. She's super funny, really personable. You know, I doubt Nancy (Kerrigan) would think that, but she's super personable. I had no problem with her. She was nice.
BLADE: Did you admire her skating back in the day?
RIPPON: The first competition I ever watched was '98, so I never grew up with her, but once I went back and started watching things, I'll always remember that opening at 1991 nationals with the "Batman" theme and that mint green dress. 
BLADE: Did you like the movie "I, Tonya"? 
RIPPON: I mean Margot Robbie when she does press for the movie, she says it's Tonya's side of the story and I think she did a really good job of that. But I think even Margot would tell you that the truth probably lies in the middle.
BLADE: So many skaters — Brian Boitano, Jeffrey Buttle, Johnny Weir — came out after they stopped competing. I'm not asking for names, but are there still closeted skaters that you know of or is that era finally over?
RIPPON: I think we're becoming past it and I really feel that like I hope that I had something to do with it, where people felt like it didn't really matter and you could still be successful. But I do think that the pressures of someone like me and someone like Brian Boitano or Jeffrey Buttle are so different. I was never a favorite for a world title, there was no pressure like that. I was just trying to kind of make my world team and see if I, if someone's having a bad day, could swoop in for a world medal. Or like at the Olympics, know that I could be a really good asset to the team event. So I knew that like the pressures for me were totally different, they were not the same as somebody trying to win a world title, I wasn't going to be as scrutinized. I mean especially compared to somebody like Brian Boitano in the '80s. So it's a totally different time but I do think that because a lot of the attention, I did get at the Olympics, I think it broke down a lot of stigma. Because yes, there was a gay athlete but everything else wasn't about that, which I think was great. I think it was a really good thing.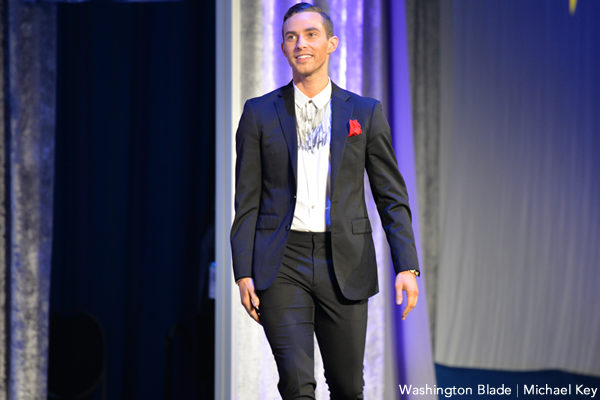 BLADE: Why are there so many more medal opportunities in the summer games? Can you imagine if figure skaters had the number of medal opportunities as Michael Phelps? 
RIPPON: I think when you get into subjective sports where it's all based on human judging, it's really hard to break those into different categories. And it's part of the drama of skating that there aren't all these opportunities. That's one reason I love the idea of a team event, not only because I'm a medalist from it, but I love that it's brought different stars from the Olympics forward. I mean look at Yulia Lipnitskaya from Sochi. In the team event, she was the star of the whole competition and when we think about the individual, I even forget that she competed in it. So it gives other people the chance to be Olympic stars in a different capacity. The whole point of the Olympics is to inspire people to get into sports. That really is truly what it is. And I think the team event really does that.
BLADE: You obviously came up long after compulsories were eliminated. When you go back and watch old performances, do you think skaters in the '70s and '80s had better form, better edges, because of having to learn the school figures or not so much?
RIPPON: I think the quality of skating is going up because the demands of what you have to do now technically are so high. You have to do so many transitions into jumps and so many turns and steps into all of your elements so you get a nice transition score and I think that's pushing people to learn these turns and steps in the proper way and faster than if they'd started with figures. This way you jump right into it and the learning curve is a lot quicker. You know you have to do it this way because that's how it's judged so it's the only way to be competitive. 
BLADE: Were you really fully nude except for your boots for the ESPN shoot or did you have some kind of little loincloth on or something?
RIPPON: I was 100 percent naked and it was actually at the rink I trained at. There are three rinks and one is all the way at the end in the corner and they blocked it off and had security and everything but yeah, it was fully nude, and for the first two minutes it was like, "Isn't it weird that I can see my dick and I'm skating," but then you get going and you're like it doesn't really become a thing anymore and nobody's really fazed by it because they've shot like a million naked athletes before so it's a very cool experience.
BLADE: Isn't it hard to skate with your dick flopping around?
RIPPON: No, because at that point, everything gets so small it's like, "OK, this is what we're dealing with." It's nothing to write home about. (laughs)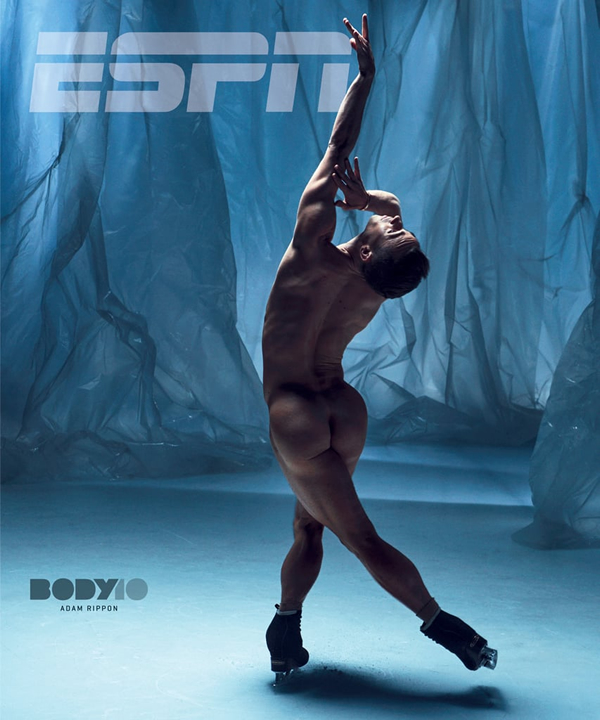 BLADE: What did you think of Johnny Weir and Tara Lipinski's commentary of your Olympic performances?
RIPPON: They bring such excitement to skating. People tune in to watch the skating, but also to hear their opinions. They're like Dick Button and Peggy Fleming for this generation, where you wanted to hear if Dick Button thought you were a good skater or not. They aren't mean, they're honest and now, being able to be more subjective, I see that. I remember there was one performance where Johnny said he thought I wasn't interpreting the music well and I was like, "What? He doesn't know what he's talking about." But as I watch it back now, I'm like, "No, he's totally right." He was just giving an honest opinion and it's his job do to that. … They add flair to the whole competition.
BLADE: Did you ever hear from Mike Pence after the Olympics or was that just a big dog-and-pony show?
RIPPON: Well I knew that I never would, so I haven't.
BLADE: Do you keep the Mirror Ball Trophy (from "Dancing With the Stars") with all your skating medals? Or they displayed?
RIPPON: All my skating medals are in a container from the Container Store. The Mirror Ball Trophy is in a guest bedroom on the night stand. I have it out if somebody wants to see it, but it's not something I'm looking at all the time. I want to focus on getting more things and — I know this is just in my own head — but not feel complicit in what I've achieved so far.
BLADE: You don't even keep your Olympic medal out?
RIPPON: They came in beautiful boxes so I have it in the box on a side table with the medal inside. So it's there if somebody wants to see it but it's not like, "Oh wow, it's hanging on the wall."
BLADE: Any hint of sexual tension between you and (out Olympic skier) Gus Kenworthy or is that just totally a gay bromance?
RIPPON: It's very much a brotherly sort of relationship. I adore him. We don't talk all the time, but he's just somebody I think I'll always be kind of close to.
BLADE: You say in the book you and (figure skater) Ashley Wagner were close friends. Do you have any comment on her decision in August to say she was sexually assaulted (11 years prior by pairs skater John Coughlin, who committed suicide in January under similar allegations)?
RIPPON: I think it was brave. I'm sure it was really hard for her to do it. I think it's going to hopefully create some good conversations with people within the sport.
BLADE: You say in the book you two were super close. Did she tell you about this shortly after it happened? Did you know John Coughlin?
RIPPON: I did know John, I thought, pretty well. But I had no idea any of this was going on and it's been pretty tough 'cause I wish I could have said something to someone or said something to him, but I didn't have that opportunity. It's something I think a lot of skaters are struggling with because we don't agree with it. It's not good. So many athletes aren't equipped to deal with the suicide of someone that they knew. So it was really something challenging for a lot of people to get through and it was just something that was still, you know, pretty raw I think for a lot of people.
BLADE: What did you think of Yuzuru Hanyu's (gold-winning) performances in PyeongChang? 
RIPPON: I thought he was amazing. He's incredible. Such a legend.
BLADE: Is he approachable or kind of in his own world? What's it like being around such a great skater?
RIPPON: There's a level of respect for everybody like that that all the competitors have regardless of who they are or what they've achieved. He's always been super nice and I would say that I enjoyed competing with him as both gold older. One thing that helped is since he moved to Canada, his English got better so we could actually chat. As an adult, I enjoyed seeing him and getting to cheer for him and watch him compete.
BLADE: How do you feel about turning 30 (in November)? 
RIPPON: I can't wait. I'm really excited.
BLADE: Why?
RIPPON: I just feel like it's perfect timing. I'm retiring from skating and starting this new phase of my life and career so the time feels really good. And I don't know, I felt like I was 30 for a few years already anyway, so it's all good timing.
BLADE: Does (boyfriend) JP (Jussi-Pekka Kajaala) live with you now in L.A.? How are things there?
RIPPON: JP goes back and forth between L.A. and Finland. I'm actually going there Friday.
BLADE: How often do you get to see each other on average?
RIPPON: We probably spend about five months out of the year together.
BLADE: Are you and ("Dancing With the Stars" dancing partner) Jenna (Johnson) still BFFs?
RIPPON: Um, yeah. I love her. We talk, like, very often.
BLADE: Are you a morning person by nature or did you kind of just force yourself to be one all those years getting up to train?
RIPPON: I'm not, but if I don't force myself to be a morning person, I could stay in bed for like years.
BLADE: What do you have coming up? What do the next six months look like for you?
RIPPON: I'm on the book tour for two weeks, then right after that I have a few stops and I'm working on a few other things that will be announced soon, which is cool. I also just filmed another series of Breaking the Ice, the little videos on YouTube. Yeah, just stuff like that. It's all good, nothing super busy.
BLADE: What would you like to be doing in 10 years?
RIPPON: I would love to still be working in entertainment, in comedy, and be successful. Let's see, I don't know, I just would like to be really successful, have more awards, right? I'm an athlete, I love a good trophy. So I think I really enjoy the kind of stuff I'm doing now and just continue to be a performer but like in a different way. I'd love to still be doing all this in 10 years.
CAMP Rehoboth's president talks pandemic, planning, and the future
Wesley Combs marks six months in new role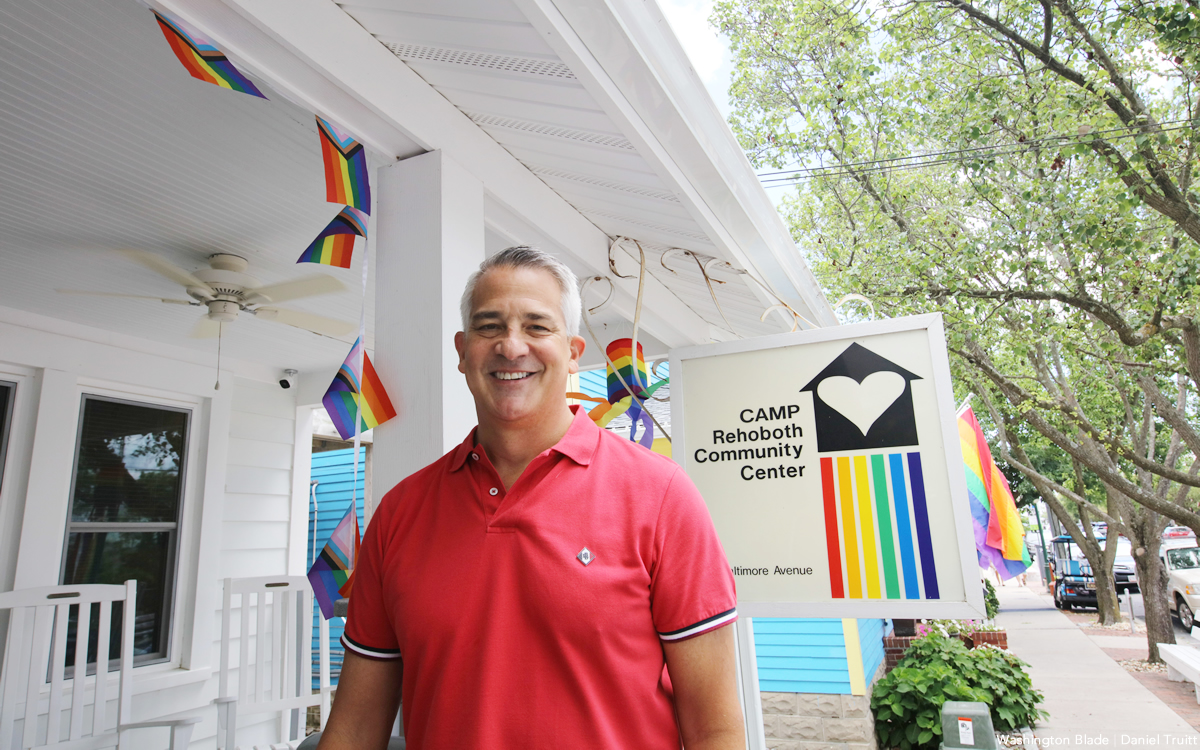 June marks half a year since Wesley Combs stepped into his role as president of CAMP Rehoboth. In a conversation with the Blade, Combs recounted his first six months in the position — a time he said was characterized by transition and learning.
Since 1991, CAMP Rehoboth has worked to develop programming "inclusive of all sexual orientations and gender identities" in the Rehoboth Beach, Del. area, according to the nonprofit's website. As president, Combs oversees the organization's board of directors and executive director, helping determine areas of focus and ensure programming meets community needs.
For Combs, his more than three decades of involvement with CAMP Rehoboth have shaped the course of his life. In the summer of 1989 — just before the organization's creation — he met his now-husband, who was then living in a beach house with Steve Elkins and Murray Archibald, CAMP Rehoboth's founders.
Since then, he has served as a financial supporter of the organization, noting that it has been crucial to fostering understanding that works against an "undercurrent of anti-LGBTQ sentiment" in Rehoboth Beach's history that has, at times, propagated violence against LGBTQ community members.
In 2019, after Elkins passed away, Combs was called upon by CAMP Rehoboth's Board of Directors to serve on a search committee for the organization's next executive director. Later that year, he was invited to become a board member and, this past November, was elected president.
Combs noted that CAMP Rehoboth is also still recovering from the pandemic, and is working to restart programming paused in the switch to remote operations. In his first six months, he has sought to ensure that people feel "comfortable" visiting and engaging with CAMP Rehoboth again, and wants to ensure all community members can access its programming, including those from rural parts of Delaware and those without a means of getting downtown.
Still, Combs's first six months were not without unexpected turns: On May 31, David Mariner stepped down from his role as CAMP Rehoboth executive director, necessitating a search for his replacement. Combs noted that he would help facilitate the search for an interim director to serve for the remainder of the year and ensure that there is "a stable transition of power." CAMP Rehoboth last week announced it has named Lisa Evans to the interim director role.
Chris Beagle, whose term as president of CAMP Rehoboth preceded Combs's own, noted that the experience of participating in a search committee with the organization will "better enable him to lead the process this time."
Before completing his term, Beagle helped prepare Combs for the new role, noting that the "combination of his professional background, his executive leadership (and) his passion for the organization" make Combs a strong president. Regarding the results of the election, "I was extremely confident, and I remain extremely confident," Beagle said.
Bob Witeck, a pioneer in LGBTQ marketing and communications, has known Combs for nearly four decades. The two founded a public relations firm together in 1993 and went on to work together for 20 years, with clients ranging from major businesses like Ford Motor Company to celebrities including Chaz Bono and Christopher Reeve. According to Witeck, Combs's work in the firm is a testament to his commitment to LGBTQ advocacy.
"Our firm was the first founded primarily to work on issues specific to LGBTQ identities, because we wanted to counsel corporations about their marketing and media strategies and working in the LGBTQ market," he explained. By helping develop communications strategies inclusive of those with LGBTQ identities, Combs established a background of LGBTQ advocacy that truly "made a mark," Witeck said.
Witeck emphasized that, in his new position, Combs brings both business experience and a renewed focus on historically underrepresented in LGBTQ advocacy — including people with disabilities, trans people and people of color.
Looking to the rest of the year, CAMP Rehoboth hopes to host a larger-scale event during Labor Day weekend. In addition, the organization will revisit its strategic plan — first developed in 2019 but delayed due to the pandemic — and ensure it still meets the needs of the local community, Combs said. He added that he intends to reexamine the plan and other programming to ensure inclusivity for trans community members.
"CAMP Rehoboth continues to be a vital resource in the community," he said. "The focus for the next two years is to make sure we're doing and delivering services that meet the needs of everyone in our community."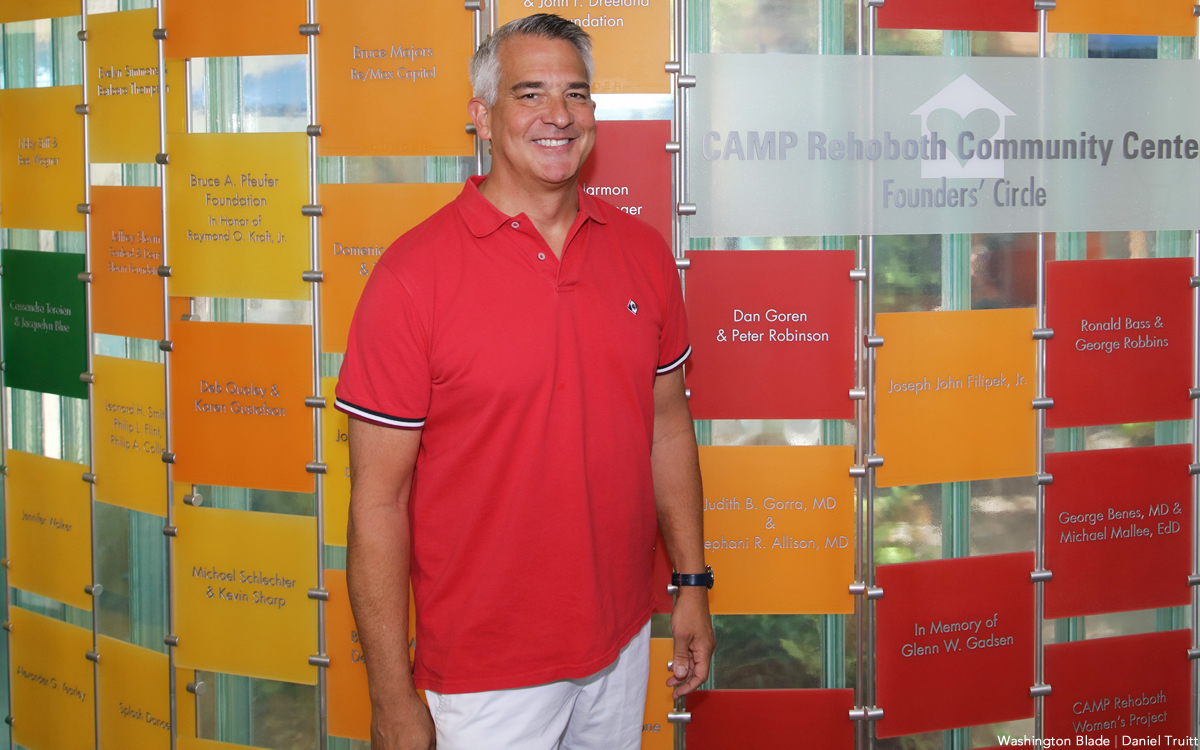 Melissa Etheridge shares Q&A in advance of April 26 Tysons tour stop
Rock pioneer finds inspiration in the past — from revisiting old demos to reconnecting with celeb pals like Ellen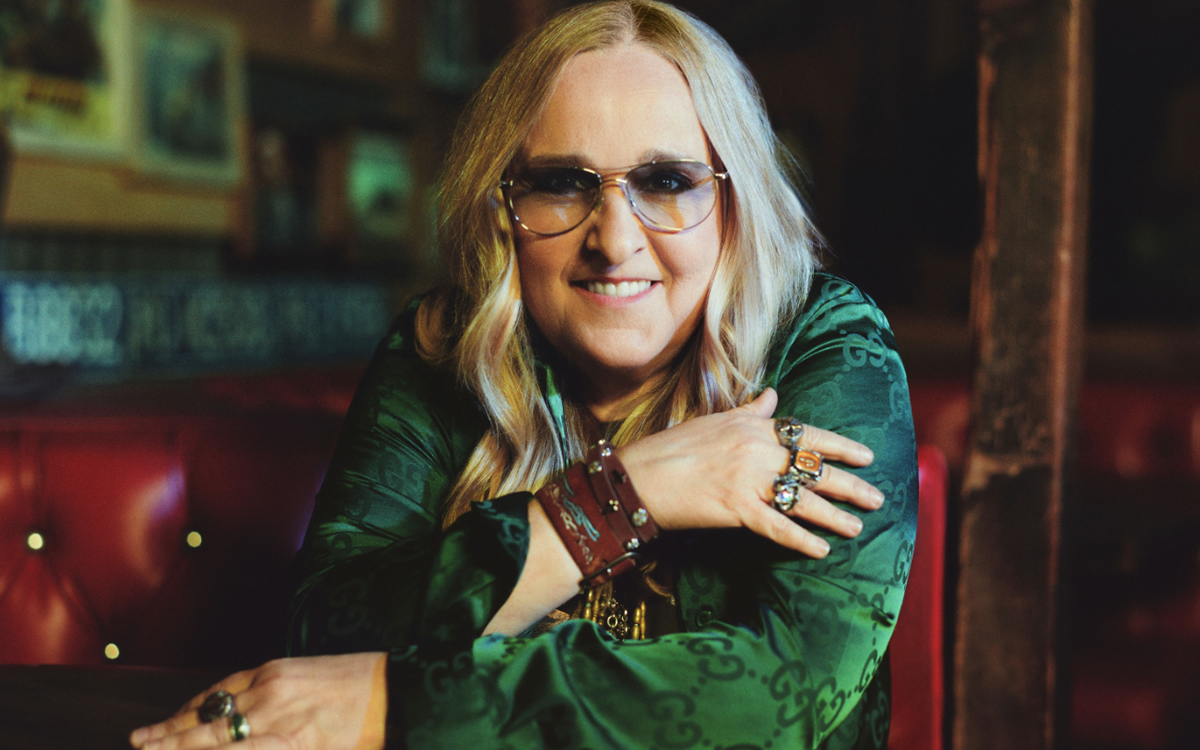 Melissa Etheridge
'One Way Out Tour'
Tuesday, April 26
Capital One Hall
7750 Capital One Tower Rd.
Tysons, VA
7:30 p.m.
Tickets: $55
ticketmaster.com
capitalonehall.com
melissaetheridge.com
We caught up with rock legend Melissa Etheridge on April 8 by phone from Snoqualmie, Wash. — it's about 26 miles east of Seattle —where she was playing the Snoqualmie Casino on her "One Way Out Tour," which plays our region on Tuesday, April 26.
It's named after her latest album, released last fall, which found Etheridge, who's been out since '93, revisiting demos from early in her career.
Her comments have been slightly edited for length.
WASHINGTON BLADE: "One Way Out" sounds like such a cool project. Was it all re-recorded stuff of old songs or were some of those vintage takes on the record as well?
MELISSA ETHERIDGE: The last two songs, the live songs, were from where? From 2002? OK, but the other songs were newly recorded.
BLADE: And how many of them did you remember?
ETHERIDGE: You know, when I found them again, they all came back very clearly. And I was like, "Oh, this is — why did I throw that away? That's weird." And I really enjoyed, you know, hearing them, they were just old demos. I'd never done full-blown recordings. So I thought, "This is great, I want to do these songs."
BLADE: We have a relatively new venue you're going to be playing, Capital One Hall. I've only been there once. You excited?
ETHERIDGE: Yeah, it's always fun. I love the D.C.-area crowd. It's just really, really nice.
BLADE: And how do you decide where you'll be? Or do you have any say in it?
ETHERIDGE: Well, it's not necessarily me. I do have a say in it, in what I want the whole tour to look like. But it is really up to William Morris, my agent, to find the right venue that understands what we need and the kind of atmosphere we're looking for that and the amount of people and, you know, that sort of thing.
BLADE: Tell me about Etheridge TV. I just wonder, when we were in that acute phase of the pandemic, wasn't it even remotely tempting to you to just take a break?
ETHERIDGE: No, because since I was 12 years old, I sang all the time for people, like five days a week and it's just been what I do. And so when it was like, I was looking at a massive, cavernous amount of time that I was going to be home, I still needed a way to pay the bills, so we put our heads together — I've got one of the greatest television minds with me, you know, my wife (TV producer Linda Wallem), so I had the space and I had the equipment, and I was like, "Let's do it." And it was really fun to learn new things. It was fun to learn about computers and sound and streaming and lights and cameras and all these things that I didn't know. … I feel a little smarter.
BLADE: When did you start back on the road?
ETHERIDGE: We went out last fall. We went out September, October, right around there. And you know, it was a little different, Now things are things are loosening up … but some places still require masks. But people are starting to get back out and it feels good. It's not the overwhelming thing that it was a few months ago.
BLADE: And what was it like being on 'Ellen' again for her final season?
ETHERIDGE: Oh, I love her. She's such an old friend. You know, I say that about myself, too. (chuckles) But, you know, she's just a relationship in my life that I have treasured. We've watched each other grow and the changes we've made and the successes and what we've gone through and I love that she had me on and just it was just a really — she's a dear friend. And she showed an old photo there, and we both said, "Oh, that was before we were so busy."
BLADE: Do you talk to her often?
ETHERIDGE: I would say we see each other socially once or twice a year. It just seemed like once we started having children, all my friends from my 20s and 30s when we were not as busy — it just gets harder to stay in touch and life got crazy.
BLADE: So when you were hanging out back in the day with Ellen and Rosie and everybody, how was it that Brad Pitt was in that group too?
ETHERIDGE: Well, my girlfriend (Julie Cypher) had been married to Lou Diamond Phillips and we were all very good friends with Dermot Mulroney and Catherine Keener and Catherine Keener did a movie with Brad, like a movie nobody saw, like Johnny Dangerously or something (1991's "Johnny Suede"), some really weird movie. So I met Brad before he was terribly famous. He was a part of that group. There was a whole group of all of us that just hung out, and we were all totally different. We were just like young, hungry Hollywood and we'd talk about, "Oh, I had this audition," or "I went and did this," and we were just all trying to make it in that town. So we'd get together and have fun.
BLADE: I was so terribly sorry to hear about Beckett (Etheridge's son, who died in 2020 at age 21 after struggling with opioid addiction). How are you and the rest of the family, especially (Beckett's twin) Bailey, dealing with it now?
ETHERIDGE: There are many, many families like us that deal with a loss like that. It just blows a family sideways. But we have a deep love and connection, all of us. We all knew he had a problem and it's a problem that starts way before he actually passes, so it was not a surprise. So now we're just living with the missing aspect. You try not to think about what could have been and you try to think about him in a happier place and that he's out of pain, so that helps us.
BLADE: Had he and Bailey been as close in recent years?
ETHERIDGE: They were very close, but in the last couple of years as he made worse and worse choices, we couldn't support that, so they were less close, but of course in her heart, it was her brother, he was very dear to her.
BLADE: Did you watch the Grammys? Was there anybody you were particularly rooting for?
ETHERIDGE: I watched bits and pieces of it. I had a show that night, so I didn't get to see the main thing, but I have seen pieces and I just love the crazy diversity and you know, the TikTok people winning stuff, it's like, "Wow, this is so not the Grammys I remember from the '80s," but that was what, 30 years ago? So it's all good.
BLADE: You were such a perennial favorite back in the day in the best rock female category. Were you pissed when they eliminated it?
ETHERIDGE: It's sad because I felt like the criteria they were using to judge what is female rock, they just really dropped the ball. I still think there are some amazing musicians that could be considered, you know, rock, but it feels like we're having a hard time even defining what rock and roll is now anyway. There's a whole bunch of strong women out there playing, rocking, you know, playing guitar, being excellent musicians and songwriters. If you can't call it best rock female, OK, call it something else.
BLADE: I remember so vividly when you were on the Grammys in 2005, in the midst of chemo, when you sang "Piece of My Heart." I remember you saying you were wondering how people would react to seeing you bald. Having been through that, any thoughts on the Will/Jada Oscars situation since her baldness, too, was due to a medical condition?
ETHERIDGE: You know, it's funny, I did feel a little remembrance of (thinking), "I just hope people don't make fun of me." That was kind of the first thing because to go out there bald, that was so different for me as an artist whose hair had kind of defined her. I was thinking, "How am I gonna rock without my hair?" I thought people might make fun of me, but I got over that. I just thought, "Well, if somebody makes fun of me, that just makes them look bad." So I just walked through it. And you know, it's hard to draw the line between what's funny and what's painful and how to look at something. I feel for all parties involved.
BLADE: When you go on these cruises, do fans give you some space or do they swarm around the minute you walk out? Is it even enjoyable for you?
ETHERIDGE: Yeah, it is. You know, we did our last one, now we're doing Etheridge Island, we now have a destination in Mexico, outside of Cancun, it's just this island that we're going to that is really fantastic. But I do I make myself available, I don't run away. When I have to be somewhere, I have a great company we work with called Sixthman that knows how to get me from point A to point B without being bogged down. But I do my make myself available. Everyone gets a picture with me. It's my work, but I love it. I try to make myself available but also have some time just for myself too.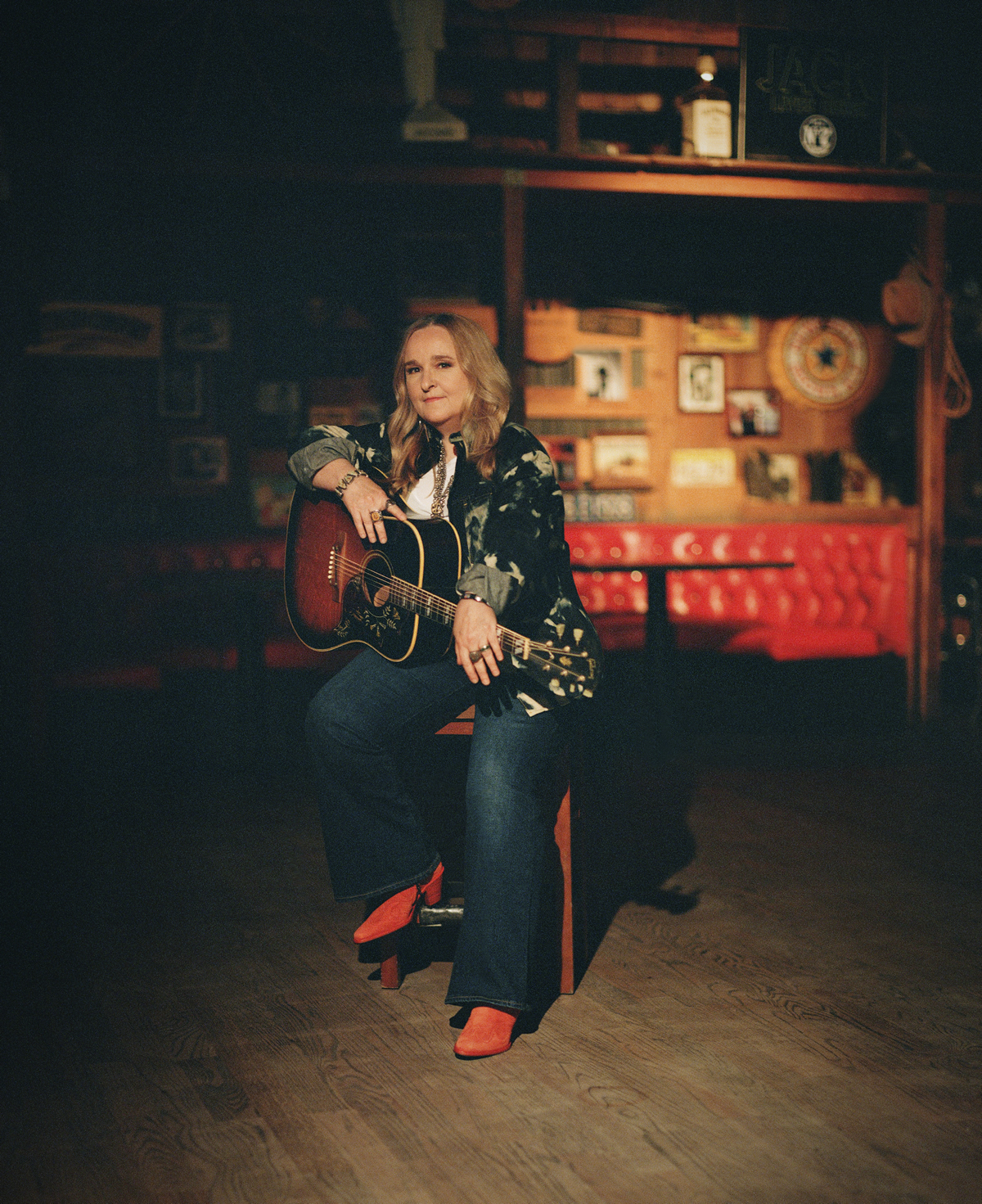 BLADE: You Tweeted a few nights ago about having a tight curfew of just 90 minutes at a casino but then it worked out and you got to do a full set. Why are the curfews so tight at casinos?
ETHERIDGE: Why do you think? They want people at the tables. Like for tonight, we we settled on 100 minutes. They're giving me 10 extra minutes. I don't like it, but in some areas, the only really good venue is a casino, so if you want to reach your folks there, you kind of have to meet them half way.
BLADE: Yeah, but it seems like in concert halls, the curfews can sometimes be really tight too. Even Madonna got her lights shut off a couple years ago. Of course, she's notoriously late, but why are they so strict with these things nowadays?
ETHERIDGE: There are all different situations — concert halls often have union crews that will absolutely shut you down if you go one second over. There are also sound curfews, noise curfews, mostly with outdoor venues, but sometimes indoor as well. They have an agreement with the neighborhood. So you have people in the neighborhood standing by with their phones ready to pounce the minute it goes over one minute, they're gonna call the police. As a performer, you just realize, "OK, it's not just about me." When I don't have a curfew, I usually land at about two hours and some change. That seems comfortable to everyone. Any longer and I think I'm wearing my audience out. When I'm at a place with a shorter show, I just do my best.
BLADE: I know you're a big Chiefs fan. Did you watch that game back in January all the way to the end?
ETHERIDGE: Well, at the end of it, I was on the floor. My wife was like, "Honey, honey, there's still 13 seconds," and I was moaning and sort of getting my feet on the floor and, you know, laying down and throwing a fit. And she's like, "No, there's still 13 seconds." I dragged myself back to the television. And I couldn't believe it. I was like, "Wait a minute. Did we just win?" You know, just really crazy, really crazy stuff. … When you're a fan like that, it's a ride you can't fully explain.
BLADE: Are you in a cordial or good place with your exes? Does it get easier when the kids are starting to grow up?
ETHERIDGE: Oh, yeah. Oh, yeah. And you realize that it's best for the kids if you can really get along and that any sort of conflict that can't get resolved, that gets emotional, does no good for anyone. And absolutely, I have, I've gotten better at that as the years have gone by.
BLADE: Do you have the slightest inkling yet what the next studio album might be like?
ETHERIDGE: Well, I've got some interesting projects that I'm not ready to talk about just yet. But they have to do with my life story. There's a lot of digging up of my past and really telling the story. So I imagine the next series of music you'll get from me is going to be very focused on my journey.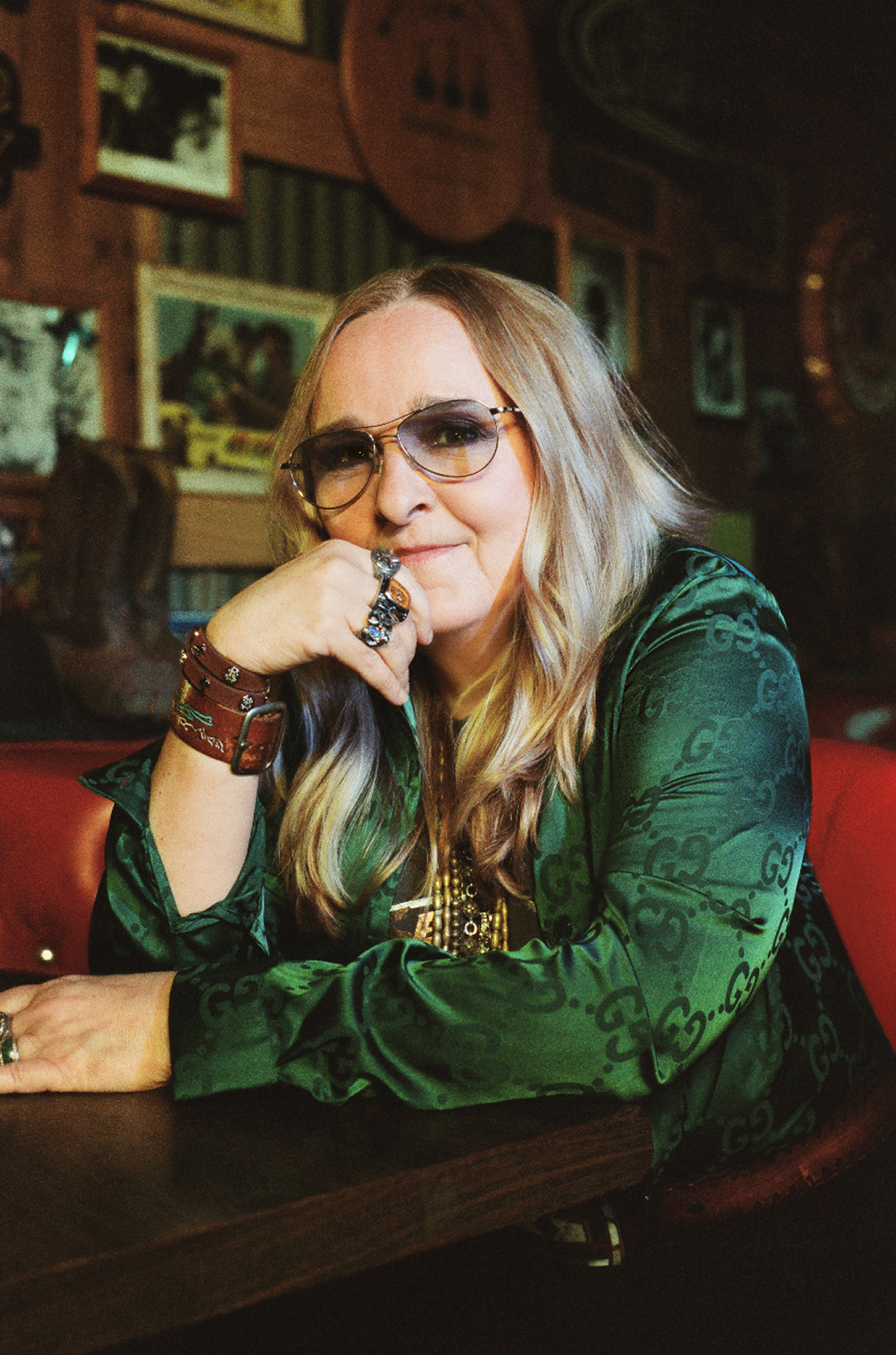 New Cranes sommelier brings spirit to wine and sake program
Stewart-Woodruff curates eclectic list for Michelin-starred restaurant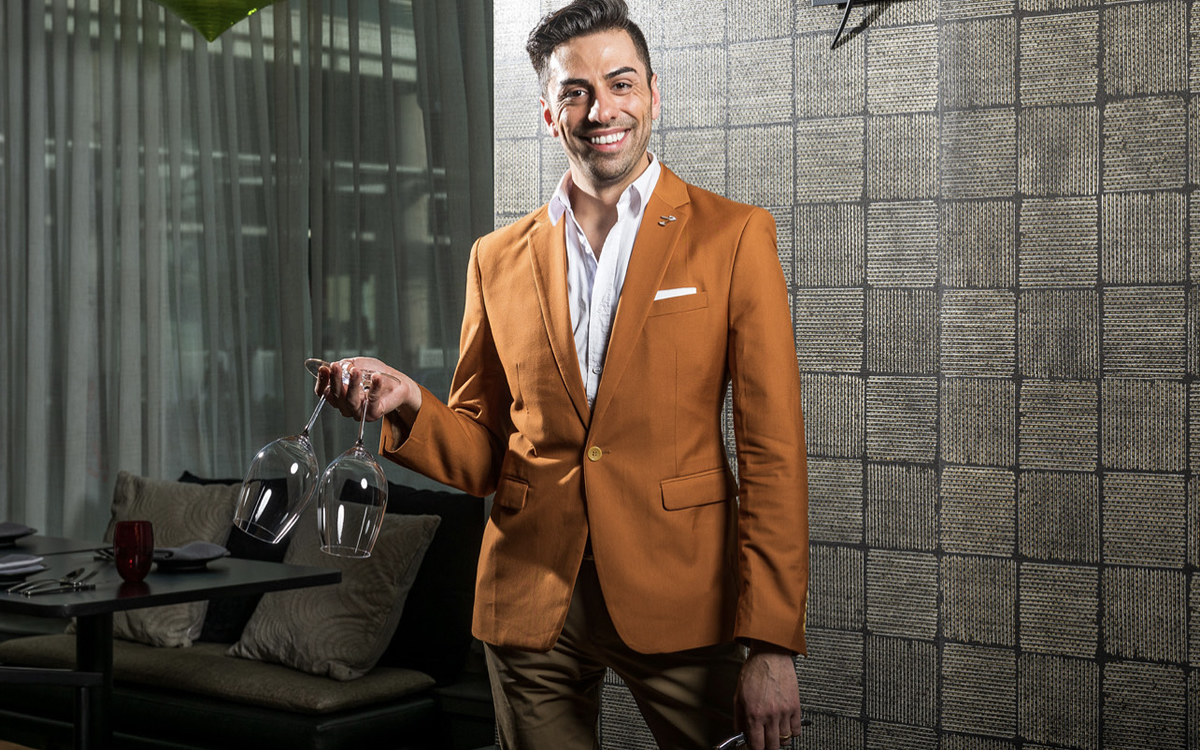 Outfitted in a blue damask dinner jacket with satin lapels and an energetic smile, Eric Stewart-Woodruff carves an impressive figure when chatting about his favorite vintages. Stewart-Woodruff, who's gay, is the new sommelier at Michelin-starred Cranes in Penn Quarter.
Stewart-Woodruff curates an eclectic wine – and sake – program focusing on pairings with celebrated Chef Pepe Moncayo's innovative, global flavors. Cranes, which explores intersections of Spanish and Japanese cuisine, opened just before the pandemic, and received a coveted Michelin star in 2021.
Stewart-Woodruff did not start off in the wine industry. In fact, he does not have any formal training in wine. Instead, after a career as a professional photographer, he pivoted to the restaurant industry, where he developed his love of wine. While working for a distributor, he connected with D.C.'s own District Winery. This opportunity allowed him to express his truest self, as a lead tour guide, wine ambassador and sommelier. He credits his identity and personality as his reason for thriving.
"I bring my whole self to work," he says, "offering a level of humanity and approachability."
After the pandemic temporarily shuttered District Winery, Stewart-Woodruff found himself interviewing at Cranes, enamored with Moncayo's "creative vision," he says – and was sold. He began in late summer of 2021.
Through his work in hospitality, Stewart-Woodruff notes that the industry can be hetero-male dominated. He has been able to break through by not holding back on his identity.
"I tend to play with expectations of what a sommelier may look or act like," he says. "I move away from what one may stereotypically look like, but still present like one."
For him, that means talking about wine and wine education "as if it were gossip," he says. "I like to view wine like we are at brunch. Wine has personality, it's performative, and it has stereotypes." He is seeking to break molds of specific likes and dislikes, exploring the depth that wine has to offer, in the context of the Spanish-Japanese Cranes menu. In fact, he says, Moncayo is supportive of his innovative, certification-less angle. "I become more relatable," he says.
He also presents original events. He paired with local guest sommelier Andrew Stover (also a gay man) on Tuesday, March 29 for a springtime showcase of specialty rosé wines paired with Moncayo's dishes. The duo poured tastes of specialty, small-batch wines from Brazil, Italy, Spain, Uruguay, and Maryland.
Leaning into the innovative spirit, the wine-by-glass list is not split by color. Instead, it is divided into evocative categories. For example, both a chardonnay and a pinot noir fall into the "Elegant, round, and mellow" category.
As a Spanish-Japanese restaurant, Cranes not only possesses an extensive wine cellar, but has consistently expanded its sake program. Sakes by the glass are split into the same exact categories. The very same "Elegant, round, and mellow" list includes Ginjo Nama Genshu and junmai daiginjo.
Stewart-Woodruff explains that wine and sake should be attended to similarly. "Sake is something you can think about like a beer in terms of production but treat like a wine," he says. Sake is a fermented polished-rice beverage, dating back more than two millennia in Japan.
"Sake has aromatics, texture, body, and finish." He takes pride in discussing customers' palate preferences, and turning them onto a specific sake, for their qualities of earthiness, acidity, or others.
"Many people don't experience sake outside of college or bars. Now, I can be a sommelier for sake, and for the marriage of Eastern and Western cuisine and beverage." He expresses excitement at being innovative in his sake beverage pairings, occupying a niche space. When discussing both wine and sake, he aims to bring an artistic flair and tour-guide enthusiasm to the table.
Woodruff credits his identity and background for his success. He aims to bring a level of humanity and approachability to what has been a formal, stuffy area. He has high ambitions to portray sake as sophisticated as wine in the customer's mind, "but it pairs well with Moncayo's conceptually ambitious menu," he says.
"Wine and sake are as eclectic as humanity. I want people to accept experiencing wine like the world has accepted me."