January 11, 2019 at 5:01 pm EST | by Brian T. Carney
'Vice' compelling but ultimately falls short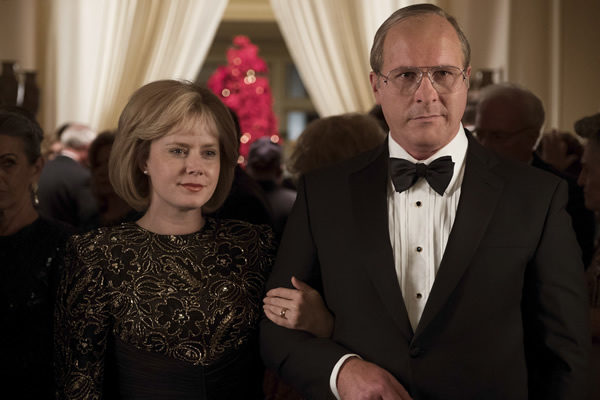 Surprisingly, one of the pivotal characters in "Vice," writer/director Adam McKay's satiric new biopic about former Vice President Dick Cheney is Mary Cheney, Cheney's openly lesbian daughter. Although Alison Pill does not get a lot of screen time, McKay cannily uses the character to help shape the audience's reaction to Dick and the rest of the Cheney family.
After years of working on slapstick comedies with his buddy Will Ferrell ("Talladega Nights," "The Anchorman"), Adam McKay became a "serious" director with the 2015 release of "The Big Short," a dark satire about the collapse of the U.S. housing bubble.
One of the reasons for the movie's success was McKay's clever use of narrative devices to explain the complex financial transactions that drive the plot. Most notably, celebrities suddenly appear to talk about what's going on in the movie. Margot Robbie, for example, discusses mortgage-backed securities and subprime loans from the luxurious comfort of her bubble bath. McKay and Charles Randolph won the Oscar for Best Adapted Screenplay for the clever script.
These delightful cameos provided necessary exposition, but also provided comic relief and offered a fresh perspective on the shady deals that were making the financiers rich.
In "Vice," McKay has an even more ambitious agenda — to not only examine how Dick Cheney cynically changed the American political landscape but to explore Dick Cheney's life as a devoted family man.
To expose Cheney's Machiavellian side, McKay expands on the narrative devices he used in "The Big Short." In a wonderfully surrealistic restaurant scene, a waiter played by Alfred Molina joyfully explains to Cheney and his giddy colleagues the various shady legal strategies they can use to justify torture and other questionable tactics. In another stunning sequence, Lynne and Dick Cheney suddenly start speaking in Shakespearean blank verse, modern-day versions of the Macbeths plotting their rise to power.
To humanize the deeply conservative Cheney, McKay brings Mary Cheney into play. When a young Mary comes out to her parents, they have very different reactions. Lynne worries what the political fallout of the situation will be, but Dick unconditionally embraces and supports his daughter.
The theme continues when Cheney and George W. Bush are discussing Cheney's possible role as vice president. Cheney reminds Bush that he has a lesbian daughter and makes it clear that he will not come out against gay marriage. Bush agrees, and he also agrees to Cheney's expanded role in running the White House and the country.
Finally, gay marriage again becomes an issue when Liz, the other Cheney daughter, is running for office. She's behind in the polls and her conservative supporters are encouraging her to come out against gay marriage to bolster her base. With Lynne's enthusiastic support, Liz does so, creating a dilemma for her father and causing great pain for her sister.
Despite his skillful writing and astute direction, McKay does not fully succeed in his ambitious scheme to both satirize and humanize Dick Cheney. It may be an impossible task.
On the plus side, Alison Pill and Lily Rabe turn in fine performances as Mary and Liz Cheney. They quickly create memorable characters in their few brief scenes, but McKay seems more interested in them as symbols than real people.
This is emphasized by the fact that Mary's wife Heather Poe-Cheney (Melissa K. Marks) is seen in several scenes, but is never identified and has no lines.
Amy Adams turns in a dazzling performance as Lynne Cheney. She is truly the Lady Macbeth behind Dick's rise to power. She is charming, ruthless, ambitious and very smart, fueled in fascinating ways by both her deep love for her husband and her profound belief in the ideals that shaped this country.
Steve Carell and Sam Rockwell are also outstanding as Donald Rumsfeld and George W. Bush. Carell is very funny as the cocky defense secretary, but also brings a surprising decency and dignity to the man who starts out as Cheney's mentor but is tossed aside when he becomes a political liability. Rockwell is both amusing and terrifying as the unwitting pawn in Cheney's horrible schemes.
Unfortunately, McKay is less successful in his work with Christian Bale as Dick Cheney. Bale, who just won a Golden Globe for his work here, rarely shows what's going on in the vice president's heart or mind. It's not clear if Bale is overplaying Cheney's unshakable façade or if he's just buried beneath pounds of make-up and prosthetics, but his performance falls short of the mark.
Likewise, McKay falls short of his fascinating attempt to both satirize and humanize Cheney. It's hard to humanize a man who seems to have no inner life and it's probably impossible to mock a monster like Cheney. There is no ironic vantage point to view the terrible events of 9-11 from and it's hard to find sustained humor or humanity in the man who started the pointless war in Afghanistan and who helped to lay the foundations for the Trump presidency.
There are some great performances and fine moments in "Vice," but it's hard to laugh at Dick Cheney for long, even if he loves his lesbian daughter.