'The Favourite' 'Crazy, Rich' movies of the year
Gaga and Rupert wowed, 'conversion' therapy got skewered and festivals delighted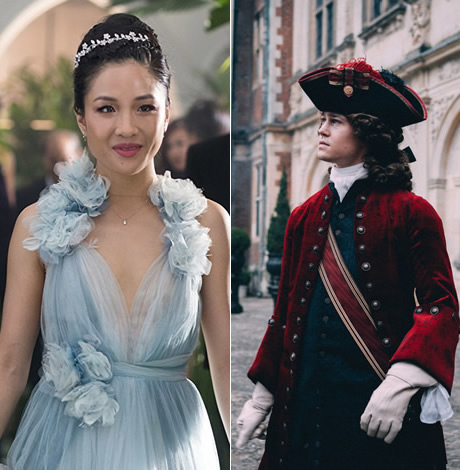 As the Golden Globe nominations richly demonstrate, 2018 was a great year for LGBT cinema.
At the top of the list is Yorgos Lanthimos' stunning "The Favourite," a bawdy romp through English history. Olivia Colman is Queen Anne and Rachel Weisz and Emma Stone are two ladies vying for her affection — and a share of her power.
The Golden Globe slate also includes "Can You Ever Forgive Me?" about a lesbian grifter and her gay sidekick; "Bohemian Rhapsody" with Rami Malek as Queen lead singer Freddie Mercury; "Crazy Rich Asians;" Lady Gaga's incredible performance in "A Star Is Born" and two movies that will open in D.C. on Dec, 25: "If Beale Street Could Talk," written and directed by "Moonlight's" Barry Jenkins from the novel by James Baldwin; and, "Vice," the Dick Cheney biopic featuring Alison Pill as his openly lesbian daughter Mary.
There's also the controversial Belgian film "Girl" about a trans ballerina that stars a male actor in the lead.
Two excellent movies focused on the harmful practice of conversion therapy: the Golden Globe nominee "Boy Erased" and the Sundance Grand Jury Prize winner "The Miseducation of Cameron Post."
Four interesting movies turned their focus to the younger LGBT generation. Known primarily for his innovative and inclusive programming for the CW network, Greg Berlanti directed "Love, Simon," a moving rom-com about a closeted high-school student. The inventive "Every Day" explored the complex relationship between a high school girl and a pansexual entity who inhabits a different human body (male or female) every day; "Skeleton Twins" director Craig Johnson helmed the quirky high school coming-out comedy "Alex Strangelove." Claire Danes and Jim Parsons starred in trans director Jake Howard's "A Kid Like Jake" about a Brooklyn couple with a gender non-conforming child.
Other notable LGBT releases included "Colette" about the infamous French author; "The Happy Prince," Rupert Everett's unconventional biopic about the convention-shattering gay author Oscar Wilde; the searing coming-of-age story "We The Animals;" "Lez Bomb," a comedy about a closeted lesbian who decides to come out to her family on Thanksgiving; the adoption dramedy "Instant Family;" "Lizzie," a retelling of the Lizzie Borden case with a lesbian twist; "Hearts Beat Loud"  a moving drama about a record store owner (Nick Offerman) and his lesbian daughter who's about to leave for college (out actress Kiersey Clemons); and, the sensuous "Mary Queen of Scots" with passionate performances by Saiorse Ronan and Margot Robbie and a crucial gay plot twist.
Luckily for LGBT cinephiles, the D.C. Metro area is home to a number of wonderful film festivals that regularly feature queer content.
Reel Affirmations, D.C.'s international LGBT film festival offers monthly screenings and a weekend-long festival every November. Some of this year's highlights included the stunning "1985" about a closeted young man with AIDS returning to his Texas hometown to spend the holidays with his conservative family; "Water in a Broken Glass," an excellent drama about a bisexual artist by first-time director Jamelle Williams-Thomas; "Just Friends," a beautiful low-key Dutch drama about two young men and their intrusive mothers; and, "Buddies,"  a restored version of the first feature length movie about AIDS crisis.
The Washington Jewish Film Festival also screens films throughout the year. Their annual festival in May spotlights "Rated LGBTQ," a thoughtful collection of current and classic queer movies. This year's schedule included "The Cakemaker," a complex and moving queer drama about delicious baked good and breaking boundaries of gender, sexual orientation, family relationships and nationality.
In Baltimore, the Maryland Film Festival offers year-round programming at the SNF Parkway Theatre as well as a five-day celebration of contemporary cinema every May. Legendary gay filmmaker John Waters is on its board of directors and every year he personally presents one of his favorite offbeat movies as part of the Festival. This year's selection was "I, Olga Hepnarová" about a lesbian mass murderer in Poland.
AFI Silver in downtown Silver Spring offers a rich blend of contemporary indie cinema, carefully curated celebrations of movies by American and global filmmakers, and, glittering regional film festivals that offer D.C. audiences the chance to see films that won't be screened anywhere else. LGBT movies are always part of the diverse programming.
D.C. is also host to the annual AFI DOCS festival which celebrates the amazing diversity of full-length and short documentary films. This year's LGBT offering examined slam poets ("Don't Be Nice"), a small town in Arkansas where life is dominated by the annual passion play and the local gay bar ("The Gospel According to Eureka") and out professional athletes ("Alone in the Game").
Some of the other great LGBT documentaries released in 2018 included "McQueen" (designer Alexander McQueen), "Love Cecil" (costume designer Cecil Beaton), "The Gospel According to André" (designer and journalist André Leon Talley), "Whitney" (singer Whitney Houston), "Won't You Be My Neighbor"(Fred Rogers and friends, including the black gay opera singer Françoise Clemmons who played Officer Clemmons on "Mister Rogers' Neighborhood"), "Far From the Tree" (the ground-breaking research and personal history of Andrew Solomon), "Scotty and the Secret History of Hollywood" (Hollywood pimp Scotty Bowers) and "Dark Money" (a look at the dire impact of the Citizens United ruling on American politics, expertly directed by trans filmmaker Kimberley Reed).
Other LGBT-friendly film festivals include Filmfest DC, which screened the lesbian drama "Disobedience" by director Sebastián Lelio ("A Fantastic Woman"); the Annapolis Film Festival; D.C. Shorts; the amazing 48 Hour Film Project; and, the Middleburg (Va.) Film Festival where Hollywood meets Capitol Hill.
Finally, beyond the multiplexes, the cinema landscape in the metro D.C. area includes two movie chains that are steadfast supporters are the LGBT community and independent cinema. The Landmark chain now has four area locations (the E Street Cinema, Bethesda Row Cinema, Atlantic Plumbing Cinema and the West End Cinema) and the Angelika chain presents films at the Pop-Up at Union Market and the Mosaic in Fairfax. In addition, the Avalon Theatre in northwest D.C. is a crucial component in the vibrant Chevy Chase neighborhood.
And with that, it's all over except for the awards shows. The Golden Globes will be awarded on Jan. 6 and the Academy Awards will be presented on Feb. 24.
'Hamlet/Horatio' queers the Bard
A contemporary take on classic play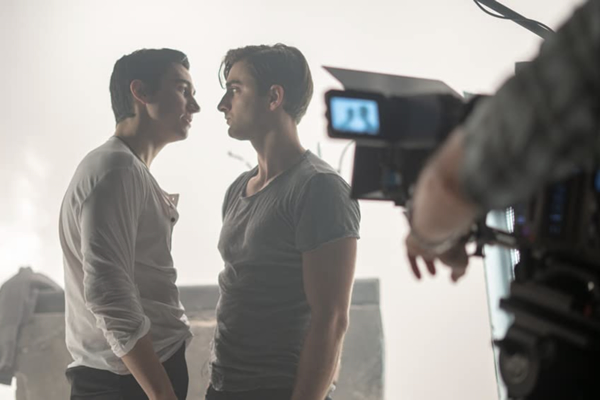 While it's not exactly a pressing topic in most people's lives, the subject of Shakespeare's sexuality has been hotly debated by literary scholars, theater artists, and historians for centuries. After all, not only are his plays filled with gender-swapping characters and sexual confusion, he also wrote a series of sonnets, widely considered the most romantic poems ever composed in English, and dedicated them to a mysterious young nobleman. Even in the Renaissance, when the "cult of male friendship" was a real thing and male artists could create breathtakingly erotic depictions of young men to be displayed in a church, such a bold gesture of affection from one man to another must have raised at least a few eyebrows.
It's a controversy that isn't likely to go away, considering the fact that anyone who might give us first-hand knowledge on the subject has been dead for about 400 years. And while some contemporary artists, across various media, have been willing to explore the playwright's work through the lens of his possible queerness, most cinematic interpretations – with a few notable exceptions, like Derek Jarman's "The Tempest" – have kept things decidedly hetero-centric.
Paul Warner, director of the soon-to-be-released "Hamlet/Horatio," which riffs on a central but often overlooked relationship in Shakespeare's most famous tragedy, can't imagine why. A graduate of both Harvard and the American Film Institute, Warner is currently a senior instructor of acting, directing, and producing at The New York Film Academy. He's also a Shakespeare veteran, having been involved in many stage renditions of the Bard's work (including a rock musical version of "Twelfth Night") throughout his career – and as he tells the Blade, it's obvious to him that the revered wordsmith was either gay or bisexual.
"There's a tremendous amount of exploration of gender fluidity in his work," he says. "There's never a label on it, but it permeates Shakespeare. There are a lot of characters who fall in love with the soul of the person, rather than the gender."
While these themes may run through comedies like "Twelfth Night" or "As You Like It," they are considerably less obvious in Shakespeare's tragedies – but that doesn't mean they aren't there, and Warner's new film hinges on using them to illuminate one of the most iconic male friendships in literature.
For those unfamiliar, Shakespeare's "Hamlet" is the tale of a Danish prince, who is visited by the ghost of his recently murdered father and told to seek revenge against the murderer – none other than Hamlet's uncle Claudius, who has not only murdered the former king but taken both his throne and his queen, Gertrude, who is also Hamlet's mother. Seeking confirmation of the crime, Hamlet engages in a game of cat-and-mouse with his uncle, in which both Hamlet's presumed future bride Ophelia and her brother Laertes become unwitting pawns. It goes without saying that things don't turn out well – but through it all, one steadfast and trusted figure stands at Hamlet's side: his confidant and companion, Horatio.
"Hamlet/Horatio," which Warner directed from a script by playwright (and frequent stage collaborator) David Vando, reimagines the original play through an unusual conceit. In his dying moments, Hamlet (Andrew Burdette) sees his life flashing before his eyes, unfolding through a film that Horatio (Themo Melikidze) directs to tell his story. By shuffling dialogue, resetting scenes, and leaning deeply into subtext, Warner reframes Hamlet's experience into a story of spiritual and humanistic transcendence – and reveals a deeply intimate, loving bond between these two young men that has perhaps been "hiding in plain sight" all along.
Despite his interest in exploring the relationship between Hamlet and Horatio, Warner insists that he didn't set out to make a "gay Shakespeare movie." Indeed, he is adamant even now that the intention behind Vondo's script (which he helped to adapt into a screenplay) was to "move past" that conception.
"Part of it was trying not to make things 'gay' or 'straight,' or 'this' or 'that' anymore, but really it's about two people who are flip sides of each other," he explains. "They are spiritually two sides of the same coin. And they're in a relationship – it's clear that there is a repressed love there. And there's definitely an exploration of their homosexuality, but also of the fluidity of their sexuality.
"This is why the characters don't wear their 'identities' on their sleeves. We wanted to show something more closely resembling a non-binary, gender-fluid vision of love and sexuality that is part of a bigger story about human truth."
To that end, he envisioned a version of "Hamlet" in which the Denmark's Elsinore castle bears a striking resemblance to the Trump White House. The usurping king is a despot posing as a benefactor, exerting an authoritarian rule and setting the people close to him against each other to prove their loyalty, while his queen turns a blind eye to his increasingly obvious misdeeds.
"Maybe I'm one-sided, but I tried to depict the 'ickyness' of that Melania-Donald dynamic between Claudius and Gertrude," he says, not without a hint of relish. "I've made her trapped, like Melania, and she's constantly drinking – she's an immigrant, and she doesn't speak up because she's controlled by his finances."
In this light, as Warner puts it, Hamlet becomes a hero of resistance, who rises to "slay" fascism, while Horatio is the filmmaker who documents it.
"It's ultimately about Hamlet's spiritual journey to fullness. It's about him letting go of rage and embracing the light."
Yet, when all is said and done, it's the love between these two men that shines above all else.
"Hamlet eventually sacrifices his life to root out the corruption and to save those who are still alive – which is basically Horatio, his boyfriend, because everybody else is dead."
"Hamlet/Horatio" has already played in front of audiences at a number of festivals, and has taken honors at several of them – including a Best Feature Film Jury Award at last year's inaugural FFTG (Film Festivals to Go) Fest. The enthusiastic response has given Warner reason to hope that, despite his "queering of Shakespeare," his film will find a "wider audience" when it debuts on digital platforms in June.
Of course, Warner fully expects to be raked across the coals for some of the liberties he has taken, such as the choice to cast transgender Native American actor Ty Defoe as the Player King and the inclusion of a scene where Hamlet and Horatio take a steam bath together – "which is not anywhere in 'Hamlet,' of course," he says with a laugh.
Still, for him, his approach to the material rings true to the source.
"There's a timelessness in the way Shakespeare deals with the danger of rage, and how that threatens spirituality. In his plays, you always have the autocrats, who want to control others, and then you have the purer people, usually younger characters, like Hamlet, who propose love, who pursue a humanitarian vision against them. That's Shakespeare, who was, of course, writing under a monarchy.
"And after four years of authoritarian rule under Trump, I think he was way ahead of his time."
JxJ celebrates Jewish LGBTQ film at festival
Movies include 'Kiss Me Kosher,' 'Marry Me However'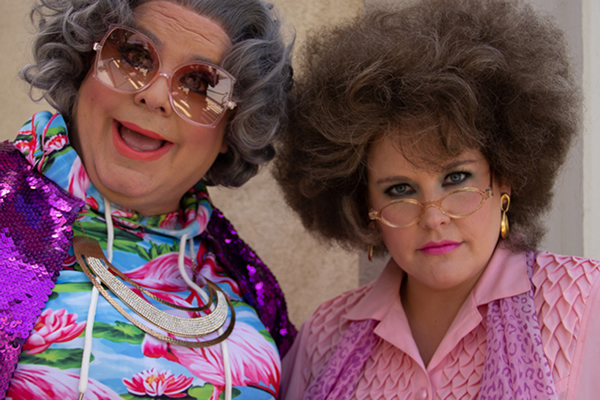 For this year's festival lineup, JxJ will be presenting its "Rated LGBTQ" series, which highlights films with LGBTQ themes, characters, and creators. The festival will run from May 23-30. The films featured include: "Kiss Me Kosher"(outdoor screening at the Bender JCC May 30 at 8pm, $12 per person); "Marry Me However" (virtual screening, $11 per household); "Sublet" (virtual screening, $11 per household); "Bra Mitzvah" (short film, part of the Run the World (Girls) virtual shorts program, $11 per household); "I Want to Make a Film About Women" (short film, part of the Breaking Through virtual shorts program, $11 per household).
Tickets and information about the films are available here.
Mayor's Office of LGBTQ Affairs screens 'Eat With Me'
David Au's directorial debut presented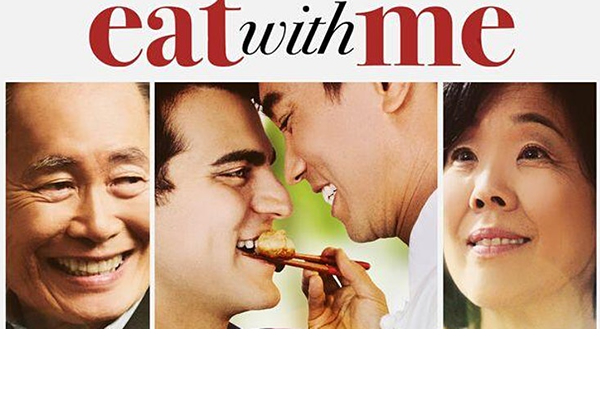 In celebration of Asian and Pacific Islander Heritage Month, The Mayor's Office of LGBTQ Affairs, DC Public Library, and the Mayor's Office on Asian and Pacific Islander Affairs host a screening of "Eat With Me" for May's #DCQueerFlix on May 14, beginning at 6 p.m.
"Eat With Me," David Au's directorial debut, features the story of a mother and her gay son learning to reconnect while trying to keep their business afloat. The film offers a novel take on love, life, and food in the center of Los Angeles.
"Eat With Me" will be available on the Kanopy streaming service and is free for D.C. library patrons.
To register for this virtual event, visit the Eventbrite page.