October 17, 2019 at 11:21 am EDT | by Richard J. Rosendall
So much drama, so few column inches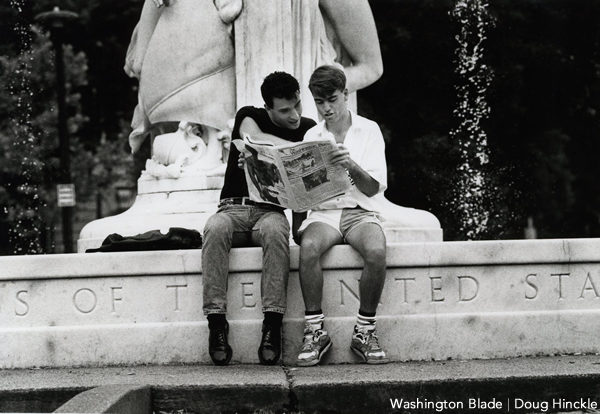 I go back forty years with the Blade to an evening when I was riding around with a friend who stopped by a house north of Dupont Circle and took two copies from a stack on the porch.
My relationship grew from reader to news source, event promoter, advertiser, and contributor. I became a source by my involvement in the Gay and Lesbian Activists Alliance, for which my Blade contact was and is reporter Lou Chibbaro. For a while in the 80s I was promotion director of the Gay Men's Chorus of Washington; Noel Gillespie was the Blade's performing arts critic, and Jim Deely was display advertising manager.
In the early 80s the chorus decided to get cute with an audition notice, and we ran a Blade classified ad saying, "Talented mouths wanted for large group scene. GMCW auditions," with my contact number. No one knew what GMCW stood for, and soon my phone was ringing off the hook with wannabe porn stars.
Doug Hinckle was the Blade's longtime news photographer. Once, at a chorus event Doug was covering, I suggested a photo. He snapped, "Don't tell me how to do my job." He left behind an extensive photo archive.
Senior Editor Lisa Keen, my first editor as a freelance writer, was probably responsible more than anyone for setting the professional standard for gay journalism.
At the height of the AIDS crisis, the Blade, as the District's LGBTQ newspaper of record, regularly ran many pages of obituaries. If you didn't live through that time, it is hard to convey how bittersweet an experience it was reading them. Several times it fell to me to write an obit for a chorus member. In the case of one singer, I had to call his sister back twice to get details that Lisa said were needed, and I'll never forget the sister's sobbing as she spoke about him. Working in small nonprofits often involves chores for which one is untrained; that one may have been my most painful as a volunteer.
Being criticized in the press is a hazard of activism, not just in the lively arts. As the D.C. marriage equality effort heated up eleven years ago, one activist impatient with GLAA's methodical approach wrote a letter to the Blade accusing me of trying to prevent marriage equality. That was like accusing a madam of opposing brothels. I uncharacteristically held my tongue; another community leader came to my defense.
With all the battles and labors of love that help forge a community, imagine the pressures on the managers at a newspaper that covers it. The finished product would have to be on fire to convey it fully; but we'll save that for Washington Blade, the Opera.
Once I was sitting at Jim Deely's desk, having brought in a chorus ad when he was out, and was writing him a note when longtime publisher Don Michaels came in, saw me, and joked that he couldn't afford me. Then he told me about a call he had taken from Congressman Barney Frank, who was unhappy with a news story and told Don what a miserable paper he was putting out. Don replied, "You're just mad that we didn't give your spin." Barney slammed down the phone.
It wasn't just politicians who berated the Blade. Some people expect community papers to be straight-up boosters rather than independent journals. One zealous activist accused the New York Blade, before its first issue appeared, of not being worth wrapping fish in. A more serious challenge—reflecting the diversity of our community—requires ongoing effort, not checking a box.
Ventures come and go, but what was called The Gay Blade when I first picked it up grew with the times and lasted. It went through multiple redesigns, and gobs of fresh talent have replaced the old stalwarts who moved on, retired, or passed away. The archive is being digitized by the D.C. Public Library, promising a treasure trove of history as it was being made.
We take many things for granted, including free community papers, but the fifty years of change this one has seen would have been considerably less well chronicled without it.
Richard J. Rosendall is a writer and activist. He can be reached at rrosendall@me.com.
Copyright © 2019 by Richard J. Rosendall. All rights reserved.