November 5, 2019 at 10:05 pm EST | by Michael K. Lavers
Democrats regain control of Va. General Assembly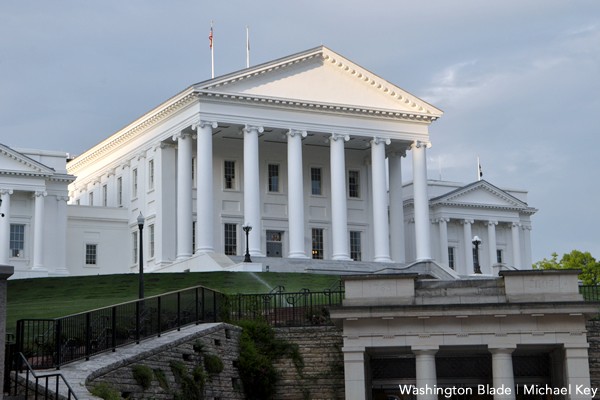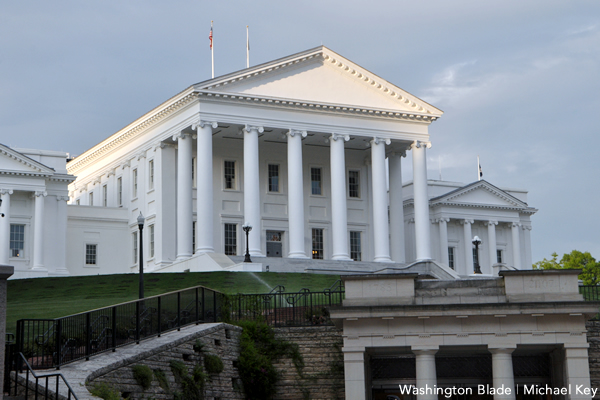 Democrats on Tuesday regained control of the Virginia General Assembly for the first time since the 1990s.
Democrats gained six seats in the House of Delegates and two seats in the state Senate. The results in Virginia are widely seen as a referendum on President Trump heading into the 2020 election.
All five openly LGBTQ members of the General Assembly — state Sen. Adam Ebbin (D-Alexandria) and state Dels. Mark Levine (D-Alexandria), Mark Sickles (D-Fairfax County), Danica Roem (D-Manassas) and Dawn Adams (D-Richmond) — won re-election. Roem on Tuesday made history as the first openly transgender state legislator re-elected.
"Tonight, Virginia Democrats have once again made history," said Democratic Party of Virginia Chairwoman Susan Swecker in a statement. "Starting this January, for the first time in decades, Democrats will control the House, Senate and the Governor's Office."
Swecker's statement did not specifically reference Gov. Ralph Northam, Lieutenant Gov. Justin Fairfax or Attorney General Mark Herring — the state's highest ranking elected officials — who faced calls to resign earlier this year over racist yearbook photos and sexual assault allegations.
"This landmark victory is a tribute to our candidates, their commitment to the issues that matter, and the work of a strong Democratic Party of Virginia and our partners," said Swecker. "And most importantly, we owe this victory to the people of Virginia, who with their votes spoke loudly and clearly in placing control of the House and Senate into Democratic hands."
Roem: 'We have a mandate' to pass LGBTQ nondiscrimination bills
Activists have long sought a Democratic majority to spur passage of LGBTQ-specific bills that have stalled in the Republican-controlled General Assembly. They also hope to see ratification of the Equal Rights Amendment and progress on more stringent gun laws and other issues.
The Human Rights Campaign in August announced a "six-figure" investment in Virginia to help Democrats regain control of the state legislature.
Two HRC staffers attended the Manassas and Manassas Park Cities Democratic Committee's Election Night party in Manassas at which Roem spoke. A press release that HRC released after Democrats regained control of the General Assembly noted the organization endorsed 27 candidates and "committed to invest" more than $250,000 "to elect pro-equality candidates across Virginia."
"Tonight's election results send a powerful message that Virginians support a bold, progressive vision for the future of the Commonwealth," said HRC President Alphonso David. "For far too long, anti-LGBTQ politicians have had a chokehold on Virginia's legislative process and blocked efforts to pass statewide LGBTQ nondiscrimination protections, sowing hate and division while putting the lives and livelihoods of LGBTQ Virginians at risk."
Roem told the Washington Blade after she spoke to her supporters at the Manassas and Manassas Park Cities Democratic Committee's Election Night party that her efforts to reduce traffic congestion on Route 28, extend Virginia Regional Express train service to Gainesville and other legislative priorities will not change with a Democratic majority in the General Assembly. Roem, however, added "its time for us to pass a Virginia version of the Equality Act."
"We have a mandate from the people to pass nondiscrimination (bills) that are comprehensive and inclusive of all our LGBTQ constituents," she said. "We will be getting that done."
A Family Foundation Action late last month faced criticism over a transphobic ad that noted Roem was a co-patron of state Del. Debra Rodman (D-Henrico County)'s bill to require insurance providers to cover transition-related health care for trans policyholders.
"The people wholeheartedly rejected that message," Roem told the Blade, referring to the ad. "That was a direct attack and the people rejected it."
Roem did not rule out the possibility that she would introduce the trans health care bill herself in 2020.
"The people want inclusive health care that covers your health care needs, no matter what your health care needs are," she said. "These are not wants. It's not cosmetic. These are needs and I'm going to be making sure that I'm protecting my transgender constituents and I'm going to protect their families as well."