Población LGBTQ de El Salvador denuncia impunidad ante crímenes por odio
Anahy Rivas, una mujer trans, fue asesinada en San Salvador el 27 de octubre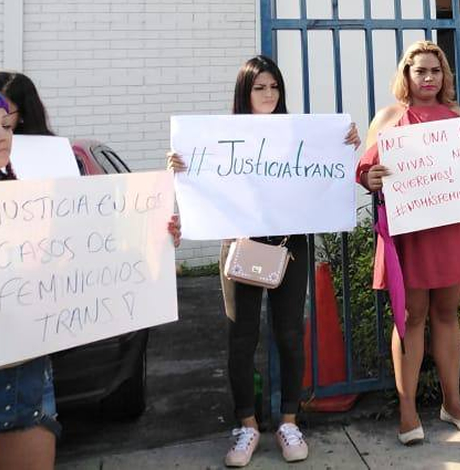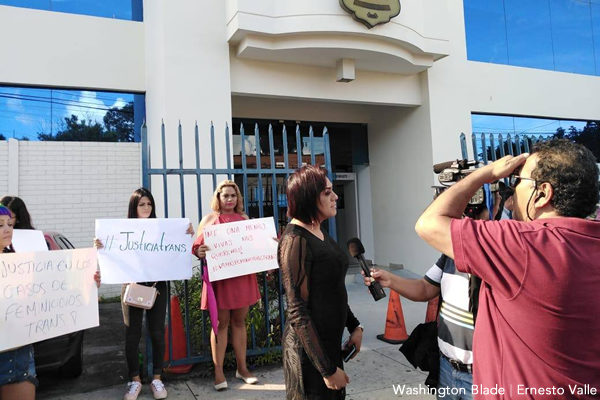 SAN SALVADOR, El Salvador — La Federación Salvadoreña de Personas Lesbianas, Gays, Bisexuales, Trans e Intersexuales (FESLGBTI), que aglutina a 12 organizaciones LGBTQ del país, realizó el día jueves 31 de octubre del presente año, una conferencia de prensa para dar a conocer su posicionamiento ante la impunidad por los crímenes por odio que han acontecido en los últimos meses.
Entre los casos que se mencionaron están el de Jorge Castillo, el 11 de enero de 2019 que fue asesinado con once disparos en el rostro en el departamento de San Miguel; Camila Díaz, mujer trans privada de libertad por agentes de la policía, recibió múltiples golpes y luego falleció el 31 de enero de 2019; además el caso de "Lolita" asesinada a machetazos en Sonsonate el 8 de febrero de 2019; sin olvidar el caso de "Tity" mujer trans que fue asesinada a golpes en avenida Cuscatlán el 10 de marzo de 2019 y por supuesto el reciente caso de Anahy Rivas que sujetos en una camioneta le sujetaron y le arrastraron sobre el bulevar Los Héroes y luego lesionaron con arma blanca el pasado 27 de octubre del presente.
Desde que se reformó el código penal en el año 2015 en sus artículos 129 y 155, que tipifica los crímenes por odio si se basan en la orientación sexual, identidad y expresión de género; no se han condenado a culpables por los asesinatos de personas LGBTQ, aunque los hechos sean suficiente evidencia que dichos crímenes fueron motivados por el odio y prejuicio hacía las víctimas.
"El sistema de justicia no tiene contabilizados los crímenes de la población LGBTI, porque solo contabilizan por sexo biológicamente asignado, ya sea hombre o mujer", comenta en conferencia Mónica Linares, directora ejecutiva de Aspidh Arcoíris Trans. Agregaron que en los últimos tres años (2017, 2018 y 2019), han documentado al menos 20 asesinatos a mujeres trans entre los 16 y 32 años de edad, y estos son los casos de los que se dan cuentan las organizaciones y esto solo afirma el hecho que el promedio de vida de una mujer trans en El Salvador no sobre pasa los 33 años.
"En la fiscalía dicen que hay apertura para realizar protocolos para el trato a casos de personas LGBTI. Dicen tener interés de tocas el tema, pero al momento de ejecutar su trabajo, esto no ocurre, por lo cual hay un doble discurso", asegura Linares.
Debido a estas situaciones y a la gravedad de los hechos que expusieron en la conferencia de prensa, la FESLGBTI exige a la Fiscalía General de la República (FGR) y a la Policía Nacional Civil (PNC), además de las demás entidades que conforman al sector justicia del país, que investiguen los asesinatos a personas LGBTQ, aplicando la reforma al código penal referida a crímenes por odio y buscar así la condena a los culpables.
En especial exigieron a la FGR la pronta aprobación y divulgación con el personal de la fiscalía de una "política de persecución penal y su respectivo protocolo de investigación, de delitos cometidos en contra de la población LGBTI"; pues consideran que es algo impostergable la puesta en marcha de acciones institucionales encaminadas a terminar con la impunidad en los casos de crímenes fundados en el odio y prejuicio en contra de la población LGBTQ.
"Estamos a cuatro días de la evaluación de El Salvador en el examen periódico universal. La CIDH hizo recomendaciones al Estado salvadoreño y ofreció ayuda a través de la Dirección de Diversidad Sexual, la cual está extinta por la nueva administración", comentaba Bianca Rodríguez, directora ejecutiva de la organización COMCAVIS TRANS.
"Hacemos el llamado a los tres órganos del Estado, responder a estos crímenes por odio, ya no queremos más impunidad, queremos justicias", agrega Rodríguez.
La FESLGBTI reitera que no permitirán que los crímenes contra la población LGBTQ queden en el anonimato y en silencio por más tiempo; además que no permitirán más vulneración al derecho a la salud, educación, seguridad, trabajo y a la vida digna libre de estigmas y discriminación.
Plantón frente a Fiscalía General de la República.
Un día antes de la conferencia de prensa, diferentes organizaciones como Fundación Somos Familia y Aspidh Arcoíris Trans, se reunieron frente a la FGR para pedir justicia en los crímenes contra la población LGBTQ.
Portando carteles con diferentes consignas, las diferentes personas asistentes mostraron su descontento por la falta de acción de dicha entidad, en el esclarecimiento de los diferentes casos que existen. Linares dio lectura a un comunicado en el que las organizaciones presentes, exigían a la FGR el esclarecimiento de los casos de crímenes por odio.
"Hay una terrible impunidad ante los crímenes LGBTI. Está el caso de Camila Díaz, que al parecer la madre está recibiendo llamadas de familiares de los tres policía detenidos, tratando de intimidarla, tratando de negociar con ella para que los hombres salgan", comentó al Washington Blade Linares; "había un testigo criteriado que es una mujer policía quien en la primera audiencia reconoció a los tres policías capturados y ahora en la siguiente audiencia solo reconoció a uno que era quien conducía la patrulla y no a los dos que le iban golpeando atrás".
Linares externó que al parecer ya existe alteración en el único caso que un juez ha dictaminado como crimen por odio, lo cual le hace dudar el resultado del mismo. Al finalizar la protesta fuera las instalaciones de la FGR en avenida la Sultana, Antiguo Cuscatlán, un grupo encabezado por Linares, entregaron en recepción el comunicado al que se le dio lectura, saliendo de las instalaciones con la decisión de seguir la lucha por que se haga justicia por las compañeras y compañeros que han fallecido hasta la fecha.
Va. businessman apologizes for burning of rainbow flag poster
'Shocked and horrified': Ashburn incident caught on video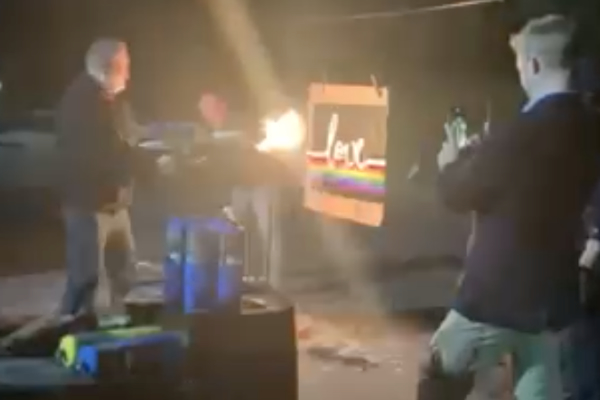 The owner of a Virginia technology company that hosted a private Veterans Day party on the grounds of an Ashburn, Va., brewery in which a company employee used a flame-throwing device to ignite a rainbow flag poster said the selection of the poster was a mistake and he and his company have no ill will toward the LGBTQ community.
The Washington Blade learned about the poster burning from a customer of the Old Ox Brewery in Ashburn, where the incident took place on its outdoor grounds. The customer made a video of the incident with his cell phone and sent a copy of the video to the Blade.
The video, which includes an audio recording, shows a man using a hand-held flame-throwing device to ignite the rainbow poster, which was hanging from a cable and appeared to be mounted on cardboard or a thin sheet of wood. Bystanders can be heard laughing and cheering as the poster is set on fire.
The poster consisted of a variation of the LGBTQ Pride rainbow flag that included the word "love" configured from an upper white stripe on the rainbow symbol.
The customer who took the video, who has asked not to be identified, thought the decision to set the poster on fire was a sign of disrespect if not hatred toward a longstanding symbol of LGBTQ equality and pride.
Chris Burns, Old Ox Brewery's president, shared that view, telling the Blade he and his staff were "shocked and horrified" when they learned later that a rainbow flag poster had been burned on the brewery's grounds. Burns said Old Ox supports the LGBTQ community and participated in LGBTQ Pride month earlier this year.
He said the company that held the private party paid a fee to hold the event on the brewery's grounds, but the brewery did not know a rainbow poster would be burned.
"I'm mortified that our event was interpreted in this way," said Nate Reynolds, the founder and partner of Hypershift Technologies LLC, the Falls Church, Va.-based technology company that organized the Nov. 11 party at Old Ox Brewery. "I can assure you that ZERO ill-will or offense was meant," Reynolds told the Blade in a Nov. 24 email.
"We held a small private party for a few clients, which included a demonstration of Elon Musk's Boring Company 'Not a Flamethrower,'" he said in his message. He was referring to one of billionaire businessman Elon Musk's companies that specializes in boring through the ground to create tunnels for cars, trains, and other purposes.
"After so many being isolated during COVID, we wanted to have an event that was lighthearted and to some small effect, silly," Reynolds said in his message to the Blade.
According to Reynolds, in thinking about what should be used for "fodder" for the flame-thrower, he went to a Five Below discount store and purchased items such as stuffed animals and posters, including a "Space Jam" movie poster as well as what he thought was a poster of the British rock group The Beatles.
"When I pulled the Beatles poster out of the tube it was instead the 'Love' poster," he said, referring to the rainbow flag poster the Blade asked him about in an earlier email.
"All I focused on was the 'Love' wording and not the rainbow and did not draw the conclusion that the poster was an icon that represents the LGBTQ community," Reynolds said. "It was my own ignorance of not connecting the symbolism of the poster. If I had realized it was a symbol of the LGBTQ community, I would not have used it," he said.
"I feel terrible, and I want to emphasize that I am solely responsible for this mistake – not the Old Ox Brewery," he wrote in his message. "Nobody at Old Ox had anything to do with this activity."
Reynolds added, "Hate has no place in my heart, and I sincerely apologize for any offense that could have been drawn from what I now realize was poor judgement on my part. I simply didn't correlate this poster with the LGBTQ pride symbol."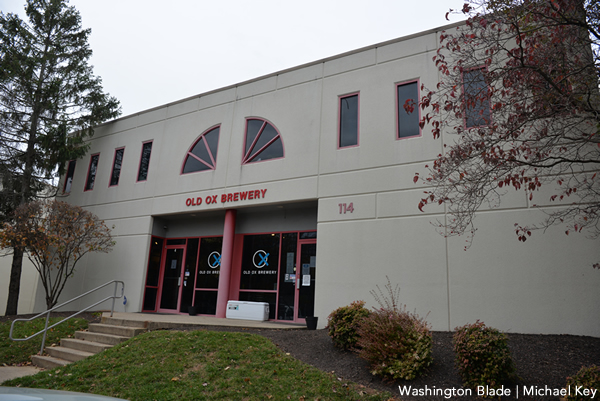 Before Reynolds issued his statement of apology, Burns, the Old Ox Brewery co-owner, told the Blade in an email he was "saddened and upset" over the rainbow poster burning on the grounds of his brewery.
"We do not wish to benefit from this event," he said in his email message. "Therefore, Old Ox is donating 100% of the revenue generated from the private event to GLSEN."
GLSEN is a national LGBTQ advocacy group that focuses on education and support for LGBTQ youth. Burns said Old Ox Brewery also donated proceeds from a Pride month event it organized earlier this year to GLSEN.
LGBTQ activists and organizations contacted by the Blade said they were unfamiliar with the variation of the rainbow flag with the word "love" that was the subject of the poster burning incident. The poster is available for sale at Five Below stores in the D.C. metropolitan area for $5.
Small print writings on the poster show it is produced by Trends International LLC, which describes itself on its website as "the leading publisher and manufacturer of licensed posters, calendars, stickers and social stationery products." The Blade couldn't immediately determine who designed the poster.
The video of the poster burning incident can be viewed here:
Fairfax schools returns LGBTQ-themed books in high school libraries
Review found 'no pedophilia' in texts as critics claimed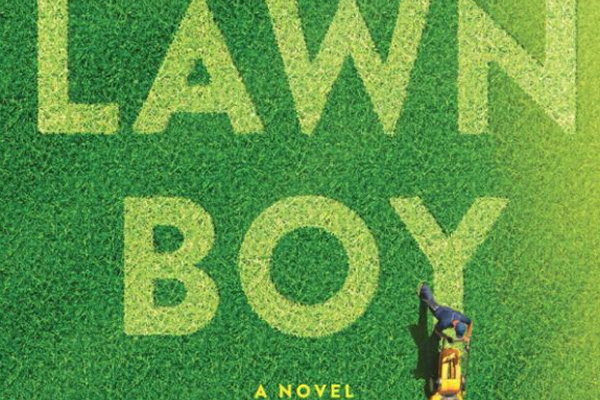 The Fairfax County Public Schools announced on Tuesday that following a detailed review by two committees appointed by school officials it has returned two LGBTQ themed books to its high school libraries that had been temporarily withdrawn after being challenged by critics who claimed they included sexually explicit content inappropriate for students.
The two books, "Lawn Boy," a novel by author Jonathan Evison, and "Gender Queer: A Memoir," which is described as an illustrated autobiography by non-binary author Maia Kobabe, each contain descriptions of sexual acts.
But supporters of the books have argued that they have won praise by literary critics and, while describing intimate relationships, they tell stories that do not fall into the category of pornography.
Fairfax County Public Schools, the name used for the county's public school system, on Tuesday said in a statement that a thorough review of the books by two committees consisting of educators, school officials, parents and some students found that neither book contained content that could be considered to depict pedophilia as claimed by some parents and others opposing the two books.
School officials announced they had temporarily withdrawn the two books from school libraries following a Sept. 23 meeting of the Fairfax County School Board where strong objections to the two books were raised by parents.
"Two books that were subject to formal challenge have been deemed appropriate for high school readers following a two-month review process and will be reinstated to Fairfax County Public Schools (FCPS) libraries," Tuesday's statement by the school system says.
"The decision reaffirms FCPS's ongoing commitment to provide diverse reading materials that reflect our student population, allowing every child an opportunity to see themselves reflected in literary characters," the statement continues. "Both reviews concluded that the books were valuable in their potential to reach marginalized youth who may struggle to find relatable literary characters that reflect their personal journey," the statement says.
The statement says the final decision to reinstate the books was made by Noel Klimenko, the Fairfax County Public Schools' assistant superintendent for its Instructional Services Department.
The two books have received favorable reviews in various literary publications. Both have received the American Library Association's Alex Award, an annual award that recognizes the year's 10 books written for adults that the association says have a special appeal to young adults ages 12 through 18.
"The robust committee process took place over several weeks and considered whether the books flouted regulations by being obscene or harmful to juveniles as defined by the Code of Virginia," the school system statement says. "The members also considered the work in line with an excerpt from the FCPS Student Rights and Responsibilities Handbook pertaining to possessing obscene visual imagery as defined in the Code of Virginia," the statement says.
"After careful consideration, neither books were deemed to have fallen foul of these regulations," it concludes.
The decision by Fairfax school officials to reinstate the two books came about six weeks after more than 425 LGBTQ students and allies from over 30 Fairfax County public high schools sent a letter to the school board and the school system's superintendent urging them to reinstate the two books.
The Pride Liberation Project, a coalition of LGBTQ and allied students in Fairfax County, organized the joint letter.
"Student representatives from over 30 schools, including nearly every high school in Fairfax County Public Schools, have signed this letter, and many of us are students of color, low-income, gender expansive and not out to our families and communities," the letter states.
"We are writing to ask you to reject calls to remove Maia Kobabe's 'Gender Queer' and Jonathan Evison's 'Lawn Boy' from Fairfax County Public Schools libraries," the letter says.
It points out that "hundreds of books in our schools already depict heterosexual relationships and physical intimacy," and says singling out LGBTQ themed books with similar stories of intimacy for rejection is unfair.
Matrimonio igualitario a un paso de ser ley en Chile
Solo falta una última votación en el Senado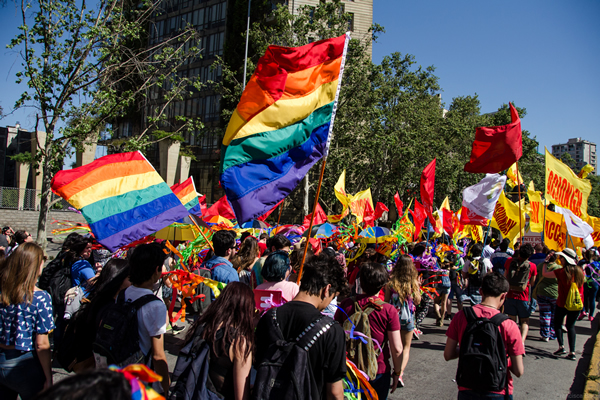 VALPARAÍSO, Chile — Como un triunfo "histórico" para los derechos de la diversidad sexual y de género, calificaron los activistas LGBTQ en Chile el avance del proyecto de ley de matrimonio igualitario el martes en el Congreso. Ahora solo falta una última votación en el Senado para convertirse en ley.
"Con 101 votos a favor, 30 en contra y dos abstenciones se aprueba el proyecto de ley que regula el matrimonio igualitario, que pasa a su tercer y último trámite en el Senado", ha informado el Congreso Nacional chileno en un comunicado.
La votación se enmarca en uno de los momentos políticos más complejos para la población queer de ese país latinoamericano, luego de que el pasado domingo en las elecciones presidenciales y de congresistas la ultraderecha y anti-LGBTQ liderada por el candidato presidencial, José Antonio Kast del Partido Repúblicano obtuvieran un buen desempeño electoral.
Kast, que ha afirmado en muchas ocasiones que existe un "lobby gay" que "busca influir a las personas", fue el candidato más votado y se enfrentará en el balotaje del 19 de diciembre al izquierdista Gabriel Boric.
"Frente a los discursos de violencia y odio, hace falta responder con amor. No queremos sesgos dogmáticos ultra ideologizados", apuntó el diputado Diego Ibáñez, del Frente Amplio, la coalición que lidera Boric.
El proyecto de matrimonio igualitario fue firmado por la expresidenta Michelle Bachelet en 2017 y presentado ante el Congreso durante su segundo mandato. Sin embargo, no fue hasta enero de 2020 cuando la sala del Senado aprobó en general el proyecto con 22 votos a favor, 16 en contra y una abstención.
Posteriormente, el presidente del país, Sebastián Piñera, mostró su apoyo a la medida y ordenó suma urgencia."Pienso que ha llegado el tiempo de garantizar esa libertad y esa dignidad a todas las personas, el tiempo del matrimonio igualitario en nuestro país", dijo el jefe de Estado en su última cuenta pública.
"Luego de tres décadas de lucha, falta solo un trámite en el Senado para conquistar la hasta ahora esquiva igualdad legal que merece todas las parejas y familias", destacó la vocera del Movimiento de Integración y Liberación Homosexual (Movilh), Javiera Zúñiga, a través de un comunicado de prensa.
"Festejamos este nuevo paso, ahora con la total convicción de que estamos en la recta final. Especialmente felices porque se aprobaron por amplia mayoría todos las indicaciones sobre filiación y adopción homoparental que introducimos en la Cámara. Hablamos de 30 años de lucha, pero de siglos de segregación, cuyos días están contados, lo cual terminará con las injusticias y desigualdades que sufren las parejas del mismo sexo y las familias homoparentales", añadió Zúñiga.
De no ser aprobado en el Senado, el proyecto de ley pasaría a una comisión mixta. Sin embargo, la actual presidenta de la Cámara Alta se comprometió a realizar su mayor esfuerzo para que sea despachado lo antes posible.