November 6, 2019 at 10:11 am EST | by Philip Van Slooten
Gay College Park mayor, councilman win re-election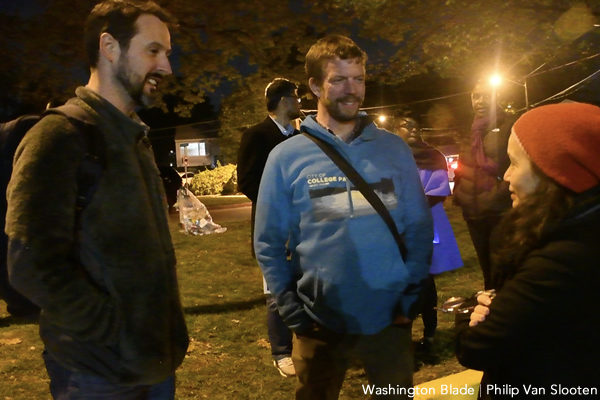 COLLEGE PARK, Md. — Mayor Patrick Wojahn and City Councilman PJ Brennan (District 2) were reelected Tuesday by voters who resoundingly rejected anti-LGBTQ rhetoric by one of the mayoral candidates.
Wojahn received 1,532 votes, defeating challengers Nikesha Pancho and Lalzarliani Malsawma by a wide margin. The result reflected voter sentiment following an October debate where residents walked out after Malsawma's homophobic comments against Wojahn's sexual orientation and his efforts to make the city more LGBTQ-friendly.
"While those comments have been directed at the mayor, they have an impact on everyone in the city," said Brennan during an election night interview with the Washington Blade. "And it's been hard to process, but it's nothing new to us. Many of us have faced discrimination."
Brennan, who has been out since he was 17, said he's learned to combat hate speech by confronting it and not allowing people to normalize it for LGBTQ people or other marginalized communities.
"One of the best ways to do it is to speak about it from the heart and withhold anger," said Brennan. "You're not going to change any hearts with that kind of rhetoric."
Brennan's calm approach was embraced by a majority of College Park voters.
"We find strength in our diversity," Wojahn explained. "And the residents of College Park understand that."
Wojahn, who is originally from Wisconsin, said he and his husband Dave have made College Park their home and feel welcomed by the community.
"I love this community," he said with a smile. "It's a great place. I love living here. My husband and I have made this our home for over 16 years now."
Wojahn told the Blade his husband grew up in Prince George's County.
"He's a local boy, so he knew the areas that would be nice for us to live in," said Wojahn. "He loves this community, so we looked around and found a house we love right here in College Park."
Brennan, who grew up in Towson, Md., similarly found a home for his husband and two sons in College Park. Though his extended family still lives in Towson, he remained close to them even while campaigning.
"In fact, my parents were down here today watching my sons while I've been down here at the polls."
Wojahn pointed to the work still to do after the election.
"Being a university community, we have great resources here," he added. "Brilliant people who can be put to use to benefit the community in a deeper way. These are things I'd like to explore over the next couple of years."