November 5, 2019 at 1:44 pm EST | by Joey DiGuglielmo
QUEERY: Kevin Wiggins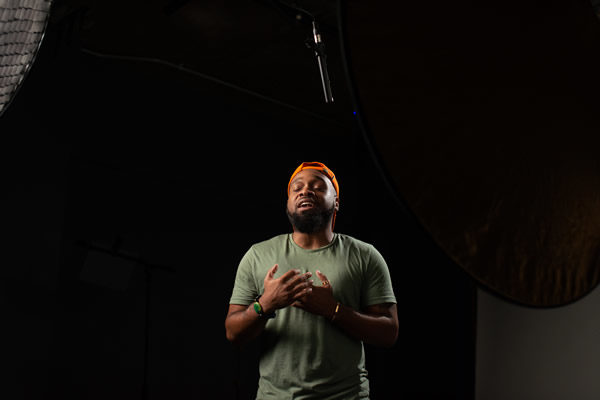 Kevin Wiggins started writing poetry at age 6 and credits his interest to a lot of time spent alone in his room where he also learned to sing and write music.
"I feel that poetry chose me and I'm glad it did because it's saved me in many instances," the Baltimore native says. "It's been my therapy when I didn't know I was in need or too stubborn to ask for help."
He won the D.C. Poet Project earlier this year in a field of 50 contestants with a work called "Can I borrow your inequities?" He has now collected his poems in a book called "Port of Exit," based on a phrase from one of his poems that focuses on toxic masculinity.
The book, released Oct. 15, is being distributed by publisher Day Eight to bookstores in Washington. It's available at dayeight.org for $11.
"I speak mostly on what it's like to be a minority, marginalized by my color and sexuality and the role that religion and faith have played in my life," Wiggins says.
He says being gay has given him determination, rage, angst, anger, hurt, love and understanding, which he brings to the stage when he gives readings. He'll next be at the 2020 D.C. Poet Project reading series and will be one of four featured poets in a closed mic set called "HIStory" in February.
Wiggins works by day at FedEx. He's lived in and around Washington most of his life but came back to the region in 2017 for a relationship. Single now, Wiggins recently returned to Baltimore. He enjoys sleeping, ice cream and Netflix in his free time.
How long have you been out and who was the hardest person to tell?
I've been out to everyone for about five years now. I'd shared with a few select people prior to that but I came out publicly in 2014. I can't say that any one person was the hardest to tell because I valued all of my relationships and didn't want to risk losing any of them.
Who's your LGBTQ hero?
I am. No one saved me until I took my power out of the world's hands and permitted myself to live happily and authentically.
What LGBTQ stereotype most annoys you?
I don't like when people believe that gay couples have to adapt to heterosexual gender norms in a homosexual relationship. There doesn't have to be a masculine and feminine role. We're not trying to replicate straight relationships.
What's your proudest professional achievement?
My proudest professional achievement is being published and also completing my Play Projekt Rejekt that I plan on bringing to stage soon!
What terrifies you?
Being an orphan and having no one to love me.
What's something trashy or vapid you love?
Gray sweatpants, if you get my drift!
What's your greatest domestic skill?
I can drape an apron around myself.
What's your favorite LGBTQ movie or show?
"Pariah." It's such a true depiction of how difficult coming out can be. It also shows how liberating it can be as Alike so beautifully described in her closing poem at the end of the film.
What's your social media pet peeve?
I don't like when people go to social media to air their grievances with friends or loved ones opposed to just having an adult conversation with the individual whom they feel has wronged them.
What would the end of the LGBTQ movement look like to you?
It would look human to me. Where we would no longer be identified by the acronym but as people like everyone else.
What's the most overrated social custom?
One that I'm guilty of myself: social media. We spend so much time on our devices sharing some of our greatest moments with the world that we don't get to actually be present in those moments.
What was your religion, if any, as a child and what is it today?
I was raised Christian, my mother kept my head in the Bible. However as a gay man, it was hard for me to find love in some its verses so I no longer practice.
What's D.C.'s best hidden gem?
The D.C. Public Libraries.
What's been the most memorable pop culture moment of your lifetime?
Diana Ross and Lil Kim at the VMAs
What celebrity death hit you hardest?
I'm not as invested in pop culture as I once was but I guess I would say Michael Jackson because I actually dreamed that it happened, prior to.
If you could redo one moment from your past, what would it be?
Every moment where I let fear dictate my decisions.
What are your obsessions?
Piercings, crop tops, men, music, Trina, love, thunderstorms, Bonnie Bennett from "The Vampire Diaries," ketchup.
Finish this sentence — It's about damn time:
That I get my ass back in the gym and take back what caloric intake has stolen from me!
What do you wish you'd known at 18?
I wish I knew how to love myself and be confident at 18.
Why Washington?
The art! The culture! The food and Sunday brunch!