November 5, 2019 at 8:17 pm EST | by Joey DiGuglielmo
QUEERY: Ryan McClure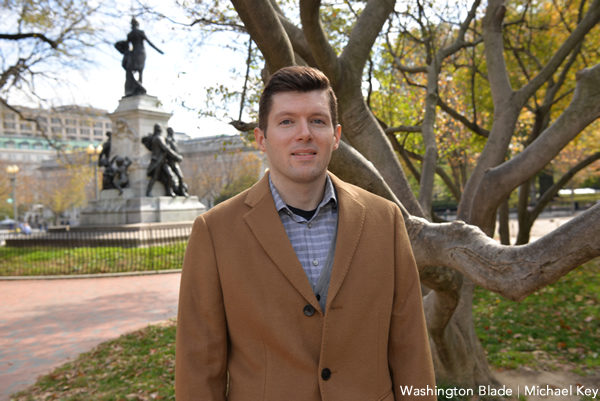 Twenty-one stand-up performers and five improv teams — all LGBT — from all over the Eastern Seaboard will unite Nov. 15-16 for the first-ever District Queer Comedy Festival.
Ryan McClure, who's co-producing the event with Kelsie Anderson (they met through improv), says his philosophy of comedy comes from being authentic.
"Do comedy that you find funny," says the 31-year-old North Hampton, N.H., native. "Don't censor yourself to conform to what you think an audience wants to hear. Even if the audience doesn't laugh at every joke or understand every queer reference, your authenticity and energy will come through and you'll have a lot more fun doing comedy."
Shows will be held at 7 and 9:30 p.m. at the D.C. Arts Center (2438 18th St., N.W.) on Nov. 15 and 16. Two workshops will be led by queer teachers at Source Theater (1835 14th St., N.W.) on Nov. 16 (one on improv, one on stand-up), and an open mic for charity will be held at noon on Nov. 17 at Colony Club (3118 Georgia Ave., N.W.) with proceeds going to benefit Casa Ruby. Full details at comedicpursuits.com or look for the festival on Facebook.
McClure has been doing improv for four years and performs on two indie teams. Festival participants were found through social media and auditioned by video.
McClure, an attorney by day, spends his free time doing "comedy-related stuff," such as working, performing or attending improv shows, doing theater tech for Washington Improv Theater, co-hosting Imrov Brunch (a monthly showcase) and more. He also recently started writing sketch comedy. He also enjoys foreign language study, board games, going to the gym and podcasts.
He came to Washington 10 years ago for college and law school. He's single and lives in Logan Circle.
How long have you been out and who was the hardest person to tell?
About nine years. My parents.
Who's your LGBTQ hero?
Xena: Warrior Princess
What LGBTQ stereotype most annoys you?
That gay men all like going to gay bars and clubs. They're too loud and crowded!
What's your proudest professional achievement?
Starting LGBTQ AF, and having it featured on WETA (the local PBS affiliate) as part of a television segment aired during Pride month.
What terrifies you?
That bugs will lay their eggs in my skin when I'm sleeping and then they'll hatch and eat their way out through my skin.
What's something trashy or vapid you love?
"House Hunters," if you consider that vapid. But I just kind of like it and will watch it sometimes if it's on in a waiting room and there's nothing else to do.
What's your greatest domestic skill?
I enjoy cleaning and organizing.
What's your favorite LGBTQ movie or show?
"UNHhhh" (YouTube series)
What's your social media pet peeve?
Selfies in public bathrooms where you can see stalls or urinals.
What would the end of the LGBTQ movement look like to you?
Greater LGBTQ representation in media and government.
What's the most overrated social custom?
Saying something after someone sneezes.
What was your religion, if any, as a child and what is it today?
Catholic/agnostic
What's D.C.'s best hidden gem?
Dojo Comedy
What's been the most memorable pop culture moment of your lifetime?
Not really a "moment," but watching "The Simpsons'" golden age as it was airing; the show helped define my sense of humor.
What celebrity death hit you hardest?
None. I don't really identify with celebrities.
If you could redo one moment from your past, what would it be?
I would go to a college with a more traditional campus; I didn't really like going to school in the city.
What are your obsessions?
Improv comedy. Cats. Samoyeds.
Finish this sentence — It's about damn time:
people stopped listening to music on their phone's speaker on public transportation.
What do you wish you'd known at 18?
Most people don't know what they're doing and really are just faking it until making it.
Why Washington?
I love that there's so much to do in this city, that there are so many people here from all over the world and that you don't need a car to get around.