November 7, 2019 at 10:25 am EST | by Joey DiGuglielmo
Sasha Velour on her current tour, 'Drag Race' successors, life on the road and more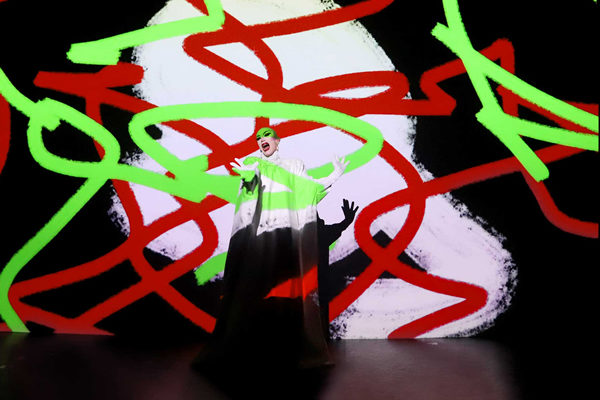 Sasha Velour's Smoke & Mirrors

Monday, Nov. 11

8 p.m.

Lincoln Theatre

1215 U St., N.W.

$35-12
Package tours of "RuPaul's Drag Race" alumni are thriving with various lineups as the show's popularity continues to soar. The "Werq the World Tour," for example, which played D.C. two weeks ago, features winners of three past seasons: Yvie Oddly (season 11), Aquaria (season 10) and Violet Chachki (season seven).
But Sasha Velour, the season nine winner who identifies as genderqueer, is staking out her own path. Her one-queen show "Smoke & Mirrors" plays Washington Monday night and continues through Nov. 30. She spoke to the Blade Tuesday by phone from Kansas City, Mo. Velour's comments have been slightly edited for length.
WASHINGTON BLADE: How's the tour going?
SASHA VELOUR: Oh my gosh, it's going amazing. The last show we did in Chicago was sold out, packed with local drag artists and the performances themselves have just been going so well, we're thrilled.
BLADE: Does (partner) Johnny (Velour) travel with you?
VELOUR: Yes. I mean Johnny is kind of an important part of the show. He presses all the buttons that keep the multi-media aspect running well … and we're traveling with our dog throughout the country and beyond so it's good to have a little downtime together.
BLADE: Are audiences different? Do you sense any difference between a Texas audience vs. Pittsburgh, for instance?
VELOUR: Um, it's slight differences but actually mostly I'm shocked by being in places I would never have thought of as queer friendly and looking out and seeing hundreds of people standing, screaming for drag expression. It gives me a lot of hope that there's so many like-minded audiences throughout the world that are, like, accepting of people however we want to express our gender as long as we're doing it over the top beautifully, spectacularly, I think that's kind of the unifying thing is that it feels like we built a little alternate world over the course of one "Smoke & Mirrors" performance. and everyone comes in and by the end if just feels like people are overflowing with feelings. It has that community vibe.
BLADE: But have you felt you had to win them over a bit more in some markets or anything like that?
VELOUR: No, not at all.
BLADE: Do you like the execution/performance or the design/planning of a show better?
VELOUR: I enjoy them both. I've always been a planing queen. I used to plan these epic performances that were taking place in dive bars while I was on my commute every morning on the subway to and from work. And then have no rehearsal and bring it to life in the moment, and now we get a little bit more of a full creative process now, we get rehearsal time, I've been able to workshop this show for almost a year. So it's a different style now, the planning process if over and I get to fine tune the performance which is a real privilege. With drag performers, so often we're doing a pop-up performance and then on to the next thing. SO it's been really great to be able to be so careful with my own art work and I feel like I'm better technically at a lot of things than I was when I started doing drag. It's nice to see that change.
BLADE: What's the biggest logistical hurdle of touring this show?
VELOUR: Honestly caring for the costumes and wigs. It's 13 different performances and somehow, even though I barely step off stage, there's a different look for every number, I designed a different world for every number. The scenery changes with a projector so that's easy, all you need is a computer, but for the costumes and the wigs, half of the things are white velvet which is one of the hardest to take care of, but it projects onto beautifully which is such an important part of the show so thankfully I have a fabulous person traveling with me Monica helping me (with) things, helping me spray seven different wigs, and is backstage helping me in the real act of "Smoke & Mirrors" which happens in the wings of the theater as we rip clothes off me, put them back on, dab sweat off the back of my ears, that's the real magic trick, keeps us on our toes.
BLADE: Do you have duplicates? How do you keep stuff from getting sweaty and gross when you're traveling?
VELOUR: I have one body suit, I wear against my skin for about half the show, I just have a duplicate of that finally so I can switch them in and out. I actually like washing my costumes myself. I have a particular way that I do it where I let them soak in different little bowls around my hotel room so I'll do that every time we have a day off, my biggest classic costume trick is you gotta spray everything with vodka immediately after walking off stage. It sounds like a great party trick, it's helpful to have a little spray bottle of vodka near you when you're performing in drag too because one for the costumes, two for the mouth and that sanitizes, keeps things smelling fresh and clean. It's an amazing wardrobe trick.
BLADE: Do you ever feel like you're missing out on the "Drag Race" post-show experience by touring solo? So many of the queens tour together, they go back for "All Stars." Do you ever feel out of the loop?
VELOUR: It's complicated. I really enjoy, I do miss getting to travel with other drag artists. It's something that other people who've been through this crazy experience of RuPaul's Drag Race do have in common that makes it nice to travel together, share experiences and horror stories and fantasies and all of the above, but it's been a pleasure getting to be the lead producer on this project and even though it really means I have to be a lot more serious than I used to be about drag, it's ultimately a really, really good thing. I'm just able to customize the stage show for my specific way of performing and learning how to do that and how to pull all those strings behind the scenes, that often, that information is sometimes kept from the drag performers themselves or we have to learn it the hard way, but hopefully those are skills that I can continue to use and share with other people.
BLADE: Does Nightgowns (Velour's monthly New York show) go on hiatus when you're on tour?

VELOUR: Yes. We used to fly back and put it together in a single day and recently Nightgowns has gotten so ambitious and complicated in itself that we're tying to do more select shows throughout the year rather than a monthly pop-up. It's getting a little unsustainable but I'm excited to return to it.
BLADE: Did your recent staph infection, surgery and the recovery process give you any existential crisis? What did you think about during your recovery period?
VELOUR: That's an existential crisis I have every day. (laughs) I'm mostly kidding. Yeah, it was it put a lot of things into perspective. A reminder of things that I have taken for granted in my life and health and a support system, for the most pressing things cannot be something that you take for granted. Focused on art and career and fame and Instagram followers — none of that really matters in the long run. Health and thriving and family does and I feel like I'm trying to find a balance. In an ideal world, those worlds support each other, that's what I'm trying to get.
BLADE: Did you watch seasons 10 and 11 of "Drag Race"?
VELOUR: I love "Drag Race" so I always follow it. Sometimes all the work room talking is a little much for me. I remember too well so I can piece apart how it's constructed and it drives me crazy, so I often just get to the best part which is the challenge on the runways, that's my favorite half hour.
BLADE: Are Aquaria and Yvie worthy successors to you?
VELOUR: Absolutely. I think they're both so interesting. It's exciting to see. "Drag Race" is just so big, the audience is so huge, it's great to see other how many people can benefit from this phenomenon. It's never just the winner. I know this myself — it's really all about what you do with the opportunity. So many people, esp. the people who go far on the show, get asked … the opportunity that is so rare, such a privilege in the world of drag. I'm always curious to see what people do with it. That's ultimately what I look for, not how they do on the show but what they do after.
BLADE: Do you ever see RuPaul? I know he's busy with a million different projects, but has he ever reached out since you were on and offered any affirmation?
VELOUR: Oh my gosh, it's so funny, I actually had a very beautiful run in with RuPaul on the street about a year ago in Los Angles and I just ran into traffic to see RuPaul and we just had such a nice conversation, just away from the cameras and away from all the phenomenon, I just really thanked him for this huge opportunity and I tried to tell him about how I tried to really follow in his footsteps and continue to kind of spread the good word of drag in all these communities so it was a really nice moment.
BLADE: Did he say anything nice or act like he was glad to see you?
VELOUR: Yes, absolutely. It was funny. I had on really really tall shoes, like giant platform sneakers so I was pretty much the same height as him for the first time than we had ever previously been. I'm significantly shorter than him, so he was like very impressed with my height.
BLADE: There was a lot of drama on your season with Valentina, Farrah Moan, Aja, Nina and others. That reunion was especially bitchy. Did you ever feel you were being sucked into any of that?
VELOUR: We had a funny combination of people of different ages on our season so there was kind of like the 23 group, that had their own style of dealing with the stress of the competition, and the early 30s group that had our own way of doing it. So I think it was more natural personalities and experience kind of put us in those different categories. I love those girls and I love being around other drag performers and even when they start acting dramatic and have problems with each other it's all part of the work.
BLADE: What are your plans for Thanksgiving and Christmas?
VELOUR: Thanksgiving, our plans are not totally set. It's right in the middle of the tour, so we might end up having a dinner with the entire crew which is our sort of family on the road. Once it reaches December, Johnny and I are gonna like crawl into a cave and disappear. To recover from this incredible journey.