November 7, 2019 at 2:08 pm EST | by Evan Caplan
'Coming soon' D.C. restaurants unveil fare at NKOTB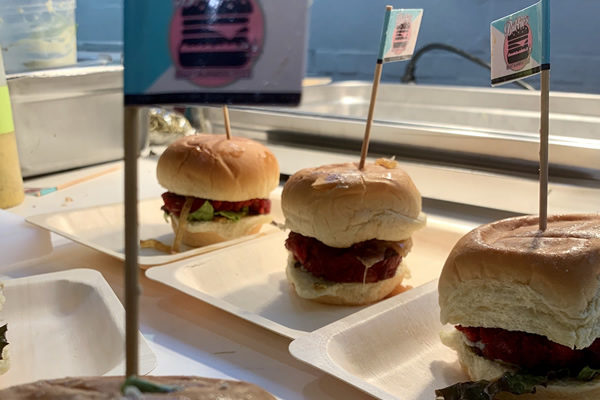 The buzzy, biannual sneak-peak food event New Kitchens on the Block (aka NKOTB) held its sixth iteration on Oct. 20 at Mess Hall, showcasing a wealth of food talent from youthful first-timers to internationally renowned industry veterans.
It's a chance for Washington to "savor signature dishes and drinks from 10 of D.C.'s most hyped new restaurants," according to organizers Al Goldberg (a Mess Hall founder) and Nevin Martell (a recognized local food writer). All of the restaurants featured look to open in winter or spring 2020. D.C. has plenty to get excited about — here are a few highlights:
Bubbie's Plant Burgers & Fizz
From the owners of H Street's Pow Wow, Bubbie's is bringing the same vegan panache to an all-American table. "I wanted the food to be more accessible and classic," says owner Margeaux Riccio. Pow Wow has been a sleeper hit, catering to dietary restriction palates, since its food is also certified Kosher. The team doesn't import pre-made patties like Impossible; instead, all the plant-based food is made in-house. Bubbie's will have diner faves like fried chicken sandwiches, smoked beet burger topped with bacon and blue cheese. The location is still under wraps.
Cranes
On a different side of the Latin spectrum is Cranes, a more conceptual restaurant grounded as much in its food as it will be in its spirit. Owner and chef Pepe Moncayo grew up in Spain but hails from Singapore, where he's run his restaurant "Bam!" for nearly a decade. He's planning a Spanish-Japanese fusion restaurant with sake service that's based on Spanish cooking "infused with the culture of Japan," Moncayo says. He served a creamy risotto prepared in a massive paella pan. Cranes will open in Penn Quarter.
La Famosa
On the tropical end, La Famosa will give D.C. a taste of chef-owner Juancarlos Parkhurst's native Puerto Rico. The son of a canning family, Parkhurst acknowledge the great Latin food scene, like Salvadoran cuisine, but bemoaned the lack of Puerto Rican food. La Famosa will be "fast-fine" dining, according to Parkhurst, serving comida Criolla (a term used to describe traditional Latin Caribbean cuisine). "The food of my island is humble, but I'll serve it in refined ways," he says. La Famosa plated hearty servings of fried ripe plantains topped with spicy fish stew.
Maialino Mare
Situated at the table next to Pearl's, but a different culinary universe is Maialino Mare, celebrity chef Danny Meyer's first full-service restaurant foray in Washington (he owns Union Square Hospitality Group, which runs Shake Shack). The traditional Italian restaurant, a sister of the spot of the same name in New York City, will open in the Thompson Hotel in Navy Yard. Chef Rose Noel said that "Meyer loves D.C. and sports, so being by the Stadium was a good fit." Maiano Mare is a Roman-style trattoria, she says, "bringing the heart of Italy to the heart of America." The restaurant served a creamy cacio e pepe pasta at the event.
Pearls' Bagels
Also on the classic end of the spectrum is Pearl's, a plucky shop run by Allee and Oliver Cox. The Cox's, fed up with their Shaw-neighborhood bagel options (and former day jobs), started making their own crispy-outside, chewy-inside carbs at home. The bagels will echo the New York style, but will be boiled in honey water and baked in a pizza oven. At NKOTB, Pearl's (named for their puppy) served mini bagels with options like smoked-tuna spread and homemade jalapeno cream cheese. "We were hungry, and we just wanted good bagels," says Oliver. Pearl's will open not far from the Cox's home, near the Convention Center.
As a bonus, creative culinary star Erik Bruner-Yang, of envelope-dissolving restaurants like Brothers and Sisters, Maketto, and Spoken English, operated a pop-up tent with his new client &Pizza. Bruner-Yang took the helm as Executive Chef of &Pizza earlier this year, infusing the local chain with fresh thoughts and new directions for the doughy concoctions, giving &Pizza a touch more spirit.
The other participants included Emmy Squared (deep-dish pizza), Hi/Fi Taco (Mexican in The Roost, a Capitol Hill food hall), Tabla (a relaxed Georgian spot on Georgia Ave from the Supra owners), and Soko (old-fashioned butcher shop in Takoma Park). Catoctin Creek, El Silencio, New Columbia Distillers and One Eight Distilling supplied cocktails, while 3 Stars Brewing Company has beers on hand.