Turkey in a bottle and other D.C. novel Thanksgiving spins 2019
Chef Sebastien Giannini at Kingbird perfects his 'Break-In Turkey'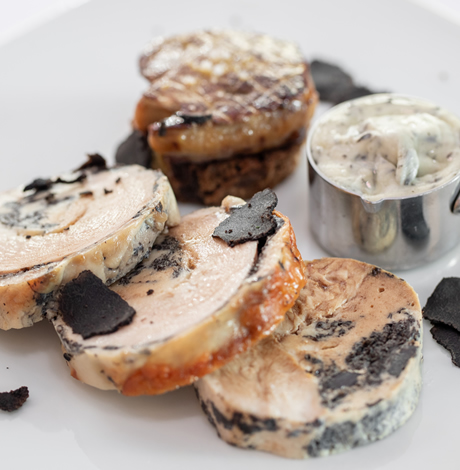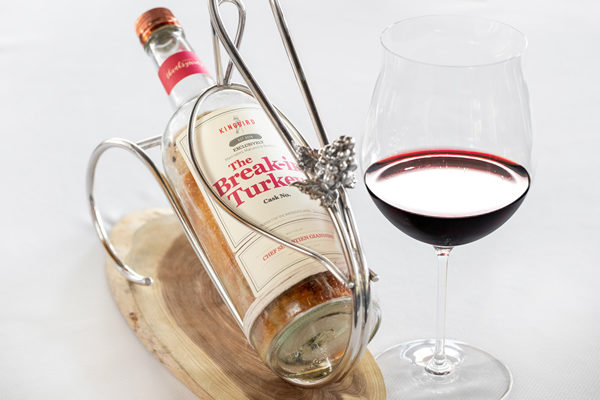 Tan may not be there to dress you and Jonathan might not be able to shave your beard, but Antony just might approve of these five fabulously different nontraditional-traditional takes on Thanksgiving. Whether with your family or your other family, Thanksgiving really is time to celebrate and say cheers with the people that are important to us. Along with the wine pairing.
The recently refashioned Watergate Hotel restaurant Kingbird (2650 Virginia Ave., N.W.) gets to the true meaning of stuffing. Apparently something of a leader in glass-container cooking, chef Sébastien Giannini is serving a dish featuring a turkey in a bottle: the "Break-In Turkey."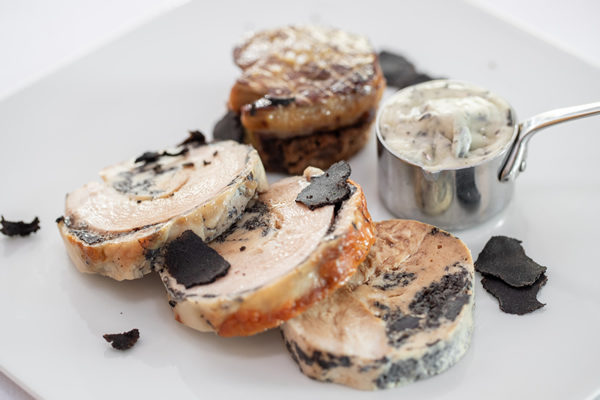 His technique involves cooking a turkey roulade in a whiskey bottle. The turkey is stuffed to the brim with black truffle mousseline and "aromatized" with Japanese Suntory Whisky, and cooked on a grill. To finish, it's placed in the bottle, sealed and steamed for 36 minutes.
When presented at the table, the bottle's bottom slides out. The turkey is then hand-sliced at the table (the dish was featured on foodnetwork.com). The offer is on Nov. 25-28 after 5 p.m., for up to four people and includes three sharing starters, sides and dessert. The restaurant is also serving a brunch 11:30 a.m.-3 p.m. on Thanksgiving day. In creating the dish, Giannini says, "Kingbird has gained a reputation for finding unexpected flavors from favorite ingredients and cooking turkeys in a glass bottle certainly raises that expectation. I've been intrigued by this technique for years and like to challenge myself by changing the rules."
Farm-to- (elegant) table Blue Duck Tavern at the Park Hyatt Washington (1201 24th St., N.W.) knows its local audience. Blue Duck is offering a Brunch Into Dinner service stretching from noon-8 p.m. The three-course meal starts with a cornucopia of seafood, salad, cheese and charcuterie, followed by family-style entrees and seasonal desserts. The festivities don't end at 8, however, for those needing to get out: guests can relax in the Blue Duck Lounge, which has a la carte dinner from 6-10:30 p.m., and smaller bites and drinks all the way until close. Blue Duck Tavern is also offering to-go menus.
Drawing from the depths of the Mediterranean, Israeli restaurant SABABA (3309 Connecticut Ave., N.W.) brings millenia of inspiration to a centuries-old holiday. Turkey finds its way into kofta (a ground-meat skewer) over rye stuffing, and heady tahini livens up green bean casserole. Of course, dessert is anything but basic: the restaurant will serve a pumpkin spice Mahalabia, or pudding topped with candied pecans.
Thanksgiving may have been turkey based, but plants are also worthy of thanks (and let us celebrate the holiday for a few more centuries).Equinox (818 Connecticut Ave., N.W.) has three-course prix-fixe dinner that features several plant-based options. Before dinner, the feast begins with an annual oyster roast (oyster mushrooms are also roasted); this is an annual tradition from Chef Todd and Ellen Gray's family.
The dinner can start with kabocha squash soup or caramelized hearts of palm, among other plant-based items, as well as mains like housemade spinach bucatini touched up by cashew-based cheese. The meal itself tends to the traditional side, but include exotic ingredients like date honey and bulger served with quail, and shaved cashew cheese grated over homemade pasta. Vegan-only Sticky Fingersand Fare Well(will both offer to-go plant-based Thanksgiving spreads as well.
The Wharf's colorful Kith/Kin at the InterContinental (801 Wharf St., S.W.) allows diners to go Afro-Caribbean this season thanks to celebrated Executive Chef Kwame Onwuachi and the Executive Pastry Chef Paola Velez. Set up for takeout, Onwuachi takes turkey on an adventure, preparing them in the Jamaican-Caribbean style: slow roasted, jerk marinated and smoked. Post-bird, there's a lineup of four pies: tamarind pecan, brown butter apple, buttermilk and dulce de leche pear.
This holiday, feel free to think about even more giving. Food & Friends, an organization that provides nutritious meals for those living with HIV/AIDS, cancer and other life-challenging illnesses, will serve more than 3,500 meals during Thanksgiving. You can volunteer for food Nov. 25-27 to prep and pack the food, or on Thanksgiving Day itself to offer food delivery or participate in the "Thanksgiving Pilgrims" program to assist with day-of logistics.
Crazy Aunt Helen's to host 'Pride-a-palooza'
Barracks Row restaurant celebrating all month long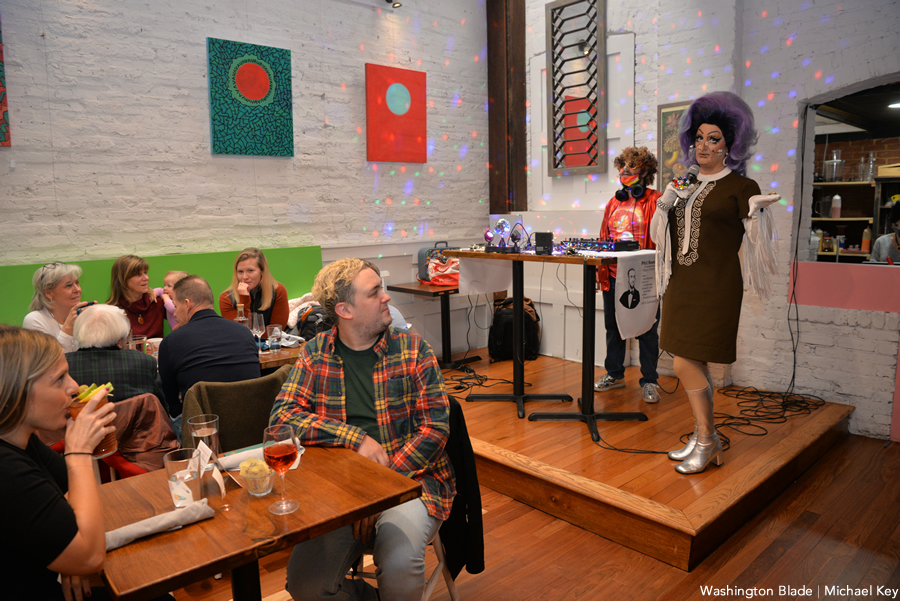 Shane Mayson's restaurant is as colorful as his language. His multi-hued American eatery Crazy Aunt Helen's debuted last July on Barracks Row, just a few days after Pride concluded. But as Pride is 365, this restaurant has spent its first year with flair and fanfare, and this June, Mayson, who identifies as gay, isn't holding back.
"I LOVE PRIDE MONTH," Mayson wrote (caps are his). "I love everything we have at Crazy Aunt Helen's for Pride. Check out our events and get blown away," he says.
This isn't Mayson's first Pride – but it is his first as owner of Crazy Aunt Helen's, a delightfully fabulous neighborhood restaurant in Barracks Row.  
Thus far in June, Mayson has already held comedy shows, book readings, a ladies' tea dance, play readings, bingo, and a Story District event. Coming up on June 25, to end Pride month with even more color, is "Pride-a-palooza," featuring a host of drag queens, food, drinks, prizes, and plenty of surprises that MayD.C. Mayor Muriel Bowserson has been waiting an entire year to showcase.
Crazy Aunt Helen's "serves American comfort food with a southern slant," explains Mayson. Taking over the space of Irish pub Finn McCool's, Crazy Aunt Helen's spreads over two floors, plus a patio and streatery. The interior is wildly bright: a Prince-esque purple host stand and staircase welcome guests, and a highlighter-green wooden banquette runs the length of the dining room. A set of wicker chairs and flower-print cushions recall that southern influence.
Mayson enlisted Pixie Windsor – the very same of eponymous Miss Pixie's – to design the restaurant (the two have been friends for years). "Pixie has a way with creating fabulous comfortable spaces," Mayson says.
Windsor and Mayson partnered to craft the whimsical aesthetic, from the brilliant paint job to a bright-pink neon sign.
Mayson is quick to note that his Aunt Helen "was charming, warm, and funny, with an amazing laugh, and I wanted my restaurant to have that same feeling," he says. "I wanted our guests to feel like they are getting a big'ol hug each time they walk in the doors."
The menu is just as homey and eclectic. Mayson waxes poetic about the fried green tomatoes, the chicken fried steak smothered in chicken sausage gravy, and a Jewish-style braised brisket. Yet many of the dishes are also vegan and vegetarian, like the "fab" cakes made of soy and mushroom and a vegan steak.
As for the drinks, Mayson says that the "signature cocktails are also seasonally driven, and I only use local distilleries like Republic Restoratives, another LGBTQIA business." There's also a list of beer, wine, and zero-proof drinks.
Mayson has been in the restaurant business since he moved to D.C. in 1984, working first at Mr. Henry's on Capitol Hill, and most recently as director of business development for the restaurant group of the highly lauded restaurant industry leader, and lesbian, Jamie Leeds.
Mayson is using Pride this year as Crazy Aunt Helen's coming out, both as a restaurant and a safe space. "I can say that I have had experiences in my life where I didn't feel welcomed places. The staff and I work very hard to make sure everyone who walks into Crazy Aunt Helen's feels welcome," he says.
"I find it's the small things that build to allow folks to feel safe," he notes. There's no required uniform, allowing staff to dress however they feel most comfortable. Mayson also makes an effort to support local LGBTQ artists and performers, giving them space in the second-floor Peacock Room to share their talents.
To that end, Mayson is offering The Rainbow Theatre Project, a theater group that has been dark since pandemic closings, a home until they are back up and running. During June, they performed four staged readings from four LGBTQ playwrights. "I can't wait to have the Peacock Room buzzing with entertainment every night of the week and to hear all the people laughing and enjoying the food, each other and the show," Mayson says.
Mayson's goal at Crazy Aunt Helen's is twofold: create a space "that's welcoming and nourishing to both our bellies and our spirits."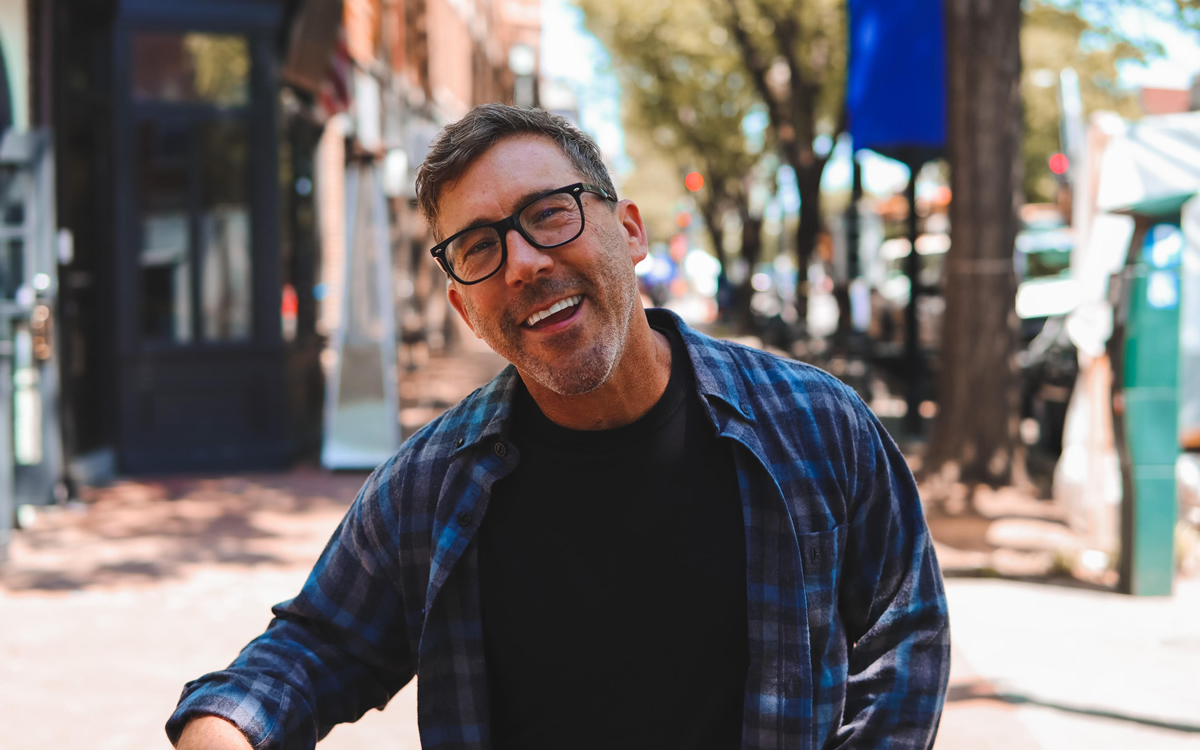 Relish Market offers a space for wellness
Lesbian entrepreneur a supporter of mission-driven brands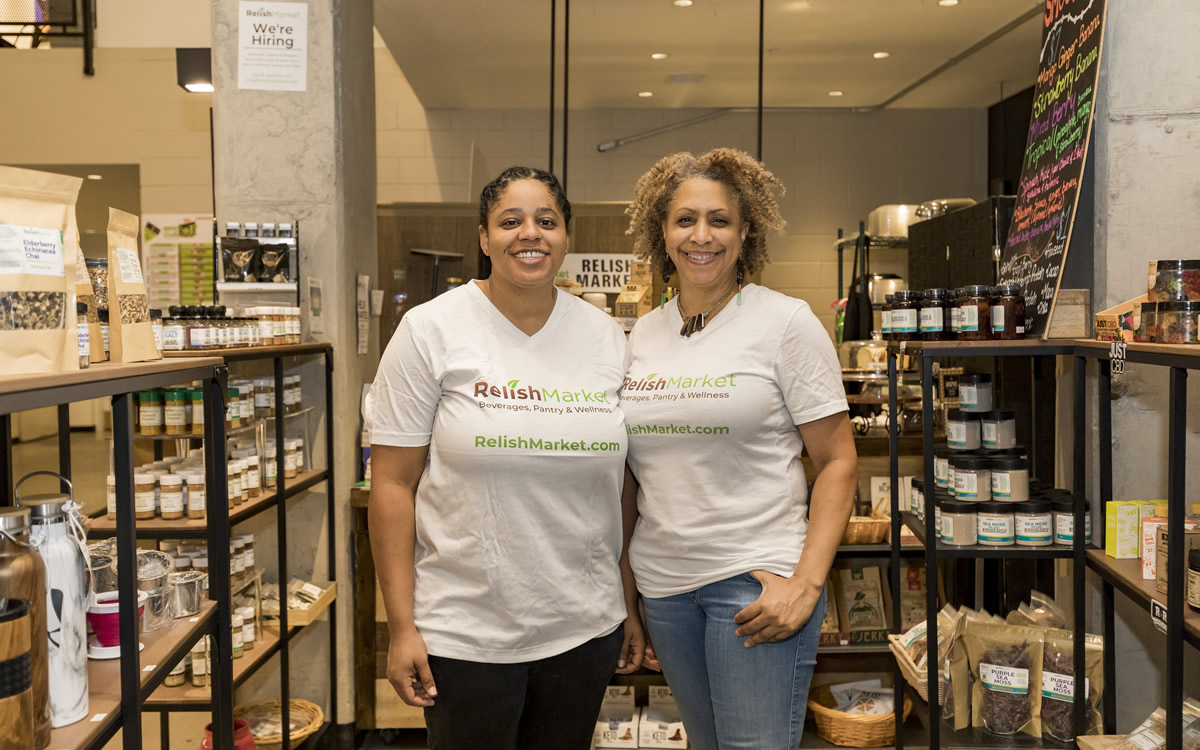 From urban farmer to wellness provider, Stephanie Freeman has been a caregiver to the earth and to her customers for more than a decade. Freeman, who identifies as lesbian, owns Relish Market with her daughter, Alexia Yates. Located in Brentwood, Md., Relish offers housemade drinks, herb and spice mixes, condiments, wellness products, and a host of proudly D.C.-made products.
Freeman founded Relish Market in 2018 and opened a storefront inside of miXt Food Hall in October 2019 upon the inauguration of the hall. (miXt co-hosted the Arts, Beats, and Eats festival in May, which featured several LGBTQ artists.)
Freeman began in the food industry in earnest in 2013 as an urban farmer and food entrepreneur selling her hot sauce and condiment brand, Pepperly Love, at farmer's markets and events throughout the area. Her daughter Yates focuses on the catering and custom beverage aspects of Relish. With a background as a chef, she brings experience and creativity to the goods at Relish.
Although Freeman came from the corporate world, she grew up in a home with a big, productive garden. She has cherished memories of canning produce with her grandfather.
Among its offerings, Relish may be best known for its beverages. It serves a rainbow's worth of smoothies: everything from strawberry-banana to peanut butter, kale, and whey. The shop offers more than 20 add-ons to boost the drinks, including new superfoods like sea moss gel and black seed oil. There's also a range of juices and proprietary tea mixes like elderberry echinacea chai. All the options are made in house, just like her own spice and herb blends: she's packed everything from butterfly pea flowers to valerian root to adobo lime spice mix.
When the opportunity came up to open the marketplace within MiXt, Freeman jumped at the occasion. The food hall allowed her to further express her creativity and provided her with a platform to showcase her talents – and put her in front of a bigger, broader audience, but also one that seeks to make close connections.
"I'm proud," she says," because there aren't so many places for healthy choices where customers can ask questions while also supporting local."
Having opened at the end of 2019, Relish soon had to confront pandemic restrictions. While customers couldn't stay to eat at MiXt and many vendors were closed, Relish was able to stay open. It was during this challenging period that Freeman leaned in to her wellness background.
The gray of the pandemic cloud therefore offered something of a silver lining. Relish became a community space when so many other vendors and food establishments were shuttered. It was through these in-person interactions that Freeman has found her calling.
Freeman has embraced her role as caregiver and supporter of mission-driven brands. She stocks products from more than 20 local vendors in addition to her own in-house-crafted products. Being in front of so many customers, she's proud to show that people like her can create wholesome, welcoming spaces.
"People see the shop as more than just selling food, but create a space for wellness," she says.
Referring to other LGBTQ people in the food space, she says that the community is "often underrepresented and underreported on." She also notes her ability to "pass" as a straight Black woman unless she specifically speaks about her identity. She therefore ensures to recognize others who need that recognition. When sourcing her products, she always looks to organizations that are supportive. She has also participated in Black Pride events in the past.
"I'm excited to show to other would-be entrepreneurs to know that it's possible here, as an example. I want to emphasize that I certainly had to overcome obstacles, whether its Black, or female, or otherwise, but it is possible, even with the odds stacked against you."
At Michele's, sophisticated cuisine in an inclusive space
Executive sous chef Rachel Bindel brings her full identity to work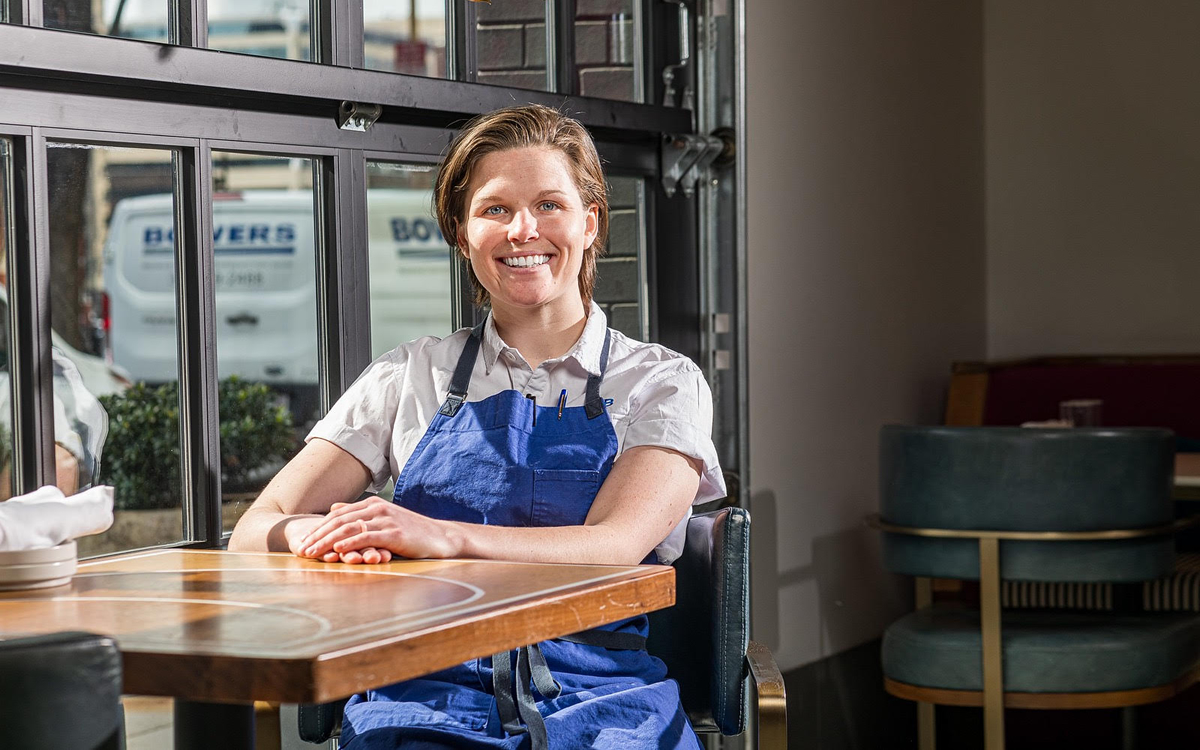 Both traditional and chosen, it's all about family at Michele's. Michelin-starred chef and owner Matt Baker named the restaurant after his late mother, but it's also where Executive Sous Chef Rachel Bindel, who identifies as a lesbian, feels at home.
"I have never felt comfortable enough to be completely open about myself until I met this team," she says.
As Executive Sous Chef, Bindel oversees daily operations at Michele's, located in the mission-focused Eaton Hotel. She also plans menus and runs scheduling, sourcing, and events.
The menu at Michele's is a reflection of Chef Baker's upbringing in Houston and New Orleans, resulting in a sophisticated, French-American cuisine. Both Baker and Bindel are trained in classical French techniques, and both also spent time cooking and studying in East Asia. The combination of their background and vision come together at the tables at Michele's.
Bindel also oversees the chef's table 10-seat, 14-course, Lorraine's Counter. Each dish is inspired by specific food memories, designed and cooked by the chefs to tell the story of Michele's and who they are as chefs.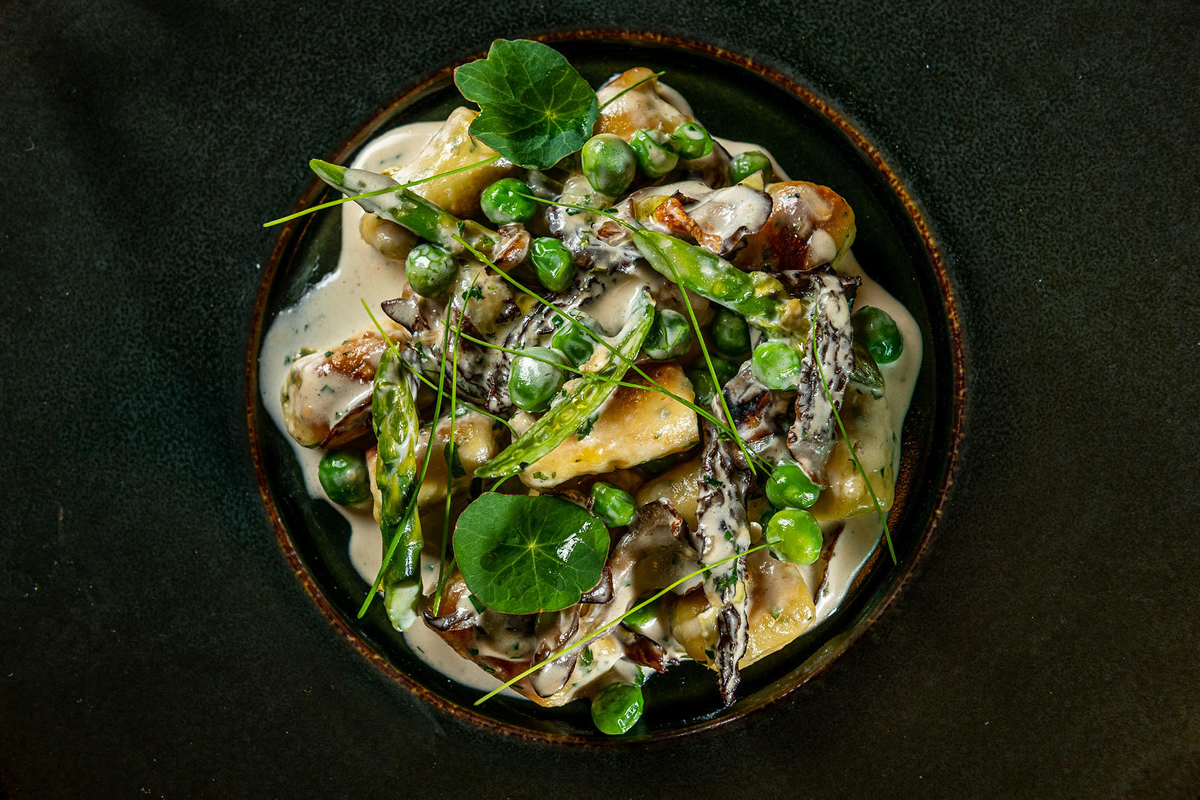 Driven and creative, Bindel, who grew up in the Mid-Atlantic region, recalls food nostalgia as far back as the wafting aromas of her mother's baked ziti fresh from the oven. She graduated from the Culinary Institute of America, steeping herself in French cooking and a specialized focus on Advanced Japanese Techniques.
But it was also while studying at the CIA when she met her wife Marissa. Both were CIA students moonlighting as staff at the on-campus restaurant. A back-of-house romance soon blossomed and they married last month. 
After graduating, the two relocated to Charleston, where Bindel worked at acclaimed restaurant Husk. "While I loved living at the beach, eventually it was time to move back home," she said. She came to D.C. in June of 2019, landing at Tail Up Goat.
In September of 2021, she joined 101 Hospitality (the parent company run by Chef Baker that also manages Gravitas and Baker's Daughter) to run research and development for Michele's. The restaurant opened last November.
When Bindel graduated, she moved to Charleston in search of the best place to expand her cooking chops. But it was also not the most open space she has encountered in her young career.
In D.C., "a more welcoming city," she notes, she has the ability to look at both the cooking and the environment for the staff, where everyone can be open about who they are.
"Being at Michele's, I can be my full self, which makes my work better, too. I don't have to hide, so I can explore even more who I am as a chef."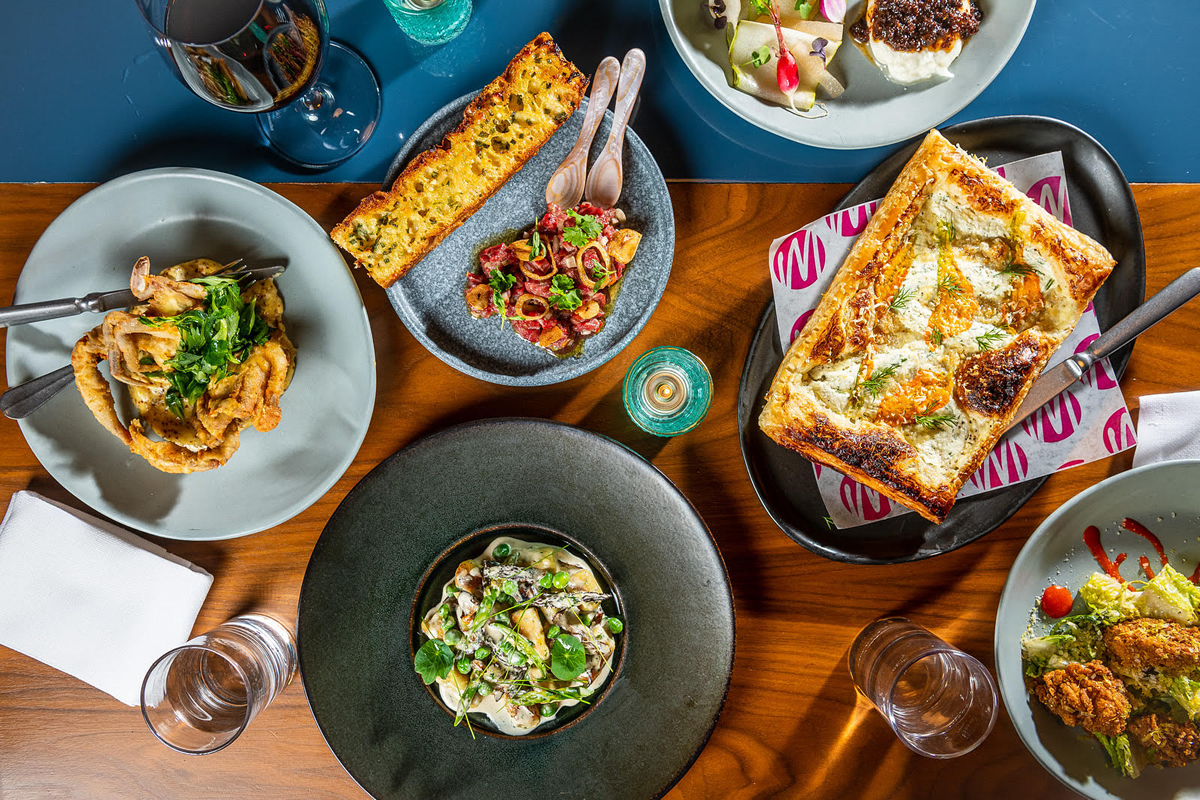 Her work is on full display for the restaurant's current seasonal menu. A highlight: the Parisian gnocchi, a flour-based dough pocket in the French style, in place of the traditional potato. The pasta spheres are bathed in a rich Parmesan cream, snuggled by foraged mushrooms and brilliantly green spring peas and asparagus. Other veggie-forward items include a duo of tarte flambee: potato and black truffle, and squash blossom and ricotta. The restaurant also serves fresh French bread, cheese and charcuterie plates, and lofty seafood towers.
"At Michele's," she says, "we have created not only a safe space for our diners but also all of our staff. We have adopted a more inclusive standard of service. We no longer serve all females first, and we have eliminated the need for gender pronouns when addressing tables. Being on the management side, I can create space for everyone to be comfortable."