Holiday pop-up bars offer festive, sparkly cocktail fun
Conrad Hotel, Ivy and Coney offer Xmasy, Hanukkah-based options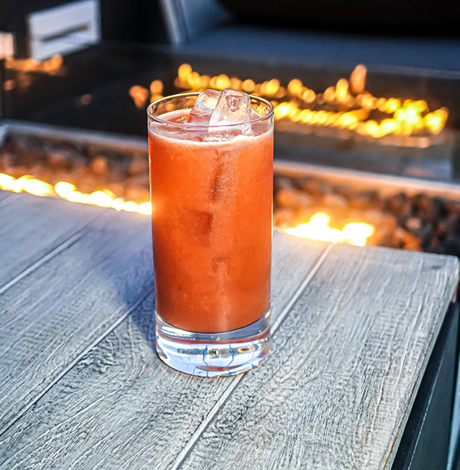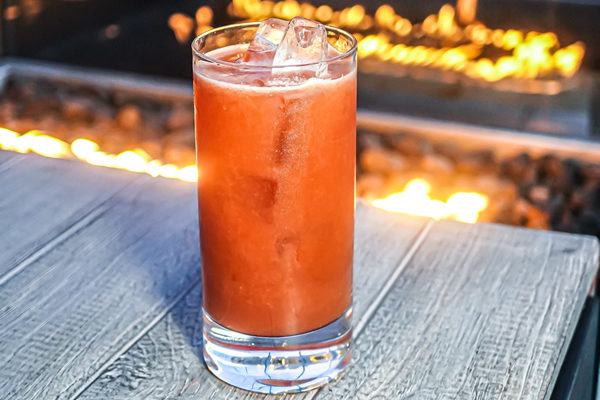 What's the difference between the 12 days of Christmas and eight days of Hanukkah? Four of Washington's most entertaining holiday pop-up bars. Far from the White House Christmas Tree are these bars filled with frivolity, creativity and wonky winks and nods to the city's culture.
Highbrow — Conrad Hotel
The Conrad Washington (950 New York Ave., N.W.), in its debut holiday season in the city, reaches across the pond to bring Alps inspo to its third-floor lookout for its Apres Ski Experience. The Conrad's elegant terrace has transformed into a cozy mountain lodge, offering Euro-chic cocktails and dishes. Heated outdoor fire pits, necessary to combat the chill, are complete with blankets and thermoses filled with hot buttered rum and 'haute' toddy cocktails. Alsatian cheese and charcuterie boards get an additional lift from fireside s'mores kissed by chocolate ganache. CityCenter clothing retailer Moncler is setting up its chic outerware goods in a gondola for a feel of the Alps on your shoulders. Open Tuesday to Thursday 5-10 p.m., and Friday and Saturday 4-11 p.m., through February.
Lowbrow — Ivy and Coney
For its third crazy year, Ivy and Coney (1537 7th St., N.W.) will get your candle hot in its Hanukkah pop-up, "Bar Mitzvah." The laid-back, sports-focused space has become a place where "the Manischewitz shall flow, the dreidels shall spin and fun will be had by all," according to the owners. Front and center are latkes, hot and fried, as well as "sufgani" shots (jelly donut, but make it a shot), and "eight-night fiery cider" that's known in some circles as Fireball. Out on the patio, the "shotnorah" shines brightest, at which eight friends can take a shot of liquor concurrently. The bartender acts as shamash, or the middle lead candle. Emphasizing the mitzvah portion of "Bar Mitzvah," the Ivy and Coney is donating a portion of proceeds to HIAS and Bread for the City. There will be candlelighting each night at 7:30 p.m. Dec. 22-29 during the actual holiday. Getting lit is an almost certainty. The pop-up runs "from December 2nd through New Years' Eve of the year 5780."
Classic — Miracle on 7th Street
The mother of all pop-up bars (or PUBs) in D.C., Drink Company's Miracle on 7th (1843 7th St., N.W.) is back for another year of outrageously fun décor, complex cocktails and lines stretching around the corner in subfreezing weather. Its tri-fold, choose-your-own adventure style is back in full force. One room is again dedicated to Hanukkah, housing a "Chinese and a movie" concept, as well as whirling dreidels and a menorah of Maccabean size that would last for many more than eight nights.
Another room is decked out in adorable teddy bears, in support of the Washington Children's Hospital. The last room is pure home run: it's a celebration of the 2019 World Series Champions, the Washington Nationals. Yes, Baby Shark will show up. As far as the drinks, cocktail manager Paul Taylor wrote that "all the drinks convey the season, festivity and personalities of the bars." He'll pour options like Gretchen, Stop Trying to Make Fetch Happen (cream sherry, dry curacao, and sparkling wine), as well as one for our recently departed Panda Bei Bei (tequila, vanilla, lime and soda). The pop-up is open Nov. 22-Dec. 31; on Dec. 23 the bar will host an event that benefits the Washington Nationals Dream Foundation.
Beery — Wundergarten
NoMa's Wundergarten (1101 First St., N.E.)is hosting its own third anniversary with this year's Winterfest. The beer garden transforms into festive "hoppy" holiday dreamscape across all of its 13,000 feet of indoor/outdoor wonderland. Spiked cider, hot chocolate and seasonal beers are on tap. Stroll beyond the immersive "Polar Tunnel" art installation is The Chalet, a Swiss-inspired dining concept under twinkling holiday lights. When the chill's a bit too strong, the heated igloo and fire pit help heat things up. There's also a responsibly sourced Christmas tree garden and weekends bring Santa photo ops, local artist's market and themed night like Ugly Sweater Party and Night of a 1000 Santas, The pop-up runs Dec. 6-22.
Bistro du Jour transports you from Wharf to Seine
New casually sophisticated restaurant a welcoming, inclusive space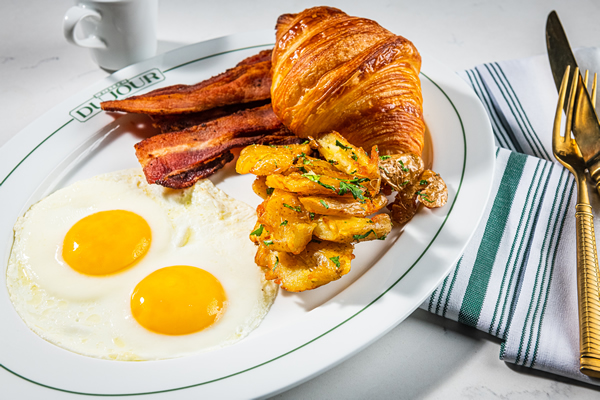 Delights run morning to night at The Wharf's new Bistro du Jour, a casually sophisticated French outpost sliding into a prime waterfront space.
Courtesy of gay-owned KNEAD Hospitality + Design, this new restaurant flaunts a menu born from a Seine-side bistro, serving coffee in the morning hours to Champagne in the evening. Its all-day culinary oeuvre begins with coffee (from La Colombe) and omelettes, and ends with items like a towering and meaty bi-patty cheeseburger L'Americain.
Taking over the sweet spot vacated by Dolcezza, Bistro du Jour is a sister to Mi Vida and The Grill, KNEAD group's two other Southwest waterfront locales. The group also runs several other formal and large-format restaurants they have populated across the city.
Why bring French to the Wharf?
"We have been here for almost four years and we knew what the area was missing and acted on it," says one of the co-owners, Jason Berry. "We wanted something where people could come in at all hours of the day and find something they wanted, from coffee and pastry to a full-on sit down at night."
The Bistro opens at 7:30 a.m. serving that local La Colombe coffee, plus flaky, buttery pastries from KNEAD's partner Mah-Ze-Dahr Bakery. Breakfast service starts at 8 a.m. with brioche doughnuts, quiches, a "massive" Belgian waffle, and French toast topped with a blueberry compote and sweetened whipped cream.
Executive Chef Treveen Dove – transferred after three years at another KNEAD spot, Succotash Prime) – oversees the offerings, a tour of the "greatest hits" of a typical Parisian bistro.
"Oeufs Sur Le Plat is to die for, with the griddled buttered bread topped with a sunny side up egg, sautéed mushrooms and a Mornay sauce… It's so rich and delicious."
By 11 a.m., the Bistro transitions to other traditional French fare, like French onion soup, tuna Niçoise salad, steak frites, mussels in a white wine and garlic butter, and a croque madame sandwich dripping with gruyere and creamy Bechamel. One unique offering is whipped brown butter with radishes and crostinis. There are also gougeres, warm cheese puffs shot through with gruyere.
Come 4 p.m., the dinner menu fills out even more, with additional dinner items confit de canard (duck leg with green lentils and red wine shallots); and a robust, earthy coq au vin (braised chicken with bacon, mushrooms and mashed potatoes); and a lamb shepherd's pie with mashed potatoes that would be at home on a French Alps farm.
Due to space limitations, the Bistro lacks a sit-down bar. Yet beverage director Darlin Kulla, who has been a part of the KNEAD family for more than four years, has put together a focused menu of six craft cocktails. You'll find not only a French 75 (gin, lemon verbena, lemon, bubbles), but also a Manhattan and a "Champs Elysees" with cognac, chartreuse, lemon, and bitters.
The bar itself carries only one brand of each liquor: one gin, rum, and vodka. " If you want vodka, you're having Grey Goose," notes Reg with a smile.
Given the cuisine, there is a considerable French wine list topping 60 bottles, leaning heavily on Champagne and sparkling wine. There are almost 20 red, white, rose, and Champagne options by the glass and carafe, as well. The bar rounds out its stock with French aperitifs and bottled beer.
Notably, the majority of the restaurant's seating is situated on the building's exterior, in a newly constructed all-season patio enclosure with almost 70 seats. The owners designed the space to maximize waterfront views, capacity, and flexibility. During warmer days, the Potomac breeze is welcome to flutter around coffee-sippers; in the colder months, the windows roll down for a fully enclosed and conditioned space. The patio's banquettes arrived directly from France, and twinkling strung lights sway from the ceiling.
The interior is done up in Mediterranean greens, pinks, and creams. Big windows welcome in daytime natural light, but allow for a dim, mood-lit atmosphere in the evening. Traditional bentwood bistro chairs dot the space and antique-style tin tiles reflect a classic Parisian flair. Over at the bar, the glassware display was created from a single panel of antiqued brass. At the rear, a daytime counter offers coffee, pastries, and drinks.
As Bistro du Jour's owners are both gay men, they note that, "Our restaurants are intended to be welcoming to all guests of all backgrounds, beliefs and demographics. We cater to everyone, which is the only way to lead a hospitality organization."
"When you're part of a minority group in society," they say, "the only way to lead your restaurants is as inclusive, welcoming, and hospitable leaders."
Though smaller than their other ventures, a French bistro right on the teeming, pedestrian-heavy Wharf "was the perfect fit," they say. 
Jane Jane brings throwback joy to busy 14th Street
Cocktail bar characterized by warm Southern hospitality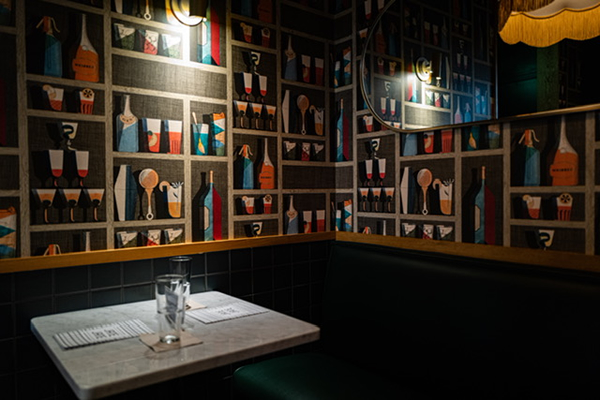 There is no standing at Jane Jane, the new classic cocktail bar in the heart of 14th Street. Its 850 square feet is for sitting and savoring, drinking in the relaxed retro vibe and the thoughtful craft cocktails.
At the foot of the mixed-use Liz development where Whitman-Walker is the major tenant, Jane Jane's creative use of a shoebox-sized space brings throwback joy to a busy thoroughfare.
In the pre-COVID days of 2019, Whitman-Walker approached the Jane Jane owners, hospitality veterans Jean Paul (JP) Sabatier, Ralph Brabham and Drew Porterfield, all gay men, to make good use of the vacant parcel, and ensure it would be run by LGBTQ entrepreneurs. "It required some gymnastics because of the layout," says Brabham, "but we came up with this cozy classic cocktail concept."
The hangout spot is an effort by the trio to "celebrate hospitality. We want everyone who walks into the space to feel like friends of ours we are having over for drinks or a bite. Its a cocktail party in our home," he says. They felt connected to the idea of a tiny bar—a space where they would want to have a drink.
Named for Brabham's mother, Jane Jane is as alluring and lively as it is intimate, each detail in the experience characterized by warm Southern hospitality—right from the bowl of spiced nuts that swiftly appear at each table at the beginning of service.
Sabatier, who has held stints at D.C. institutions like Rappahannock Oyster Bar, Maydan, and Compass Rose, oversees the bar and cocktail program, organized by spirit. (For their part, Brabham and Porterfield, romantic partners, also act as co-owners of Beau Thai and BKK Cookshop; Porterfield is also the current Curator and Director of Long View Gallery in Shaw.)
Sabatier has presented classic cocktails with a few noteworthy nods to current zeitgeist, as imagined by his lengthy experience behind the bar. The booklet-like menu includes a broad selection of familiar favorites like a Negroni, Manhattan, martini, but also features Sabatier's handpicked favorite classics like the Boulevardier (a whiskey Negroni), Last Word (gin married to herbaceous green chartreuse) and Air Mail (rum, honey and cava). Drinks fall in the $13-$16 range; a "Golden Hour" runs daily until 7 p.m. featuring beer and wine specials and a punch of the day.
Sabatier's creative juices flow on the first page through cocktails like the vividly named Tears at an Orgy, with brandy, orange and maraschino, as well as the best-selling, highly Instagrammable Crop Top, a gin cocktail with a red-wine floater—and a name that matches the look of the bi-color drink. "It's fun, delicious, and speaks to the space," says Sabatier. He notes that their vodka of choice comes from Civic, a local, women- and LGBTQ-owned distillery.
Sabatier, a classically trained chef and Culinary Institute of America graduate, also oversees the small selection of bar bites (the space has no kitchen, part of the required "gymnastics" to make it functional.)
Beyond the complimentary vessel of rosemary-flecked mixed nuts, other bar snacks run from pickled vegetables to a Southern-style Pimento cheese dip and an onion dip creamy enough to make your grandmother blush. The "Jane's Caviar" dish is a spread of trout roe and crème fraiche and comes with a towering mound of shatteringly crisp chips. A weekend brunch is in the works, which will serve goodies from local bakeries.
The retro-style interior recalls both California and the South, with only 32 seats inside and a 14-seat patio. Cozy booths done up in a hunter green as warm and inviting as a cool aunt are slung below walnut-wood walls and bar. Bright patterned tiles run the length of the floor; the back wall has playful cocktail wallpaper. A charming needlepoint by the restrooms kindly requests of guests, "please don't do coke in the bathroom."
The owners note that while Jane Jane is not explicitly a gay bar, its location in a traditionally gay-welcoming institution means that it has LGBTQ in its bones.
"Supporting LGBTQ people, businesses, and causes has been in Jane Jane's ownership's DNA at every establishment at which they have been involved," they say, having supported local LGBTQ+ organizations like Casa Ruby, Victory Fund, SMYAL and the Human Rights Campaign, among others.
Porterfield says that they were surprised that, given the locale, people assumed Jane Jane was a gay bar. "It's not a gay or straight bar, just a fantastic cocktail bar that welcomes anyone to hang out with us," he says.
Nevertheless, the owners have taken into consideration the significance of being in the Liz development, as both gay men and as part of the hospitality industry. "It highlights the lack of representation as gay owners in this bar and restaurant world," says Porterfield. They note the lack of women, LGBTQ and BIPOC representation.
"It's very special to us that we opened in this space," says Porterfield, "so we want to show that we have opened a place that is all about inclusivity."
Seven new restaurants to try this fall
D.C. restaurant scene thriving again after rough year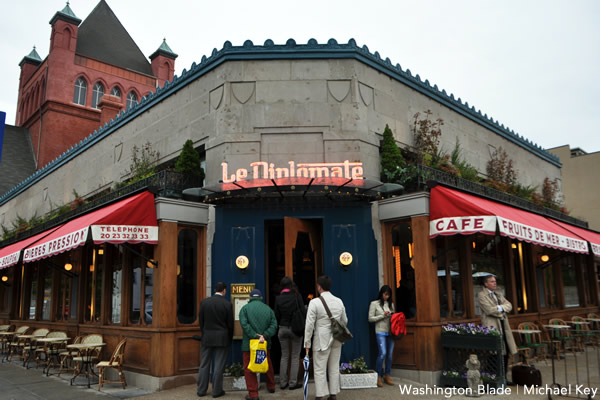 The fall dining scene is as hot as ever. Here are some of the top tickets to look out for:
RAMMYs: Sept. 19 marks the annual D.C.-area restaurant industry awards, the RAMMYs. Many of the categories this year are unique to the challenges restaurants faced in 2020. Held at the Walter E. Washington Convention Center, the awards "created timely categories that speak to all the ways the region's uniquely met those challenges," according to the RAMMYs. Such categories include "most innovative to-go packaging", "outstanding COVID-safe redesign," and "most impressive pivot to provision or market."
Jane Jane (1705 14th St. NW):
Highly anticipated retro-chic cocktail bar Jane Jane quietly opened after more than two years in the making. Co-owned by gay men Drew Porterfield, his partner Ralph Brabham, and friend JP Sabatier, Jane Jane's mid-century-style throwback offers classic cocktails and upgraded bar snacks. It's located in the new Liz development on 14th Street.
Thirsty Crow (3400 11th St. NW):
Part sports bar, part cocktail bar, Thirsty Crow opened just last week in Columbia Heights. It sits in the subterranean level of Michelin Bib Gourmand-winning Makan, serving cocktails and bites inspired by Malaysian flavors, like its sister restaurant on the ground level. Chef James Wozniuk of Makan is overseeing the menu of snacks like shrimp chips and larger plates like spicy fried chicken with sambal.
No Goodbyes (1770 Euclid St. NW):
The Line Hotel previously played host to a suite of restaurants: A Rake's Progress, Brothers and Sisters, and Spoke English. When these restaurants left this Adams Morgan hotel, the spaces sat mostly vacant until No Goodbyes slid into the ground floor. An all-day dining place that "taps the farmers, fishers, and small-time ranchers in DC's own backyard," according to its website, the menu sits squarely on a Chesapeake Bay foundation. Mid-Atlantic dishes, from fish to fowl, play large on the menu.
Bread Alley (1250 5th St NE):
The intoxicating tower of carbs that greets diners when they walk into buzzy Le Diplomate is getting its very own dedicated space, aptly named Bread Alley. A tiny location in the Union Market area, the shop just launched selling only the three types of bread that arrive complimentary at the start of any Le Dip meal: thick-crusted classic baguette, multigrain boules, and cranberry-walnut boules. It will eventually also sell pastries, jams, butter, honey, and other accouterments. Bakers begin their craft at 3:30 a.m. and offer their wares starting at 9 a.m. until 5 p.m. or sold out, whichever arrives earlier.
Bistro Du Jour (99 District Square SW)
Bistro Du Jour will be gay-owned KNEAD Hospitality + Design's third waterfront venue at the Wharf. A café in the Parisian style, it will lean heavily on croissants and cappuccinos during the day, moving to Champagne and larger savory dishes by night. The bistro will sell current partner Mah-Ze-Dahr Bakery's fresh baked goods and pastries, and will showcase traditional fare like coq au vin, French onion soup, steak frites, and foie gras for lunch and dinner. The bistro will display an extensive bubbly section, as well as a chic espresso bar and an outdoor patio. Brunch is in the works.
SUCCOTASH Prime (915 F St., NW)
After a yearlong hiatus, SUCCOTASH Prime recently reopened at the end of August. SUCCOTASH Prime, also run by gay-owned KNEAD Hospitality + Design, is an updated version of the restaurant, still with Chef Edward Lee at the helm. The refreshed SUCCOTASH opened as a southern steakhouse with an Asian twist, featuring smoked steaks, fried oysters, collard greens, ham, and kimchi side dish. Live music is also planned.
Via Roma (4531 Telfair Blvd #110, Camp Springs, Md.)
Via Roma is a restaurant where you can enjoy the pies, you just can't call it "pizza." Just opened a few weeks ago, the restaurant serves pinsas, a pizza-like dish using dough made from a heady mixture of wheat, soy, and rice flours, and then proofed for more than a day. The spot calls itself the first Pinsa-certified restaurant in Maryland, and aims to reflect the laid-back, Mediterranean atmosphere of Naples (the owner also runs an Associazione Verace Pizza Napoletana-certified restaurant in Maryland). Beyond Pinsa, it also serves Maryland crab tater tots, panini, pasta, salad, and Aperol spritzes.