March 10, 2021 at 8:35 am EST | by Evan Caplan
D.C.'s culinary scene shakes its pandemic slumber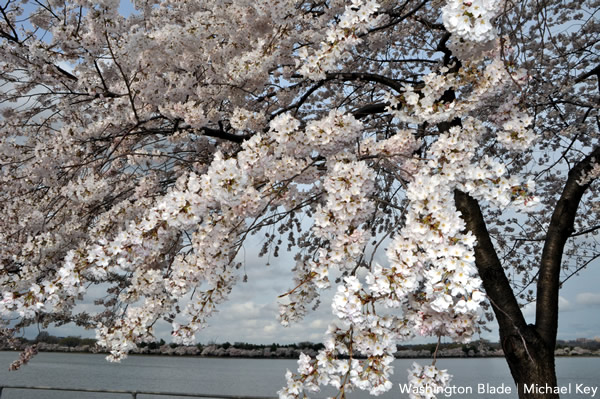 As the city emerges from its winter and its pandemic slumber, the culinary scene is also awakening. The spring is shaping up to be a dynamic, exciting season for restaurants and bars.
Even if in-person dining is not as easy this year as in the past, there is nothing stopping D.C. from celebrating one of its most storied events, the National Cherry Blossom Festival. Peak bloom is expected for the window of March 30 to April 3, perfectly timed for the Passover and Easter holidays. The (virtual) opening ceremony will be held on March 20, featuring live performances from Japan and D.C. The festival this year will have "an innovative format that honors the tradition of the Festival, while prioritizing the health and safety of participants amidst the coronavirus pandemic," notes the National Cherry Blossom Festival website.
More than 100 food and drink specials have been set up to align with the festival. To name a few participating places that have announced specials: Annabelle, Blue Duck Tavern, Immigrant Food, Karma Modern Indian, Napoli Salumeria, Sababa, and Slate Wine Bar.
A couple standouts include a Sakura flower pastry from famed New York City import Mah-Ze-Dahr Bakery, as well as vegan cherry blossom cupcakes from Sticky Fingers. Penn Quarter's Dirty Habit will not only have cherry blossom drinks specials, but the cocktails can be enjoyed on its outdoor patio dotted with cherry blossom trees.
Shilling Canning Company in Navy Yard, where beverage director Jacob Weinstein is gay, is offering a "Ch-ch-ch-cherry bomb" cocktail, a take on an Old Fashioned with floral bitters.
To really get into the spirit, the National Cherry Blossom Festival has launched the Festival Flavor Pass. The program gives participants the opportunity to taste and sip on specials and discounts across the city. The Flavor Pass booklet lists included restaurants and their offerings, the story behind each location, and how to redeem it in person or through takeaway. The program runs March 20-Apr 11.
Similarly, a new subscription program called Summerlong Supper Club began this month to give Washingtonians the chance to give back while dining on meals from some of DC's most acclaimed restaurants: Albi, Anju, Cane, Centrolina, Rose's Luxury, and Sushi Taro. Subscribers receive six weeks of the opportunity to dine on exclusive three-course prix fixe tasting menus.
Lesbian-owned Pizzeria Paradiso is celebrating Women's History Month by partnering with Cheesemonster Studio, owned by Alice Bergen Phillips and Kara McGrath. The artisanal cheese shop has provided Paradiso with three cheeses made by women cheesemakers for a limited-edition pizza: Boxcarr's Campo, Meadow Creek Dairy's Appalachian, and Point Reyes Farmstead Cheese's Original Blue. 
Meanwhile, Oyamel's annual Tequila & Mezcal Festival is running through March 14, with its fanfare of a limited-time food menu, events, and of course, fanciful tequila and agave-based drinks.
Beyond seasonal specials, the city will also see a number of new restaurant openings – and re-openings. For example, restaurateur-brothers Eric and Ian Hilton closed a handful of their acclaimed bars and restaurants last fall. However, the duo recently announced that pizzeria Echo Park and bars American Ice Company, Brixton, and the Gibson are set to reopen soon.
For bar goers who don't want to leave Fido at home, Bark Social just opened in Bethesda. This spacious indoor/outdoor beer garden and coffeeshop combines cocktails with a private and monitored off-leash dog park. The pups get their own "dog treat bar" and a dog wash station.
Those looking to elevate their outdoor game should look to Hi-Lawn, located on the roof of Union Market. It's one of D.C.'s largest rooftops, and well-positioned for COVID-safe socializing. The space is hosting a St. Patrick's Day event March 13-14 to kick off the season.
Knead Hospitality, the team behind Mi Vida and Succotash, has an ambitious expansion strategy for a number of new concepts over the next few months. Some of their upcoming openings include upscale American diner Gatsby by Nationals Park, Mexican restaurant Mi Casa in Dupont Circle, and another outpost of Mah-Ze-Dahr Bakery. The group is also planning an expansive food hall in the Dupont area, to encompass Mexican, Southern, and pizza options.
Navy Yard's Sandlot Southeast, launched in 2019, is reopening on March 18. Uber Eats is partnering with this outdoor food space "to showcase and celebrate local Black-owned restaurants and chefs," according to the website. Running Thursdays-Sundays until the end of the year, Sandlot Southeast is partnering with Uber Eats to feature Black-owned restaurants, chefs, caterers, and food truck operators in D.C., and their dishes will be available on the Uber Eats app. "Sandlot Southeast will provide an incubator platform for Black chefs to build an audience in Capitol Riverfront," says Michael Stevens, president of the Capitol Riverfront BID.
Finally, look to Buzzard Point, Southwest's rapidly expanding neighborhood hugging the new Audi Field, for plenty of openings in 2021. One of the first new spots will be a waterside seafood house called The Point, slated to serve a large menu of fresh seafood cooked over a huge wood-fired grill. It comes from the same group that runs the large Tony and Joe's in Georgetown's waterfront. Another yet-unnamed restaurant will open next to The Point later this year.
Sign Up for Blade eBlasts