March 22, 2021 at 8:39 am EDT | by Evan Caplan
COVID upended Himitsu founder's life — so she pivoted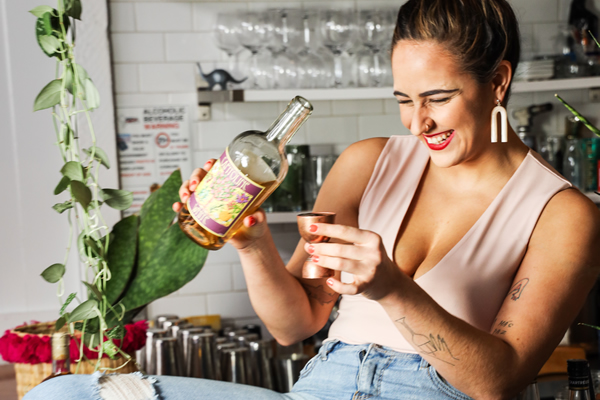 Perhaps no other industry has changed more from the pandemic than the restaurant industry – and few other local restaurateurs made bigger life changes from the pandemic than Carlie Steiner.
In 2016 and barely into her mid-20s, Steiner co-founded the award-winning and highly creative Himitsu, one of D.C.'s most lauded restaurants. Two additional eateries and five years later, Steiner has left the restaurant world.
"COVID didn't change my plans," she says. "It changed my entire life."
In early 2020, Steiner was running Pom Pom (which replaced Himitsu after co-owner Kevin Tien left to pursue his own projects) as well as Mexican restaurant Dos Mamis (with co-owner Anna Bran-Leis), located directly across the street from Pom Pom. She had been named 30 Under 30 by Forbes, and Himitsu was listed in Bon Appétit's 50 Best New Restaurants list and won Eater's Restaurant of the Year in 2017. Steiner was recognized as a leader behind the bar and for her work in hiring and supporting LGBTQ employees.
Yet Steiner now admits that "being 'the best' consumed me, to my detriment. I lost myself over the past few years and was feeling incredibly disconnected. I'm not sure I could even see it at the time. I would still be there, had this pandemic never happened, miserable, and over-committing to everything. I would have never left the industry."
When Pom Pom shuttered due to pandemic restrictions, Steiner turned the space into a makeshift grocery. Realizing that she couldn't reopen for normal business, Steiner decided to formally close Pom Pom in May. She launched Seco Cocktails, an online shop that sold wine and liquor bundles. Steiner soon began to offer virtual cocktail classes through Seco Cocktails as well. The move to virtual-only work brought clarity to her career, Steiner says, and negated the need to be physically present at the restaurants. She and her partner decided that their next move would be to leave D.C. altogether, settling in nearby Annapolis in a new home.
Even virtually, "I find human connection essential, and there is no more significant way to gain human connection than through the art of food and beverage," she says.
But the restaurant industry ended up being an enormous challenge. "You can't divorce food from politics and culture, and I always wanted to keep high standards. Though I got disheartened by the strict mindset of being a restaurateur, I feel like I can do anything now."
Steiner describes years of microaggression, misogyny, homophobia, and other similar experiences as a woman and a lesbian in the industry. "People would walk into the restaurant and go to the first man they saw, assuming I wasn't the owner," she says.
In several business meetings, she notes different treatment for being a lesbian, which has felt empowering. "During these meetings, men treat me differently than other women. At the same time, I have a huge passing privilege about being gay."
"It's a privilege to be straight-passing, giving me the option to disclose my sexuality when it suits me and hide it when it doesn't. For these reasons alone, I feel being gay has given me strength, resilience, and power."
Moving out of the day-to-day restaurant work, Steiner has "fallen in love with the education process. I can be part of other people's success and education, and help empower minorities and women."
Her business Seco Cocktails "makes the cocktail experience as accessible as possible for all kinds of enthusiasts," she says. Right now, Steiner teaches public classes ($30) on a diversity of course themes, from Aperitifs and Digestifs to Intro to Tiki. She also offers small private classes for birthdays or other events, and sells funky wall prints and visuals with her own recipes ($8).
The pandemic "changed the way I think, how I spend my time, the people I spend with whom I spend it."
"At the time, I was devastated to lose everything for which I had worked my whole life. Now, I see that it was the best thing that could have ever happened to me."
Blade-Inspired Cocktail Recipe by Carlie Steiner
Name: The New Normal
2 oz Civic Vodka from Republic Restoratives (lesbian-owned)
2 dashes angostura bitters
2 sprigs of mint
1 oz fresh squeezed lime juice
0.75 oz honey syrup (a 3:1 ratio of honey to water)