March 25, 2021 at 10:19 am EDT | by Evan Caplan
Paraiso Taqueria is a riotous rainbow of a restaurant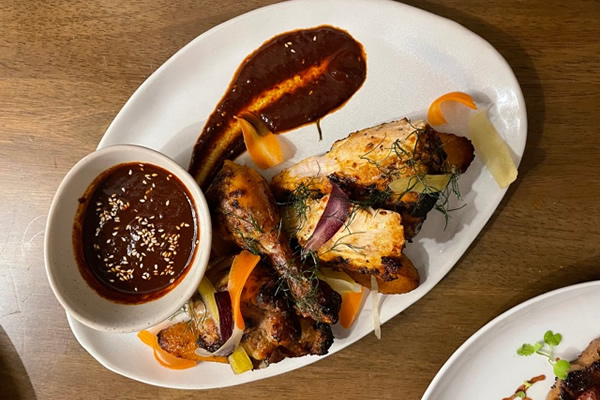 Green tortillas, pink mole, and blood-orange margaritas: the new Paraiso Taqueria in Capitol Hill is a riotous rainbow of a restaurant.
Launched last December, Paraiso Taqueria is just coming into its stride, as the city government relaxes dining restrictions, chef Geovany Beltran expands the menu, and the restaurant debuts a funky coffeeshop.
Beltran, a native of Mexico, has seized the opportunity in his first starring chef role at a restaurant, having previously worked at Jinya Ramen Bar, among other area eateries.
"Growing up in a mezcalero family in Guerrero, Mexico and being a D.C. local for many years, my dream has been to share those recipes and memories here in Capitol Hill," he says.
Unlike other recent taqueria openings, this one takes inspiration from both street food and home kitchens, as well as international influences. But Mexico is front and center. According to the restaurant's Brand Director Tahmina Ghaffer, "we source our heirloom masa [corn flour] from Oaxaca, Mexico. This flour used for tortillas has been nixtamalized, or treated with slaked lime to remove the hulls, soften it, and improve the digestibility of its nutrients," she says.
About those tortillas: Beltran livens up the Insta factor by mixing batches of masa with beet or cilantro, resulting in brilliant pink or green colors, in addition to the traditional yellow. Siting on those tortillas are a bevy of taco options, from traditional al pastor (with braised pork, pineapple, and cilantro) to a creative salmon crudo (with chamoy honey sauce, pickled onions, and mango). There is also an eggplant taco with tomatillo jam for vegetarians. All salsas that accompany the tacos are made in-house.
For bigger plates, look to the adobo lamb, served aside red and green salsas, escabeche, and tricolor tortillas, as a kind of DIY table side taco party. Another creative dish is an elegant cauliflower burrito, painted with a pink mole fragrant with beets, thyme, pine nuts, almonds, and pink peppercorns, and then elegantly drizzled with in a white chocolate sauce.
Beltran also takes cues from the sea, serving ceviche and coconut-curried mussels that would be right at home in an Indian restaurant.
On the sweet side, pastry chef Blenda Navarette crafts desserts like a tres leches topped by mango gelee and a chocolate flan; a pan dulce is in the works.
The drink list, Ghaffer notes, is heavily focused on an extensive collection of mezcal and tequila. Bar manager Jose Diaz aims to "tell the myths, legends, and stories of Mexico through drinks."
The Oaxacan Old Fashioned is inspired by the classic cocktail, but Diaz uses mezcal and agave. The El Chamongo marries tequila with mango, lime, chamoy, and the popular Tajin spice mix for a spicy-salty kick.
Paraiso takes over the space formerly occupied by Emilie's, where star chef Kevin Tien helmed the kitchen. When Tien left, owners Sam Shoja and Johann Moonesinghe revamped the space and handed the reins to Beltran (Shoja also owns several Jinya Ramen franchises). Beltran and his chef team are also partners in this operation.
"This team have been the true heroes of the restaurant industry and we want to give them a space where they can be celebrated and have ownership," says Ghaffer.
The industrial-chic design with a 360-degree open kitchen (seats at the kitchen bar are not being used during pandemic restrictions) is brightened by prints from a family favorite Mexican illustrator, Ana Leovy. "She celebrates diversity through her work, weaving stories through shapes and colors, inspired by feelings, dreams and everyday life," says Ghaffer. Neon lights and lots of greenery round out the space.
Paraiso's aim is to create "a vibrant atmosphere where all your senses get stimulated," she says.
An immigrant herself, Ghaffer (who hails from Afghanistan) notes that "being a minority has shaped our work, and we are here to set an example. As immigrants and people of color, we had to break barriers and now we want to help others do that. We want to let people know that anyone who puts in the hard work will achieve their dreams."
Moving forward, Paraiso will soon house an all-day café-bookshop, decorated with photography from Mexican women, selling fresh coffee, packaged treats, goodies, and bottled drinks. The restaurant also has plans to set up a "mezcaleria" bar area, expand its outdoor patio, launch a monthly wine club series, and host specials for Cinco de Mayo.