August 30, 2019 at 2:59 pm EDT | by Evan Caplan
Pals and restaurateurs offer creative drink options at Dos Mamis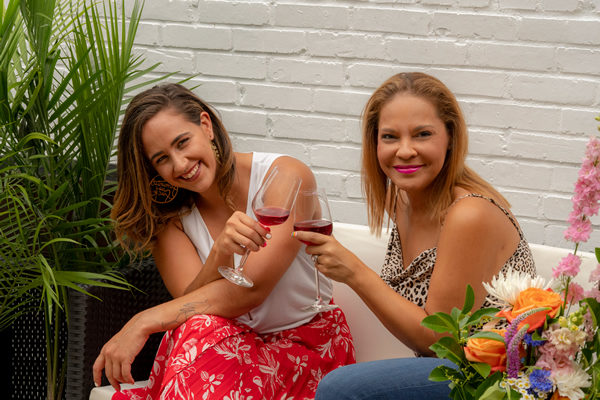 Dos Mamis is a place for a cocktail. It's also reflection of self.
On a recent afternoon, at the outdoor Wine Garden of this intensely purpose-driven Petworth bar, co-owners Anna Bran-Leis and Carlie Steiner sipped chilled Gamay, a fruity, light-bodied cousin to Pinot Noir. Condensation clinging to their glasses, Bran-Leis and Steiner finished each other's thoughts, energy and side-eye bouncing between them as they discuss plans for the upcoming season (new plants! Frozen Mexican hot chocolate!).
Their breezy, sisterly banter reflects everything that they have been searching for in a bar to complement the neighboring restaurants on Upshur Street that they already run: Bran-Leis overseeing Taqueria del Barrio, and Steiner of Himitsu (former co-owner Kevin Tien just stepped down to concentrate on Emilie's, a new restaurant in Capitol Hill).
The Wine Garden, like Dos Mamis itself, "is our little oasis," Steiner says. "If we had a rooftop, it'd look like this."
Bran-Leis and Steiner are deeply driven about not only what Dos Mamis (819 Upshur St., N.W.; dosmamisdc.com), which opened June 28, would serve, but how it would feel.
Bran-Leis says Dos Mamis is "a space that felt open and inviting."
"I identify as a lesbian and I'm as out and proud as I could possibly be," Steiner says. "I always struggle with the balance of that and the normalization of just existing as a human and not having to identify constantly."
Before they got together to found Dos Mamis, this award-winning restaurateur-entrepreneur pair would greet each other each morning (or late evening) from their restaurants with a call: "hola, mami" — roughly translated as "hey, girl!"
Though the phrase can be used as a catcall, the two use it with each other as a form of friendship and empowerment, reclaiming the term. By calling their bar Dos Mamis, they are extending this atmosphere of empowerment and inclusivity to their customers.
When Hank's Cocktail Bar vacated the Dos Mamis location, it took but a 30-minute conversation over drinks (Cava for Bran-Leis, a cocktail for Steiner) for them to decide to open a bar that harmonized their personalities and culinary experiences.
Steiner noted that the area lacked for a no-judgment bar for a drink with friends.
"There's either fast-casual or your cocktail bar where it's 20 minutes for a drink and they cost $16. Here, it takes 60 seconds and costs $9."
Both Steiner and Bran-Leis, who says she's "on the (LGBT) spectrum," had been sending customers waiting for dinner at their restaurants to other spots for a drink. By opening Dos Mamis, "we're able to control the entire customer experience," Steiner says. "It's just a place we want to come hang out in."
"Being a woman, being a lesbian and being a restaurant and bar owner gives me a rather large space to make a difference in my community," Steiner says.
Working with local designer Natalie Park, the owners have flooded the bar with color and art.
"Now, it's bright, airy and safe. There's no dark corner where you worry about someone grabbing your ass," Steiner says.
While the bar doesn't have a theme in terms of culinary or cocktail inspiration, the feel plays like Miami with a touch of Cuba.
Cocktail highlight include two frozen options, including the Buenas Ondas, meaning "good vibes." A suggestive red, it combines rum, rujero singani, luxardo, lemon, ginger and strawberry for its distinctive color.
Daiquiris drive home the Caribbean vibe, but the owners also wanted to ensure plenty of low-proof cocktails for measured garden sipping and for those who don't want to get too boozy.
The list of "patio pounders" is wide-ranging and cheeky: the Kiss Sherry Kill mixes sherry with coconut water; the She Loves Me Spritz combines Luxardo with Cava.
There's also Sobrios: completely alcohol-free sippers. In the Jean-Tonic, Seedlip zero-ABV gin is mixed with lemon tonic and herbs. The bar also prepares "summery water," or waters infused with fruit and vegetable leftovers otherwise headed to the trash.
A short list of bites allows Bran-Leis and Steiner to concentrate on the drink program for now. The artful cheese plates, though, are nothing to sniff at. Triple-cream brie comes with a bowl of house-candied pecans. A board mixing Madrid and Mexico features marcona almonds, manchego, and a snappy ginger-mezcal honey.
Finding that balance has been a fun navigation, Steiner says. It's a "cocktail bar at the end of the day but also an affordable neighborhood bar." And a place both can call home.