September 26, 2019 at 12:36 pm EDT | by Evan Caplan
HipCityVeg, Fruitive reinventing vegan, earth-conscious consumerism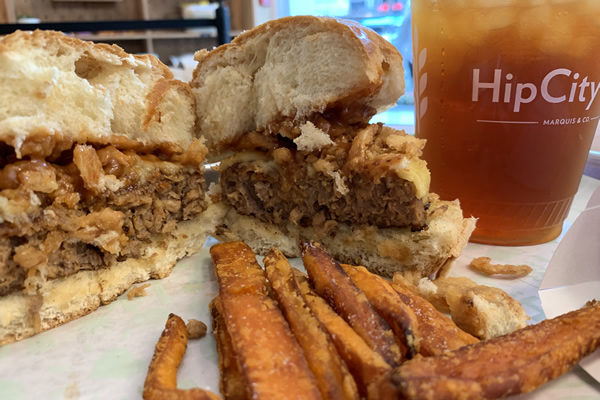 Stuffed unapologetically between two pillowy potato buns, the burger patties at HipCityVeg (1300 Connecticut Ave., N.W.) are hefty with significant juice and just the right pink in the center.
The overstuffed sandwich (it comes with lettuce, tomato, onion, pickle and organic ketchup), is hardly enough to contain much else. But it also envelops the save-the-earth philosophy of HipCityVeg, the Philly-based vegan fast-food chain. The restaurant opened in Dupont Circle last month, only two storefronts away from Fruitive (1330 Connecticut Ave., N.W.), the Virginia Beach-based vegan café.
On this one block of downtown with mainstays like Krispy Kreme and Panera, these two quick-service spots are redefining what vegan food (and food in general) looks, tastes and acts like.
As giant chains like Burger King and White Castle hop on the plant-based food trend, HipCityVeg began by serving burger classics, but hold the meat.
Founder Nicole Marquis, who identifies as straight, opened the first HipCityVeg in April 2012 in Philadelphia, selling out within its first few hours.
"It was a risky move, but I knew given the choice, even cheesesteak eaters would choose a vegan version if it tasted as good," she says.
HipCityVeg is not the traditional health-food concept store that vegan cuisine had been known for. Instead, its inspiration is traditional fast food: burgers, fries, shakes and nuggets.
"Then, we turn them into equally delicious plant-based options," Marquis says. "To ask someone to completely stop eating meat is radical. When we present food in familiar, nostalgic way, it's no longer a sacrifice."
Beyond the Beyond Burger, the menu does offer green smoothies and fro-yo made entirely from blended frozen bananas. But the biggest sellers are the sandwiches like Smokehouse Burger, a grilled "beyond meat" patty smothered in potato-based smoked Gouda cheese, topped with towering layers of fried-crisp onions and a helping of special sauce. Bacon, tempeh-based, is also an option.
"We see a hunger in D.C. for crave-able food that is ethically sourced, served in sustainable packaging and that can be served to customers quickly," she says, noting that, "You all work a lot in D.C,"
Health food, HipCity is not. Its attitude is healthy. Every piece of packaging — containers and cups, straws and utensils — is compostable; everything else is recycled. "By choosing vegan ingredients and compostable materials, we're creating a new normal," Marquis says.
This ethos has extended to the way in which she runs her shops, too. Empowering customers to choose healthier lifestyles, the shop also encourages its management team to do the same.
"Positive vibes and good energy are infectious, and it's really a way of life at HipCityVeg," says Krystal Harris, head of talent development and who identifies as a lesbian. "We are proud of our sexuality and our open environment."
As HipCity's "bleeding" plant-based burgers and breaded fried chicken sandwiches rocket into the mainstream, Fruitive keeps a lid on following in the footsteps of big red shoes.
Its Dupont Circle location launched in January, following its first D.C. location in CityCenter. Every menu item, save some condiments and the tortilla, is made from scratch in-house.
"From the beginning, it's always been about offering certified organic food and keeping food as pure as we can," says founder Gregg Rozeboom, who is straight. "We're very strict about not just the ingredients but the processes we're using, too."
Built on a foundation by way of an opening party that featured an avocado toast (on spelt-flax bread) giveaway, Fruitive leans all the way in on its founder's philosophy.
Fruitive's stated motto is "Live Your Health." Cold-pressed juices, "liquid meals" and superfood bowls are as central to the menu as are the tacos served in collard green leaves and kale-quinoa-edamame salads. Wheatgrass and maca powder shots are two of the several optional smoothie add-ons.
Professing to hold the title of first certified organic fast-casual restaurant in America, its cool wood paneling, wall-hung live plants, charcoal lattes and braised beet sandwiches pack a fierce wellness punch.
Though Rozeboom is adamant about the wholeness of his food (even if vegan, he says, "highly processed foods are not beneficial to the body"), both Fruitive and HipCityVeg are actively cultivating earth-consciousness among an increasingly diverse field of newly opened plant-based restaurants within the past two years. Shouk is coming in hot with a second location serving vegan falafel and shawarma pitas, upscale Fancy Radish on H Street plates plants in a fine-dining atmosphere, and the homey Shaw mainstay Calabash Tea & Tonic recently opened another spot in Brookland.
Marquis, echoing a common sentiment among these and older vegan restaurants, says her goal is to, "Make it simpler to be vegan. Because when we have enough appealing and easy options, it makes the commitment to go meatless — even one day a week — much easier."