October 13, 2019 at 3:58 pm EDT | by Evan Caplan
Bloomingdale favorite El Camino reopens under new management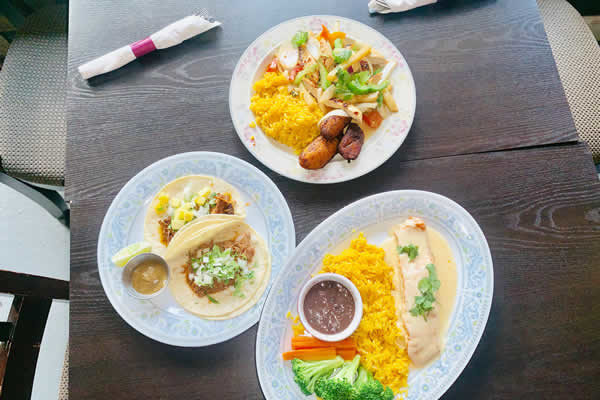 A new owner, a new chef, and a stunning pink interior: Bloomingdale's El Camino is back in action.
El Camino (108 Rhode Island Ave., N.W.), a relaxed SoCal-Mexican cervezeria-taquería, closed in September 2018 after four years in business. A favorite of residents along a small commercial strip on Rhode Island Avenue and First Street, it left a hole for those wanting a crisp margarita, heaping late-night nachos and Bloomingdale people-watching.
Beyond its meaty tacos, however, El Camino was also a meeting spot: it coordinated closely with Bloomingays, an area social group.
When the original El Camino closed, current owner Marvin Solorzano, who is straight, seized an opportunity. An industry vet, he moved to the area in 2012 and became a fan of El Camino. When he learned the news of the closing, he bought the restaurant, reopening it with a relaxed refresh in line with its atmosphere.
Solorzano, hailing from El Salvador, is no stranger to Tex-Mex cuisine or being around LGBT people. Solorzano worked at Alero for several years when he first arrived in Washington. He then spent almost two decades in front of house positions at Dupont Italian Kitchen, the gay mainstay on 17th Street with a festive patio.
At Dupont Italian Kitchen, he also oversaw operations on the second-floor bar.
"I became friends with many of the patrons," he says, "and met so many regulars. It's with them that we shared stories about our lives. This was really impactful for me, because I saw how open Washington, D.C. was."
His work at Dupont Italian Kitchen led him to create the same kind of space at El Camino.
"Now as owner, I can treat all my customers as friends," he says. "This is why I'm excited to welcome back Bloomingays to El Camino, because the community and neighborhood is so important."
Solorzano drafted Angel Zavala as bar manager, who has been at Provision 14 and Alero for several years. Not only did Zavela craft a new bar menu, he also ensured that Bloomingays had a home at the new El Camino.
After the margs, he says, "the number one point is connecting with our neighbors."
In an effort to streamline and brighten the space, Solorzano dispensed with the heavy curtains and dark lighting.
"I made it more open, lively and light. The previous colors made it seem dark and crowded," he says.
He shrunk the bar to allow for efficient movement of people from the front to back dining area and splashed new paint: pink in the front, yellow opposite the bar.
To kick up the menu, chef Rodolfo Martinez is helming the kitchen. He's been cooking at Tex-Mex spots since he, too, arrived from El Salvador.
It was on trips to the Cali-Mexican border region that Solorzano found menu inspo. He fell in love with street tacos he encountered in Tijuana that now live on at El Camino, thanks to Martinez. Taco options include carne asada, mahi, chorizo, and rajas (cactus).
Martinez slow-roasts the meat in a proprietary mix of spices and herbs that include clove, bay leaf, oregano, cumin, cilantro, garlic and celery.
Later, in L.A., Solorzano was enchanted by a black bean-pinto bean mashup taco that's now one of his favorites.
Entrees include Puebla-style mole chicken and the Camino Steak, a 12-ounce New York strip topped with shrimp. Of course, there's also guac, queso and nachos. For those who enjoy the wee hours, Solorzano oversees a late-night menu of tacos and burritos until 12:30 a.m. on weekends and 11:30 p.m. on weeknights; happy hour is on not only from 5-7 p.m., but also 10 p.m.-close Tuesday-Friday.
The tacos, bar manager Zavala says, work well with his best-selling frozen mango margarita. Each day, Zavala blends fresh mangoes with a housemade habanero-infused syrup. He also serves mojitos and a mule made with mezcal.
"I like to go out to bars and taste plenty of drinks. Then I make mine as fresh, interesting and authentic as possible," he says.
Zavala coordinates directly with Bloomingays, which just held its first event back at El Camino in September. Bloomingays plans to host its event monthly on every third Thursday.
"I'm always involved with the people I serve drinks," Zavala says, "and we're excited to become friends with the neighborhood."