August 15, 2019 at 1:37 pm EDT | by Evan Caplan
SPIN D.C. offers Ping-Pong lessons, league play, happy hour, bathtub photo ops and more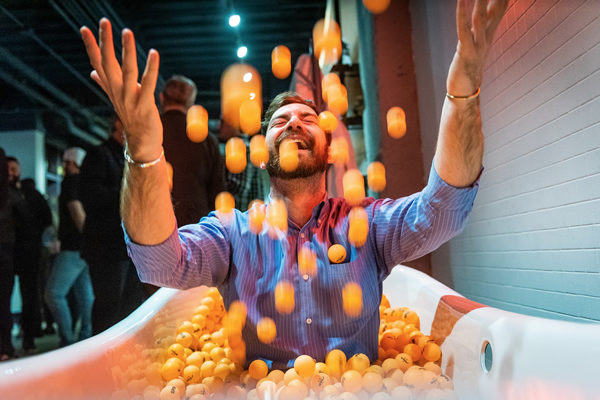 Whether it's a bar with Ping-Pong tables or a Ping-Pong club with a bar — either way, SPIN has a lot of balls.
Jonathan Bricklin and Franck Raharinosy founded SPIN ("the original Ping-Pong social club," according to them) in 2007 in New York City by throwing an enormous party.
Earlier this year, the chain opened its eighth location in downtown Washington (1332 F St., N.W.). The equal-parts gameroom-slash-bar atmosphere is alive and well.
SPIN's goal, the founders say, is to "encourage human connections no matter what age, ethnicity or gender, around the simple game of ping pong."
The opening serve at SPIN, however, isn't the huge bar or lively Ping-Pong tables, but an Instagram-purposed bathtub filled with the chain's signature bright-orange Ping-Pong balls. Because who doesn't need a photo in a porcelain tub surrounded by balls?
SPIN sprawls across more than 12,000 square feet, netting players a chic location to challenge new friends (and dates) to matches along with drinks and snacks before, during or after play. A dozen Olympic-regulation tables ring the space, the constant thwack of paddle and ball creating distinctive atmosphere. In the back, a cocktail bar with leather-backed booths offer respite to players. Its U-shape proves perfect for checking out the competition.
First, the sport. SPIN does actually want people to learn how to handle those balls once the posing is done. SPIN hosts lesson-giving Ping-Pong pros, including free lesson sessions each Saturday in August. The pros help students learn the correct grip, perfect their stance and hit basic shots. They also claim to offer "tips to ensure you won't lose in Ping-Pong ever again." Malin Pettersson (13-time Swedish national champion, who also acted as opening manager) leads the expert ballers.
SPIN D.C.'s location offers other programming for everyone newbies to those who really know how to hold their paddles. Players' Night is a fun interactive event held Friday evenings; the Monday night Social League is also a crowd pleaser. A new season of the Social League starts in September and then again in January, and each season is a nine-week competitive league. SPIN will also host events to celebrate Halloween and New Year's.
When guests finally hit up the tables, rates run $9 per person per hour. On Sundays, it's $9 for all-day unlimited Ping-Pong.
"Over the years, SPIN has always championed the idea of uniting people with the simple game of Ping-Pong," says Pieter Vanermen, SPIN's CEO. "We are excited to be at the forefront of the Ping-Pong movement and offer an activity that transcends boundaries in the nation's capital."
The space is not your parents' basement (though this location is underground). SPIN D.C. turns down the lights just enough for you to see the ball; otherwise it's all cool colors and neon accents. The space also invites players to up their filter game. Beyond the "notorious" Ping-Pong bathtub, pre-gamers can explore hidden passageways behind surreptitious bookcases and play with a Ping-Pong wind-up toy installation housed at the entrance.
To fuel up between sets, the kitchen plates snackable and shareable dishes, some of which work better by the bar than at the table. The signature snackable item is a bao bun, a fluffy bun enveloping crispy shrimp served with cucumber and spicy sauce. Flatbreads and sliders also easily translate to tableside noshing, though napkins are encouraged before picking up the paddle again. Like any good bar in the District, there's also brunch and happy hour.
Boozy options run deep at the full bar. Bottles and cans, include two mixed-drink canned options, are simplest to take back to the table. Among the cocktails is a boozy twist on a White Russian, mixing Maker's Mark, cream, maple syrup, and cold brew liquor. The caffeinated boost is acceptable under house rules.
Right from the start, Gregory Godfrey, director of retail and partnerships at SPIN Global, says that "SPIN has had such a great reception since launching in DC at the beginning of the year. Our motto, 'United By Ping-Pong,' is evident in the diverse and eclectic crowd that visits our club daily."