August 15, 2019 at 3:13 pm EDT | by Philip Van Slooten
Former NFL player Ryan O'Callaghan shares memoir of closeted football life and the toll it took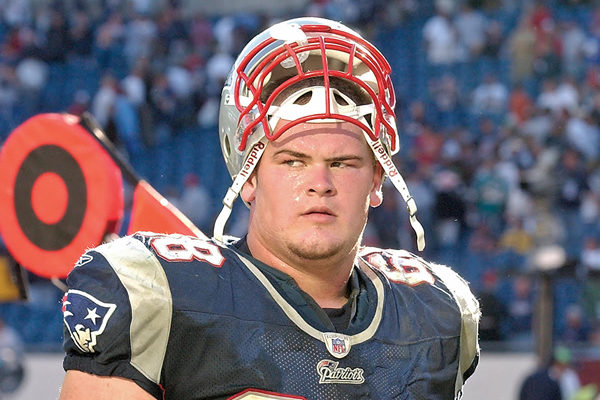 These days gay former football player Ryan O'Callaghan prepares halibut in white wine sauce instead of preparing to end his life.
"I enjoy cooking," he says. "I have some very real injuries that keep me from long hikes and things, but I've been able to work with what I have and make the most out of life."
O'Callaghan is one of only a few openly gay former NFL players. His football career began in 2005 when he won the Morris Trophy while a defensive lineman at the University of California. He later was drafted as a right tackle for the New England Patriots in 2006 where he started seven games. After missing the entire 2008 season due to a shoulder injury, he was picked up by the Kansas City Chiefs where he played 11 games with one start. His career ended in 2011 when his addictions, injuries and the stress of being closeted overwhelmed him.
In his upcoming memoir, "My Life on the Line: How the NFL Damn Near Killed Me, and Ended Up Saving My Life," (slated for release Sept. 3 by Edge of Sports) O'Callahan candidly discusses his addictions, mental health and struggles with his sexuality.
Growing up in conservative Redding, Calif., O'Callaghan believed early on, "I could never exist as a gay man" and be accepted fully by his family and friends. He states in his book, "I needed a beard to live," and in high school football became that beard.
Finding early success on the field as well as a measure of confidence, he realized, "I could be a star." However, winning awards, college scholarships and a starting position on an undefeated NFL team did nothing to ease his crippling fear of being outed and losing everything.
"As I've heard over and over from gay athletes," says Cyd Zeigler, Outsports.com editor, former gay athlete and O'Callaghan's co-author, "the biggest hurdle they have to face is their own fear. Ryan never heard a lot of homophobia in the locker room in college and in the NFL, yet he had been instilled at such a young age to be afraid of being gay."
While the NFL did invite gay former player Esera Tuaolo to speak during O'Callaghan's rookie year, he felt the message "missed the mark a bit."
"Hearing 'fag' in the locker room wasn't what made me feel like an outcast in my own sport," he writes in the book. "Instead, what was a daily reminder that I was different from the rest of the guys was the constant conversation in the locker room about women."
O'Callaghan says this oppression by assumption kept him closeted and still has not been addressed by the NFL.
"They haven't had anyone else come out (and talk to rookies) since (Tuaolo)," he says. "I met with NFL commissioner Roger Goodell and he's asked me what he can do to help. And it's tough because he has to answer to 32 owners and the NFL has a huge influence on American society as a whole. He has to be careful not to be seen as an activist and alienate fans."
O'Callaghan did point out the NFL's partnerships with various charities to help LGBT homeless youth, but he felt more could be done. He hopes his foundation can help as well.
"I started my foundation to give solace and support to LGBT college athletes, support meaning mentorship, events and creating a sense of community with other out athletes," he says.
He feels support and community are important and what is missing in the NFL.
"So, I've reached out to other LGBT athletes to be a mentor for the next generation."
For O'Callaghan, the burden of constantly trying to pass and fit in was a feeling of, "Man, this is exhausting," and a feeling that addiction or suicide was his only way out.
"The important conversation for us to be having now isn't just about how to change language in the locker room, but how we help people like Ryan see through all of that and realize they will be accepted," Zeigler says. "I think this book tells that story in a powerful way with some of the most powerful people in sports like Roger Goodell, Robert Kraft and Aaron Rodgers."
Zeigler also points out the "other part of this conversation" is "drug use is higher among gay men than in the general population" as a reaction to homophobia, discrimination or violence. He says O'Callaghan's addictions nearly killed him and unfortunately his is not an isolated case.
Fortunately, O'Callaghan found help and the support of family and friends, and working with his foundation helps him remain hopeful for the future.
"What I've learned from speaking with college-age players is there's a big change on how this younger generation views LGBT rights," O'Callaghan says. "There wasn't one guy who said, 'I wouldn't want a gay teammate,' or 'I wouldn't want him in the shower with me.' I'm constantly surprised by the openness of these younger guys and they're making their way into the NFL."
Today O'Callaghan is looking forward to a future with his family that he didn't think was possible when he was closeted and ready to take his life if discovered.
"They're very supportive," he says of his parents. "They are always asking what I'm doing, am I dating anyone. They are just as proud of me now as when I was playing football."
O'Callaghan comes from a "very old-school, Catholic-Irish family," so he considers getting married and raising a family of his own one day.
"I would absolutely love to meet someone and settle down," he says with a shy laugh. Though he's single now, he's open to a relationship if it happens.
"I'd say Ryan is an awesome guy with a big heart," Zeigler says. "He first came to me about writing this book a couple of years ago because he thinks his story can help other people. The reaction so far has told me it may do just that."
For now, O'Callaghan's enjoying the opportunity to relax by the pool and listen to Hall and Oates on Pandora while accepting himself as he is.