SPORTS ISSUE 2019: Trans women face many hurdles in quest to compete fairly
Testosterone levels, hormones, evolving policies, anti-trans bias among complicating factors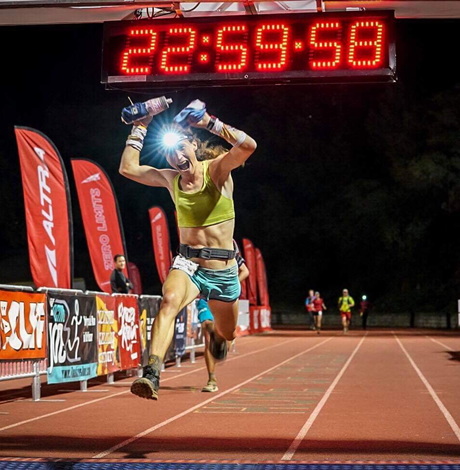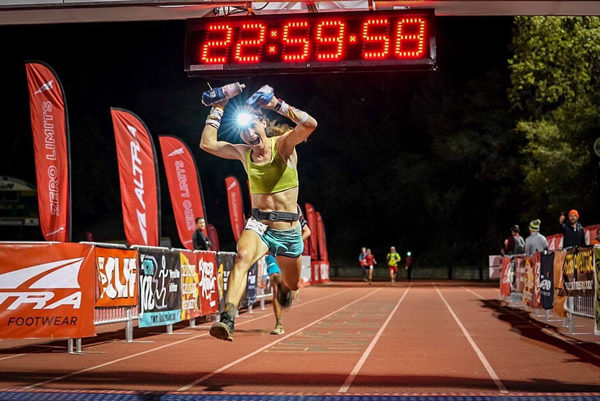 LGBT issues have never been easy — marriage, military service, AIDS, you name it, no gain came without a fight. But if, as is commonly posited, trans rights lag a good 10 or more years behind gay and lesbian advances, perhaps the thorniest issue of all is fair competition for trans women and their cis women opponents, in both recreational and elite sport.
Imagine that women's sports had never become "a thing" and all adults competed against each other. In figure skating, for example, only three women have landed quad jumps in competition, yet no male singles skater today can be remotely competitive without multiple quads in his arsenal (Nathan Chen landed six at the 2018 Olympics yet failed to medal).
Yes, Billie Jean King (a lesbian) famously beat Bobby Riggs in the 1973 "Battle of the Sexes" in tennis, but she was 29 and he was 55. What would happen if Michael Phelps and Katie Ledecky (swimming) or Novak Djokovic and Serena Williams (tennis) were to face off in the pool or on the court?
Perhaps more realistically, what would happen if Chen, Phelps or Djokovic came out as trans, opted out of hormone replacement therapy and competed as women? Some LGBT advocates say even suggesting such a scenario is transphobic or, at best, displays a gross misunderstanding of the issue. But it's a question being asked by many.
The International Olympic Committee changed its policy in early 2016 to allow trans women to compete provided they demonstrate their testosterone level has been below a certain level for at least one year prior to their first competition. It supplants the previous 2003 policy that required both gender reassignment surgery and two years of hormone therapy (trans men are allowed to compete without restriction).
Chris Mosier, a trans male athlete and creator of transathlete.com, a resource site for trans sports advocacy at all levels, says the debate has been unfair and overheated.
"We've had several Olympic games since the policy has been in place for trans athletes," says the 38-year-old Mosier, who in 2015 became the first openly trans man to make a Men's U.S. National Team when he qualified for the Spring Duathlon team. "We're talking something like 50,000 Olympians have passed through and not a single trans athlete or single trans woman has participated. The fears people have and the stereotypes and misconceptions they're putting out there about trans women dominating sports just simply haven't happened."
That's also the argument of trans activist/author Brynn Tannehill whose book "Everything You Ever Wanted to Know About Trans" came out in 2018. She points out that there has not been a single trans athlete dominator since the Olympic policy change or since the NCAA changed its policy to allow trans people to compete sans surgery in 2011. She claims a year of testosterone removal is "sufficient to remove competitive advantage."
But some cis athletes have balked at getting beaten by trans women competitors. And they're not just complaining — some are taking legal action. Elsewhere, governing bodies in various sports at all levels are either facing or have faced challenges in how to keep their eligibility policies current and trans-inclusive. That collides with the widely held trans argument that what a trans person has done or not done by way of hormone replacement therapy or gender reassignment surgery is a personal matter that doesn't make them more or less a woman or man than those at other stages of transition.
Others say trans bias is something impossible to ignore or downplay because it's so rampant.
"There will always be people who will say a trans female athlete is cheating when she wins or when she doesn't win, say, 'She just didn't try hard enough,'" says gay sports filmmaker David McFarland ("Alone in the Game"). "People are looking for a reason to discriminate against trans people in sport, that's a given."
Connecticut controversy
Selina Soule, a 16-year-old runner at Glastonbury High School in Glastonbury, Conn., is frustrated. She says she's suffered because trans competitors in her conference — Terry Miller of Bloomfield High and Andraya Yearwood of Cromwell High — have been allowed to compete no questions asked against she and her fellow cis women runners.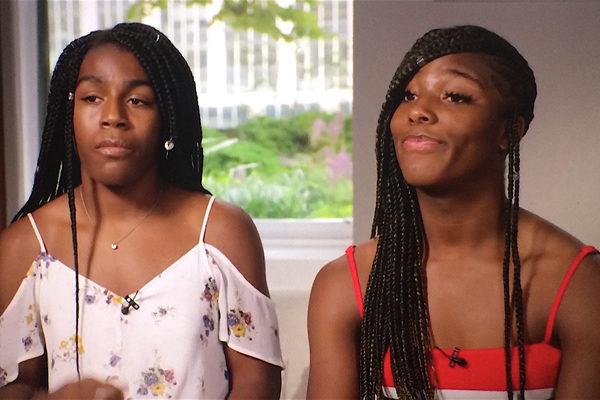 Miller won the State Open 200-meter title for the second straight year in 2019 and won the Class S titles in the 100 and 200, as well as the New England 200-meter championship. Yearwood, who is also transgender, finished third in the 100 meters in Class S and fourth in the 100 in the State Open.
Subsequently Soule wasn't able to compete in the New England regional Championships where she would have been seen by college scouts. Miller and Yearwood have won 15 women's state championships since the Connecticut Interscholastic Athletic Conference (CFAC) changed its policy to allow them to compete as women. Conference leaders say they're simply following state law.
"The CIAC is committed to providing transgender student athletes with equal opportunities to participate in CIAC athletic programs consistent with their gender identity," its guidebook reads. Connecticut is one of 19 states that has similar laws.
"I am very happy for these athletes and I fully support them for being true to themselves and having the courage to do what they believe in," Soule said in a Fox News interview. "But in athletics, it's an entirely different situation. It's scientifically proven that males are built to be physically stronger than females. It's unfair to put someone who is biologically a male who has not undergone anything in terms of hormone therapy against cisgender girls."
Miller and Yearwood have declined to state publicly what, if any, hormone therapy or testosterone suppression — more on that later — they have undergone.
Soule told the Wall Street Journal the experience has been demoralizing.
"It's just really frustrating and heartbreaking because we all train extremely hard to shave off just fractions of a second off of our time and these athletes can do half the amount of work that we do and it doesn't matter," she said. "We have no chance of winning."
"It's definitely a complicated issue," Soule's mother Bianca, told the Blade in a brief phone interview. "You have to compete based on the physical abilities you were born with, if you want to call it that. That's why we separate the two genders. If there were no differences, there would never have been a women's sports. Unfortunately our trans girls are caught in the middle. The rule is the problem. I tried to contact our Connecticut association to try to look into it, even meet with one of the trans girls' fathers to try to understand and come up with a solution but we were met with only shut doors. The frustrating part has been the refusal of the athletic bodies to even consider and listen to our side of it."
Yearwood and Miller issued statements through the ACLU. "I will continue to fight for all trans people to compete and participate consistent with (whom) we are," Miller wrote. "There is a long history of excluding black girls from sport and policing our bodies. I am a runner and I will keep running and keep fighting for my existence, my community and my rights."
"I will never stop running," Yearwood wrote. "I hope that the next generation of trans youth doesn't have to fight the fights that I have. I hope they can be celebrated when they succeed, not demonized."
"It is heartbreaking to see yet another attack on trans youth for simply participating in activities alongside their peers," Chase Strangio, ACLU staff attorney added. "Discrimination on the basis of sex extends to trans people. Girls who are transgender are girls."
A legal group called Alliance Defending Freedom (it calls itself a "conservative Christian nonprofit") filed a complaint in June with the U.S. Department of Education Office of Civil Rights on behalf of Soule and two of her teammates claiming they have "been negatively impacted by the policy."
"One of these male athletes now holds 10 records inside the state of Connecticut that were once held by 10 individual girls established over the course of about a 20-year period so it's fundamentally unfair to allow biological males to step into women's sports and frankly dominate them and take away opportunities not just to medal, but to be on the podium and advance to the next level of competition and even compete for scholarships for young women like Selena," Christiana Holcomb, an Alliance Defending Freedom attorney, told Tucker Carlson on Fox News.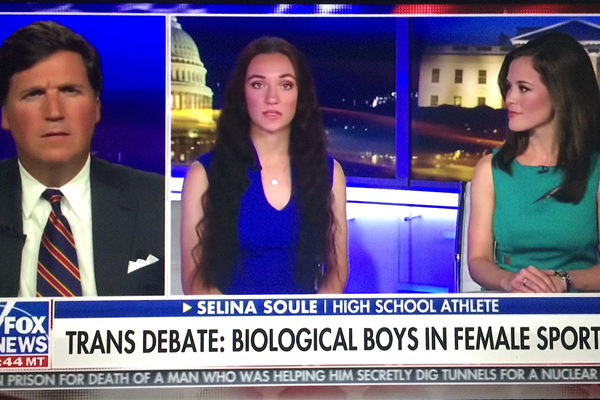 "It's grotesque and insane and it hurts women and girls," Carlson said on the broadcast.
The issue is especially acute among high school athletes because students are often just figuring out whom they are, how they identify and are less likely to have time logged living fully transitioned lives.
Dawn Stacey Ennis, managing editor of OutSports and a trans woman, says the trans-girls-bumping-cis-girls-off-the-medal-stand argument is misleading because college coaches recruiting look at time, not placement.
"They don't care who placed first, second or third — all colleges look at and what every coach has told me is that the time is what matters because time is immutable, you can't change that. It doesn't matter if you ran against a trans person or not," Ennis says.
She also says Soule and her representatives aren't being totally forthcoming.
"I talked to her mother and watched the video and when she said (Selina) didn't get to qualify for the event in Boston, she sort of fibbed a little bit. She didn't qualify in that event, but she did qualify in another event. But, of course, that's not a good headline. It's much better to say, 'I didn't get to go because of these girls.' … They have to make the trans girls out to be the boogyemen because somebody else has to be responsible for her losing. It has to be someone else's fault, but that's not what sports is about."
Tennis legend Martina Navratilova, a lesbian, was heavily criticized for a Sunday Times op-ed she wrote in February arguing trans women should not be allowed to compete against cis women.
"It's insane and it's cheating," she wrote. "I am happy to address a transgender woman in whatever form she prefers, but I would not be happy to compete against her. It would not be fair. … To put the argument at its most basic: a man can decide to be female, take hormones if required by whatever sporting organization is concerned, win everything in sight and perhaps earn a small fortune, and then reverse his decision and go back to making babies if he so desires," she wrote.
She was heavily criticized for her comments, removed from the advisory board of Athlete Ally (an LGBT athlete advocacy group) and called out by trans activists such as cyclist Rachel McKinnon (the first trans woman to win a world track cycling title in Oct., 2018), who called Navratilova's concern a "wild fantasy worry that is an irrational fear of something that doesn't happen … transphobia."
Navratilova wrote of being frustrated with "what seems to be a growing tendency among transgender activists to denounce anyone who argues against them and to label them all as transphobes."
She backpedaled somewhat, apologizing for using the word "cheating," but called for a debate on the issue based "not on feeling or emotion but science," BBC News reported.
How are other sports organizing bodies handling the issue?
Western states solution
One group that's done about as well as anyone it appears is the Western States 100-Mile Endurance Run whose board members this year adopted a trans-inclusive policy that accepts "a runner's self-declared gender at registration … at face value," the New York Times reports.
"If, however, a finisher in the top 10 or among the top three in their age group is challenged, race management may ask the runner for documentation that they have undergone medically supervised hormone treatment for gender transition for at least a year before the race," the Times reports.
The issue arose last December when Grace Fisher, a trans runner who favors ultradistance competition, was selected through the race's traditional lottery system for the 100-mile ultramarathon that takes place in the Sierra Nevada Mountains in California every June.
If a trans runner is challenged and it's upheld by race management, their placement may be bumped but they would be allowed to keep their finisher's buckle. It ended up not being an issue for Fisher (she came in 20th) but she says she appreciates the care organizers put into their policy.
"They were so concerned about me and wanted to ensure my safety," says the 38-year-old Hancock, Md., resident, a federal employee with United States Citizenship and Immigration Services. "They went out of their way to welcome me and wish me good luck. … It was quite amazing, but I don't think the other runners really picked up on it. They just saw me as another female."
Fisher acknowledges the issue is dicier on the high school level.
"I think we do need more research, but there are so few of us, it's hard to get more," she says. "I think personally, and this may not be popular in the trans community, but yeah, the high school situation needs to be looked at more. That's such a tricky situation because one, they're teenagers so their hormones are raging whether they're cis or if they've started to transition, they may still have an advantage. I just haven't seen any science on it so I'm hesitant to state any opinion at this point."
There's a bounty of information on the topic available from all kinds of sources, from thorough, balanced studies in popular magazines such as Men's Health's March piece "The Truth About Trans Athletes;" to folksy, readable blogs such as "On Transgender Athletes and Performance Advantages" earlier this year at sportsscientists.com; to scholarly research in medical journals such as "Sport and Transgender People: a Systematic Review of the Literature Relating to Sport Participation and Competitive Sport Policies," published online two years ago on the National Institute of Health website, which studied eight other articles and reviewed 31 sport policies.
The findings were — perhaps surprisingly for some — more trans validating than one might expect.
"In relation to sport-related physical activity, this review found the lack of inclusive and comfortable environments to be the primary barrier to participation for transgender people." Also, the "lack of inclusive and comfortable environments (is) the primary barrier to participation for transgender people. … transgender people had a mostly negative experience in competitive sports because of the restrictions of the sport's policy placed on them."
Researchers also found "no direct or consistent research suggesting transgender female individuals (or male individuals) have an athletic advantage at any stage of their transition (e.g. cross-sex hormones, gender-confirming surgery) and therefore competitive sport policies that place restrictions on transgender people need to be considered and potentially revised."
The 'T' word
A central — but not total — factor in this discussion is testosterone levels.
The hormone, an androgen is produced in both men and women, but not nearly as much in cis women. It affects the body in many ways.
In men, high levels of testosterone are made in the testes. The adrenal glands make much lower levels above the kidneys. Women produce testosterone in both their adrenal glands and ovaries, but testes in men produced much higher rates: in men, it's 295 to 1,150 nanograms of testosterone per deciliter of blood while the levels in women are usually in the range of 12-61 nanograms per deciliter of blood, according to the New York Times and other medical sites consulted.
Testosterone also builds both skeletal and cardiac muscle and increases the number of red blood cells. The effects are present whether they're there naturally or introduced. The effects are amplified further among elite athletes and make a huge difference in performance. Male champions in sports across the board are always faster and stronger than records set by women, although it's not as simple as it may appear at first: researchers have found it has more of an effect in middle-distance races; it could have been less of a factor for Fischer in the Western States 100.
But the connection between testosterone and athletic performance isn't always an exact science. When researchers measured the T levels of elite athletes from 15 Olympic sports, more than 25 percent of the men were below the level (10 nanomoles per liter) required of trans Olympic women, according to a study from "Clinical Diabetes and Endocrinology" cited in the aforementioned Men's Health article. Nearly 7 percent had less than 5 nmol/L and there was significant overlap between male and female athletes. Cis male powerlifters had surprisingly low T levels while cis male track and field athletes were higher.
Further complicating matters is the fact that some cis women rarely but occasionally possess unusually high T levels. Caster Semenya, 28, an elite runner and Olympic champion from South Africa, for instance, has been banned from some races. In May, the Court of Arbitration for Sport in Switzerland ruled that women with unusually high T levels (far above the ranges normally seen) cannot compete against other women in some races unless they take drugs to suppress their levels, the New York Times reported.
Men also tend to be on average about 6 inches taller than women. The average U.S. adult male weighs 195 pounds vs. 168 pounds for women. A study from the Applied Physiology journal found that men had an average of 26 pounds more skeletal muscle mass than women and about 40 percent more upper-body and 33 percent more lower-body strength on average.
Fairness factor
So what does fair look like?
Mosier chuckles when asked to ponder the issue with sexism, patriarchy and anti-trans bias taken out of the equation.
"I don't know what that would look like and I wish I could predict the future," he says. "But sport is inherently about advantage and that makes people uncomfortable. There are certain advantages a very tall basketball player has. We don't ask him to chop off a few inches of their height to make a more level playing field. Some people burn lactic acid faster than their competitors. At the 2016 Olympics in Rio, Katie Ledecky, beat her competition by a full pool length but she's thought of as a once-in-a-lifetime, exceptional athlete but her advantage may be that she is never questioned, but there really needs to be more studies done on what the impact is over time before anyone could start to talk about unfair advantage."
Not disqualifying certain individuals with extraordinary physical gifts is also commonly used as a rationale for why trans women shouldn't be punished for physical attributes beyond their control.
"What are they supposed to do, tell these people they can't compete because their arms are too big or their torsos are too long," Ennis says. "That's not fair either. Trans girls may have physical gifts but I would hope those would be advantages that would make cis girls try harder. I don't think it's unfair because there are always going to be people who are better than you."
McFarland agrees.
"It's an affront to every athlete to be penalized for one's intrinsic biology," he says. "Do we tell a really strong female shot putter or discus thrower she's too strong to compete? Do we have a height cut-off in the NBA? Where would it end?"
But by that argument, why are women's divisions needed in any sport?
Ennis says no women — cis or trans — want to compete against men. Asking the question, she says, implies skeptics don't see trans women as true women.
"This idea that some guy's gonna go put on a wig and a skirt, go dominate the sports world, then go back and start fathering babies, that's just not what the trans experience is about," Ennis says.
Mosier says any advantage trans women in theory may have, is negated by the social stigma they endure.
"It has a huge impact on their training and performance," Mosier says. "People aren't transitioning to gain a competitive advantage. What they encounter would never offset a gold medal or world championship. They just want to compete. … The footage of some of these track meets and what's said to the competitors and their parents, its' really toxic and vile and horrific in so many ways that a young person would have to deal with that lack of understanding."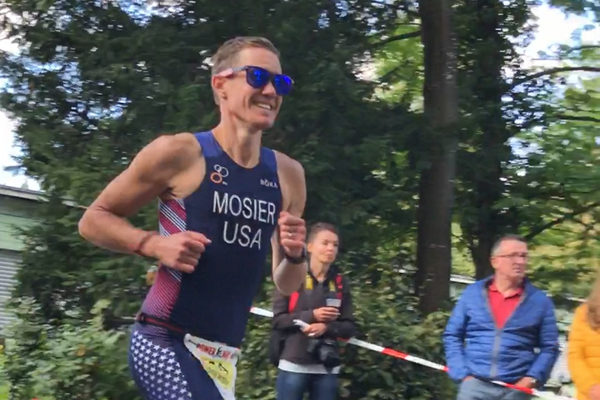 And while some argue that anyone who's been through a male puberty will on average retain a physical advantage — testosterone doesn't vastly impact one's height or reach — Fisher says even that argument is suspect.
"It's like having a Mustang with a small engine," Fisher says. "You still have this big car but it just doesn't have the engine. We lost a lot of muscle mass, probably more than a fit female, but also a lot more bone mass. The muscle-to-mass ratio is lower," she says. "I don't really know if trans women have any advantage. I think it's questionable."
As one would expect, there's huge support for trans athletes — both men and women — among LGBT advocacy groups. But the story changes significantly when you loop other stakeholders into the discussion.
Fallon Fox was the first openly trans athlete in MMA history in a 2012-2014 career that included just a single loss. She encountered substantial transphobia in her groundbreaking career but also questions about the fairness of her bouts. During a 2014 fight against Tamikka Brents, Brents suffered a concussion, orbital bone fracture and required seven staples to her head after the first round, which ended the fight. Brents, a lesbian, said after the fight it wasn't a fair match.
Brents declined a Blade interview request saying she'd put the issue behind her but said at the time that Fox was far stronger than any other women she'd ever fought in a long MMA career.
Fox dismissed the advantage claim in a guest editorial on an MMA news website saying, "I'm a transgender woman. I deserve equal treatment and respect to other types of women. I feel this is so ridiculously unnecessary and horribly mean spirited."
Elusive consensus
While it's understandable that consensus eludes the sports world among the Alliance Defending Freedom, Fox News and the like, it's still thorny because there's no consensus either among trans people.
Some believe trans athletes should be able to compete without any medical intervention at all, others believe in a physical barometer to gauge trans eligibility while others say there should be a separate league for trans athletes, not a widely held view because of their small numbers. They mostly agree, however, that participation is essential.
Ennis of OutSports says the fact that trans women haven't emerged as a dominant force in elite sports and even in high school sports don't win constantly helps support the general push toward trans inclusion.
"If a study were to come out and say conclusively that trans women are physically unbeatable by cisgender women and every cis woman lost every time, I would throw in my hat and say, 'That's it, we can't do it.' But the facts aren't in. Cis women do beat trans women. Not every single time, but there's not one sport in which trans women totally dominate. These two (Connecticut) high school girls are winning competitions, but they don't win every single one they're in."
"No trans person is trying to participate for personal gain," McFarland says. "They just want to do it in a healthy manner. This idea that people are transitioning just to dominate is something that critics continually get wrong and this ungrounded fear of trans people, that they'll come in and take over, that's really the dictionary definition of transphobia. … The current science and data reveals it's a nonsense argument."
D.C. summer ablaze with events, concerts, art
A plethora of activity in wake of COVID restrictions loosening up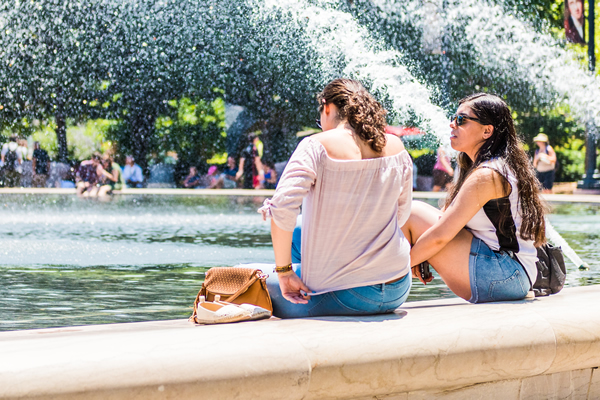 After a year of public events being cancelled and residents staying cooped up in their homes due to COVID-19 pandemic restrictions, the "outside" is finally open and D.C. is effervescing with events. Check out ways to make up for lost time during the remaining months of this year's summer season:
The Baltimore Museum of Art will open Women Behaving Badly: 400 Years of Power & Protest, an exhibition dedicated to the women who rebelled on Sunday, July 18. The exhibition combines prints, photographs, and books to tell the stories of past heroines and modern trailblazers, celebrating women throughout history who broke rules, transgressed boundaries, and insisted upon recognition of their human rights. For more information, visit the BMA's website.
Tschabalala Self: By My Self is on view at the BMA through Sept. 19, 2021. Explore 13 paintings and two related sculptures curated by Cecilia Wichmann that reveal artist Tschabalala Self's depth, intricacy, and singularity. The exhibition explores how the compositional process generates meaning in Self's work, reflecting her theory of selfhood as a consciousness that is at once produced by external images and by an ongoing reworking and evolving of forms into a new whole. Self was born in Harlem, New York, in 1990 and is based in New Haven, Conn. For more information, visit the BMA's website.
The 1455 Summer Festival will begin on Thursday, July 15 at 4 p.m., featuring a stellar lineup of literary leaders and creatives (many of whom are part of the LGBTQ community) who will share their insights into the art of storytelling. The lineup will include literary superstar Brian Broome, author of "Punch Me Up to the Gods," and Booker-Prize-winning author "Shuggie Bain" and fashion designer Douglas Stuart, among others. Some of the festival's events include "What Makes a Successful (Queer) Narrative?" a panel that'll dissect queer storytelling throughout the years. There will also be a teen poetry contest with a $5,000 grand prize. For more information, visit the festival's website.
The National Museum of Asian Art will open Hokusai: Mad about Painting on Saturday, Aug. 28. The exhibition will feature work by Japanese artist Katsushika Hokusai (1760–1849) best known for his iconic woodblock print, "The Great Wave Off the Coast of Kanagawa" and a breathtaking painting titled "Breaking Waves" that was created 15 years after Great Wave at the height of Hokusai's career. Drawing on the museum's impressive Hokusai collection, visitors have the opportunity to see a new presentation, with artworks being added throughout the summer. In addition to Breaking Waves, the exhibition includes works large and small, from folding screens and hanging scrolls to paintings and drawings. For more information, visit the NMAA's website.
Awesome Con will be from Friday, Aug. 20 to Sunday, Aug. 22. The event is D.C.'s own Comic Con, a celebration of geek culture, bringing more than 70,000 fans together with their favorite stars from across comics, movies, television, toys, games, and more. Awesome Con is home to Science Fair, Book Fair, Awesome Con Jr, Pride Alley, a celebration of queer creators and fans curated by GeeksOUT, and Destination Cosplay. For more information, visit awesomecon.com.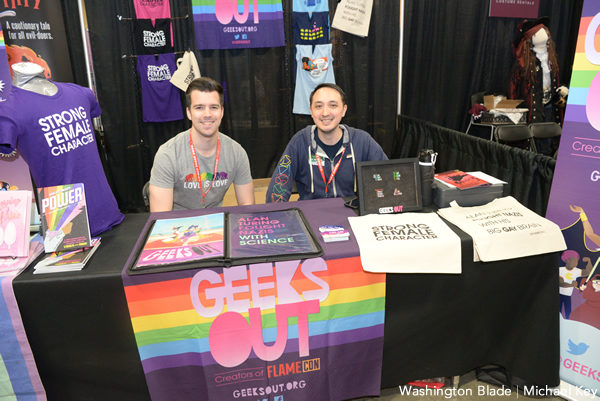 The Maryland Renaissance Festival will begin on Saturday, Aug. 28 and runs Saturdays and Sundays and Labor Day Monday through Sunday, Oct. 24 for nine weekends of thrills, feasting, handmade crafts, entertainment and merriment in Crownsville, near Annapolis, Md. The 27-acre Village of Revel Grove comes to life each autumn with more than 200 professional performers on 10 stages, a 3,000 seat arena with armored jousting on magnificent steeds and streets filled with village characters. For more information, visit rennfest.com.
The National Museum of Women in the Arts will be open for special evening hours from Thursday, Aug. 5 to Friday, Aug. 6 from 5-8 p.m. The featured exhibitions are Mary Ellen Mark: Girlhood, which presents images photographer Mary Ellen Mark made throughout her career depicting girls and young women, and Selections from the Collection, which highlights historical and contemporary art by women around the world. Free timed tickets are required so that the museum can ensure the safety of patrons and their staff. Visit their website for more information.
The 13th Annual Ukefest will begin on Friday, Aug. 13. Celebrating a decade dedicated to this small but mighty music maker, UkeFest Artistic Directors Cathy Fink and Marcy Marxer return alongside extraordinary instructors like Peter Luongo, Kevin Carroll, Ginger Johnson and more. The program orientation will kick off on Friday night, followed by four days of classes and evening events. For those looking for more intensive skill development, Strathmore's UkeFest is the only program of its kind that offers an advanced track. Admission is $225 and more information is available at Strathmore.org.
The Drive-In at Union Market will start at 7:30 p.m. every first Friday of the month through October. While watching films under the stars, enjoy dozens of local, regional, and international foods: Egyptian favorites by Fava Pot, night market noodles from Som Tam, ice cream locally churned by The Creamery, tasty takeout burgers from Lucky Buns and more. Movie audio will be transmitted through an FM transmitter on the radio and through speakers placed on Neal Place. All movies are shown with open captioning, and the movie plays rain or shine. Each showing costs $20 per car. For more information, visit unionmarketdc.com.
Unwind with an hour-long vinyasa outdoor yoga session taught by District Flow Yoga every Tuesday and Thursday on District Pier and every Sunday morning on Recreation Pier at The Wharf. Enjoy waterfront views and fresh air as you shed the stress of the day or greet the new one. The outdoor yoga class on Sunday, July 25 is hosted on Recreation Pier from 9-10 a.m. and costs $10. Tickets must be purchased on Eventbrite. For more information, visit wharfdc.com.
FUTURES, the first building-wide exploration of the future on the National Mall, will open in the late summer and run through summer 2022. This exhibition is your guide to a vast array of interactives, artworks, technologies, and ideas that are glimpses into humanity's next chapter. Smell a molecule. Clean your clothes in a wetland. Meditate with an AI robot. Travel through space and time. Watch water being harvested from the air. Become an emoji. The FUTURES is yours to decide, debate, delight. Patrons are encouraged to dream big, and imagine not just one future, but many possible futures on the horizon—playful, sustainable, inclusive. Visit the Arts and Industries Building's website for more information.
The National Portrait Gallery will open "Hung Liu: Portraits of Promised Lands" on Friday, Aug. 27. Hung Liu (b. 1948) is a contemporary Chinese American artist, whose multilayered paintings have established new frameworks for understanding portraiture in relation to time, memory, and history. Often sourcing her subjects from photographs, Liu elevates overlooked individuals by amplifying the stories of those who have historically been invisible or unheard. More information is available at the gallery's website.
 After a long COVID drought, music is back! The 9:30 Club has a schedule of shows starting in September, notably the return of the Bob Mould Band on Sept. 18 at 6 p.m. (tickets are $25 and still available). Tinashe performs her "333Tour" on Oct. 3 (tickets on sale July 16). Visit 930.com for the full schedule and hurry, because many shows are already selling out.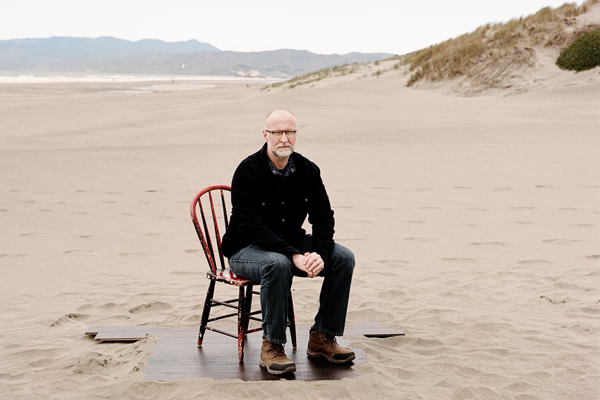 Meanwhile, at I.M.P.'s Merriweather Post Pavilion in Columbia, more shows are headed our way, including James Taylor and his All-Star Band on Aug. 10. Wilco and Sleater-Kinney perform Aug. 20. For more throwback fixes, New Kids on the Block are slated for Aug. 4 and Alanis Morissette with Garbage and Liz Phair play on Aug. 31. Visit merriweathermusic.com for the full lineup.
Wolf Trap has a full schedule of events planned this summer as well. Highlights include Renee Fleming on Aug. 6, Joan Jett and the Blackhearts on Aug. 12, and ABBA the Concert on Aug. 15. Visit wolftrap.org for the full schedule.
Gay Men's Chorus of Washington celebrates 40th anniversary with virtual concert, retrospective
Veteran choir soldiers undeterred through pandemic with Zoom rehearsals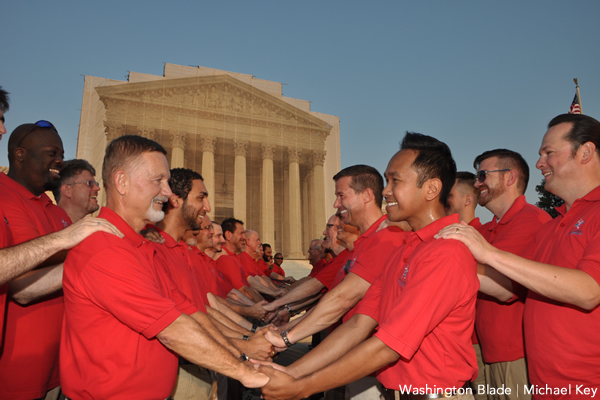 GMCW Turns 40
Streaming begins Saturday, June 5 at 7 p.m.
Available through June 20
Tickets: $25
gmcw.org
Discussion of the Gay Men's Chorus of Washington quickly becomes emotional for its members both veteran and newbie(-ish). They're the kind of strong feelings that only exist when one has sacrificed and invested in something.
"It's an experience that touches our soul in a way that not that many LGBTQ+ people get to experience," says tenor Javon Morris-Byam, a gay 28-year-old music teacher who joined three years ago. "We have music tying us together and in the end, we make a product that we can share with the public and that's a humbling experience."
Steve Herman, 79, is a founding member, though he doesn't sing. One of a group of "non-singing members," he joined in June 1981 and has helped over the decades painting scenery, designing ads, serving on the board and more. His partner at the time had joined the chorus as a singer.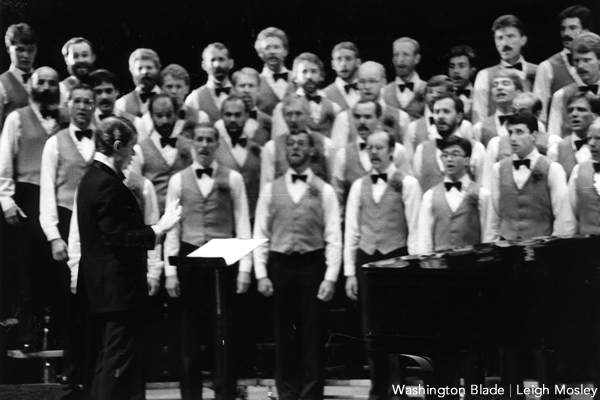 Now retired after 47 years in the federal government, he says the Chorus "has been a major centerpiece of my life."
"This may sound corny, but I couldn't imagine my life without the chorus," Herman says.
The chorus is celebrating its 40th anniversary this weekend with a streaming concert simply dubbed "GMCW turns 40" that can be streamed starting Saturday, June 5 at 7 p.m. and can be viewed until June 20.
Selections will include "From Now On" (from "The Greatest Showman"), "Rise Up," "Make Them Hear You" (from "Ragtime"), "Truly Brave" and a new song called "Harmony's Never Too Late!" written for the occasion by Stephen Flaherty and Lynn Ahrens, composers of "Ragtime." Video clips of past performances will also be included in a montage. Tickets are $25 at gmcw.org.
Thea Kano, the Chorus's artistic director since 2014 (she was associate director for a decade prior), says "Make Them Hear You" has "kind of become our anthem over the last 10 years," so contacting its composers for a commission made sense. They premiered it last summer virtually at the Chorus's Summer Soiree, a COVID-induced postponement of its usual Spring Affair.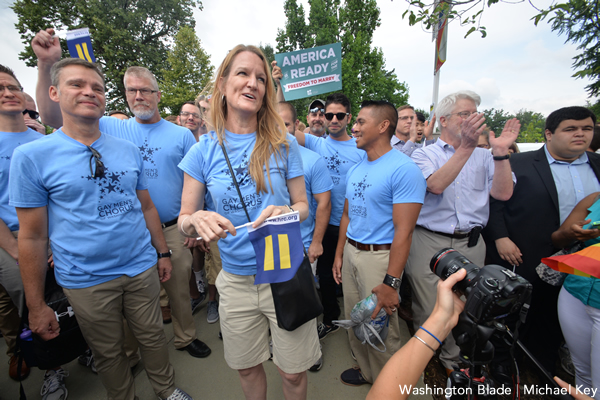 Kano, a straight ally, directs the Chorus with aid from Associate Conductor C. Paul Heins, Assistant Conductor Joshua Sommerville and accompanist Teddy Guerrant. Justin Fyala has been the Chorus's executive director since 2016. Staff also includes Craig Cipollini (director of marketing), Kirk Sobell (director of patron services) and Alex Tang (accompanist).
Under the main Chorus umbrella are five ensembles: 17th Street Dance, a 14-member performance troupe started in 2016; Rock Creek Singers, a 32-voice chamber ensemble; GenOUT Youth Chorus, a teen choir of about 25; Potomac Fever, a 14-member harmony pop ensemble; and Seasons of Love, a 24-voice gospel choir.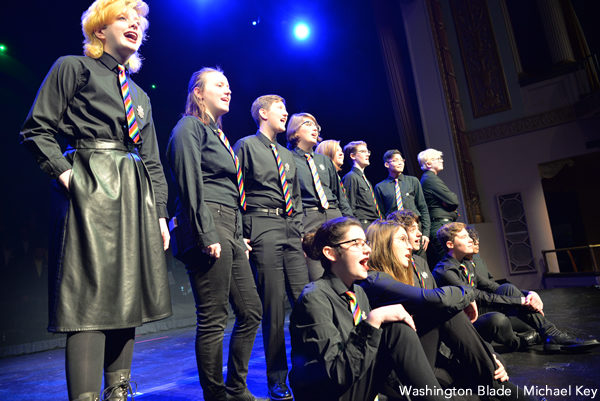 Musically, the Chorus's repertoire is eclectic.
"(We sing) everything from spiritual to glam rock to punk to traditional classical, and everything in between," Morris-Byam says. "I love when the chorus is all together and able to produce a big powerful sound."
Kano says working with Fyala is "a dream" and says under his leadership the Chorus is "in a very healthy financial place, which is wonderful and a very humble thing to be able to say right now particularly given that we're in a pandemic — that's not the case with a lot of arts organizations."
The D.C. Chorus is a quasi-unofficial spin off of its San Francisco counterpart. During an early '80s national tour, the San Francisco group performed at Washington's Kennedy Center and had a profound effect on local audiences. Marsha Pearson, a straight woman who lived in Dupont Circle at the time and enjoyed hanging out with gay men, was one such person.
"I couldn't believe we didn't have one of these," she told the Blade 10 years ago for a story on the Chorus's 30th anniversary. "I thought, 'We're the nation's capital, how come we don't have this?'"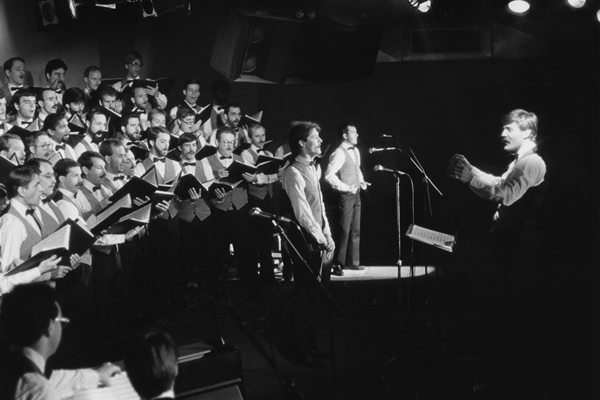 She hand wrote fliers — four to a sheet — had her sister photocopy them at her office, cut them up by hand and passed them out at Capital Pride in 1981. Accounts vary about how many showed up to the first practice at the long-defunct gay community center (no connection to the D.C. Center) on Church Street. Pearson remembers about 30. Others say it was more like 15-ish. It was June 28, 1981 and, by all accounts, an innocuous beginning.
Pearson never sang with the group — it was exclusively a men's chorus. She asked if anybody had any conducting experience. The late Jim Richardson did and became the first director.
"I still remember the first chord," Pearson told the Blade in 2011. "It was just a simple thing, you know, like do, mi, so, do, but I just got goosebumps. I was just elated that even one note came out, I was so excited. I got those same goosebumps at the anniversary concert last weekend. I put their CDs on and I get the same thing, especially on certain things they sing. You just can't believe it sounds so great."
Click here for more about the history of the group. A bio/history is also available at gmcw.org.
COVID has, of course, wreaked havoc on the operation. Thankfully, Kano says, no members have died from it, though a handful (she says fewer than 10 that she knows of), including Kano, have had it and recovered.
The Chorus continued its Sunday evening rehearsals via Zoom, which, because of the precision required for musical performance, was tougher to take online than, say, a business meeting. It never occurred to the Chorus leadership to take a hiatus.
"I look back now like, 'Why didn't we take some time off,' but I think off the top of my head at the time it was like, "We sing and we're a social justice organization and community is such a big part of who we are,'" Kano says. "And so for suddenly, with no notice, to have something that we love so much and are so passionate about …. to suddenly just turn the lights off, that wasn't even an option."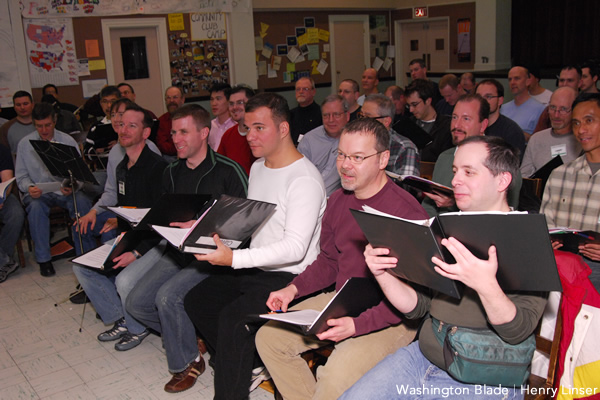 With the Chorus and dancers and GenOUT, there are about 200 current volunteer performers. It's been slightly higher at times. Some were deterred by the thought of rehearsing via Zoom although some former members no longer in the D.C. area — even a few overseas — rejoined when virtual participation became possible.
The murder of George Floyd and the Black Lives Matter movement last summer and beyond was a galvanizing event. The Chorus responded with its "Let Freedom Sing" concert, which Kano says celebrated the intersection of Black and LGBTQ people.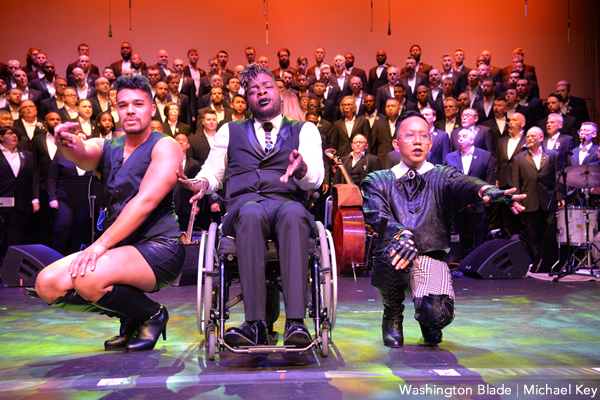 "It was our way of saying we raise our voice in solidarity with those facing injustice," Kano says.
But does that get messy at times? Surely not everyone in a choir of this size is on the same page politically, even in a progressive city like D.C., right?
As a nonprofit, the Chorus avoids anything ostensibly political. Kano says the issue did arise when they were invited to sing at a Virginia-based gun-reform event last year. They participated, but carefully.
"So anytime you mentioned guns, it becomes political," Kano says. "It's not about whether or not we support the Second Amendment. It's us standing in solidarity with those who have been victims of gun violence."
Kano says there's "a very good chance had this been a non-pandemic year," they would have been invited to sing at the Biden-Harris inauguration, which she says they "absolutely" would have agreed to.
"We did wonder, though, a few years ago what we would have said if 45 were to ask us," she says. "We didn't spend a lot of time on it because we knew that wasn't gonna happen," she says with a chuckle.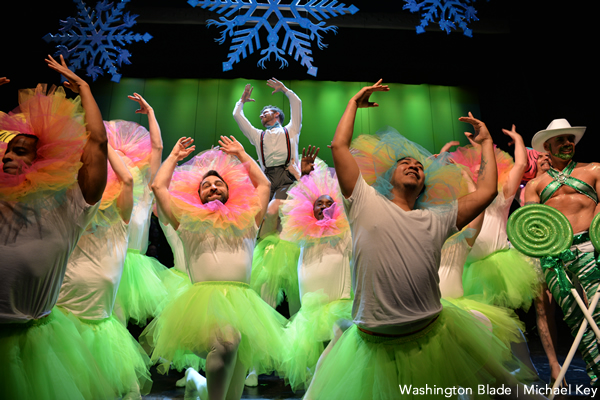 Herman says performing at big, pro-LGBTQ "statement"-type events is woven into the Chorus's history and is understood.
"Every Christmas Eve, we'd sing for the patients at NIH," he says. "We still do, only then it was primarily AIDS patients. We sang special concerts when the (AIDS) Quilt was first displayed and when there was a March on Washington. We did a lot of community work and outreach at a time when it was really needed."
Morris-Byam says even today, with so much progress having been made, the Chorus still is needed. He, by the way, calls Kano "one of the most brilliant musicians I've ever met."
"I believe the Chorus is a strong political statement in itself," he says. "When we're making a strong, joyful noise, it's celebrating everything we are, what we can be, and everyone who has gotten us where we are.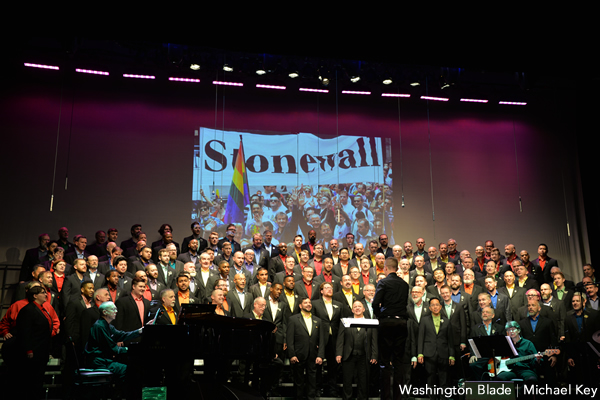 There have been challenges over the years — finding new office space, patching together individual vocal parts for virtual performances — but no warring factions. Kano is, by most accounts, extremely well liked.
The future, Kano says, is bright. She hopes to resume in-person rehearsals in the fall. She spent a big chunk of early lockdown transcribing a Puccini "Gloria Mass" for tenor/bass chorus. She plans to program it with works by Cole Porter eventually.
Ultimately, Kano says, her goals for the Chorus are about making great art.
"Art comes first," she says. "Because that's how we deliver our mission. And if we put great art first, it's going to attract great people. It's going to both as members and as audience members and patrons, and therefore it's going to attract great funding, and then all that goes right back into the arts we can further our expansion and our ability to get the mission out."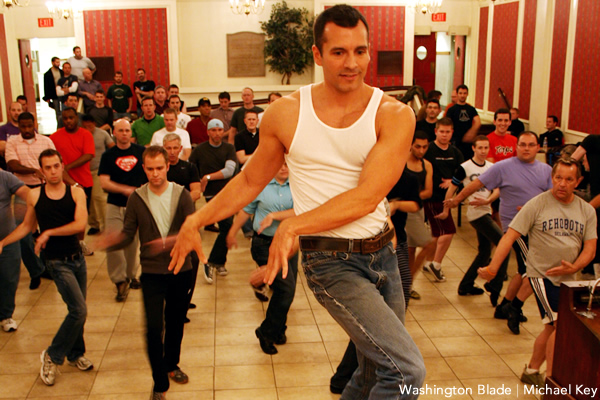 Billy Porter talks about his HIV diagnosis and keeping secrets
The Tony, Emmy, and Grammy-Award winning actor revealed the secret he's been keeping for 14 years in the Hollywood Reporter Wednesday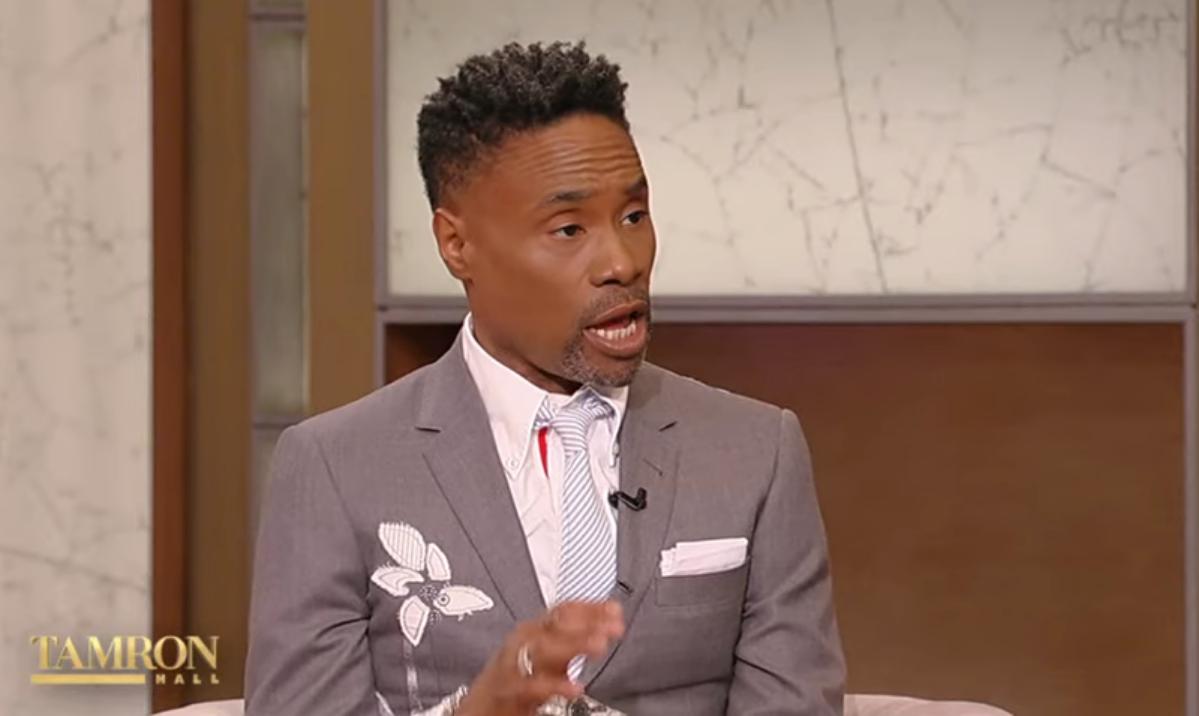 NEW YORK – Daytime talk show host Tamron Hall welcomed Broadway icon and star of the hit tv show "Pose," Billy Porter on her show that aired Wednesday. The Tony, Emmy, and Grammy-Award winning actor revealed the secret he's been keeping for 14 years that was made public in a piece for the Hollywood Reporter published Wednesday.
Porter discusses his HIV diagnosis from over a decade ago which the actor said he felt a sense of shame that compelled him to hide his condition from his castmates, collaborators and even his mother, and the responsibility that now has him speaking out. "The truth is the healing," Porter said.
"I was on the precipice of obscurity for about a decade or so, but 2007 was the worst of it. By February, I had been diagnosed with Type 2 diabetes. By March, I signed bankruptcy papers. And by June, I was diagnosed HIV-positive," he wrote. "The shame of that time compounded with the shame that had already [accumulated] in my life silenced me, and I have lived with that shame in silence for 14 years. HIV-positive, where I come from, growing up in the Pentecostal church with a very religious family, is God's punishment," the actor wrote.