August 15, 2019 at 2:30 pm EDT | by Mariah Cooper
Marrying love of music and sport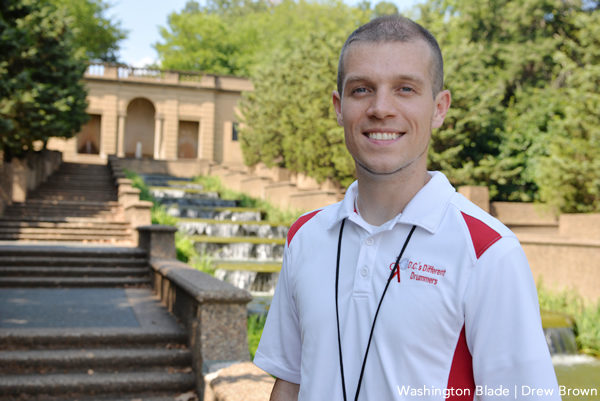 Charles Roth, the marching band director of D.C.'s Different Drummers, says music has "always been in my bloodline." His father began playing the guitar at age six and passed along his passion for music to Roth. Music gave Roth "a sense of zen" while he was growing up but he was still plagued by a fear he wasn't brave enough to confront.
Roth was scared to play sports in school.
Growing up in Dayton, Ohio, Roth dreamed of playing on his high school track or football team. Instead of trying out for the teams, Roth pushed his love for sports to the side.
"When I was in high school I was not out. I was very reserved. I was scared to take part because honestly the people that were bullying me were taking part of those sports," Roth says.
According to the study, 32.5 percent of LGBTQ students avoided attending P.E. classes, 39 percent avoided locker rooms and 22.8 percent avoided school athletics fields and facilities.
Roth's story isn't unusual. In a study byGLSEN on the experiences of LGBTQ students in student athletics, LGBTQ students were found to not be receiving the same benefits of physical education and sports as non-LGBTQ students.
LGBTQ students were found to also be underrepresented on sports teams. Only 23.2 percent of LGBTQ students participated in interscholastic school sports, 13.4 percent played on intramural sports teams, 8.2 percent played on both interscholastic and intramural teams and only 6.1 percent of LGBTQ student athletes served in leadership positions.
Roth eventually came out at age 19. As he got older, he joined LGBTQ sports leagues, specifically a volleyball league, in Dayton.
The league opened him up to not only the world of sports but to his sexual identity.
"You don't only have the LGBTQ community in the [leagues] but you have straight allies in there too. It's not just gay or lesbian specific. When you have that, it is more open and free to be yourself. It's very collaborative. You're working amongst each other as a team, as a family, as a unit," Roth says. "When you have that in the LGBTQ sports league of X, Y, or Z you'd probably find that open-mindedness to be more empowering that what you'd find in an hetero league."
Roth moved to the D.C. area three years ago and joined local LGBTQ softball and volleyball leagues. He developed an interest in flag football and joined the D.C. Gay Flag Football League. While on the flag football team, he was reconnected with his first love of music.
"It was actually through the D.C. Gay Flag Football League I met friends that are musicians who also knew D.C.'s Different Drummers and that they had a vacancy for their director position. So I inquired to learn more about them and next thing you know, boom, all of a sudden just from a connection playing sports in the area I became part of D.C.'s Different Drummers," Roth says.
Now 33 years old, Roth lives in Alexandria, Va. and teaches music. He's also able to marry his passion for sports and music by playing on LGBTQ sports leagues and serving as marching band director for D.C.'s Different Drummers.
However, Roth says it's important to note that marching band should also be considered a sport.
"People don't think marching band is a sport, which I think is a bunch of hooey. If you put yourself onto a parade such as D.C.'s Different Drummers and march for three to four miles while dancing and singing and playing the actual horn that's going to take a lot out of you," Roth says.
In the coming months, Roth plans to play for D.C. Pride Volleyball League, the Chesapeake & Potomac Softball League, Stonewall Dodgeball and the DC Gay Flag Football League.
He encourages anyone considering trying a new sport or instrument to 'be brave" and just do it.
"Whenever you're trying something new you have that voice in the back of your mind challenging you or putting hesitation into your system. But when trying something new, regardless of whatever it is, it's trying the unknown and seeing what it can become. My advice would be jump in and have no regrets," Roth says.
It's advice Roth sometimes wishes he had taken back in school.
"I feel like to a point I'm trying to catch up on a childhood that I felt like I couldn't take part of. For me, that's a very emotional thing because, looking back at it, if I could have been so much more brave and outspoken and not worry about what others may do or think of myself, coming out as a gay man, that would have changed the whole thing," Roth says.
As an adult, Roth is finally able to live his dream.