August 15, 2019 at 2:08 pm EDT | by Michael K. Lavers
Gay Jamaican swimmer says coming out has not affected career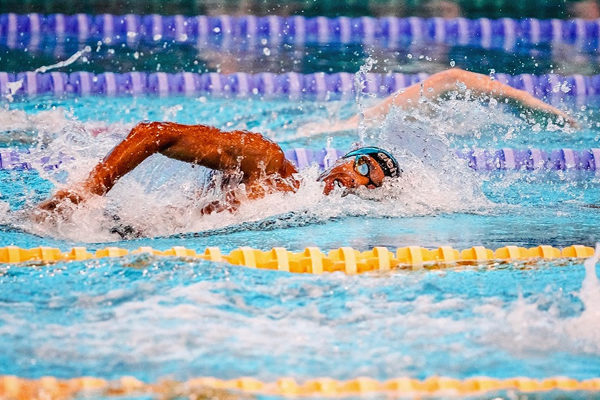 A gay swimmer of Jamaican descent says concerns that his decision to come out would adversely impact his career have not come to pass.
"Everyone has a different story, but for me personally I was worried that 'coming out' would take away from my sporting achievements/performances that I've worked and decided my whole life to," Michael Gunning told the Blade on Aug. 8 in an email.
"Most sports are quite masculine dominated and I think it's a worry for many athletes that it will take away the fear element from their performance — their opponents might see it as a weakness," he added. "But for me, when I stand up to race I have to be happy — I normally wave to the crowd and listen to upbeat music, so it hasn't really affected my 'role' as an athlete."
Gunning, 25, lives in London.
He began to swim when he was 4 after his parents made him and his brother take swimming lessons. Gunning said he "hated it at first, but once I started getting confident in the water I was always getting in trouble for diving under the water and not listening to my teachers."
He joined a swimming club when he was 7.
"I've stayed in a competitive swimming club swimming ever since," said Gunning.
Gunning, whose father was born in Jamaica, spoke with the Blade after he competed in the Pan-American Games in Lima, Peru. Gunning said he hopes to represent Jamaica in the 2020 Summer Olympics in Tokyo.
"The Tokyo 2020 Olympics is the ultimate goal for just now," said Gunning. "It's always an honor to represent my county at any competition but the Olympics is so special and it's something I've been working towards all my life so it would be the icing on the cake of my professional career."
Gunning in 2018 decided to participate in "The Bi Life," a British dating show that takes place in Barcelona.
"For the past 20 years swimming has taken up the majority of my life as I never dated or been in a relationship before as I never really found the time," he said. "Despite walking around poolside with fit half naked people, I just learnt to switch off the attraction to anyone and it wasn't until last year that I felt it was time to put myself out there and find myself a little more and I decided to do the show. I liked the concept of living with like-minded people in a villa for a few weeks — without the competition element — and find out what I was missing out on.
"I've met so many people who struggle to come to terms with their sexuality so a part of me wanted to take part in the show to inspire as many people as I possibly could to show them that it's ok to be new and inexperienced to dating and allow them share the journey with me," added Gunning.
Gunning told the Blade he was a "real person going into the villa and just acted on real feeling." He described his first date as "so nice."
"After I went on a few more dates and a rollercoaster of emotions … I knew automatically that my feelings towards men overpowered the feelings towards women and it was so nice to be able to share those feelings with my villa mates as they were so supportive and were part of the journey with me," said Gunning. "I had so many wonderful comments towards my coming out scene and it was so comforting to know that many people had been through the same thing too."
Gunning told the Blade that some people thought "I already knew I was gay."
"But I felt like I owed it to myself to explore and find out for myself in my own way and it just happened that for me it was on TV," he added. "The girls I dated on the show were so understanding and it's wonderful that we live in a society where people are so loving and supporting others finding them self, and I'm still really good friends with them now."
Gunning met Tom Daley, a British Olympic diver who is married to director Dustin Lance Black, at the London Aquatics Performance Center in 2014. Gunning described Daley as a "great role model" who has "always been a dear friend of mine."
"I'm also constantly inspired by the current people out in the LGBTQ world making a difference as everyone's story is so unique and personal to them and it's great they feel they should share it," said Gunning.
Jamaica is among the dozens of countries in which consensual same-sex sexual relations remain criminalized. Violence and discrimination against Jamaicans based on their sexual orientation and/or gender identity also continues to make headlines, even though the island's LGBTI rights movement has become more visible in recent years.
"There is a harsh reality out in many Caribbean countries that any same-sex affection and/or activity is illegal and publishable of up to 10 years imprisonment," acknowledged Gunning. "It breaks my heart that I would have to keep such affection to myself should I ever go and visit Jamaica."
Gunning nevertheless told he Blade he regularly receives messages from LGBTI Jamaicans who share their stories with him.
"I do my best to offer them support and guidance," he said. "I can't imagine what it's like to live out there with those legislations put in place, but they come to me because they don't have anyone else and I try so hard to tell them everything is going to be ok. I hope within time and with the help of more black LGBT representatives, different Caribbean countries will be more willing to accept the developments of same sex couples."
Amini Fonua, an openly gay Olympic swimmer from Tonga, applauded Gunning for his decision to come out.
"I think him coming out in a country as homophobic is super brave," Fonua told the Blade.