Out filmmaker Lucio Castro shares 'End of the Century' journey
Barcelona-set tale follows male lovers who'd met before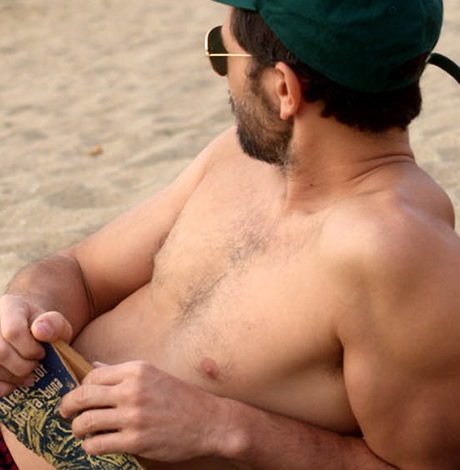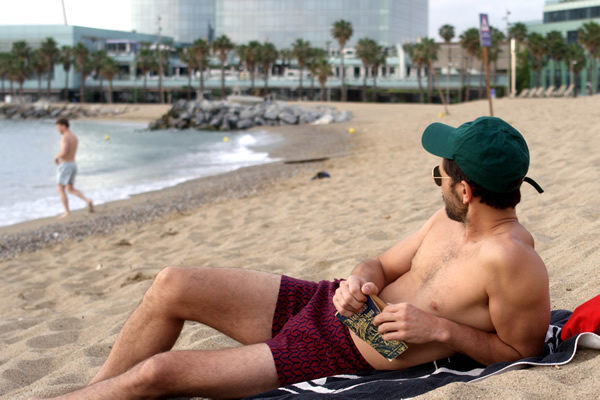 After great success at film festivals around the world (including a one-night stand at D.C.'s Reel Affirmations), "End of the Century" (Fin de siglo) is settling in today for an exclusive engagement at Landmark E Street Cinema (it's in Spanish with English subtitles).
Written and directed by out Argentinian filmmaker Lucio Castro, the movie is about an Argentinian poet named Ocho (Juan Barberini) who's visiting Barcelona. As he wanders around the city, he keeps seeing Javi (Ramón Pujol); when the two finally meet, they realize they have met each other before, and that they may have a future together.
Castro starts with a blank page and sees where the story takes him. The award-winning filmmaker says, "Every time I write with a plan it feels a little bit stiff, so I prefer to write without a plan. I like to start without anything in mind. The story really comes out of the joy I have when I write and it really helps put me in the place of the audience. It puts me closer to the way the audience thinks."
For this movie, Castro began contemplating a visitor to Barcelona.
"I started thinking about a character arriving in the city. What would this character do? He checks into his Airbnb, he checks out the bookshelf, he opens the fridge. He doesn't unpack so I know he's just here for a couple of days, maybe for the weekend," he says. "Then he goes for a walk. At night he wants to have sex. He fails. The next day he meets up with someone and they end up having sex. They start talking and maybe in the middle of the conversation they realize they have met before. So, I just started imaging their first encounter, how it was in the past, and that's really how I wrote it."
For "End of the Century," Castro's approach to screenwriting helped shape the movie's tone and pace. The movie starts with a long sequence where Ocho wanders through Barcelona. There's no spoken dialogue, just the ambient noises of the city, the squawks of animals in the city park and the sounds of the waves on the beach.
The scene is also shaped by the Castro's own experiences as a traveler and his canny instincts as a filmmaker.
"I've noticed that when I'm alone I'm very aware of the city," Castro says. "The people, the conversations. I look at the buildings and I feel the air. I notice things. When I'm with somebody else, I'm focused on our conversation."
Castro wanted to capture this feeling in his movie.
"I wanted to explore this contrast, and I thought a good way to do this was to extend the silence and show how you're more sensitive to the space around you when you're alone. It feels like a diary," he says. "But then a dialogue starts with his Ocho's attraction to Javi. It felt like a hypnotic way to get into the movie to get into the mind of the main character. From drifting around the city, Ocho starts to focus on Javi."
In addition to the complex opening of the movie, Castro the screenwriter set up other challenges for Castro the director with the sizzling sex scenes between Ocho and Javi. He says the actors were a bit anxious about the intense erotic action, especially Barberini who had a bad experience on his previous shoot.
"The director told the actors to just pretend like they were having sex while he moved the camera around. It was very uncomfortable," Castro says.
Barberini asked Castro to take a different approach. According to Castro, the actor said, "Let's do the opposite. You tell me exactly what you want. We'll definitely go all out, but in a very controlled space."
So Castro, directing his first feature-length film, made sure to create a safe space for his actors to work in.
"I choreographed the shots," he says, "and we really planned it out. It required a very specific framing and it was shot very fast in 20-second increments. They were of course naked, but they didn't care if we could see their body parts. They were comfortable with the intensity and the intimacy."
Castro started working on films in his native Argentina. He graduated from the prestigious Centro de Experimentación (C.I.C.) and worked on several movie sets before moving to New York in 2000. The multi-talented artist earned a degree from the Parsons School of Design and started work as a menswear designer (luciocastro.com) while making short films on the side.
Around seven years ago, Castro remembers, "I started putting much more time into filmmaking and working on feature films. I wrote two screenplays, one set in Argentina and one set in update New York. But both films have large casts and multiple locations, so I wrote the script for 'End of the Century' that could be done with a much smaller budget."
Not surprisingly, Castro is a major film buff.
"I have so many favorite films," he says, "but for this movie I was looking a lot at a movie called 'Certified Copy' by Abbas Kiarostami. It's a French film made by an Iranian director with Juliette Binoche. I love the Italian director Michelangelo Antonioni and I was also watching his movie 'L'Eclisse' a lot."
Castro is sure these masterpieces have left their ark on "End of the Century."
"Of course, they come through me in ways that I'm not even aware of," he says. "I am sure this film is made of bits and pieces of many films."
LGBTQ youth inspired to action by "Cured" documentary and country's homophobic past
"Cured" documentary a revelation for LGBTQ youth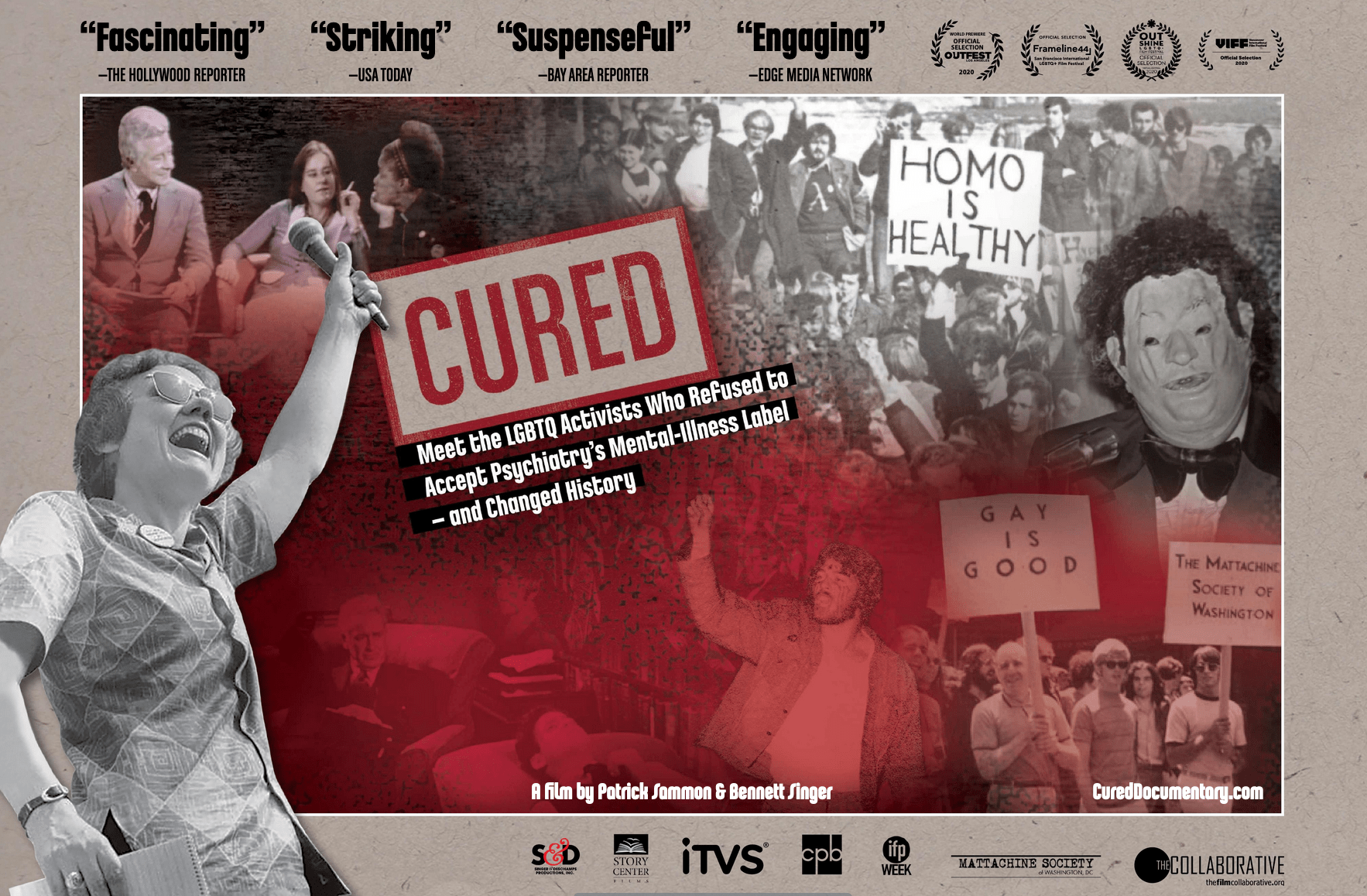 A new documentary's archival footage of the country's homophobic past opened the eyes of four young members of the LGBTQ+ community who were only dimly aware of the events the film describes.
"Cured," which aired on PBS' Independent Lens on October 11, was a revelation to the youth– who work with the D.C.-based Urban Health Media Project on multimedia health journalism.
Some of the scenes that made an impression:
At a 1966 South Florida high school assembly on the evils of homosexuality, an official warns students that "if we catch you … the rest of your life will be a living hell.''
A gay psychiatrist, appearing on a 1972 American Psychiatric Association panel, is identified only as "Dr. Henry Anonymous." He's so afraid of reprisals that he must protect his identity by wearing a Halloween face mask and a fright wig and using a distortion mic.
A series of sober, eminent psychiatrists – leaders of the profession – insist in forum after forum that homosexuality is a sickness.
For two decades, that assumption was reflected in the "Diagnostic and Statistical Manual of Mental Disorders (DSM)," the American psychiatric profession's official compendium of mental and brain diseases and disorders.
"Cured" tells the story of how a relatively small number of courageous gay activists got the "gays are sick" notion struck from the manual –a pivotal moment in the gay liberation movement.
"Being gay and trans myself,'' said Hermes Falcon, "this film meant a lot to me, because it exposed me to people that I didn't even know were part of the movement.''
Those people included Barbara Gittings and Frank Kameny, who in the mid-1960s – when most Americans still said they feared or hated homosexuals — organized some of the first public protests against employment discrimination against gays. One depicted in "Cured"took place outside the White House.
Another early activist was Dr. John Fryer, the psychiatrist who, it later turned out, was "Dr. Anonymous.''
Falcon, a college freshman, also noted the tension at the heart of the story told by "Cured": "How working together makes a big difference, but also how one person can make a big change.''
Falcon cited the example of Fryer, who testified at the APA convention in Dallas in 1972 that anti-gay bias was hurting psychiatrists, too. At that point, the DSM's entry 302.0, which termed homosexuality "a mental disorder," was two decades old. Within two years of Fryer's testimony, it had been abolished.
Another young member of the LGBTQ+ community, Adrian Gibbons, an assistant video editor at UHMP and recent college graduate, also was struck by the example of Fryer, "a real person who was risking his job to stand up for himself and the LGBTQ community.'' His example, Gibbons said, "inspires me to fight for myself and my community, no matter the risks.''
Gibbons noted that some trailblazers faced a harsh backlash from colleagues or family members. But he said their sacrifice was worth it, considering that "their efforts brought justice to LGBTQ people who had been injured or abused in mental institutions, and saved countless people from being put through that same torture in the future.''
Torture is probably not too strong a word; "Cured" shows how electroshock and even lobotomy were used as elements of "conversion therapy'' to make gay people straight.
The early activists' sheer courage also inspired Dillon Livingston, a high school student. The film shows, he said, that "it is imperative to remain true to yourself, even if everyone around you does not like the things that make you who you are.''
Even though they faced intense discrimination and disdain, he added, the gay rights pioneers "were proud about their sexuality.''
The four young LGBTQ+ viewers agreed that "Cured"made them more appreciative of the efforts of those who went before them, and more eager to emulate their example in the future.
As Livingston put it, "I must speak more about the queer community to inform heterosexuals about the problem we face.''
Jojo Brew, an aspiring filmmaker, agreed: "All those people in the sixties and seventies fought for our rights, so it's only fair that we continue to fight for the next generation's rights.''
"Cured" airs locally at 9 p.m. Oct. 21 on WHUT. After its broadcast premiere Oct. 11, the film will be available to stream for free on the PBS app and website for 30 days. The documentary will be rebroadcast a few more times over the next three years and eventually released on streaming platforms.
Amazon Prime doc tells story of Black, queer civil rights pioneer
RBG quoted Anna Pauline (Pauli) Murray before Supreme Court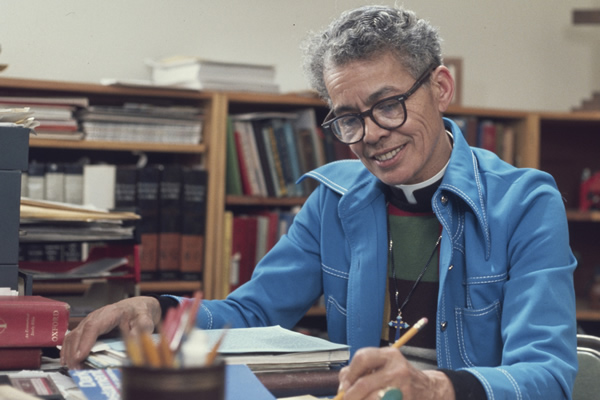 No one could have imagined the life of Anna Pauline (Pauli) Murray, the Black, queer, gender nonconforming civil rights pioneer who lived from 1910 to 1985.
Few people have done as much to make the world more just than Murray. Last year, Murray's scholarship was used to help the ACLU successfully argue before the Supreme Court that Title VII of the Civil Rights Act of 1964 protects LGBTQ+ people from being fired in the workplace because of their sexual orientation and gender identity. Yet, many people don't know who Murray was.
"My Name is Pauli Murray," a new documentary playing in select theaters and streaming on Amazon Prime, tells the story of Murray's fascinating life. The engrossing film is co-directed by Betsy West and Julie Cohen, who directed "RBG," the popular documentary on Ruth Bader Ginsburg.
"RBG" is a good documentary. Yet, the 131-minutes-long "My Name is Pauli Murray" is even better.
Conveying the complexity of Murray's life in a doc of that short length would fell many mortals. But West and Cohen are up to the task.
Using recordings of Murray's voice; Murray's letters, footage of everything from Murray with one of her dogs to Harlem in the 1930s along with interviews with Murray's family and biographers, the film draws you into Murray's world.
To say Murray was a Renaissance woman isn't trite. Murray was a lawyer, poet, writer, activist and educator. That's just the tip of the iceberg!
For decades, Murray and Eleanor Roosevelt were friends. Murray was a co-founder of the National Organization for Women. Gay writers James Baldwin and Langston Hughes were her writing buddies. Murray and Baldwin were the first Black writers to be invited to the distinguished MacDowell writing colony.
In her 60s, Murray left her tenured position teaching at Brandeis University to go to seminary. She became the first Black woman to be ordained a priest by the Episcopal Church.
It doesn't stop there! A paper Murray wrote as a Howard Law School student was a key element of Thurgood Marshall's strategy in overthrowing racial segregation in Brown v. Board of Education. Ruth Bader Ginsburg quoted Murray when she argued against sex discrimination before the Supreme Court.
While she was alive, Murray was closeted about much of her personal life. Murray had a decades-long relationship with Irene Barlow. But, because of the times in which she lived, Murray couldn't be open about their relationship.
Murray felt that she was misgendered—like a man in a woman's body. This, too, Murray kept secret.
In "My Name is Pauli Murray," Murray's family and biographers refer to Murray with the pronouns "she and her." A non-binary activist refers to Murray as "they."
Murray is having a much-deserved moment. In 2016, Yale University named one of its residential colleges after Murray. It was the first time a Yale college was named after a person of color or an (openly) LGBTQ+ person. In 1965, Murray was the first African American to graduate from Yale with a doctorate in judicial science.
In 2017, the National Park Service, part of the Department of the Interior, Murray's family home in Durham, N.C., as a National Historic Landmark.
Watching, "My Name is Pauli Murray," you're bowled over by Murray's resilience and achievements. Fifteen years before Rosa Parks, she protested racial segregation on buses.
"I've lived to see my lost causes found," Murray says.
It's hard to humanize an icon. But, the filmmakers don't place Murray on Mount Olympus.
Even as a child, we learn, Murray wanted to wear pants. That was fine during the week, her Aunt Pauline said, but Murray would have to wear a dress to church on Sunday. Though, few understood Murray's feelings, Aunt Pauline called Murray "my boy girl."
Murray and Barlow never lived together. Yet, you get a sense of their intimacy from the letters they exchanged. They called each other "Linus" and "Charlie Brown" (characters in the Peanuts comic strip) and wrote of longing to "share" listening to Brahms' Fourth Symphony and the New York Times crossroad puzzle.
"My Name is Pauli Murray" will leave you talking about Murray and how to honor her legacy. That would have made Murray happy.
New doc sets the record straight about 'Fauci'
Film offers humanizing overview of hero's life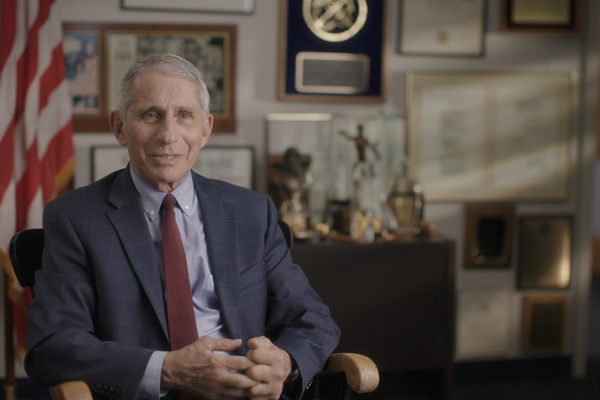 For those who lived through the AIDS epidemic, the onset of COVID-19 in early 2020 was accompanied by an inescapable air of déjà vu. There were plenty of reasons for this, of course: it was a terrifying new disease, not much was known and even less understood about how it spread, there was no effective treatment or cure available, the government's response to it sparked a political firestorm, and—most significantly—lots of people were dying. As if all that weren't enough, right in the middle of the public conversation about it was the same familiar face, none other than Dr. Anthony Fauci himself.
For many who worked as activists during the peak years of that earlier epidemic, Fauci was the adversary. Then, as now, he found himself in the crosshairs of a whole angry sector of society, bearing the brunt of the anger that arose from their fear of an uncertain future and becoming, once again, one of the most polarizing public figures in American politics, without even being a politician. Ironically, this time around, instead of being perceived as the face of government inaction and establishment obstructionism, he has been elevated to the status of progressive icon.
To understand how that seeming transformation is possible—as well as to look past the surface parallels between cultural response to the two plagues and see the profound differences instead—it's necessary to look past the broad strokes of the headlines and the two-line bios that make up most of the knowledge most Americans have about AIDS, COVID and Fauci, and get a more detailed knowledge of the history that links them all together. Fortunately, a new National Geographic documentary, which began streaming on Disney Plus on Oct. 6, is here to provide exactly that.
The film came about when two filmmakers, Emmy-winners John Hoffman and Janet Tobias, joined forces after being separately inspired to make a film about Fauci, who, for those who have been in an isolation module for the past 40 years, was appointed director of the National Institute of Allergy and Infectious Diseases (NIAID) in 1984 and has advised seven presidents on domestic and global health issues during the decades since. Aided by unprecedented access to their subject, who was not only supportive but fully cooperative, along with access to decades of deep archival material and a wide array of prominent public figures eager to participate, the result of their collaboration is an impressive piece of cinematic journalism titled, simply, "Fauci."
Starting out with a humanizing overview of Fauci's early life, the film offers us a protagonist whose dreams of a private Park Avenue practice gave way to a passion for the study of infectious diseases, and whose enduring marriage to Dr. Christine Grady began with a "meet-cute" that would have been right at home in a Hollywood rom-com. It then tracks his professional career, not just the two epidemics that have bookended his time in public service to date, but details from the intervening years that most people have either forgotten or never known, like his efforts in stemming the threat of Ebola when it began to appear in the U.S., and his role in ensuring global action to the AIDS crisis that was unfolding in Africa and the Caribbean.
Still, it's inevitable that the documentary concentrates most of its attention on his most famous contributions—spearheading the fights against AIDS and COVID in America—and it does so by highlighting the aforementioned parallels between the two epidemics while also giving us a Fauci's-eye view of how each played out. Throughout, we go back and forth across the decades, with the help of news footage and extensive interviews, to gather insight from the defining moments of each of these historic public health battles; we are reminded that, while Fauci was seen as the opposition by ACT UP and other AIDS activist organizations seeking to speed up the availability of drugs and treatment for HIV. He also listened to their concerns and learned from them. Bucking resistance from his colleagues, he gave activists and community members directly affected by AIDS a seat at the table and opened the door for their participation in designing the clinical trials that would ultimately bring the life-preserving drug cocktails that stopped a positive diagnosis from being a death sentence. While social media feeds over the past two years have been full of anti-Fauci posts reminding us of his early obstructionism in the AIDS fight, few have bothered to include the rest of that story, but "Fauci" sets the record straight.
In focusing on this end of history, however, the movie gives us a refresher course—as if one was needed—on the unprecedented level of opposition Fauci faced from the very administration it was his job to serve in the campaign against COVID. It reveals the pressures put on Fauci and his family by the vitriolic hatred of his detractors, the hardships imposed on his life and routine by the security protocols enacted in response to the death threats that come as a natural consequence of being used as a political scapegoat. And it makes quite clear that those who protest his methods this time around are working from a very different motivation than the one that drove the heroes of ACT UP.
More important than any of this, perhaps, is the chance "Fauci" gives us to get to know the man himself. The filmmakers position him squarely in his rightful place at the center of their movie, allowing us a look past the professional veneer that has become a fixture on news broadcasts and at press conferences. What we see there is the man we know, amplified by the freedom to let his compassion, his humanity, his intelligence, and yes, his sense of humor show. It's a winning portrait that never rings false, and the eager participation of a widely varied crowd of interviewees to sing his praises—from George W. Bush to Susan Rice to Peter Staley to Bono—only reinforces its sincerity.
Of course, those who dislike Fauci are unlikely to be swayed by the sympathetic portrait offered by Hoffman and Tobias' film—which, though it, like Fauci himself, is candid in acknowledging his missteps along the way, offers little in the way of negative commentary about its subject—and will doubtless brush it aside as "woke" propaganda. To answer that phenomenon, it might be best to offer a quote from the good doctor about why he is so hated by his critics. "I represent something that is uncomfortable for them. It's called the truth."