November 14, 2019 at 3:15 pm EST | by Staff reports
Pepco's Robbie Atkins on the importance of visibility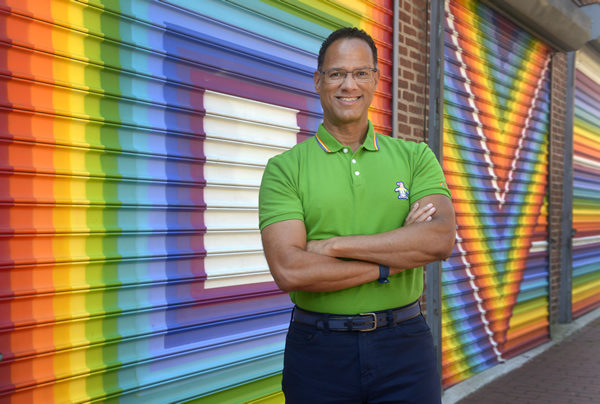 In 2014, Robbie Atkins had worked for Pepco for more than 25 years, but his co-workers were still able to take him by surprise.
When he and his husband, Joe, married that year, to his amazement, his entire department planned a surprise wedding party for him. "I walked into the conference room and they had an actual wedding cake," he says. "I was totally blown away by that. I never expected them to even acknowledge my nuptials, especially not with a cake and gifts!"
Since his co-workers' visible and festive show of support, Atkins, Pepco's Manager of Energy Supplier Services, has been witnessing more changes around the company.
"Seeing our president and CEO filming a video on the 50th anniversary of the Stonewall riots was amazing," he says. "Five years ago, 10 years ago, you wouldn't have seen something like that."
Last year, Atkins experienced another milestone. "Walking for the first time in the Capital Pride parade, carrying the Pepco and Exelon parade banner, with our company's logo in the rainbow colors and representing my company in the parade was an honor and it was a great accomplishment," he said. "Hearing the parade spectators cheer and yell 'Pepco, Pepco, yay,' that was really very emotional for me. After being here for 31 years, this is something that I never, ever though I was going to see."
He remembers trying unsuccessfully to raise money for the AIDS Walk in 1988. "People would say, 'I can't give to that.' It made me feel like I was less of a person because I asked for money for the AIDS Walk, but yet they were fine asking me to support their kids' popcorn and candy fundraisers." Now, Atkins serves as treasurer for Pepco's Pride employee resource group, focused on issues of interest and concern to LGBTQ employees and the community.
He also remembers failed attempts to create a Pride group in the '90s, as people were fearful the affiliation would affect their careers.
Atkins fought against those feelings. "I've always brought my authentic self to work. I didn't change – what you see is what you get. There were some people who told me in order to progress, I needed to tone it down a little bit to be more like everyone else."
One incident that still stands out in his memory is a colleague commenting on a new employee saying, "Finally, a real man coming into the department." Atkins recalls replying, "A real man? The last time I checked, I was a real man. And she said, 'You know what I mean.'"
He was somewhat disappointed in the response of their other colleagues, who said, "That's just her. Just let it go." He replied, "You're saying it's okay for her to say that and it's not okay."
"Certain things just stick with you and never, ever leave. I remember it as clear as day."
"I try to treat everyone the way I would want to be treated," he adds. "I wouldn't say things to hurt others' feelings just because they are different or because I might not agree with what they might want to do."
As things continue progressing, Atkins says he would like to see even more diversity and inclusion in the upper ranks of management for gays as well as African Americans and women. "Being able to see myself represented at that level gives me the drive to see that I can also be a senior vice president, or president. When you see yourself represented, you are able to aspire for more and work toward a higher goal."