Target hits the LGBT market, with much-improved aim
Some praise retailer for Pride month support; others want local commitment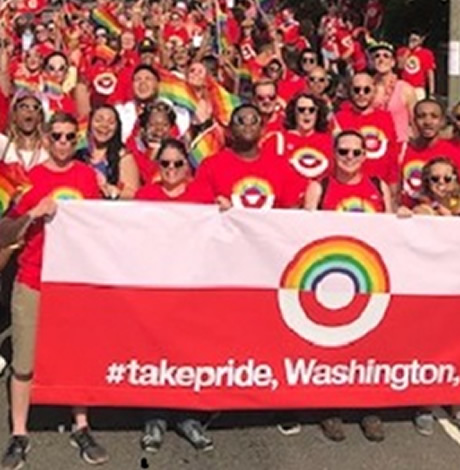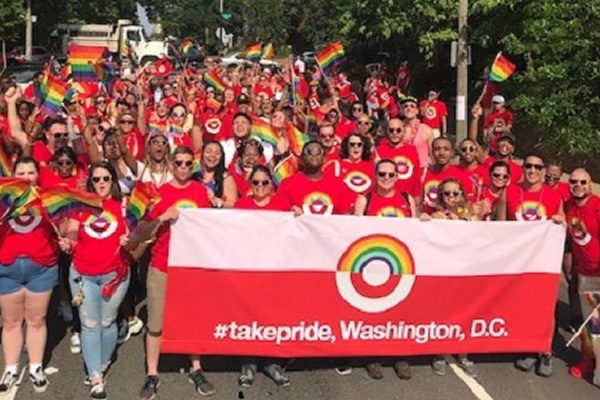 Fifty years after Stonewall, LGBT people who listen to a song, stream a series, or read a book have more positive images to draw upon than ever before.
But where are our faces in the ads that sell us those things—or, for that matter, pretty much everything? Rarely seen is the same-sex couple sizing up choices at a car dealership, passing around a tube of toothpaste during their morning routine, or sharing a smooch as anniversary rings are exchanged.
"There's just a very small group of companies that make an effort to educate themselves, and to progress… to show us as we are, or appeal directly to the LGBT consumer," says Todd Evans, of Rivendell Media.
As Rivendell's president and CEO, it's Evans' job to place advertisements for the National LGBT Media Association. (This publication is among its members.)
Absolut Vodka and Wells Fargo, Evans notes, are on the short list of high-profile corporations that market to the LGBT community with creative content that depicts lives being lived in something other than heterosexual accordance.
Include Target on that list, says Evans, who points to the general merchandise retailer as an example of a company committed to LGBT-specific marketing and products.
"This is a group that has wanted to educate themselves," says Evans, recalling, "years ago, Target faced a boycott for [indirectly] donating to an anti-LGBT politician. They rose to the occasion by not only stopping that, but becoming LGBT-friendly."
In July 2010, Target became a, well, target of backlash, after donating $150,000 to MN Forward, a group that proclaimed to function as a champion of Minnesota's economy, but also funded campaign ads for Tom Emmer—the Republican candidate for governor who, The Minnesota Independent reported, "authored a constitutional amendment to prohibit same-sex marriage and civil unions" in 2007, while a member of the Minnesota House of Representatives.
As reported by Minnesota's MPR News in an Aug. 20, 2010 article, Gregg Steinhafel, CEO of Target (whose headquarters is located in Minneapolis), apologized for the financial contribution—but only after, MPR noted, "Democrats, gay rights groups and others called for a boycott of the company."
Steinhafel's Aug. 5, 2010 letter to Target employees asserted the company's commitment to "fostering an environment that supports and respects the rights and beliefs of all individuals," and pledged to bring together "a group of companies and partner organizations for a dialogue focused on diversity and inclusion in the workplace, including GLBT issues."
Making good on that diversity pledge, ironically, raised the hackles of the anti-LGBT American Family Association, which has been boycotting Target since April 2016 for, it alleges, endangering "women and children by allowing men to frequent women's facilities"—a dog whistle reference to Target's policy allowing transgender people to use changing rooms and bathrooms in accordance with their identity.
Whether the product of public embarrassment, genuine enlightenment or a little bit of both, Target, says Evans, "went from the verge of a boycott" during its MN Forward days "to really embracing their LGBT customers, and speaking directly to them."
Target got its feet wet with 2012-2016 ads in Out magazine and The Advocate, then, in 2017, Evans said the retailer "expanded those national buys to a number of local markets, including Dallas, New York City, Miami, Boston, Orlando, Salt Lake City, and Denver. They also started carrying Pride merchandise every June, which shows they really educated themselves about the market, and the best way to reach it."
One series of ads featured individuals of, Evans notes, "every shape and color. It really speaks to Pride itself, and being accepted. They even end it with the hashtag 'takepride.' I don't think you can ask for anything better."
Danielle Schumann, Corporate Public Relations Lead at Target, declined numerous requests for an interview, instead referring this reporter to links within the corporate.target.com destination.
Therein, Caroline Wagna, Target VP and Chief Culture, Diversity & Inclusion Officer, proclaims, "In order to continue to be a place where people want to come and spend their money, we have to be connected to who our potential customers are across the board, and in order to stay relevant as a business, we have to be sure our guests are seeing experiences, products, and services that reflect who they are."
This year, corporate.target.com notes, Pride month was observed in the form of more than 90 Pride-themed items created by working "closely with Target's Pride Business Council—an HQ-based team member resource group—to create an assortment that is inclusive." Those items were made available in 350 of Target's 1,868 U.S. stores.
A perfect score of 100 on the Human Rights Campaign's 2019 Corporate Equality Index and "presenting partnership" status with GLAAD's Spirit Day—described by the Gay & Lesbian Alliance Against Defamation as "the world's largest and most visible LGBTQ anti-bullying-campaign"— are among demonstrations of solidarity touted by Target, which also made a $100,000 Pride month contribution to GLSEN (the Gay, Lesbian and Straight Education Network), and said that in 2019, Target team members would "be on tap to volunteer at more than 30 Pride events across the country, including this year's World Pride in New York City."
In a case of funding Peter by shortchanging Paul, Evans notes, "This year, Target didn't advertise at all" with the print publications he represents—a stark departure from their Pride month advertising of the past. "But I did notice they were a World Pride Stonewall 50 Platinum sponsor. I think this year, a lot of people's budgets went to that."
Attempts to engage Target on the local level have been unsuccessful, says Mark Segal, publisher of the Philadelphia Gay News, a member of the National LGBT Media Association.
"We've reached out to them on numerous occasions, and the response has been zero," says Segal. "They have a store very close to the gayborhood here. I also see them advertising in neighborhood and community newspapers in Philadelphia, so you could say they are, at the very least, ignoring our community."
Community engagement, says Segal, pays dividends. "Various companies in the Philadelphia area that advertise with us and make their presence known feel the strength of the LGBT market coming into their doors," he notes. "We hear this by their reps calling us and telling us that, or about a congratulatory letter written from an LGBT customer."
Less impressive was the response to the outreach of PGN senior advertising media consultant Joe Bean, who has 23 years of experience in media sales and says he's "used to going for big accounts." Bean noticed the then-new local Target was placing recruitment ads in "all the other papers similar to ours in circulation," including the local Spanish language publication.
"I kept calling and calling," Bean recalls. "I got to the person who had jurisdiction over recruitment, who didn't have to go through corporate in Minneapolis. But my efforts fell on deaf ears. They should be encompassing everyone, especially in a city like Philadelphia, which has a large LGBTQ footprint."
For Evans, despite gains, "There is a lot of misinformation out there," on the part of corporate buyers.
"The media habits of other niche markets differ drastically than that of the LGBT shopper, yet many corporations are using the same formula," says Evans. "Digital is king in Hispanic media, and for the African-American market, it's mobile. LGBTs, we use our phones for breaking news and for finding Mr. Right or Mr. Right now, but almost all digital and editorial news content comes from the print product. Face it. There is no Telemundo for the gays. There is no CNN for our people. They go local. It's all about trust."
Maryland LGBT Chamber holds expo
Business event held in Columbia, Md.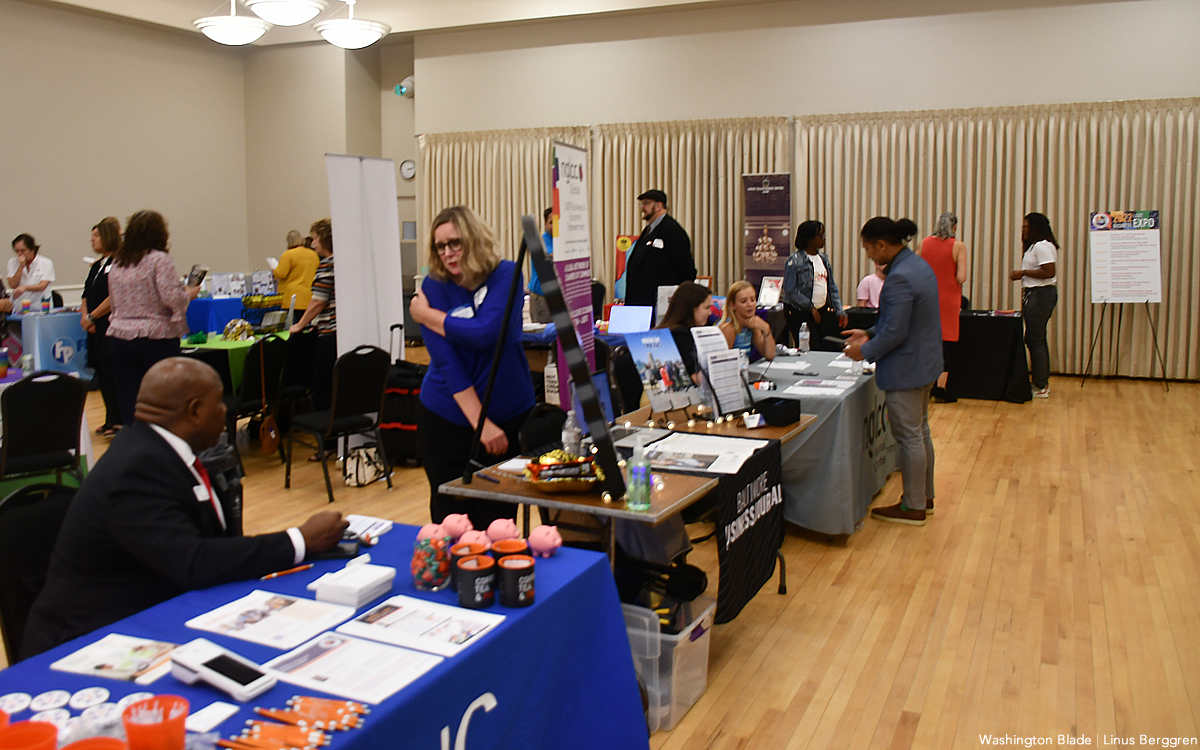 Over 35 Maryland LGBT Chamber of Commerce member businesses and organizations participated in the 2022 LGBT Business Expo in Columbia, Md. on Thursday, Sept. 15.
Panels and presentations at the event covered a variety of business topics, including:
We will also feature panel talks and presentations on a variety of business topics throughout the afternoon including: "Master Your Budget: 3 Simple Steps to go from Surviving to Thriving" presented by Financial Coach, Amy Scott; How we got our Rehoboth Beach cottage (without saving up for it)… And how YOU can too!!!" presented by the Retire on Real Estate author, K. Kai Anderson and "Why and How to get your small business LGBTQ Certified", presented by NGLCC.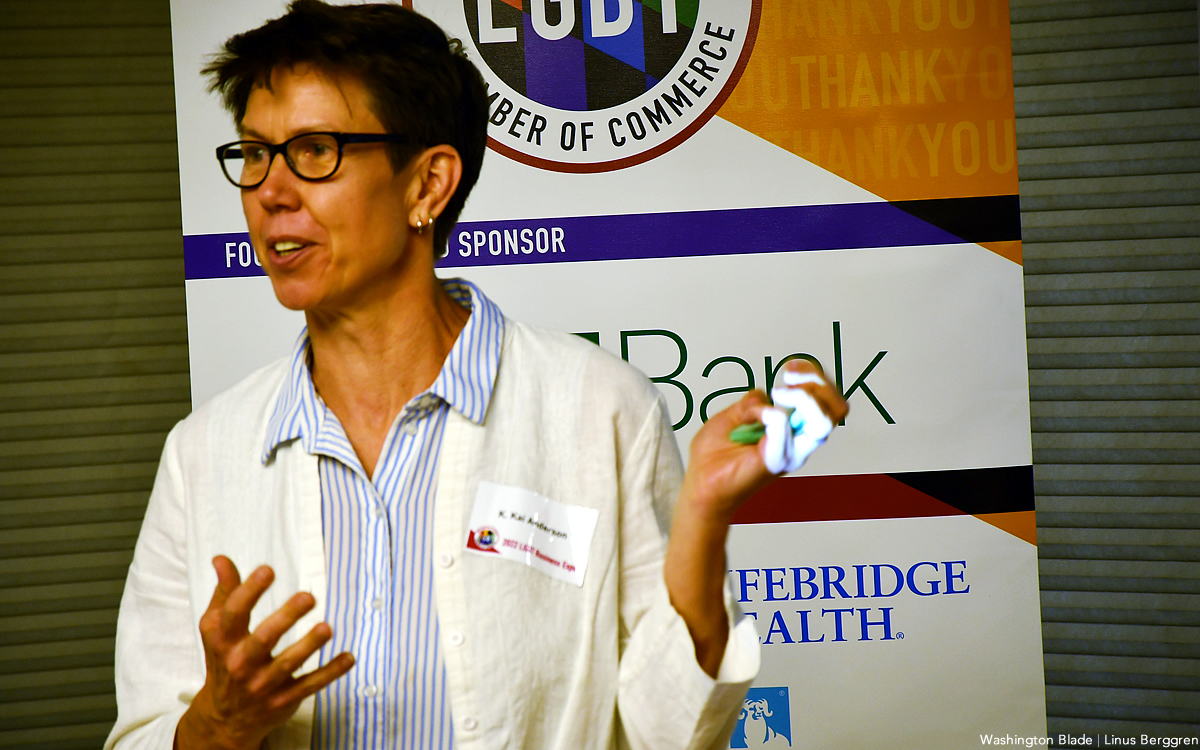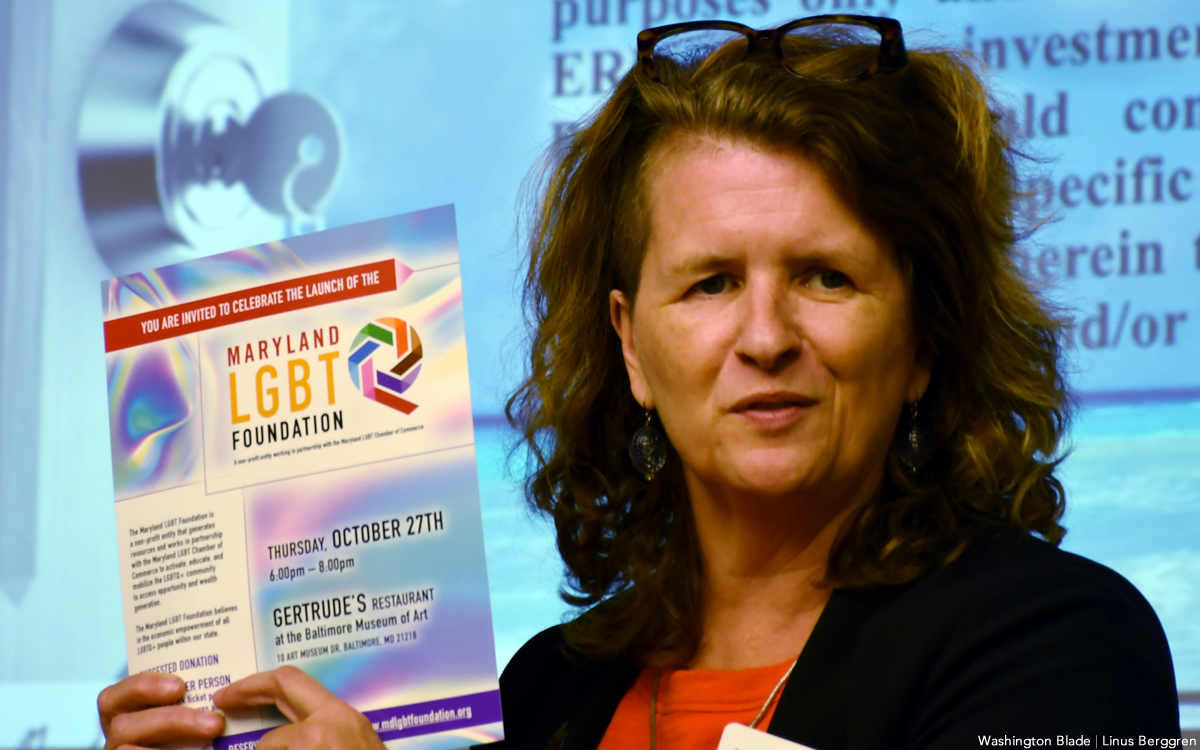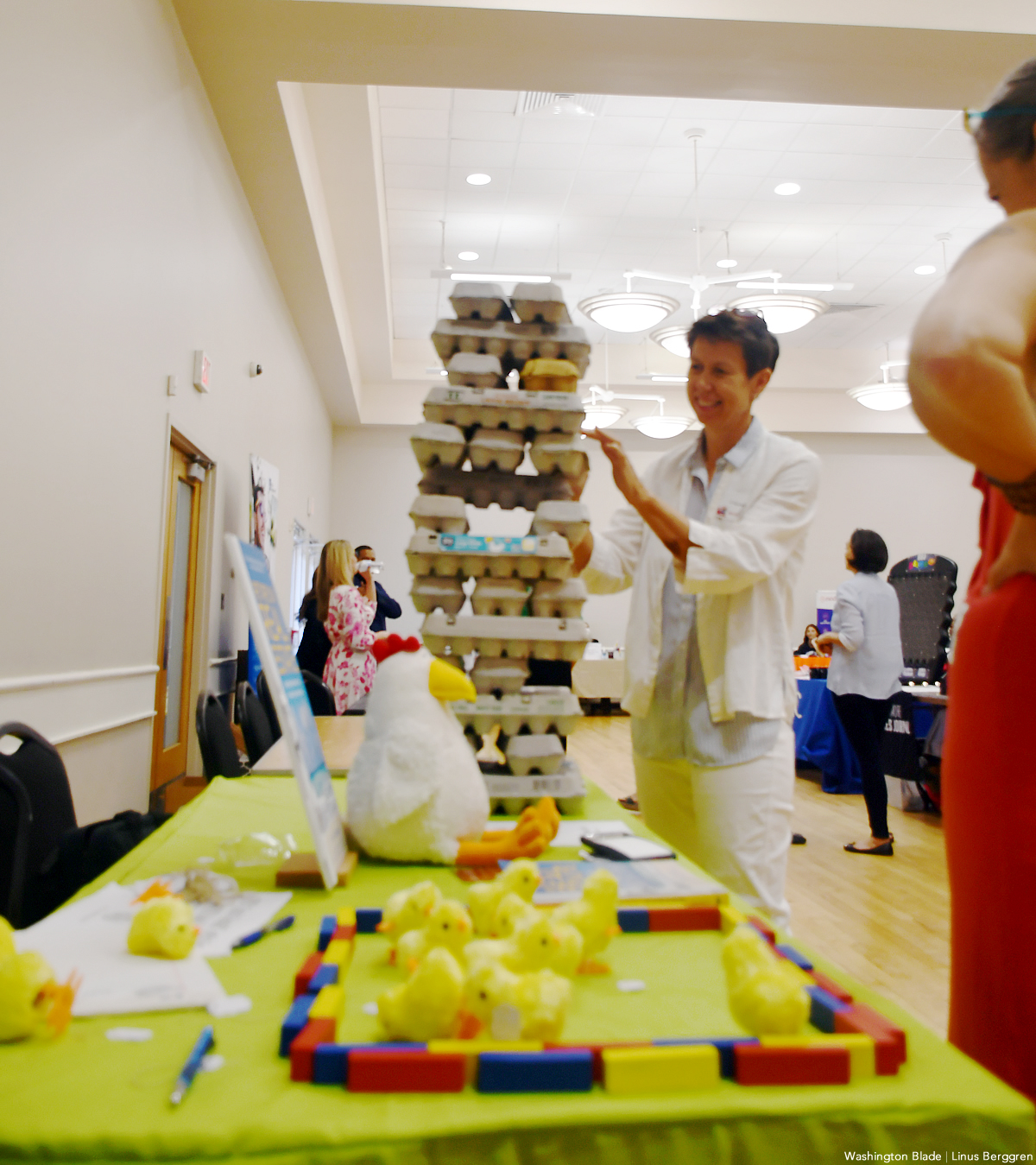 Fla. 'Pride Leadership' firm survives pandemic to face anti-LGBTQ legislation
'Are gay leaders better? Of course we are!'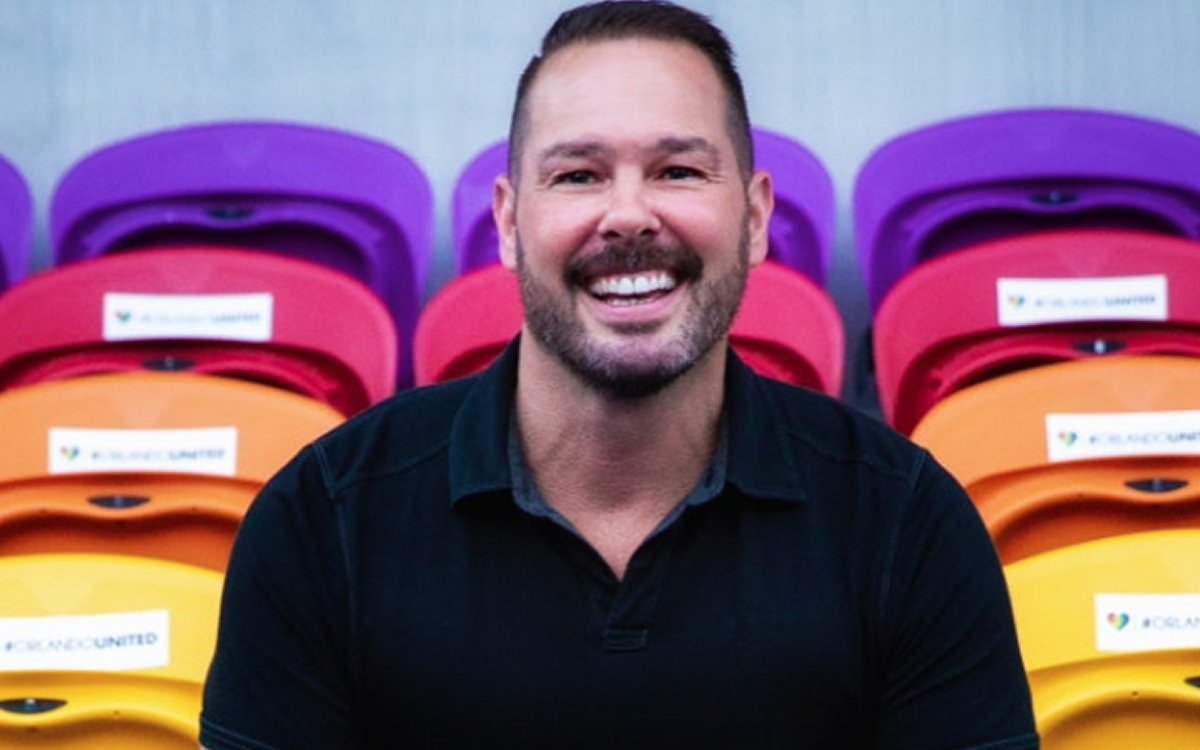 (Editor's note: This is the sixth in a multi-part summer series of stories taking a closer look at how a group of diverse LGBTQ entrepreneurs survived and thrived during the pandemic. The series is sponsored by the National LGBT Chamber of Commerce. All installments in the series are available on our website.)
Dr. Steven Yacovelli has spent more than 25 years delivering diversity training and developing LGBTQ leaders, but after surviving a nearly half-million-dollar loss during the pandemic, the "Pride Leadership" author and Top Dog Learning Group co-founder now fears legal repercussions from Florida's "Stop W.O.K.E. Act."
"I can go to a Florida-based client and potentially both the company and an employee could now sue me as the deliverer of the diversity training," Yacovelli told the Blade. "That training is now potentially illegal because of the Act."
Top Dog Learning Group is a diversity and inclusion consulting firm based in Orlando and has been delivering training, to include leadership development for the LGBTQ community since 2002, initially as Yacovelli's "side hustle" while a corporate executive.
At the height of the pandemic's economic crisis in 2020, Yacovelli said he lost nearly half of his business earnings in two weeks. They were able to survive and recover mostly due to his previous experience with Zoom and other virtual platforms.
But while they could increase their instructional capacity by going virtual, and grow through the crisis, the current impact of Florida's anti-LGBTQ legislation now threatens his small business.
In April, Florida Gov. Ron DeSantis (R), whom conservative voters in a 2024 presidential election straw poll chose over former President Donald Trump for the second year in a row, signed the new law he dubbed the "Stop Wrongs Against our Kids and Employees Act." It took effect July 1, despite First Amendment legal challenges.
The Florida law, though targeting the alleged teaching of critical race theory in public schools, also prohibits instruction that "compels" employees or students to believe privilege or oppression "is necessarily determined by his or her race, color, sex, or national origin."
This legislation, and the popularly known "Don't Say Gay" bill passed earlier, have served to decrease Florida's score on Out Leadership's 2022 State Level Business Climate Index, published amid a cascade of anti-LGBTQ measures pursued across state legislatures.
New York's LGBTQ business climate ranked No. 1 for the second year in a row, earning 93.67 out of 100 points, while South Carolina scored last with 33.63 points.
Florida, ranked 31, and Oklahoma, ranked 49, lost points for their "Don't Say Gay" bills among other anti-LGBTQ legislation.
"LGBTQ-friendly environments are business-friendly environments," Todd Sears, Out Leadership founder, told Axios in June.
Florida's "Stop W.O.K.E. Act" also vaguely states that an individual shouldn't feel "discomfort, guilt, anguish, or any other form of psychological distress" as a result of the training experience due to their "race, color, sex, or national origin."
This "discomfort" ban worries Yacovelli as he facilitates difficult conversations in a currently accepting community.
"I look at this as a taxpayer and as a human who lives here," he said. "But the good news is I live in a very inclusive community because of the Pulse [shooting] and for other reasons. We've got each others' back."
Yacovelli said his local government and representatives have been very supportive, "but it's hard."
The problem of capital
When he was between jobs in 2008, after having been terminated from an executive position without explanation (Florida is an "at-will" state meaning an employer can fire an employee without cause), he followed his friend and co-founder, Ruth Bond, to Paris where he had an epiphany.
In a Paris cafe, he saw a simple yet elegant logo for a French telecommunications company and decided it was time to design a similar, simple logo for his side-hustle and move it into full-time reality.
Years later, he now sees the comforting spirit of his "fur-daughter" Ella, a mini-Labradoodle who died from cancer last summer, in the friendly dog visitors encounter on the company's website.
"2008 wasn't a good time to start a business," Yacovelli said. "But there's never going to be a good time. You'll always find an excuse not to do this, but put that aside. Whether it's the economy, or your own limited finances – just put that all aside and just do it."
Access to startup capital has been a historic problem for minority business owners. The Federal Reserve Banks reported in 2018 that limited access to credit was a "compounding factor that hurts the underlying health of minority-owned small businesses."
Many, like Yacovelli, turn to personal funds to get their dream off the ground.
"I was self-funded," Yacovelli said. "But on the advice of a friend, I took out one small business loan. And thank goodness I did, because I had an established relationship with a bank when COVID hit."
During the height of the pandemic, the Paycheck Protection Program was administered through banks, limiting access to the survival funding, according to a Brookings Institute report in 2020.
Brookings also pointed out that closing the financial and other disparities could add millions more new small businesses to the U.S. economy and with them more jobs.
The National LGBTQ Chamber of Commerce states LGBTQ-owned businesses contribute more than $1 trillion to the U.S. economy, and in 2015 more than 900 certified LGBTQ-owned businesses created more than 33,000 jobs across the country.
But pandemic challenges continue.
"In the years since the start of the COVID-19 pandemic, LGBTQ+ businesses have faced severe financial challenges and many are at risk of permanently closing," Zack Hasychak, Director of Membership Outreach at the Human Rights Campaign, told the Blade.
To help LGBTQ businesses, HRC teamed up with Showtime to start their "Queer to Stay" initiative. For two years the partnership awarded funds to 30 LGBTQ-owned businesses across the country and has committed to supporting at least 25 businesses this round.
Applications are accepted via their website until Aug. 31.
The U.S. Small Business Administration is also shining a spotlight on LGBTQ-owned small businesses.
SBA Deputy Press Director Cecelia Taylor told the Blade about the Elevating Small Business webinar series in June that celebrated LGBTQ small businesses across the country while focusing on financial wellness and the importance of equity and opportunity.
"Equity is a top priority for me and for the Biden-Harris administration, and we believe all of America's entrepreneurs deserve a level playing field, regardless of zip code, race, gender, gender identity, or sexual orientation" said SBA Administrator Isabella Casillas Guzman in a Pride month statement.
"During COVID, we've learned how critical equitable access is to surviving and thriving, and at the SBA we are working to build better connections to and for the 1.4 million LGBTQ+ owned businesses in communities across this country," Guzman said.
Still, Yacovelli emphasized the need for the federal government to step up and make the process of procuring contracts easier.
"The federal government is the largest opportunity for contracts," he said. "Yet, the process to get them is insanely hard. That's a missed opportunity."
Yacovelli said it took a week away from his business to complete a "dissertation-type application" only to have it "go into a black hole" without any feedback.
"It was for diversity training for 911 operators," he said, stunned by why he didn't hear back about his application. "Coach me so I can make the application better. It took us a week to get this packet done, and that's a week I didn't work on any client proposals."
But despite challenges, Top Dog grew to exceed its pre-pandemic levels, making 2021 its best year to date.
"Are gay leaders better?" asked Yacovelli who literally wrote the book on "Pride Leadership," which has been widely praised as influential by multiple business and political leaders. "Of course we are! We're fabulous. I looked at my queer siblings in leadership roles and moving our community forward in areas of equality and justice. They exercise competencies all leaders could use."
"You play with a lot of leaders in my business," Yacovelli, a.k.a "The Gay Leadership Dude," told the Blade. "You start to see patterns of behaviors for leaders that are crushing it and those that are crashing and burning."
In his book "Pride Leadership," Yacovelli combines academic insights gained though his doctorate in education and his years as a corporate leader to identify six leadership traits: being authentic, leading with courage, having empathy, effective communication, building relationships, and influencing organizational culture.
Yacovelli pointed out that the LGBTQ coming out process also involves using these leadership skills to navigate that tough line between being authentic and respecting the feelings and experiences of others.
"You have those difficult conversations. You're having empathy for yourself and for the person receiving the news for the first time," he said. "That one experience can be translated into leadership courage, and those traits are the foundation for a really effective leader."
He stated that for trans siblings to live their lives authentically is powerful, and to channel that energy into a leadership role is using their "rainbow superpowers."
"And we freakin' need it now more than ever," he added.
From early struggles to Obama's White House, Black pansexual exec talks resilience, self-love
Williams's advice to entrepreneurs: Do the research and make it happen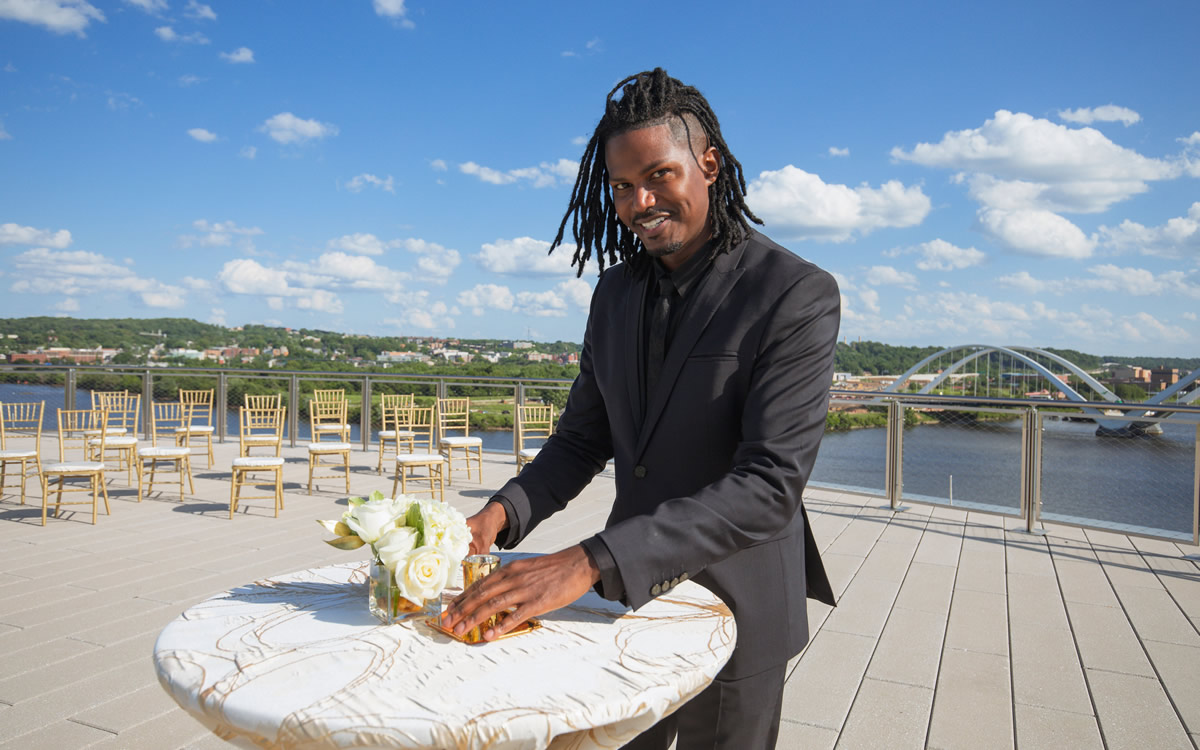 (Editor's note: This is the fifth in a multi-part summer series of stories taking a closer look at how a group of diverse LGBTQ entrepreneurs survived and thrived during the pandemic. The series is sponsored by the National LGBT Chamber of Commerce. All installments in the series are available on our website.)
The road to loving himself as a Black gay man hasn't been easy for a 38-year-old business owner who once worked as a communications expert for both the U.S. House of Representatives and former President Barack Obama.
When Marcus A. Williams, the principal consultant and owner of D.C.-based MW Consulting, sat as a child around the dinner table with his family, his mother told them their house was going to be foreclosed on.
Williams recalled how he admired the strength it took for her to calmly tell them where they each were going to stay until his parents figured things out. Fortunately, the phone rang with an 11th hour offer to rent a home they could move into immediately.
Williams never forgot that day at the table or that lesson in resilience.
"I grew up in a rough neighborhood with drug abuse and family members who were incarcerated," Williams said. "To be able to come from that environment and go to Penn State and then start a business — I take that as a sign to my community that it is possible."
As the owner of a full-service communications and Information Technology consulting firm generating gross revenues of $568,000 in 2019, Williams wants to show others that they can also beat the odds.
But a major problem historically for Black-owned businesses has been unequal access to capital.
According to the 2018 Small Business Credit survey, large banks approved about 60 percent of loan applications from white small business owners, but only 29 percent from those identifying as Black, meaning most Black small business owners who apply for loans are turned down.
This problem was exacerbated during the height of the pandemic when the Payroll Protection Program, intended to shore up small businesses through the crisis, was administered primarily through large banks that favored their preexisting clients, according to a 2020 report by the Brookings Institute.
When Williams applied for a PPP loan, he was turned down without a clear reason. He was fortunate he could turn to the National LGBTQ Chamber of Commerce (NGLCC), which helped him secure grants and access to other programs that helped his business survive the crisis.
Cision PR Newswire reported only 2.3 percent of employer businesses in the U.S. are Black owned, and in the IT field specifically, Black and Latinx workers remain underrepresented in tech jobs by nearly 50 percent, according to Brookings 2018 data.
Additionally, Black LGBTQ adults are more likely to experience economic insecurity than non-LGBTQ Black adults, according to a 2021 report from the Williams Institute. Research by the Movement Advancement Project from 2013 points to discrimination and unsafe schools as two factors contributing to the disparity.
Williams told the Blade how he came to deal with these challenges to business and to his identity in his own way.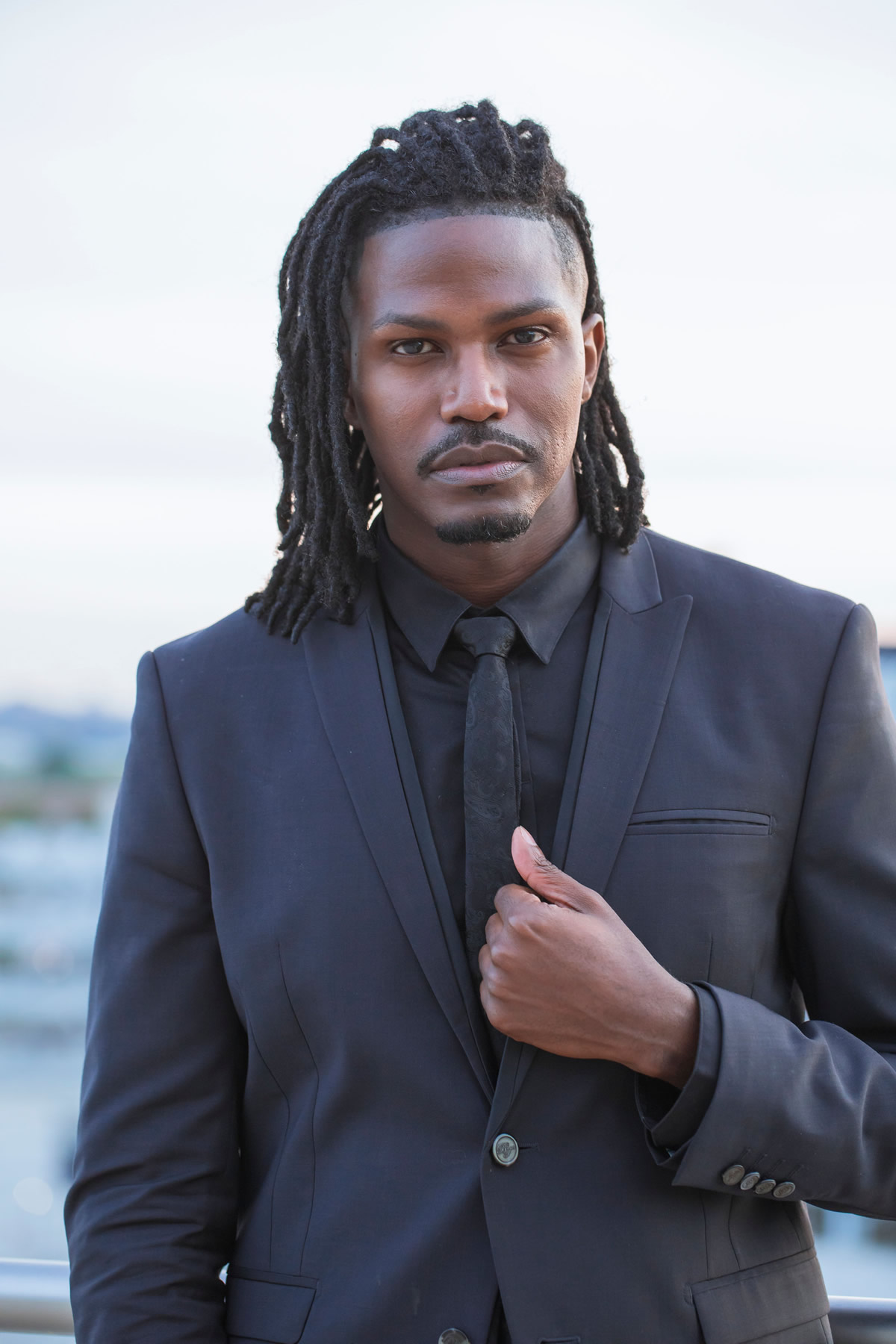 'I am Black first '
Williams recently returned from a trip to Ghana where he visited the former ports used during the transatlantic slave trade. The experience was a moving one for him, as well as insightful.
"We have been resilient since we were first captured and brought to this country to build it," he said, acknowledging the strength he saw in his mother and his grandparents. "Resilience is an innate survival trait for us. It is what is in our blood from our ancestors."
The experience gave him a deeper understanding of who he was and what that meant historically. He understood that for him and how he carried himself, his color was often the most visible part of him, and people made assumptions about him based on that.
"When I graduated [from Penn State], I wasn't getting any job offers," Williams said, adding he was excited to see friends do amazing things with their careers but wanted more for himself.
He finally landed an interview with the CW network in New York in his field of broadcast journalism. His mother wanted to lend her hard-earned money to help him attend the interview, but he wasn't certain this path was in his future.
After watching a friend die from cancer at age 28, he heard one of his "guardian angels" encouraging him to go for his dreams — a path that eventually led him to Obama's White House.
He called this his "Janet Jackson 'Control' moment," comparing the decision to take control of his future to the similar feelings the legendary pop star expressed in her breakthrough song and album. But he wants others to understand that path wasn't easy.
His business struggled financially during the pandemic crisis, and though he was reluctant to take on more debt, he applied for a PPP loan only to be rejected. He grew desperate.
The NGLCC helped him access grants and programs that helped keep his business afloat, but he also had to rely on his mother to help him pay his bills – something his pride usually didn't allow him to do, but he had to bend in order to survive.
"I am Black first and I want people in the Black community to see that and absorb it," Williams said. "I'm not an activist out here trying to be a role model, but I understand that the more visible you are, the more you can be an inspiration to others."
NGLCC 'helps me feel comfortable in my skin'
Years earlier, Williams had traveled to Paris for his 30th birthday. While he was there, he had another life-changing moment about realizing how far he'd come and appreciating the journey and his many blessings.
"When I said to love myself more, it made me emotional and I cried for 15 minutes," he said. "My soup got cold. They brought me a fresh one."
Some Black LGBTQ people have reported challenges with their intersectionality, which can lead to feelings of disconnection from larger communities. The Williams Institute found only 49 percent of Black LGBTQ adults felt socially connected to the larger Black community.
This is in contrast to 62 percent of Black LGB adults who reported feeling connected to the larger LGBTQ community (only 29 percent of Black trans adults felt connected to their larger gender communities).
These numbers indicate the difficulties Black LGBTQ people can face when navigating intersecting identities. And for Black gay business owners, this can be an additional layer to deal with on top of running a business during a crisis.
Despite these challenges, Williams said during that moment of reflection in Paris, he moved to a new place of self-acceptance. But he also admitted that "one cry doesn't make you feel like you're going to be out and proud," but it was a step in the right direction.
Williams said each time he told others about owning a certified LGBTQ business enterprise, it was a little easier, and he became a little more proud.
"The more I say 'yes, I am LGBTQ,' and the more I talk in focus groups about the challenges I face, the more it allows me to be more comfortable in my skin," he said. "It's not about if people can tell if you're in the community, it is about your comfort in being able to say it. And that is another thing about how beautiful this process about being a business owner has been."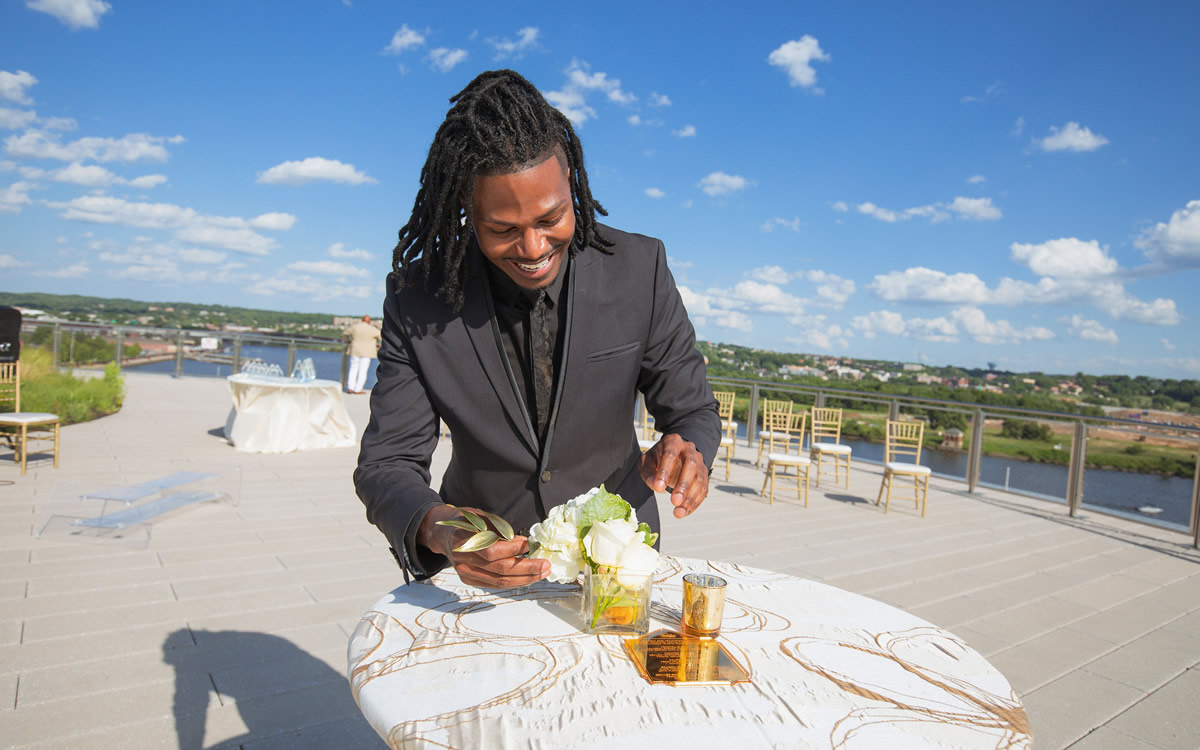 Williams is extremely grateful for the mentoring he has received from the NGLCC, particularly from its Community of Color initiative and from being part of the inaugural entrepreneurial cohort.
He said having such initiatives shows NGLCC understands that LGBTQ business owners of color have special needs within the larger community and often need a little more help.
"That understanding is a level of respect and cultural competency that I encourage others to implement," Williams said, for a moment donning his hat as a professional strategic communications consultant.
Williams' advice to Black LGBTQ youth and others who are interested in starting a business is to do the research and make it happen, and to see failures as opportunities to develop resilience.
He also advises businesses seeking long-term economic recovery to have both minority business owners and consumers at the table as part of the conversation.