November 20, 2019 at 6:52 pm EST | by Valerie Blake
Four Thanksgivings and a nap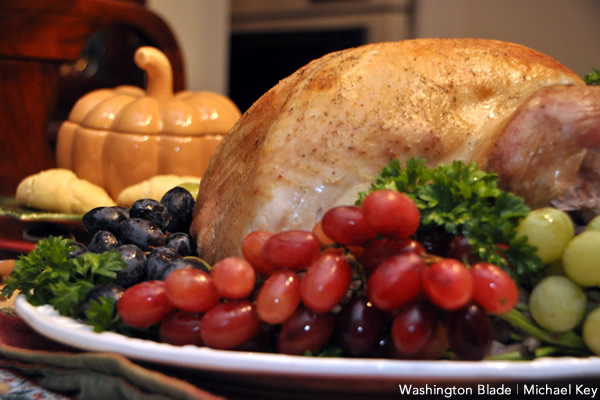 Whether you walk into Target, Walmart, or other favorite big box store, your eyes are already assaulted by tinsel, twinkle lights, artificial trees, and an occasional menorah. Retailers have gone straight from Halloween to Christmas without giving Thanksgiving much of a thought.
I remember my mother decorating our house for Thanksgiving. We had a cornucopia of gourds on the sideboard and a colorful wreath of Indian corn on the front door. The centerpiece for the dining table was a large turkey made of honeycomb tissue and the fireplace mantel held male and female pilgrims made from dried cornhusks.
We had candles that smelled of cloves and allspice and a roaring fire in the wood-burning fireplace. Mom and Dad would stuff the turkey in the morning and I would set the table with the "good" silver, china and crystal, an assortment of trivets for the upcoming hot dishes, and dinner napkins with fall scenes on them, while the aroma of a roasting bird would permeate the house until our mid-afternoon feast.
Dinner consisted of thinly carved turkey (Dad was a pro), homemade chestnut stuffing, mashed potatoes with gravy, and roasted turnip. There was also the obligatory green bean and mushroom soup casserole with French fried onions on top and a tomato aspic salad infused with celery.
The cranberry sauce was always jellied, allowing Mom to use her vintage, silver cranberry spoon (which wasn't vintage at the time) to slice and serve. Finally, there would be mince pie for Dad and mini Canadian butter tarts with currants for Mom and me.
Is it any wonder we all fell asleep in easy chairs during the late afternoon football game?
The first (and only) time I ever cooked a turkey myself was to impress a certain fella at Thanksgiving in 1983. It must have been pretty good because the relationship lasted three years longer than the turkey.
For the past five years I've had a standing Thanksgiving dinner-and-a-movie date with a dear friend. It had the effect of being an enjoyable afternoon while dispensing with the need to cook. Regrettably, my friend moved away earlier this year.
Don't get me wrong. I'm not fishing for an invitation. I have plenty to keep me busy.
Anyone who owns a home knows that one's possessions expand to fill available space. I recently read an article on the Apartment Therapy website entitled 54 Things Absolutely Nobody Should be Storing, Anywhere. I was chagrined to find that I have at least 18 of the things on the list in my garage. What a great incentive to determine which things can be donated to those less fortunate, sold for cash donations to charity, or simply thrown away. Here is what I've pinpointed for action.
We all like to believe we can diet our way back into clothing that's too small or hedge our bets by keeping a few pieces from larger sizes once worn, but most of the time they just hang in our closets taking up space, so they will be the first to go to a worthy association.
Next will be stray pieces of dishware and glassware, and cookware that dates back as far as 1975. Does anyone need a fondue set? I have two.
My cookbooks have been in boxes in the basement for four years. There may be a few favorite recipes in there somewhere, but the Internet can replace most of them.
Hitting the kitchen, I'll dispose of coupons that have expired or are for food that I rarely eat or am required to buy in bulk. Old take-out menus will also go, as well as a drawer full of packages of soy sauce, sweet and sour sauce, hot mustard and ketchup.
I haven't had a Christmas tree for 10 years, so two large tubs of decorations will be better off on someone else's tree. Likewise, any candles or aromatic oils that have scents I don't like may please another person or family more.
I'll take my five allowable boxes of paper to the Fort Totten Waste Transfer Station to be shredded on the first Saturday of December and every month thereafter, until they're all gone. I may even recycle some electronics that no longer function, as well as cords and chargers for devices I no longer own.
And finally, I'll attack number 54 on the Apartment Therapy list – empty boxes. Thankfully, I have a treasure trove of them to pack up and transport my unwanted and unneeded items to their ultimate destination – and leave them there.
Somewhere in the middle of all this, I'll grab a turkey sandwich and a glass of wine.
Valerie M. Blake is a licensed Associate Broker in D.C., Maryland and Virginia and Director of Education & Mentorship at RLAH Real Estate. Call or text her at 202-246-8602, email her via DCHomeQuest.com, or follow her on Facebook at TheRealst8ofAffairs.