November 21, 2019 at 12:40 am EST | by Chris Johnson
Booker breaks out in debate as moderate candidate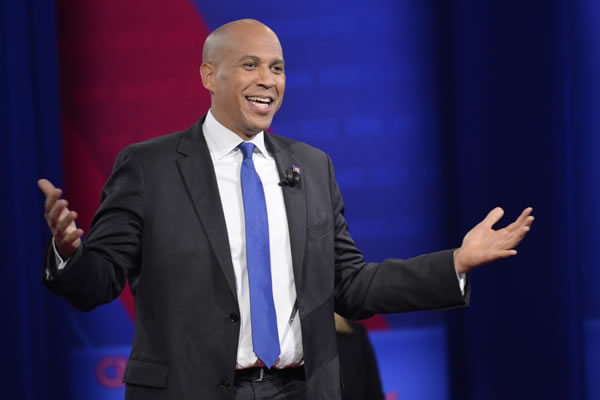 Sen. Cory Booker made himself known as the moderate candidate in the Democratic primary during the debate Wednesday night, delivering an impressive mixture of policy and sizzle amid wariness of a field drifting too far to the left.
Booker's most noted moment on stage in Atlanta was his last one — a closing statement that poetically drew on the civil rights movement and called for action.
"We all drink deeply from wells of freedom and liberty that we did not dig," Booker said. "This is the moment in America where we need a leader that can inspire us to get up and fight again, that we have truly a moral moment in America like it was back in 1965."
The New Jersey Democrat made his credentials known as a moderate in an exchange with Sen. Elizabeth Warren (D-Mass.), when he said he disagreed with her proposal for a wealth tax.
"I don't agree with the wealth tax the way that Elizabeth Warren puts it, but I agree we need to raise the estate tax," Booker said. "We need to tax capital gains as ordinary income. Real strategies will increase revenue. But here's the challenge, we as Democrats need to fight for a just taxation system. But as I travel around the country we Democrats also have to talk about how to grow wealth as well. When I stood in church recently and asked folks in a black church how many people here want to be entrepreneurs, half the church raised their hands."
The standout performance of Booker comes as a surprise with the meteoric in Iowa and New Hampshire polls of South Bend Mayor Pete Buttigieg, another candidate who's regarded as a moderate in the race.
Part of Booker's success in the night was his willingness to take on Buttigieg, who with a few exception went unscathed amid the expectations his fellow Democratic contenders would seek to take him down.
Booker drew a comparison between himself and Buttigieg by saying he "happen[s] to be other Rhodes scholar mayor on this stage," but said he has approached racial issues differently.
"What I learned there is that you have to be an executive that can heal," Booker said. "In my city, we have racial divides, we have geographic divides that go from wealth to people that are struggling. The success of my city was because we brought us all together and did things that other people said couldn't be done."
That was a knock at Buttigieg's handling this year of a racially charged incident in South Bend where a black police officer shot a black person.
For his part, Buttigieg best responses were weighted toward the end of the debate, especially when addressing the perception of lack of experience.
"The usual way of doing business in Washington is what looks small," Buttigieg said, "and I believe we need to send someone in who has a different kind of experience, the experience on the ground, solving problems, working side-by-side with neighbors on some of the toughest issues that come up in government, recognizing what is required of executive leadership, and bringing that to Washington."
When a scuffle ensued between him and Rep. Tulsi Gabbard after she accused him of not having the right experience to be president, Buttigieg would have none of it, saying he's glad he doesn't have the experience of meeting Bashar al-Assad.
In response to accusations he's not a diverse candidate, Buttigieg reminded his fellow candidates he's an openly gay candidate being taken seriously in a presidential race.
"I do have the experience of sometimes feeling like a stranger in my own country, turning on the news and seeing my own rights come up for debate, and seeing my rights expanded by a coalition of people like me and people not at all like me, working side-by-side, shoulder-to-shoulder, making it possible for me to be standing here wearing ring in a way that couldn't have happened two elections ago," Buttigieg said.