November 21, 2019 at 3:14 pm EST | by John Paul King
Dorian Wood tribute to Chavela set for US premiere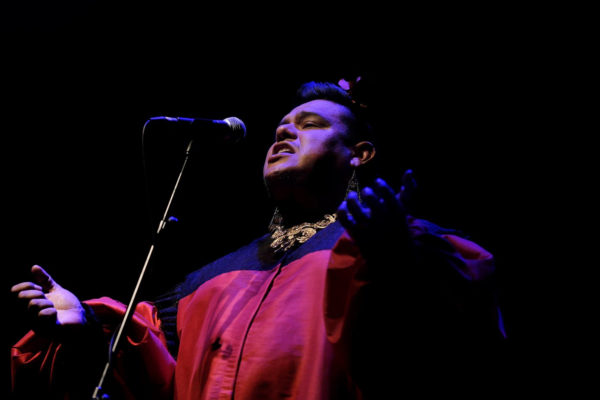 Iconoclastic non-binary musician Dorian Wood is taking the stage in Los Angeles this weekend for the US premiere of their new show, "Xavela Lux Aeterna," paying tribute to the legacy of queer Latinx musical legend Chavela Vargas.
2019 marks the 100th anniversary of the birth of the Mexican-Costa Rican singer, and Dorian's performance piece celebrates her musical beauty, passion and pain with an evening of songs she popularized, interwoven with original compositions and folk music from Costa Rica, and interpreted by Dorian's distinctly powerful voice.
Accompanying Dorian is a prestigious chamber orchestra under the direction of Spanish artist Alberto Montero, and acclaimed singers San Cha and Carmina Escobar.
According to publicity materials: "The road to Chavela – she of resplendent soul and a voice filled with fury, pain and ardor – has been both a Holy Grail and a journey of self-reflection. Between the similarities of both artists there is another journey; an exploration that puts in its trajectory the nakedness of the soul, the renunciation of homeland and the plea to a world that bears on its hands the blood of the marginalization of human beings. 'Xavela Lux Aeterna' is both a tribute and a dialogue between two creative souls passing through one single body.
Dorian says, "To those of us who have been pushed aside by society, Chavela is a divine presence. I feel an intense connection to this great artist, beginning with the common aspects we both possess in terms of sexuality, origin and date of birth, and culminating with the greatest defiance, which is to live as one desires, with scars and kisses and everything. With 'Xavela Lux Aeterna', I am interested in exploring her 'whys' with great respect and reverence, and I invite the audience to join me in this exploration."
Dorian premiered their tribute to Chavela in April 2019, at the prestigious Festival de Arte Sacro in Spain, and they toured Europe and Mexico through the summer and fall. This weekend's dates in Los Angeles mark the U.S. premiere of the performance.
"Xavela Lux Aeterna" will perform Friday and Saturday, Nov. 22-23, at REDCAT in downtown Los Angeles.