Margaret Hoover explains the GOP
Could Republican LGBTQ ally be a bridge to right-wing relatives?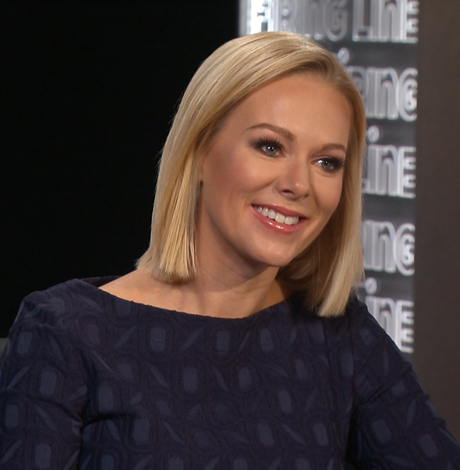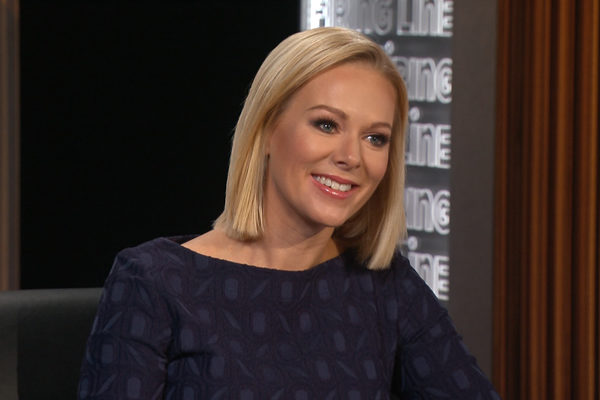 Overheard almost all the time everywhere: There has never been a more divisive time in American history than now. No caveats for the Civil War or the protests against the war in Vietnam.
But to those who are confused, frightened and angry about the House impeachment inquiry into President Donald J. Trump as the unraveling of democracy, today feels much like William Butler Yeats's poem "The Second Coming:" "Things fall apart; the centre cannot hold."
The poem was written in 1919 about the social and economic chaos that followed the end of World War I. It's an era Margaret Hoover, Republican political commentator, LGBTQ advocate and host of PBS' "Firing Line with Margaret Hoover," knows something about.
After World War I, Hoover's great grandfather Herbert Hoover, an engineer and businessman, was called upon by President Woodrow Wilson to lead the salvation of war-destroyed Europe through massive organized food relief efforts. The stock market crashed seven months after Hoover was sworn in as president of the United States and his term became historically associated with the beginning of the Great Depression.
Margaret Hoover believes that Herbert Hoover has been misunderstood over the years and in studying his life to provide his defense, she was deeply inculcated with the concept of "American Individualism," which she later turned into a book with the subtitle: "How a New Generation of Conservatives Can Save the Republican Party." The concept of individual freedom led her to the fight for LGBTQ equality and not giving up on the legacy of the GOP.
"I haven't left the party. I have too many elephants in my collection to give them all up. Some of them were my great-grandfathers. They are precious relics of a long history of principled men and women standing for values I still agree with — individualism tempered by communal responsibility, robust international leadership tempered by realism, economic libertarianism, suffrage, abolition," Hoover tells the Blade. 
"Conservatives missed the boat on modern civil rights, but Republicans helped pass both the Civil Right Act and Voting Rights Act," she notes, reflecting on an era of congressional bipartisanship. "When I feel utterly disconnected to the GOP, perspective is a useful tool. In 160-plus years, it's really the last 30 years that have elements that give me pause. And in a two-party system, neither party will ever have a monopoly on virtue. I'd rather help fight to make the GOP better where it's falling short."
Hoover thinks she and legendary attorney Ted Olson may be the only two well-known Republicans who came to their support for LGBTQ equality based on their deep belief in individual freedom, rather than in response to having an LGBTQ relative. Hoover served on the Advisory Council for the American Foundation for Equal Rights (AFER) when Olson successfully argued the federal case against Prop 8 with Democratic stalwart David Boies.
"The first time I remember thinking about LGBT equality was when I was 12, when a friend's dad came out," says Hoover, now 41. "It was the early '90s, and I just did the math then and decided that LGBT Americans shouldn't have to relate to their government any differently than straight Americans."   
Additionally, she says, "I always thought LGBT freedom was entirely consistent with the brand of Western Conservatism I grew up with in Colorado — the same western conservatism that was socially libertarian, that explained why Barry Goldwater's family brought Planned Parenthood to Arizona and why he famously remarked at the end of his life that you don't have to 'be straight to shoot straight,' regarding gays serving openly in the military." 
Hoover's not happy with how Trump has taken over the Republican Party.
"I think the president has abused the powers of his office and betrayed the trust the American people bestowed on him. I suspect he'll be impeached," Hoover says. "But one can't engage with the question of impeachment absent the reality that a House impeachment vote will likely lead to an acquittal by the Senate. Ultimately, I worry that our system has become so hyper-partisan that no one can think for themselves anymore because going against your party will cost you your job. There's no moral courage."
But while Hoover recognizes that arguing with staunch Trump supporters can be painful — such as at a holiday meal — she urges compassion to avoid severing connections that could be repaired in time.
"In dealing with anyone you love in politics — and I'd be careful not to call Trump supporter's cultists — my mom and dad and family aren't cultists, too many smart people have fallen into an 'us against them' that is tearing us apart. So check yourself," she says. "When dealing with anyone I love in politics, I think of my friend Jean Safer's book — "I Love You but I Hate Your Politics" — and I just focus on the love part. 
"For the politics," she continues, "rededicate your personal efforts to changing your elected leader or the policies you care about or the president. But the people in our lives, and the love in our lives, are the relationships that make or break us as happy humans thriving in the world. When the relationships in our lives are off, we're off.  So, you have to separate how you love, and how you think about politics."   
In addition to AFER, Hoover has put her personal efforts toward the American Unity Fund – her non-profit "dedicated to advancing the cause of freedom for LGBTQ Americans by making the conservative case that freedom truly means freedom for everyone."
This is not just a nice note on the resume. Hoover advocates for the cause of LGBTQ Americans everywhere, including during a June 2018 appearance on "The Late Show with Stephen Colbert" pitching her new "Firing Line" show.
Colbert — who became famous among conservatives during his Comedy Central show "The Colbert Report" (2005-2014) — watched the original "Firing Line" as a kid and marveled at creator William F. Buckley, the father of conservativism and a TV star, and for 33 years, the longest running host of a TV show.
After noting that she would not even try to be William F. Buckley, Hoover suddenly digressed into an LGBTQ tangent when asked if she was a conservative.
"I consider myself a conservative to a certain extent. I moonlight as an LGBT advocate. I run an LGBT advocacy organization (big applause) that works with Republicans," Hoover said. "We make the case that freedom means freedom for everyone. And where that really lends itself at this moment in time is to secure full civil rights protections for LGBT Americans because there are still 28 states where you can be fired for being gay! All these things that Republicans don't know — and those states are mostly red states so you need Republicans to engage Republicans on that front. There are many people who are socially conservative who would not say I'm conservative because of those views."
On "Firing Line," Hoover has a polite, civil "contest of ideas" for roughly 30 minutes with one guest to explore a subject in depth. Some interviews broke news such as her interview with Rep. Alexandria Ocasio-Cortez on Israel and the Palestinians and former New Jersey Gov. Chris Christie on prosecuting Jared Kushner's father. Others are subjects that need further investigation, such as discussing cyber security for the next elections with Sen. Mark Warner.
Other interviews are both professional and personal, such as her interview with friend Meghan McCain and Cindy McCain after the one-year anniversary of Sen. John McCain's death.
"I'm a huge fan of 'Firing Line' and grew up watching it," said Meghan McCain, another LGBTQ ally. "It's such an iconic brand."
Hoover surprised them with a 1998 clip of John McCain on the original "Firing Line" with Buckley. Meghan, then 13, had a crush on Leonardo DiCaprio and her father was concerned she would take up smoking after watching DiCaprio smoke on film. She didn't.
Hoover noted how Democrats are now mentioning McCain to signal bipartisanship.
"I think my husband would have a real chuckle over it, I really do," said Cindy McCain, who noted how close McCain was with Democratic icon, the late Sen. Ted Kennedy.
Meghan had a different view. "I remember people taking real low blows and low shots at him — and I also appreciate people respecting and bringing him up. But I also think that maybe if you hadn't demonized him so much and demonized Mitt Romney so much, maybe it wouldn't have bred the feeding ground for Trump because Trump didn't just come," she said.
John McCain was "always looking to reach across the aisle, to work alongside — he was a truly decent, wonderful man. I'm not just saying that because he's my father," said Meghan. "And now we have someone who has, I believe, no character, no discipline, has no interest in working with the other side, and I think that it was the beginning of it, if we look back now in the past 10 years."
When Trump speaks ill of her father, "I go crazy. I turn into the She-Hulk," Meghan said. "I get very emotional and very angry, and normally have to call you (Hoover). Or my husband."
Meghan, who identifies as a conservative, not a Republican, told Hoover that her father insisted that she join ABC's "The View."
"I was called a mushy RINO (Republican In Name Only) for most of my career," she says. "All of a sudden, I'm like the queen conservative and no one's more surprised about it than I am."
She's worried about the party, post-Trump.
"Whatever you want to say about the left or people like AOC, they do a really good job of speaking to young people," Meghan said. "And I think, for us — and I always laugh — Young Republican groups start at 40. I think post-Trump America, for the party, is gonna be a very, very dark place to rebuild."
How millennials approach politics is of concern to Hoover, too. "Here are these authoritarian regimes that are gaining in ascendance and credibility and you ask millennials now whether they think it's imperative that you live in a liberal democracy – only 30 percent of them agree. So, I do think we need to make these arguments anew," she told Colbert.
But, he retorted, do they only hear the word "liberal" and not know that the base of the idea of liberal democracy is a free democracy?
"What I think we need to do both on the show and generally — and this is probably the largest contest of my life — is make the case for the ideas behind the Bill of Rights, for free speech, for freedom, for individual freedom," Hoover said. "I think that is the major contest of our moment."
But, Hoover said, "the party has been Trumpified. The conservative movement is more a conservative populism that has very little to do with the tenants and pillars that Buckley put together and that (Ronald) Reagan put together." She has more in common "with George Will and (the late) Charles Krauthammer and the folks who have a real problem with the president and his approach."
Hoover notes that her "Firing Line" style is very different from the erudite and elitist William F. Buckley.
"Buckley was trained in Oxford style debate performance in an era where formality reigned supreme and WASPs ruled the elites," Hoover tells the Blade. "I'm a product of a cultural moment where reality TV and millennials yearn for authenticity in a more diverse country that's known what conservatives are for decades, thanks to Buckley.  But his tradition — the legacy of engaging someone in a long form exchange of ideas, to understand how they think and what they think and what ideas they think will solve our current problems — has hit a nerve.  What's old is new again."
Hoover also believes that "Buckley unfairly gets cast as a homophobe, which I think is a myth, because of one terrible and over-reported moment with (gay) Gore Vidal on television in 1968."
The two men did not like each other but were under contract with ABC to do a debate, during which Vidal called Buckley a "crypto-Nazi" and Buckley called Vidal a "queer." Michael Lind, an intellectual who knew them both, wrote in Politico in 2015 that "The Best of Enemies" documentary about the feud gets "just about everything" wrong, "but especially the battle between left and right."
As it turned out, Buckley actually had gay friends, including his National Review best friend, Marvin Liebman, also a co-founder of the conservative movement, who came out in a moving letter published in the July 9, 1990 issue of the National Review.
"I am almost 67 years old. For more than half of my lifetime I have been engaged in, and indeed helped to organize and maintain, the conservative and anti-Communist cause," Liebman wrote. "All the time I labored in the conservative vineyard, I was gay."
Buckley's editor in chief response to Liebman, his "brother in combat" and "dear friend," was formal but written with "affection and respect" for Liebman. Buckley wrote that he understood the "pain" inflicted by society on gays "sometimes unintentionally, sometimes sadistically. It is wholesome that we should be reproached for causing that pain." He also promised that National Review "will not be scarred by thoughtless gay-bashing."
But Buckley added that his "Judeo-Christian tradition" considers homosexuality "unnatural, whatever its etiology."
Liebman was amused, the Washington Post reported at the time. "He's been my best and closest friend. That's just the way he is," Liebman said. "I don't feel remotely put down by it. You know, he has these crazy ideas — Judeo-Christian bull. But he's a nice man."
Interestingly, Buckley's older brother Jim, a former U.S. senator from New York for whom Liebman had fundraised, picked up a hefty dinner check, then raised his glass in a toast. "'This is my way,' he said with the characteristic Buckley grin, 'of saluting an act of courage,'" the Washington Post reported July 9, 1990.
In another act of courage, Sean Buckley, Jim Buckley's college-age grandson, came out as gay on April 26, 2015 in The Daily Beast, which at the time was run by Hoover's husband, John Avlon. The couple met during former New York City Mayor Rudolph W. Giuliani's 2008 presidential bid; they both subsequently became CNN contributors.
But what Liebman described as anti-gay "Judeo-Christian bull" is still around and still a GOP obsession, now termed "religious liberty." Hoover believes a congressional Republican strategy is needed to secure LGBTQ equality.
"I support full political freedom for LGBT Americans and a fully comprehensive bill to secure LGBT freedom in federal law," Hoover tells the Blade. "I'm unconvinced the Equality Act is a realistic path toward bipartisan passage of a bill that will do this. At the same time, I reject the notion that religious liberty is inherently at odds with LGBT freedom.
"I've been working for three years on an alternative to the Equality Act that will become public soon, that takes a page out of the historic LGBT nondiscrimination law in Utah where the Church of Jesus Christ of Latter-day Saints supported protections in employment and housing for gay and transgender people in the state—the most religious state in America!" she says. "By taking the concerns of religious leaders sincerely, we can strike a balance that fully protects LGBT Americans from discrimination in employment, housing, public accommodations and beyond, and earn the necessary bipartisan support for achieving these protections nationwide in the near-term."
Right now, Hoover hopes, "Firing Line with Margaret Hoover" illustrates how intellect, compassion and civility can set an example to make bipartisan progress.
Daisy Edgar-Jones knows why 'the Crawdads sing'
Actress on process, perfecting a southern accent, and her queer following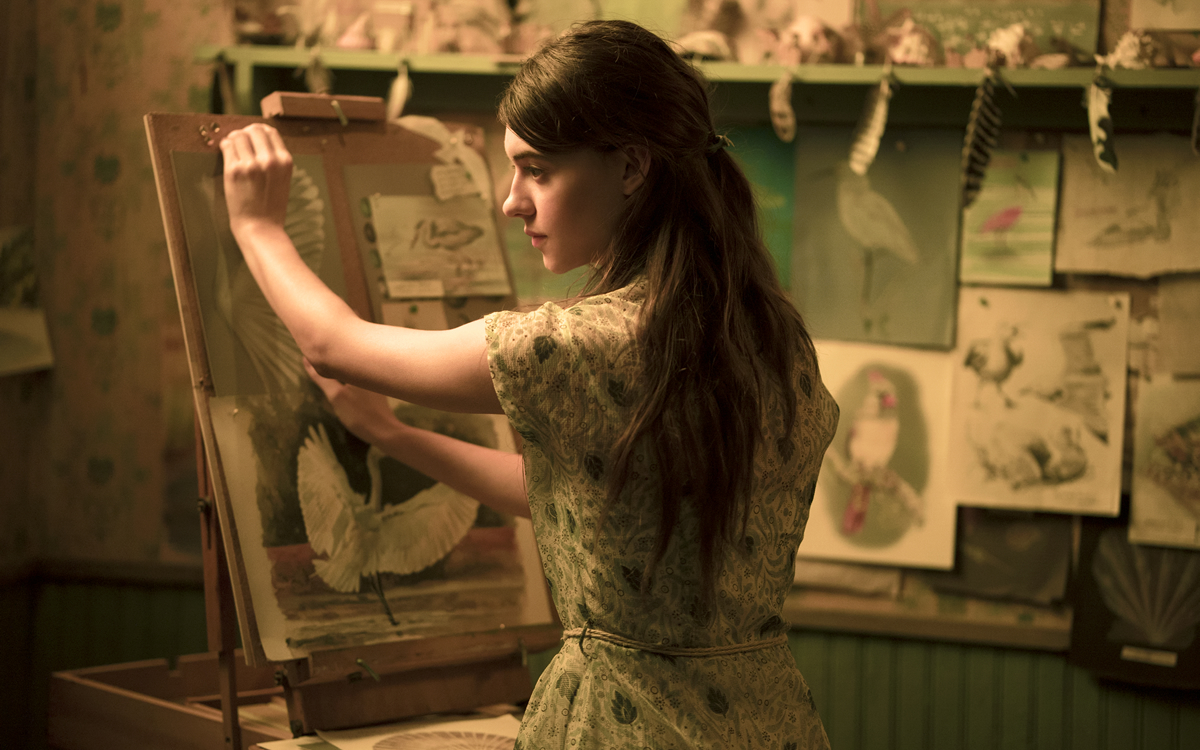 Daisy Edgar-Jones is an actor whose career is blossoming like her namesake. In recent years, she seems to be everywhere. LGBTQ viewers may recognize Edgar-Jones from her role as Delia Rawson in the recently canceled queer HBO series "Gentleman Jack." She also played memorable parts in a pair of popular Hulu series, "Normal People" and "Under the Banner of Heaven." Earlier this year, Edgar-Jones was seen as Noa in the black comedy/horror flick "Fresh" alongside Sebastian Stan.
With her new movie, "Where the Crawdads Sing" (Sony/Columbia), she officially becomes a lead actress. Based on Delia Owens' popular book club title of the same name, the movie spans a considerable period of time, part murder mystery, part courtroom drama. She was kind enough to answer a few questions for the Blade.
BLADE: Daisy, had you read Delia Owens's novel "Where the Crawdads Sing" before signing on to play Kya?
DAISY EDGAR-JONES: I read it during my audition process, as I was auditioning for the part. So, the two went hand in hand.
BLADE: What was it about the character of Kya that appealed to you as an actress?
EDGAR-JONES: There was so much about her that appealed to me. I think the fact that she is a very complicated woman. She's a mixture of things. She's gentle and she's curious. She's strong and she's resilient. She felt like a real person. I love real character studies and it felt like a character I haven't had a chance to delve into. It felt different from anyone I've played before. Her resilience was one that I really admired. So, I really wanted to spend some time with her.
BLADE: While Kya is in jail, accused of killing the character Chase, she is visited by a cat in her cell. Are you a cat person or do you prefer dogs?
EDGAR-JONES: I like both! I think I like the fact that dogs unconditionally love you. While a cat's love can feel a bit conditional. I do think both are very cute. Probably, if I had to choose, it would be dogs.
BLADE: I'm a dog person, so I'm glad you said that.
EDGAR-JONES: [Laughs]
BLADE: Kya lives on the marsh and spends a lot of time on and in the water. Are you a swimmer or do you prefer to be on dry land?
EDGAR-JONES: I like swimming, I do. I grew up swimming a lot. If I'm ever on holidays, I like it to be by the sea or by a nice pool.
BLADE: Kya is also a gifted artist, and it is the thing that brings her great joy. Do you draw or paint?
EDGAR-JONES: I always doodle. I'm an avid doodler. I do love to draw and paint. I loved it at school. I wouldn't say I was anywhere near as skilled as Kya. But I do love drawing if I get the chance to do it.
BLADE: Kya was born and raised in North Carolina. What can you tell me about your process when it comes to doing a southern accent or an American accent in general?
EDGAR-JONES: It's obviously quite different from mine. I've been lucky that I've spent a lot of time working on various accents for different parts for a few years now, so I feel like I'm developed an ear for, I guess, the difference in tone and vowel sounds [laughs]. When it came to this, it was really important to get it right, of course. Kya has a very lyrical, gentle voice, which I think that North Carolina kind of sound really helped me to access. I worked with a brilliant accent coach who helped me out and I just listened and listened.
BLADE: While I was watching "Where the Crawdads Sing" I thought about how Kya could easily be a character from the LGBTQ community because she is considered an outsider, is shunned and ridiculed, and experiences physical and emotional harm. Do you also see the parallels?
EDGAR-JONES: I certainly do. I think that aspect of being an outsider is there, and this film does a really good job of showing how important it is to be kind to everyone. I think this film celebrates the goodness you can give to each other if you choose to be kind. Yes, I definitely see the parallels.
BLADE: Do you have an awareness of an LGBTQ following for your acting career?
EDGAR-JONES: I tend to stay off social media and am honestly not really aware of who follows me, but I do really hope the projects I've worked on resonate with everyone.
BLADE: Are there any upcoming acting projects that you'd like to mention?
EDGAR-JONES: None that I can talk of quite yet. But there are a few things that are coming up next year, so I'm really excited.
CAMP Rehoboth's president talks pandemic, planning, and the future
Wesley Combs marks six months in new role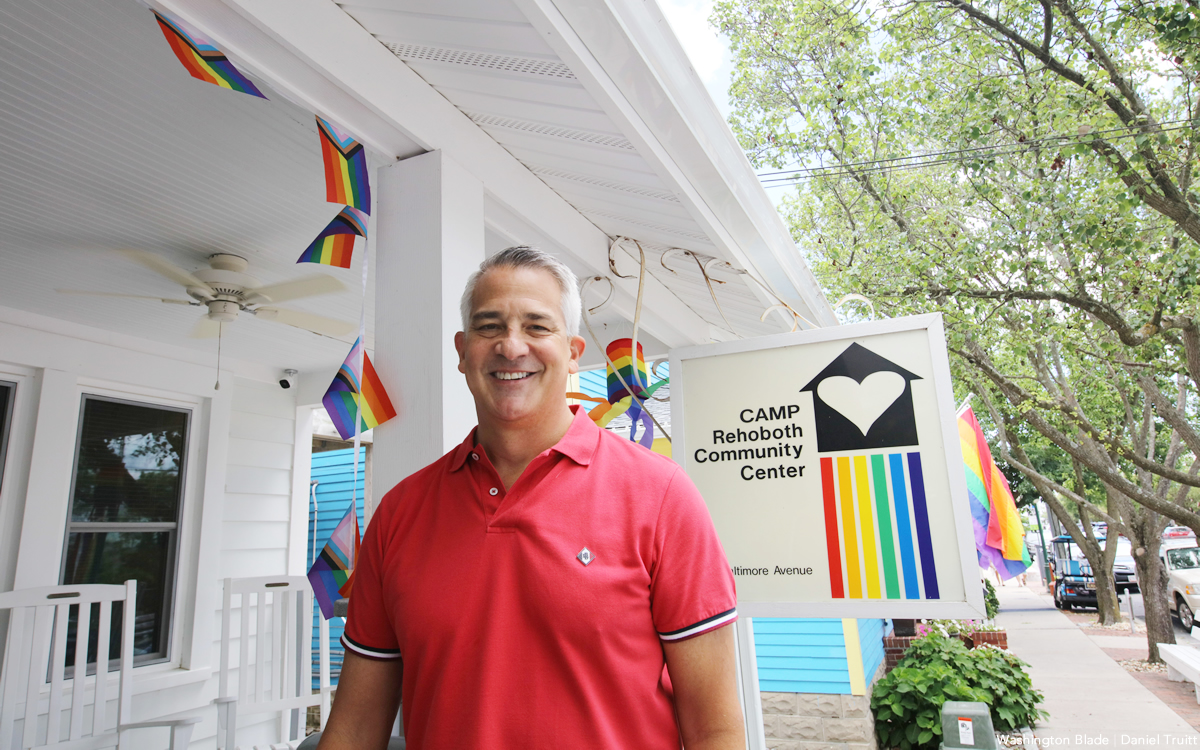 June marks half a year since Wesley Combs stepped into his role as president of CAMP Rehoboth. In a conversation with the Blade, Combs recounted his first six months in the position — a time he said was characterized by transition and learning.
Since 1991, CAMP Rehoboth has worked to develop programming "inclusive of all sexual orientations and gender identities" in the Rehoboth Beach, Del. area, according to the nonprofit's website. As president, Combs oversees the organization's board of directors and executive director, helping determine areas of focus and ensure programming meets community needs.
For Combs, his more than three decades of involvement with CAMP Rehoboth have shaped the course of his life. In the summer of 1989 — just before the organization's creation — he met his now-husband, who was then living in a beach house with Steve Elkins and Murray Archibald, CAMP Rehoboth's founders.
Since then, he has served as a financial supporter of the organization, noting that it has been crucial to fostering understanding that works against an "undercurrent of anti-LGBTQ sentiment" in Rehoboth Beach's history that has, at times, propagated violence against LGBTQ community members.
In 2019, after Elkins passed away, Combs was called upon by CAMP Rehoboth's Board of Directors to serve on a search committee for the organization's next executive director. Later that year, he was invited to become a board member and, this past November, was elected president.
Combs noted that CAMP Rehoboth is also still recovering from the pandemic, and is working to restart programming paused in the switch to remote operations. In his first six months, he has sought to ensure that people feel "comfortable" visiting and engaging with CAMP Rehoboth again, and wants to ensure all community members can access its programming, including those from rural parts of Delaware and those without a means of getting downtown.
Still, Combs's first six months were not without unexpected turns: On May 31, David Mariner stepped down from his role as CAMP Rehoboth executive director, necessitating a search for his replacement. Combs noted that he would help facilitate the search for an interim director to serve for the remainder of the year and ensure that there is "a stable transition of power." CAMP Rehoboth last week announced it has named Lisa Evans to the interim director role.
Chris Beagle, whose term as president of CAMP Rehoboth preceded Combs's own, noted that the experience of participating in a search committee with the organization will "better enable him to lead the process this time."
Before completing his term, Beagle helped prepare Combs for the new role, noting that the "combination of his professional background, his executive leadership (and) his passion for the organization" make Combs a strong president. Regarding the results of the election, "I was extremely confident, and I remain extremely confident," Beagle said.
Bob Witeck, a pioneer in LGBTQ marketing and communications, has known Combs for nearly four decades. The two founded a public relations firm together in 1993 and went on to work together for 20 years, with clients ranging from major businesses like Ford Motor Company to celebrities including Chaz Bono and Christopher Reeve. According to Witeck, Combs's work in the firm is a testament to his commitment to LGBTQ advocacy.
"Our firm was the first founded primarily to work on issues specific to LGBTQ identities, because we wanted to counsel corporations about their marketing and media strategies and working in the LGBTQ market," he explained. By helping develop communications strategies inclusive of those with LGBTQ identities, Combs established a background of LGBTQ advocacy that truly "made a mark," Witeck said.
Witeck emphasized that, in his new position, Combs brings both business experience and a renewed focus on historically underrepresented in LGBTQ advocacy — including people with disabilities, trans people and people of color.
Looking to the rest of the year, CAMP Rehoboth hopes to host a larger-scale event during Labor Day weekend. In addition, the organization will revisit its strategic plan — first developed in 2019 but delayed due to the pandemic — and ensure it still meets the needs of the local community, Combs said. He added that he intends to reexamine the plan and other programming to ensure inclusivity for trans community members.
"CAMP Rehoboth continues to be a vital resource in the community," he said. "The focus for the next two years is to make sure we're doing and delivering services that meet the needs of everyone in our community."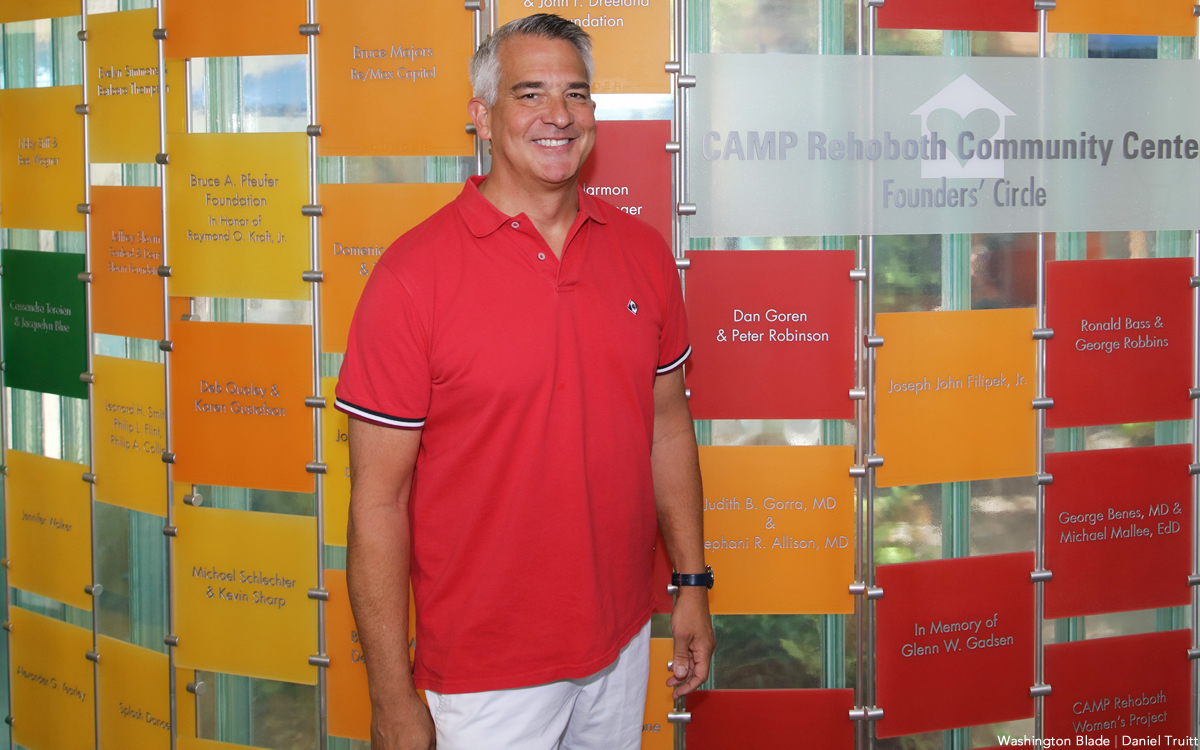 Melissa Etheridge shares Q&A in advance of April 26 Tysons tour stop
Rock pioneer finds inspiration in the past — from revisiting old demos to reconnecting with celeb pals like Ellen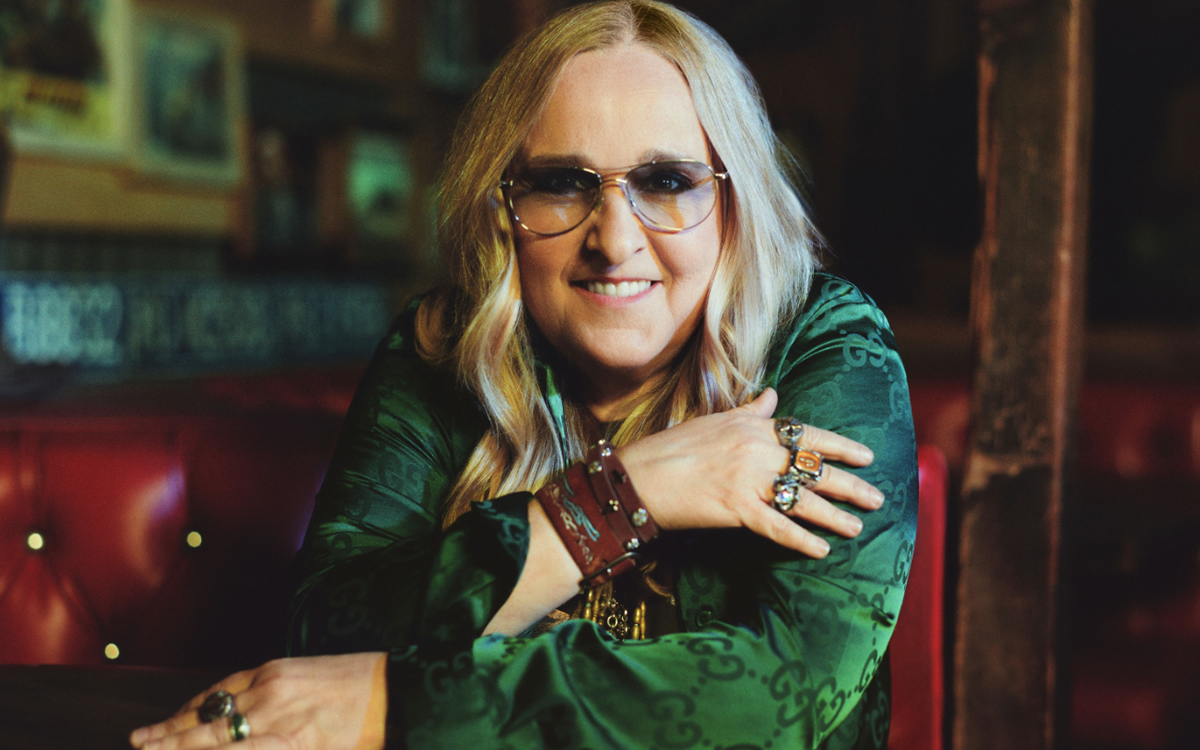 Melissa Etheridge
'One Way Out Tour'
Tuesday, April 26
Capital One Hall
7750 Capital One Tower Rd.
Tysons, VA
7:30 p.m.
Tickets: $55
ticketmaster.com
capitalonehall.com
melissaetheridge.com
We caught up with rock legend Melissa Etheridge on April 8 by phone from Snoqualmie, Wash. — it's about 26 miles east of Seattle —where she was playing the Snoqualmie Casino on her "One Way Out Tour," which plays our region on Tuesday, April 26.
It's named after her latest album, released last fall, which found Etheridge, who's been out since '93, revisiting demos from early in her career.
Her comments have been slightly edited for length.
WASHINGTON BLADE: "One Way Out" sounds like such a cool project. Was it all re-recorded stuff of old songs or were some of those vintage takes on the record as well?
MELISSA ETHERIDGE: The last two songs, the live songs, were from where? From 2002? OK, but the other songs were newly recorded.
BLADE: And how many of them did you remember?
ETHERIDGE: You know, when I found them again, they all came back very clearly. And I was like, "Oh, this is — why did I throw that away? That's weird." And I really enjoyed, you know, hearing them, they were just old demos. I'd never done full-blown recordings. So I thought, "This is great, I want to do these songs."
BLADE: We have a relatively new venue you're going to be playing, Capital One Hall. I've only been there once. You excited?
ETHERIDGE: Yeah, it's always fun. I love the D.C.-area crowd. It's just really, really nice.
BLADE: And how do you decide where you'll be? Or do you have any say in it?
ETHERIDGE: Well, it's not necessarily me. I do have a say in it, in what I want the whole tour to look like. But it is really up to William Morris, my agent, to find the right venue that understands what we need and the kind of atmosphere we're looking for that and the amount of people and, you know, that sort of thing.
BLADE: Tell me about Etheridge TV. I just wonder, when we were in that acute phase of the pandemic, wasn't it even remotely tempting to you to just take a break?
ETHERIDGE: No, because since I was 12 years old, I sang all the time for people, like five days a week and it's just been what I do. And so when it was like, I was looking at a massive, cavernous amount of time that I was going to be home, I still needed a way to pay the bills, so we put our heads together — I've got one of the greatest television minds with me, you know, my wife (TV producer Linda Wallem), so I had the space and I had the equipment, and I was like, "Let's do it." And it was really fun to learn new things. It was fun to learn about computers and sound and streaming and lights and cameras and all these things that I didn't know. … I feel a little smarter.
BLADE: When did you start back on the road?
ETHERIDGE: We went out last fall. We went out September, October, right around there. And you know, it was a little different, Now things are things are loosening up … but some places still require masks. But people are starting to get back out and it feels good. It's not the overwhelming thing that it was a few months ago.
BLADE: And what was it like being on 'Ellen' again for her final season?
ETHERIDGE: Oh, I love her. She's such an old friend. You know, I say that about myself, too. (chuckles) But, you know, she's just a relationship in my life that I have treasured. We've watched each other grow and the changes we've made and the successes and what we've gone through and I love that she had me on and just it was just a really — she's a dear friend. And she showed an old photo there, and we both said, "Oh, that was before we were so busy."
BLADE: Do you talk to her often?
ETHERIDGE: I would say we see each other socially once or twice a year. It just seemed like once we started having children, all my friends from my 20s and 30s when we were not as busy — it just gets harder to stay in touch and life got crazy.
BLADE: So when you were hanging out back in the day with Ellen and Rosie and everybody, how was it that Brad Pitt was in that group too?
ETHERIDGE: Well, my girlfriend (Julie Cypher) had been married to Lou Diamond Phillips and we were all very good friends with Dermot Mulroney and Catherine Keener and Catherine Keener did a movie with Brad, like a movie nobody saw, like Johnny Dangerously or something (1991's "Johnny Suede"), some really weird movie. So I met Brad before he was terribly famous. He was a part of that group. There was a whole group of all of us that just hung out, and we were all totally different. We were just like young, hungry Hollywood and we'd talk about, "Oh, I had this audition," or "I went and did this," and we were just all trying to make it in that town. So we'd get together and have fun.
BLADE: I was so terribly sorry to hear about Beckett (Etheridge's son, who died in 2020 at age 21 after struggling with opioid addiction). How are you and the rest of the family, especially (Beckett's twin) Bailey, dealing with it now?
ETHERIDGE: There are many, many families like us that deal with a loss like that. It just blows a family sideways. But we have a deep love and connection, all of us. We all knew he had a problem and it's a problem that starts way before he actually passes, so it was not a surprise. So now we're just living with the missing aspect. You try not to think about what could have been and you try to think about him in a happier place and that he's out of pain, so that helps us.
BLADE: Had he and Bailey been as close in recent years?
ETHERIDGE: They were very close, but in the last couple of years as he made worse and worse choices, we couldn't support that, so they were less close, but of course in her heart, it was her brother, he was very dear to her.
BLADE: Did you watch the Grammys? Was there anybody you were particularly rooting for?
ETHERIDGE: I watched bits and pieces of it. I had a show that night, so I didn't get to see the main thing, but I have seen pieces and I just love the crazy diversity and you know, the TikTok people winning stuff, it's like, "Wow, this is so not the Grammys I remember from the '80s," but that was what, 30 years ago? So it's all good.
BLADE: You were such a perennial favorite back in the day in the best rock female category. Were you pissed when they eliminated it?
ETHERIDGE: It's sad because I felt like the criteria they were using to judge what is female rock, they just really dropped the ball. I still think there are some amazing musicians that could be considered, you know, rock, but it feels like we're having a hard time even defining what rock and roll is now anyway. There's a whole bunch of strong women out there playing, rocking, you know, playing guitar, being excellent musicians and songwriters. If you can't call it best rock female, OK, call it something else.
BLADE: I remember so vividly when you were on the Grammys in 2005, in the midst of chemo, when you sang "Piece of My Heart." I remember you saying you were wondering how people would react to seeing you bald. Having been through that, any thoughts on the Will/Jada Oscars situation since her baldness, too, was due to a medical condition?
ETHERIDGE: You know, it's funny, I did feel a little remembrance of (thinking), "I just hope people don't make fun of me." That was kind of the first thing because to go out there bald, that was so different for me as an artist whose hair had kind of defined her. I was thinking, "How am I gonna rock without my hair?" I thought people might make fun of me, but I got over that. I just thought, "Well, if somebody makes fun of me, that just makes them look bad." So I just walked through it. And you know, it's hard to draw the line between what's funny and what's painful and how to look at something. I feel for all parties involved.
BLADE: When you go on these cruises, do fans give you some space or do they swarm around the minute you walk out? Is it even enjoyable for you?
ETHERIDGE: Yeah, it is. You know, we did our last one, now we're doing Etheridge Island, we now have a destination in Mexico, outside of Cancun, it's just this island that we're going to that is really fantastic. But I do I make myself available, I don't run away. When I have to be somewhere, I have a great company we work with called Sixthman that knows how to get me from point A to point B without being bogged down. But I do my make myself available. Everyone gets a picture with me. It's my work, but I love it. I try to make myself available but also have some time just for myself too.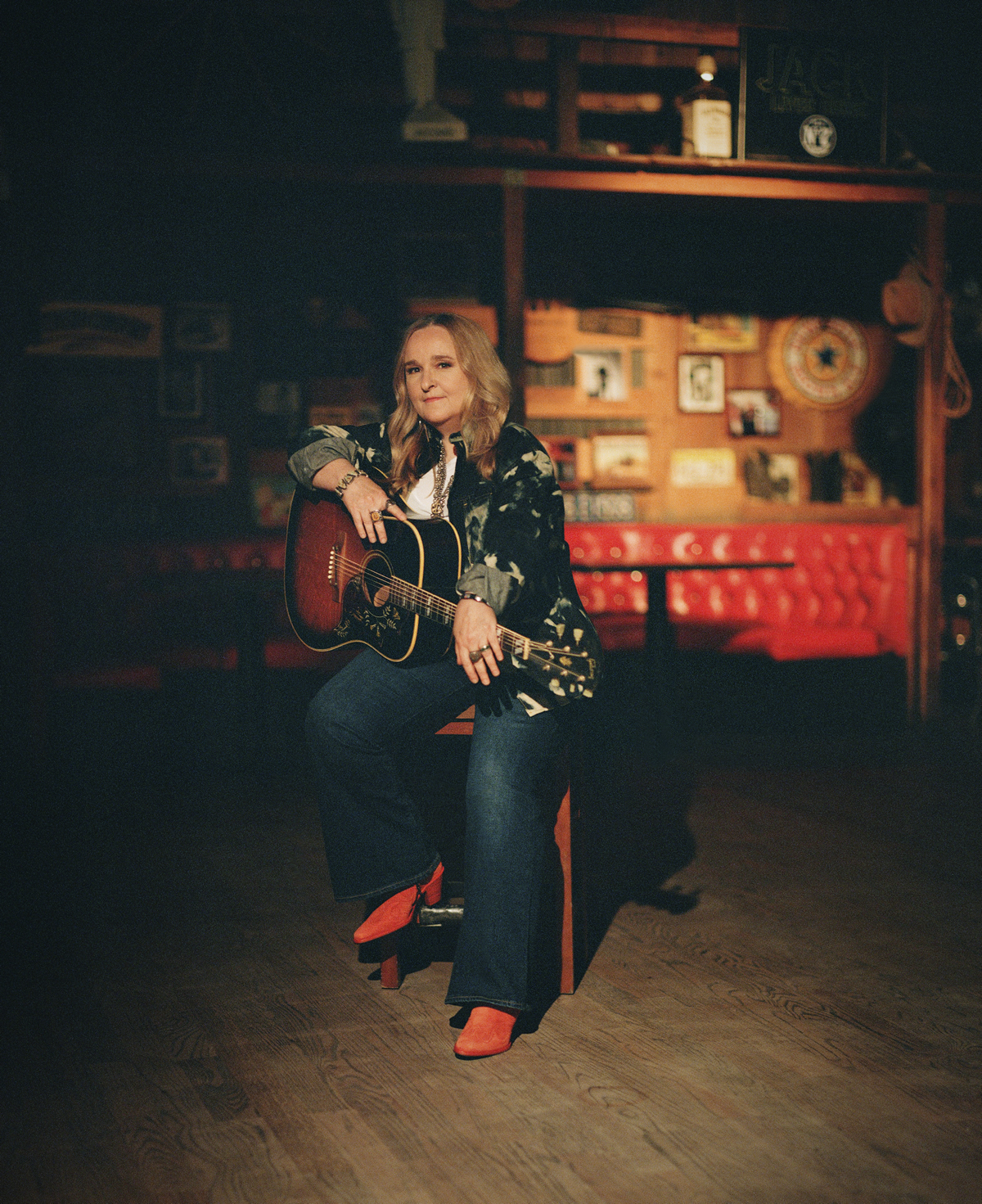 BLADE: You Tweeted a few nights ago about having a tight curfew of just 90 minutes at a casino but then it worked out and you got to do a full set. Why are the curfews so tight at casinos?
ETHERIDGE: Why do you think? They want people at the tables. Like for tonight, we we settled on 100 minutes. They're giving me 10 extra minutes. I don't like it, but in some areas, the only really good venue is a casino, so if you want to reach your folks there, you kind of have to meet them half way.
BLADE: Yeah, but it seems like in concert halls, the curfews can sometimes be really tight too. Even Madonna got her lights shut off a couple years ago. Of course, she's notoriously late, but why are they so strict with these things nowadays?
ETHERIDGE: There are all different situations — concert halls often have union crews that will absolutely shut you down if you go one second over. There are also sound curfews, noise curfews, mostly with outdoor venues, but sometimes indoor as well. They have an agreement with the neighborhood. So you have people in the neighborhood standing by with their phones ready to pounce the minute it goes over one minute, they're gonna call the police. As a performer, you just realize, "OK, it's not just about me." When I don't have a curfew, I usually land at about two hours and some change. That seems comfortable to everyone. Any longer and I think I'm wearing my audience out. When I'm at a place with a shorter show, I just do my best.
BLADE: I know you're a big Chiefs fan. Did you watch that game back in January all the way to the end?
ETHERIDGE: Well, at the end of it, I was on the floor. My wife was like, "Honey, honey, there's still 13 seconds," and I was moaning and sort of getting my feet on the floor and, you know, laying down and throwing a fit. And she's like, "No, there's still 13 seconds." I dragged myself back to the television. And I couldn't believe it. I was like, "Wait a minute. Did we just win?" You know, just really crazy, really crazy stuff. … When you're a fan like that, it's a ride you can't fully explain.
BLADE: Are you in a cordial or good place with your exes? Does it get easier when the kids are starting to grow up?
ETHERIDGE: Oh, yeah. Oh, yeah. And you realize that it's best for the kids if you can really get along and that any sort of conflict that can't get resolved, that gets emotional, does no good for anyone. And absolutely, I have, I've gotten better at that as the years have gone by.
BLADE: Do you have the slightest inkling yet what the next studio album might be like?
ETHERIDGE: Well, I've got some interesting projects that I'm not ready to talk about just yet. But they have to do with my life story. There's a lot of digging up of my past and really telling the story. So I imagine the next series of music you'll get from me is going to be very focused on my journey.