November 22, 2019 at 4:23 pm EST | by Joey DiGuglielmo
QUEERY: Morgen Hunt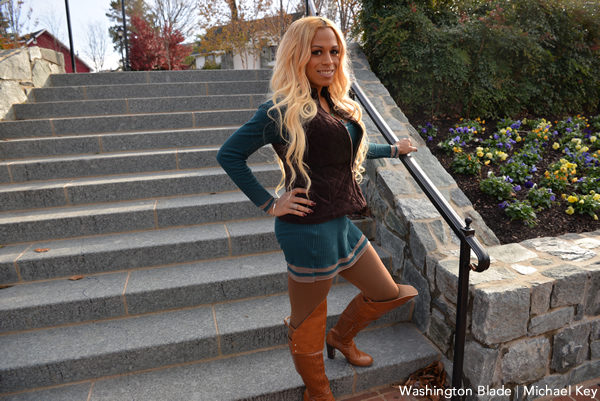 Like many LGBT organizations, the nomenclature of D.C.'s local gay chamber business group has evolved to be more inclusive over time.
Originally founded as Potomac Executive Network and dubbed "PEN," it then became the Capital Area Gay and Lesbian Chamber of Commerce and was often called "CAGLCC." It's been rechristened as The Equality Chamber of Commerce D.C. Metro Area (ECC/DC) and has a new president. Morgen Hunt, formerly the vice president, is succeeding Van Goodwin as his term has ended.
"I feel as a business owner myself within the community it's necessary to have outlets specifically for us," Hunt says. "Helping diversify the crowd at chamber connects and membership has definitely been a goal. We now have a visual that allows people to see all of us in the community are valuable and capable in business."
The volunteer-led group has about 500 members and operates on an annual $20,000 budget. Hunt joined nearly three years ago and served one year as vice president. Goodwin suggested Hunt as his successor.
Hunt started HPL (Horizon Paramedical LLC) four years ago, a business that conducts insurance medical exams in the region. Her vision for the chamber is "an all-inclusive networking environment accompanied with multiple new business relationships provided by the chamber," the lifelong D.C.-area resident says.
The National LGBT Chamber of Commerce holds its annual National Dinner tonight at the National Building Museum. The Washington Blade is among this year's honorees.
Hunt, who is transgender, has been dating Tiger Roos for a year. Hunt lives in Lakeridge, Va., and enjoys meditation, wine and Mariah Carey videos in her free time.
How long have you been out and who was the hardest person to tell?
Since high school and I don't know there was a specific person. Maybe my first crush.
Who's your LGBTQ hero?
Anyone who has helped pave the way for others in the community.
What LGBTQ stereotype most annoys you?
That only certain LGBTQ people are capable of everything heterosexuals are.
What's your proudest professional achievement?
Starting my own business.
What terrifies you?
Failing and losing a sense of self control.
What's something trashy or vapid you love?
Watching zombie movies.
What's your greatest domestic skill?
Organizing
What's your favorite LGBTQ movie or show?
"The Crying Game"
What's your social media pet peeve?
Disconnecting has now become a hard choice.
What would the end of the LGBTQ movement look like to you?
Everyone belonging and feeling equal each and every day.
What's the most overrated social custom?
Pretending to be something you're not for other people who most likely don't pay your bills. We are all humans and a lot of people live less happy due to judgment of others.
What was your religion, if any, as a child and what is it today?
I've been around many religions (mostly Catholic) but now feel more spiritual.
What's D.C.'s best hidden gem?
Blues Alley
What's been the most memorable pop culture moment of your lifetime?
Mariah Carey and Whitney Houston's duet.
What celebrity death hit you hardest?
Whitney Houston
If you could redo one moment from your past, what would it be?
Not allowing fear to hold me back from who I am so long but oh well I'm here now!
What are your obsessions?
Video games, style videos, YouTubing Mariah performances, my love life.
Finish this sentence — It's about damn time:
People start becoming more honest with who they are.
What do you wish you'd known at 18?
How good I had it at that age.
Why Washington?
Well it's a melting pot and I'm no longer scared of her.