November 21, 2019 at 4:05 pm EST | by Patrick Folliard
Salieri envies younger, more talented Mozart in Folger's 'Amadeus' revival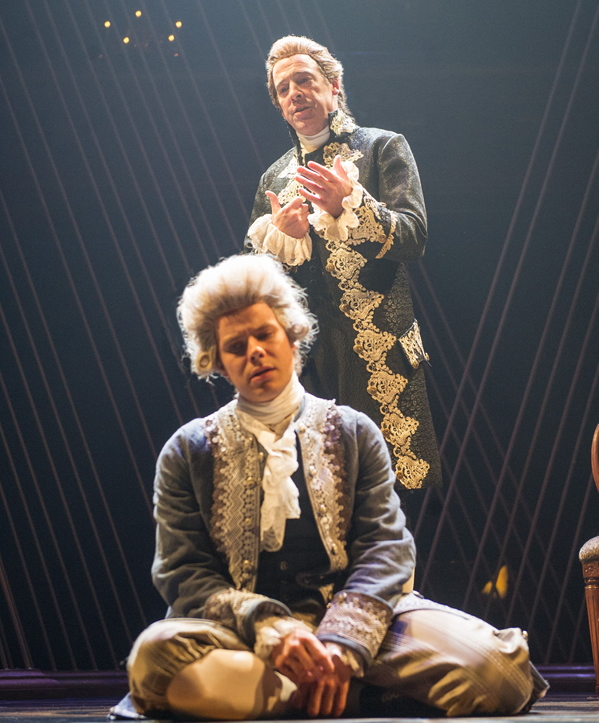 'Amadeus'
Through Dec. 22
Folger Theatre

201 E. Capitol St., S.E.
$42-85.
202-544-7077
Prior to meeting Wolfgang Amadeus Mozart, Antonio Salieri, composer to the court of Austrian Emperor Joseph II, led a neatly organized life. He wrote popular works, was roundly praised and well paid. But all that changes when he hears the music of the younger, more talented composer. Jealousy consumes Salieri, and disguised as Mozart's concerned mentor, he sets out to obliterate his new rival at all costs.
Or at least this is how Peter Shaffer tells it in his brilliantly entertaining, Tony Award-winning play "Amadeus," now at Folger Theatre (first performed in '79, it won the Tony in '81; it was adapted to the screen in a Best Picture Oscar-winning '84 smash). The late British gay playwright gives a fictional account of how the two men's lives intersect. Shaffer toys with rumors including Mozart's death by poison.
"Amadeus" is told in flashbacks. We first meet Salieri (Ian Merrill Peakes) in Vienna in 1823. He's an old man seated in a wood and cane wheelchair on what he claims is the last day of his life. His career is over; he's well looked after but otherwise miserable. Just knowing that he is second rate despite his great successes is unbearably painful. And Mozart (Samuel Adams), long ago dead at just 35, remains on his mind.
Salieri addresses the audience with, "And now! Gracious ladies! Obliging gentlemen! I present to you — for one performance only — my last composition, entitled The Death of Mozart — or, Did I Do It?"
Under Richard Clifford's able direction, time turns swiftly back to 1781. Simply by doffing his dressing gown and cap and standing straight, Peake's bent Salieri is again young and at the height of his powers — powers that he knows all too well are inferior to those of Mozart.
At 16, Salieri, an ambitious boy from provincial Italy, makes a deal with God. "Signore, let me be a composer! Grant me sufficient fame to enjoy it. In return I will live with virtue. I will strive to better the lot of my fellows. And I will honor You with music all the days of my life."
His plan has worked. At 30, Salieri is the enormously successful toast of Vienna. Nonetheless, a meeting with the outrageously boorish, cotton candy wig-wearing, mega-talent Mozart stirs up envy the likes of which Salieri has never before experienced. Plots ensue.
But Salieri's real beef is with God. How could God bestow such gifts on a loutish buffoon? He's furious, so in defiance of his pledge, he breaks the vows he made as a teenager.
Shaffer's smartly balanced writing is a treat. And while the play is undeniably longish (a perfectly constructed, quick-paced first act is followed by a longer second) it's always engaging. Director Clifford, a Folger veteran and longtime partner of British actor Derek Jacobi, has assembled a top-notch group of actors. In addition to Peakes, who's absolutely marvelous as the conflicted, scheming Salieri, and the terrific Adams as Mozart, the cast includes talented Lilla Hokama as Mozart's fun-loving yet loyal wife Constanze Weber. Able trio Deirdra LaWan Starnes, Justin Adams and James Joseph O'Neil play competing advisers to the amiable but vapid Emperor (John Taylor Phillips). Yvonne Paretzky is perfect as Salieri's unrelentingly dull wife Teresa.
Amadeus is a theatrical piece. Rather fittingly, the action is backed by a wall of beautiful outsized musical strings from the abundant imagination of scenic designer Tony Cisek, and underscored by Mozart's awe-inspiring music.
Today we'd describe Shaffer's Mozart as having no filter. He cackles uproariously and indulges in childlike potty humor. He's aware that he should have manners, but simply can't help himself. What's more, he feels confident that is he is by far Europe's best composer so he simply can't understand why he has not been met with more success.
In time, Mozart becomes increasingly impoverished and ill. Devious machinations have stymied his career, yet despite these setbacks Mozart continues to take inspiration form his own, now darker, life. In this diminished state, he composes his gorgeous Requiem, further fueling Salieri's bitter envy.
Salieri knows immortality when he hears it. And he longs to be part of it, however possible.