November 28, 2019 at 11:21 am EST | by Patrick Folliard
Young actor thrives in non-romance tale 'Disney's Newsies'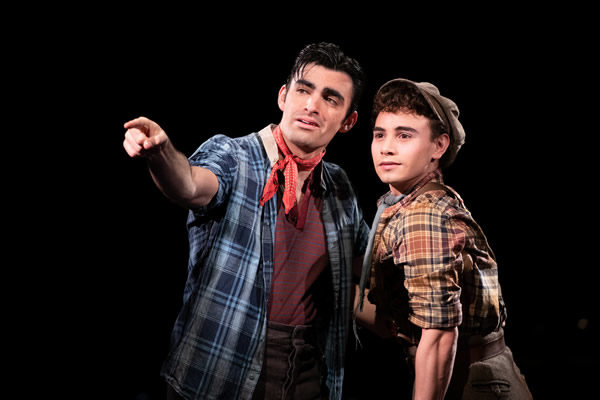 'Disney's Newsies'
Through Dec. 29
Arena Stage
1101 Sixth St., S.W.
$51-125
202-488-3300
As a kid on Long Island, Daniel J. Maldonado dreamed of designing amusement parks and building roller coasters.
Then in middle school, he got a part in "Joseph and the Amazing Technicolor Dreamcoat" and his interests expanded. In the following years, he became increasingly smitten with theater and the prospect of theater as a profession. He went on to attend Rider University in New Jersey where he earned a degree in musical theater. After graduating a semester early, he landed an agent and has worked ever since.
Maldonado's parents were initially a little anxious about their son's career choice, but once they understood there was work other than Broadway smashes and hit movies, they became more relaxed. At 23, the New York City-based actor's resumé boasts a lot of regional theater work, mostly musicals.
Currently he's starring in Arena Stage's rousing production of "Disney's Newsies."
Set in 1899 Manhattan, it's the musical tale of a scrappy, sometimes homeless, group of boys and girls (the "newsies") who sell papers on the city streets. When big-gun publishers Joseph Pulitzer and William Randolph Hearst try to cut their already meager pay, the newsies band together and organize.
Staged by Molly Smith with sensational choreography from Parker Esse, the show features a terrific orchestra and a cast that includes D.C. standouts Edward Gero, Erin Weaver and Nova Y. Payton, along with a diverse and an insanely energetic ensemble of talented young actors.
Maldonado plays Jack Kelly, the courageous, 17-year-old leader of the newsies. Wise cracking and street smart, Jack is a survivor. He's also a romantic who harbors ambitions to make art and escape the grimy city.
"There's a brotherhood about this show that's so electric," says Maldonado, a proud Actors' Equity Association member. "It's one of the few shows not centered around a love story. There's a love story, but it takes a back seat to the importance of brotherhood and families."
While Jack is a sort of father figure to some of the parentless newsies, he also has moments of weakness and naivete, Maldonado says. "I like him and relate to him a lot. I too have some growing up to do. And like Jack, I'm stubborn, but I know there are lessons that I still need to learn."
This is Maldonado's second time playing Jack. His first turn as the gutsy teen with big dreams of heading west was several summers ago at Forestburgh Playhouse in upstate New York.
As Jack, Maldonado brings a great energy and a gorgeous voice to the Arena's Fichandler Stage.
"My voice is a mix of natural ability and training," he says. "I owe a lot to my voice teachers in college to bringing it where it is today. I'm now very confident singing high or low, whatever style. My lessons mainly involved finding a roadmap. I had a voice but I didn't have the technique to always get there."
Extremely comfortable in his skin, Maldonado identifies as bisexual. He easily dismisses comments like "bisexuals are just greedy," or "bisexuality is a just stop on the way to gay town." He says, "People say whatever they say to make themselves feel better. As long as I know who I am it doesn't matter what others think." He's currently in a serious relationship with a woman, also an actor, who's touring with "Escape to Margaritaville." They make time to see each other during breaks.
Molly Smith dedicates the production to young people who speak up for what they believe in and take action, like the Florida Parkland students who have created a nationwide movement for gun control and young Greta Thunberg who is speaking out about climate change.
"There's an upcoming generation that's fearless," Maldonado says. "They're willing to do what the older generation won't. And these younger voices are becoming increasingly louder."
Looking forward, Maldonado, who has Puerto Rican roots, would "love to play any part in 'West Side Story,' maybe do 'Aladdin.' And anything by Sondheim. And the Emcee in 'Cabaret.' If John Stamos could play the part, I figure there's hope for me."