November 28, 2019 at 11:38 am EST | by Scott Stiffler
Character-driven 'Inheritance' echoes literary debt with generational interminglings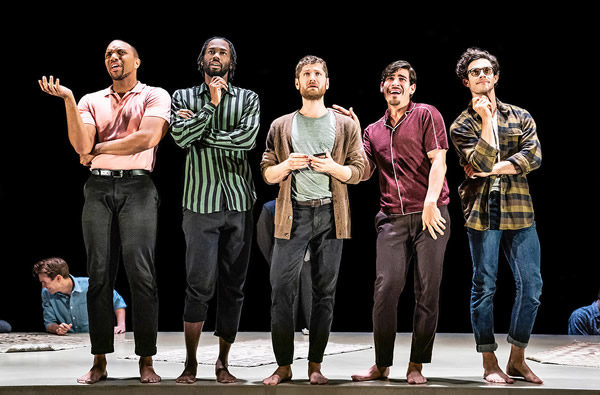 Like a writer on deadline, desperate to fill blank space with words of legacy-worthy brilliance, no one who populates "The Inheritance" is beyond borrowing a page or two from the past, if they think it might prove useful in defining or defending themselves.
Making its mark on Broadway, with much of the stellar cast in tow after an award-winning 2018 run on London's West End, Matthew Lopez's six-and-a-half-hour, two-part look at friendships and friction between contemporary gay Manhattanites and those who lived on the island during the height of the HIV/AIDS epidemic, owes its pulpy plot to "Howards End." Following previews, it officially opened last week at the Ethel Barrymore Theatre (243 W. 47th St.) in New York (tickets are here).
Chalk it up to generational differences if you hold the 1992 Merchant Ivory film adaptation in roughly the same esteem as the 1910 E. M. Forster novel — a transgression committed early on by a youthful "Inheritance" character in one of many alternately playful and finger-wagging know-your-history moments. And we need those moments, especially since Young Man 10 goes on to note, of Forster's turn-of-the-century setting, "But I mean, the world is so different now. I can't identify with it at all."
Lopez knows otherwise. And as Act I begins, he makes his case with epic gusto, examining the eternal push and pull between the knowing and the uninformed, the rich and the poor, the healthy and the sick, the upward trajectory and the downward spiral.
It's that last category that does much of the heavy lifting. By casting actors in dual roles both complementary and contrasting, and bringing together characters who share similar traits and fates, the lines between disparate generations begin to blur although stark differences remain, as they prod each other on matters of meaning and morality.
Even the play's philosophically opposed are hard-pressed not to see themselves in their sparring partner and their willingness to pivot is what separates victor from victim.
At the play's molten core is fundamentally decent, newly minted 33-year-old Eric Glass (Kyle Soller), whose culinary skills and nurturing instincts earn him the loyalty of a catty group of chatty gay chums, each seemingly more driven and successful than he is. Jason and Jason are both teachers (and happily married), Tristan is a doctor and Eric works for a social justice engineering company. That Jasper founded. At 21.
Good jobs and self-image aside, looming large in Part 1 is Eric's increasingly fraught relationship with Toby Darling (Andrew Burnap), a soon-to-be successful novelist/playwright with a hidden past and an emerging sweet tooth for fame, Fire Island, tweaking and twinks.
Eric and Toby live — thoroughly above their station — in a rent-controlled Upper West Side apartment that's been in Eric's family since his grandmother and grandfather signed the lease in 1947 (gasps shot through the Ethel Barrymore Theatre when the monthly charge for their three-bedroom, two-bathroom abode, with terrace, was revealed to be a paltry $575).
Following his grandmother's death, Eric moved in, but not with a strong enough claim to prevent eviction. Years go by until building management starts that process — news Eric keeps from Toby through the duration of their engagement. Words are exchanged. Wedding rings are not.
Also living in Eric's building is contemplative Walter Poole (Paul Hilton), described by Toby as "a sheer curtain in front of an open window. He's like Valium." Walter shares an apartment with his longtime partner, Henry Wilcox (strapping John Benjamin Hickey, who balances his character's Republicanism with intensity, charisma and just enough likability to keep detractors off balance). Both are drawn into Eric's orbit and emerge the better for it, but they've got decades on him and with that comes a gravity that exerts profound influence.
Walter sees in Eric a kindred spirit and uses his own story to set him on a path that will give his life meaning and purpose. Henry's contribution is just as profound, although not as nurturing. (He withholds news of Walter's desire that Eric inherit a steeped-in-history upstate property they purchased during their early years together.)
Henry's denial of that dying wish comes back to bite in Part II, when he and Eric, both feeling the absence of their significant others, form an unlikely bond, which leads to an even more inexplicable marriage. Meanwhile, Toby shacks up with Leo, a down-on-his-luck sex worker who bares a striking resemblance to Adam, the young man Eric and Toby took under their wings in happier times.
Samuel H. Levine plays Adam and Leo, with vocal and posture choices that cry out for a new Tony Award category. Newbie actor Adam, cast as the lead in Toby's wildly successful, based-on-his-book Broadway play, earns him sudden notoriety. Leo winds up back on the streets, when his mentor/student relationship with Toby turns sour.
HIV positive and seemingly destined for the grave, Leo has a chance encounter with Eric, whose separation from Henry will bring all concerned back to that highly contested upstate property, where the play's title looms like the dates-back-to-George-Washington cherry tree that stands firm at the foot of a dwelling filled with the ghosts of former residents.
The house, you see, is where Walter established a de facto hospice for dozens of '80s-era gay men who had nowhere else to turn during the final stages of AIDS. That sprawling act of altruism, which originated with Walter's single act of kindness toward a mutual friend about to succumb to the plague, drew Henry's contempt and infected their relationship until its dying day.
Yikes. That's a lot to digest — and in the unlikely event you lack food for thought during intermission, the condom-filled basket at the tail end of the long line to the men's room reminds one that stimulating conversation isn't the only thing worth pursuing after curtain time.
As for the runtime, a bit of pruning wouldn't hurt. In scenes with Eric and the gang capering about the stage dispensing cocktail party takes on matters such as what constitutes camp, the play enters too-cute-by-half territory.
It's a good thing we have E. M. Forster roaming the boards, because he excels at putting things in context and perspective. Living to 91 and being dead since 1970 will do that to a person. And it doesn't hurt in the least to be played by Paul Hilton, who brings to the role many of the same introspective qualities he's poured into Walter, but with an even more profound sense of loss, melancholy and hope.
Introduced in the prologue as a professorial presence who guides a group of young writers through the creation of the work that will become the play we're watching (subject to revision, as we go along), Morgan is so invested in their success, he even lets them use the first sentence of "Howards End" as a starting point.
Such acts of benevolence come easy to the author, who sees in these young men every brave choice and liberating possibility he denied himself.
Appearing to Leo on a Fire Island beach, under the light of a full moon (yes, he does that sort of thing, just go with it), Morgan calls his gay-themed novel "Maurice," written in 1914 but held for publication until his death, "the most terrifying and the most exhilarating thing I had ever done. Hiding it from the world was the most shameful."
That may or may not be how Morgan (aka Forster) would have actually felt. As written, he's more better angel than dogged biographical sketch — appropriate, perhaps, for a play that reaches its own heights by burning through the source material it inherited. In doing so, Lopez invites us to dine out on a hard truth: Those who follow in our footsteps need good stories in order to create their own, so keep that in mind, and act accordingly.