December 9, 2019 at 6:00 am EST | by Mariano Ruiz
The hope of continuing to achieve rights in Argentina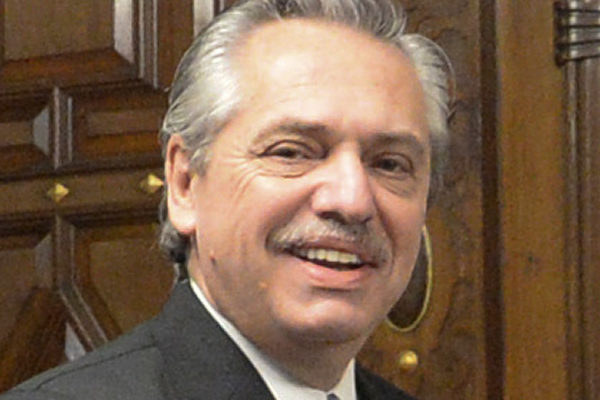 Argentina in October elected center-left candidate Alberto Fernández as the country's new president. On Dec. 10 he will become the ninth elected president since Argentina returned to democracy in 1983. Since then sexual minorities stopped being persecuted by the dictatorship and started to become visible and began to fight for their human rights. Will Fernández's election mark a breaking point for the feminist and LGBTQA+ movement? Time will tell, but what we can confirm is that the Bolsonaro hate style that has recently spread across the region didn't win in Argentina, although two far-right candidates ran for office for the first time.

Fernández was elected in a ticket that brings power back to Argentina's first woman president, Cristina Kirchner, now as vice president. During Kirchner's presidency from 2007-2015, the LGBTQA+ and feminist movements were able to achieve significant policy reforms that positioned Argentina as a world leader in recognizing and protecting marginalized communities and promoting equality. What happened after she left was just pinkwashing.

Outgoing President Mauricio Macri got to office using Trump rhetoric with Argentine style. "Poverty zero" was his main slogan. After four years in power with his center-right coalition, he leaves behind shocking statistics: A third of Argentines living below the poverty line, the economy shrinking by 2.6 percent, inflation soaring to 47.6 percent. Moreover, he significantly reduced the Ministry of Health's annual budget and failed to recognize the right to legal abortion in a country that has had more than 350,000 illegal abortions that put lives at risk. His party also blocked debate in the Argentine Senate on a strengthened anti-discrimination law.

LGBTQA+ people under Macri's government didn't experience direct attacks to their fundamental rights, but people living with HIV were not able to get medication and transgender people lacked access to hormone replacement therapy, a right guaranteed under the 2012 Gender Identity Law. Violence towards LGBTQA+ people and other minorities at the hands of security forces rose significantly during his presidency. For example, a lesbian couple went on trial for kissing in a subway station after Buenos Aires police officers detained them and several gay couples suffered violent attacks on the streets of the Argentine capital.

Even though Macri created the Sexual Diversity National Secretary, he failed to create a budget with enough money to implement significant public policies to protect the rights of the LGBTQA+ citizens. Although he opened safe spaces for LGBTQA+ folks in the city of Buenos Aires his policies never tackled the violence, discrimination and hate that created the needs for the safe spaces in the first place. These efforts, in sum, were mere window dressing.

Fernández has previously worked as a bureaucrat in different governments. As president, he will have the opportunity to put that expertise to work when he manages the entire country's heterogeneous political arena. He will fulfill his role accompanied by his family. Unlikely, the first lady will be his girlfriend since he is not married and previously divorced. His son has already been the target of the hatred of heterosexual fundamentalists, including Bolsonaro's son, since he identifies as bisexual, performs as a drag queen and speaks openly about his sexual orientation. On this topic Fernández was questioned multiple times and declared, "I am proud of my son, how can I not be proud?" This marks a change with respect to his predecessor, Macri, who always tried to show a family model in the style of Trump: Traditional, white and heterosexual.

Fernández will face many challenges to put this South American country back on track, especially with the turbulent atmosphere the region has lately faced. He has the chance to be the president that will help move the LGBTQA+ and the feminist struggle to a proactive level in Argentina.

During the presidential debate, he stressed the need to create a National Ministry of "Women, Diversities and Dissidences" that will be responsible for creating and implementing public policies for sexual minorities and women. Additionally, he promised to roll back the decision that degraded the National Ministry of Health, implement measures to increase purchasing power, and reduce the rates of public services, among other things.

Fernández promises many changes that I hope to see reflected in the Argentine reality in the coming years. It is in his hands to implement substantive changes to continue deepening access to minority rights, reduce inequality and poverty. In short, we have renewed hope that this man will restore our dignity and bring us closer to full equality.