The only thing I want from Santa
Yariel Valdés González remains in ICE custody in La.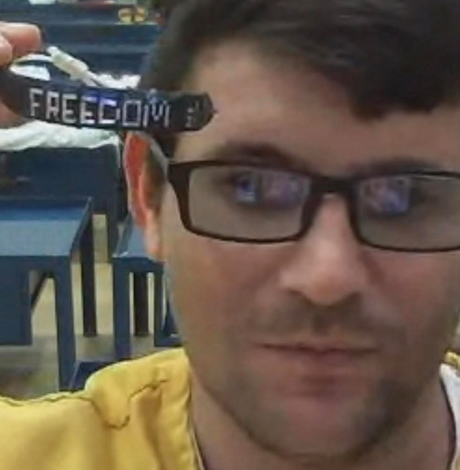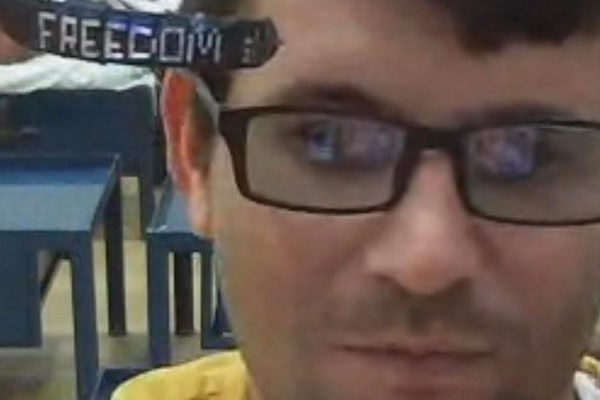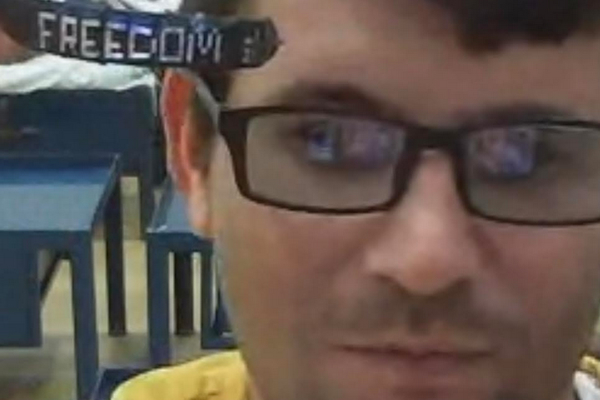 Editor's note: Yariel Valdés González is a Washington Blade contributor who won political asylum in the U.S. on Sept. 18. He remains in U.S. Immigrations and Customs Enforcement custody at Bossier Parish Medium Security Facility in Plain Dealing, La., because ICE has appealed Judge Timothy Cole's ruling in his favor.
PLAIN DEALING, La. — In my homeland of Cuba, Santa Claus has never been very recognizable. The Communist dictatorship does not think much of this fat and jolly character who it says only indoctrinates children in order to cover up the "capitalist consumerism" the U.S. sustains. Cuban children and adults, nevertheless, adore the Christmas spirit that Santa brings each December. We decorate trees, we get together to eat and share with family and even the little ones — and others not so much — receive and give presents to each other before the end of the year or on Epiphany. Stores in Cuba, which are all run by the government, are, contradictorily, decorated with lights and fake pine trees not for Christmas, but to celebrate the end of the year and to mark a new anniversary of the Cuban revolution's triumph on Jan. 1.
This is what matters!
The regime maintains its anti-Christmas façade, a kind of "parallel world" in which it only lives because Cubans are tired of such a false and ridiculous display. So much so that I had to bite my tongue (not literally, of course) many times while working as a radio presenter in my city because I could never mention the world "Christmas." This vocabulary provoked and to this day provokes terror among the directors of any official media outlet, where you cannot legitimatize this anti-Communist tradition. Santa never appeared on Cuban television or in newspapers. The spirit of Santa, to the government, and all that it represents brings with it too many frivolities that are typical of the "enemy of the North" and can ideologically "contaminate" the people. Cuban Christmas is a bit clandestine, quasi-illegal, underground, present for the people and non-existent to those who govern the country. My Cuba is so complex and ambivalent. Despite this reality, I always enjoyed Christmas in my own way in my country. It was an opportunity to visit my family and partner and surround myself with feelings of happiness and love. I am, however, looking forward to my first Christmas in the U.S. and not just for the presents as many may think.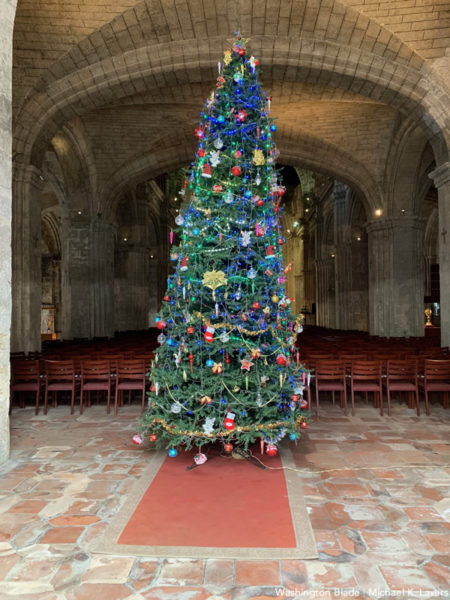 I came to this country at the end of March to ask for political asylum because of the persecution that I suffered in Cuba as an independent journalist. I faced work and ideological sanctions in the island's official press, expulsion from the state-run media system, interrogations and arbitrary detentions, travel bans that did not allow me to leave the country for journalism events. State security officials also carried out voracious and excessive interrogations against my family and friends in my neighborhood. All of this is part of a strategy to persecute and instill fear against independent reporters, those who can neither be controlled nor censured. Freedom of expression, and freedom of press even more so, does not exist in Cuba. Only the Communist Party, with an absolute reign of more than 60 years, is responsible for controlling each written and spoken word. The relationship between the party and media is like the relationship between a master and slave. The consequences will clearly be harsh if you don't follow orders. These are the rules of this unjust and totalitarian power game.
I was able, with a lot of luck, to escape such a hell and on Sept. 18, six months after I arrived in this country, Judge Timothy Cole determined I was worthy of asylum. He granted me the protection for which I had searched so much and for which I fled my country, leaving behind my family, my boyfriend, my friends and colleagues who are still living through a real witch hunt for the simple reason of telling the truth about Cuba.
Repression against independent Cuban media professionals has increased to extremely worrying levels with house arrests, illegal detentions that last several days, physical and psychological violence, registration and confiscation of work equipment, assaults and personal threats or those made on social media by an army of digital combatants who engage in so-called cyberbullying.
Prohibitions on traveling from the island to professional events and conferences under the absurd pretext the independent press is doing the bidding of foreign powers that finance it to force a regime change in Cuba and other barbarities have also increased. This and much more is what awaits me if I am forced to return to Cuba. The possibility of being deported is once again hanging over my head after ICE appealed the asylum granted to me in September. I remain incarcerated at this moment while an appeals court (the Board of Immigration Appeals), comprised of three judges in Virginia, considers my case for a second time.
My life and my future is literally in their hands.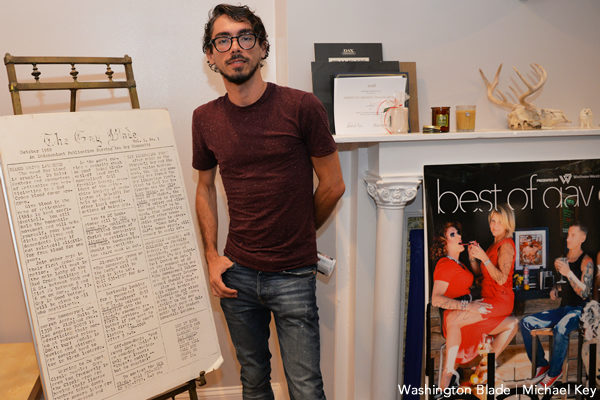 Many people may think I am too dramatic, but those who think differently than the Cuban dictatorship and publicly show it in digital journalism outlets unleash the most ferocious anger.Us freelancers are considered a "national security threat," dangerous and subversive traitors who don't even deserve the air they breathe and the punishment will be double if they are part of the LGBTQ community because the island recently has not been afraid to reveal itself as it truly is: An intolerant and homophobic tyranny. The government has deemed me persona non-grata because of my collaboration with publications branded "counterrevolutionary and subversive" like Tremenda Nota, the Washington Blade's media partner in Cuba, CubaNet and others like YucaByte or this weekly, whose international news editor, Michael K. Lavers, is on the list of those who are "prohibited" from entering the country. I am afraid of how I will be treated if I were to set foot on the island. You can rest assured that I would have never given up my mom's hug or my elderly grandparents' affectionate kiss if my fundamental rights as a human being were not viciously trampled and my life was not in danger. I guess it was a survival instinct that made me close my eyes and suddenly abandon these bonds of blood and love.
I have fought for my salvation from inside a prison for nearly eight months. From detention at the Bossier Parish Medium Security Facility in Louisiana, the Deep South, I intend to remain optimistic and keep the faith, even though my hope withers a little with each passing day of this confinement. The constant support of my family in Miami and Cuba, my lawyer, as well as my closest friends and colleagues in this country and on the island are the only things that have kept me from an emotional collapse and a dead end.
Each night before I go to sleep I pray that justice will once again be done, because these judges are considering whether I deserve the opportunity to live without fear in this great nation. I only hope they uphold Judge Cole's decision that he issued more than two months ago. It would be, without a doubt, the best gift that I could receive this Christmas. Like an excited child, I hope Santa Claus brings his sled to Louisiana and gives me the only present for which I fervently ask each minute: Freedom.
Freedom!
How do we respond to rising anti-LGBTQ rhetoric?
Pastor invokes Bible to call for death of gays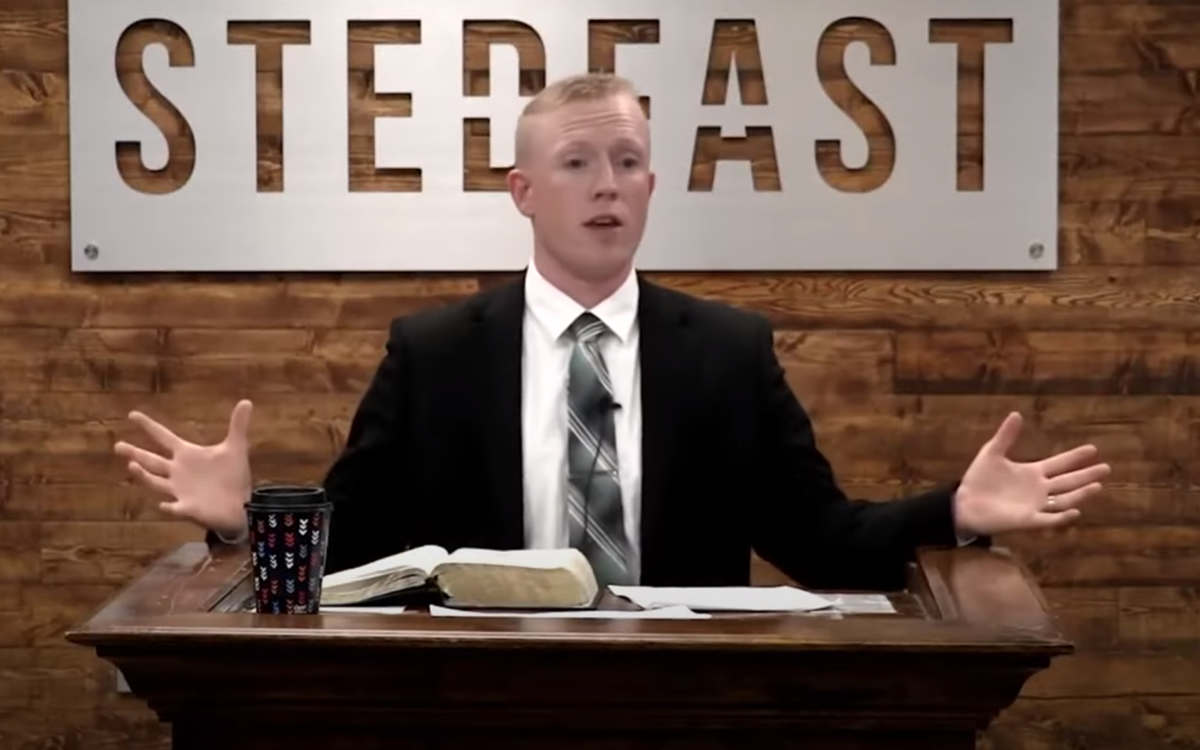 On Sunday, June 4, Pastor Dillon Awes stepped behind the pulpit at Steadfast Baptist Church in Watauga, Texas and declared, "What does God say is the answer, is the solution for the homosexual in 2022?…That they are worthy of death." His statement was greeted by shouts of "Amen" from within his congregation. He continued preaching, saying, "they should be sentenced to death, they should be lined up against a wall and shot in the back of the head." Again, his words were greeted by "Amens" from within his church.
This clip soon spread online, causing widespread backlash from religious and non-religious alike. But for me, an openly gay, former evangelical, Christian pastor, Pastor Awes's words are not surprising at all. In fact, I've heard similar sentiments regularly. The only difference between Pastor Awes and most other conservative Christian pastors across the United States today is that Pastor Awes was willing to say the silent part out loud. After all, Pastor Awes was not wrong — the passage he was preaching on, as commonly interpreted by conservative Christians, does in fact say, "Although they know God's righteous decree that those who do such things deserve death, they not only continue to do these very things but also approve of those who practice them." (Romans 1:32) If you put any evangelical pastor on the spot and asked if they believed that this verse was true and was in reference to LGBTQ+ people, they would have to answer, even if reluctantly, "yes."
In a strange way, I am glad Pastor Awes preached what he did so clearly, because he is revealing the truth that most other evangelicals don't want to acknowledge — that their theology related to the LGBTQ+ community is a theology of death. Despite attempts in recent years by evangelicals to seem more welcoming and inclusive, their core theological claim that the lives and love of LGBTQ+ people is sinful, broken, and abomination is a claim that has resulted in the suffering, oppression, and death of millions of queer people around the world, and it is high time that they own up and are honest about the beliefs they hold and their impact on LGBTQ+ people. Because again, Pastor Awes view is not a minority view, as hard as that might be to believe. He simply said what a majority of evangelical churches teach in a horrifyingly clear way. While most evangelicals would probably disagree with Pastor Awes graphic call for the execution of LGBTQ+ people, the would still affirm the truthfulness of Romans 1:32: "They are worthy of death."
And even if evangelicals attempted theological gymnastics to get out of this horrifying interpretation of scripture that calls for violence toward queer people, their theology, which tells LGBTQ+ people that they must suppress their sexuality or gender identity or seek to change it to be acceptable to God and welcome in the church does, in fact, cause death. A 2015 study published by the National Institutes of Health found that LGBTQ+ people who are subjected to non-affirming religious teachings have a significantly higher rate of attempted suicide. These numbers have been reaffirmed in study after study, and are certainly true in my experience as a young gay evangelical who was forced into conversion therapy by my Christian college in my early twenties. When you're told that a fundamental aspect of your identity is evil and realize that there is nothing you can do to change it, for many, death can seem like the only viable escape from this mental and spiritual anguish.
So how are we to respond to the truth that this dangerous theology is being preached in literally every corner of our nation? How can those of us- religious or not- who are allies to the LGBTQ+ community protect our queer friends and family from violence and harm in the face of millions of people who hold to these dangerous beliefs and are feeling more empowered than ever to say them out loud and to act on them?
First, it's important that we do our work and are informed. The truth is that while this interpretation of the biblical texts is unfortunately common among Christians around the world, it is not an accurate understanding of the biblical texts. The six verses in the Christian scriptures that reference any sort of same-sex behavior are all condemnations of a very particular practice that was common in the ancient world — sexual exploitation related to temple prostitution. Same-sex relationships and queer gender identities were well known throughout the ancient Near East and especially within the Roman Empire — instead of speaking about these realities, every condemnation of homosexuality in scripture is tied to "idolatry," which means worshipping something other than God, and in context is clearly a condemnation of temple prostitution, a practice where people who have sex with priests or priestesses in pagan temples as a way to honor various gods and goddesses. That is what is being condemned in Scripture; there is not a single condemnation of same-sex relationships or queer gender identity anywhere, and we must challenge these teachings the same way we challenged the church's teachings on slavery, the equality of women, and the panoply of other backwards beliefs that have been perpetuated in the name of Christianity.
Second, we must challenge our conservative Christian friends and family members to be honest about what they believe and the harm that it causes. The reason so many Christians shy away from saying things as clearly as Pastor Awes is because they inherently know that these beliefs are dangerous and wrong. How can one follow Jesus, whose central command was to "love your neighbor as yourself" and hold on to a belief that a group of people are abominations who are worthy of death? These are wholly inconsistent, and this inconsistency should be drawn out and turned into an invitation for our friends to change their damaging and dangerous beliefs.
Third, we must continue to uplift and celebrate LGBTQ+ people and relationships in our society. The hatred spewed by Pastor Awes is a clear reminder of why Pride is still so important — Pride celebrations began to increase visibility of queer folks, decrease stigma around our lives and loves, and to use celebration and joy as a tool for resistance in the face of fear and bigotry. Despite the broad progress the LGBTQ+ rights movement has made in the U.S., our lives and rights are consistently under attack and in the post-Trump era, there has been a reinvigoration of anti-LGBTQ+ policies and rhetoric across the nation rooted in fear being perpetuated by the alt-right. Old tropes conflating queer people with pedophilia and sexual abuse have found new life, and the demonization of LGBTQ+ people as a threat to basic morality is now commonly heard on Fox News and across social media. The way we combat such dangerous rhetoric is ensuring more people see and know LGBTQ+ people and for our allies to speak out whenever anti-LGBTQ+ rhetoric is used or policies are proposed, signaling the broad support of queer people by the American public.
During this Pride month, it's time for a renewed commitment to the fight for LGBTQ+ dignity and equality in the United States. It's time for queer people to stand up and let our lights shine brighter than ever before, so that LGBTQ+ youth can see our example and know that there is space for them, in all their uniqueness, in our society.
It's time for allies to be bold in their condemnation of bigotry wherever it occurs. It's time for our nation's leaders to reaffirm their commitment to fight for LGBTQ+ rights in every corner of this nation and around the world. If we remain complacent, fear-based views like those of Pastor Awes will spread and will result in more abuse and violence against LGBTQ+ people. Progress is not inevitable, and the fight has not yet been won. This Pride month, may we return again to the spirit of the earliest Pride marches, standing boldly in the face of fear and bigotry and declaring that love will win in the end. 
Rev. Brandan Robertson is an author, pastor, activist, and public theologian working at the intersections of spirituality, sexuality, and social renewal. He currently serves as the Lead Pastor of Metanoia Church, a digital progressive faith community. 
As Israel readies for new elections, the LGBTQ community is at risk
U.S.-based groups attacking transgender Israelis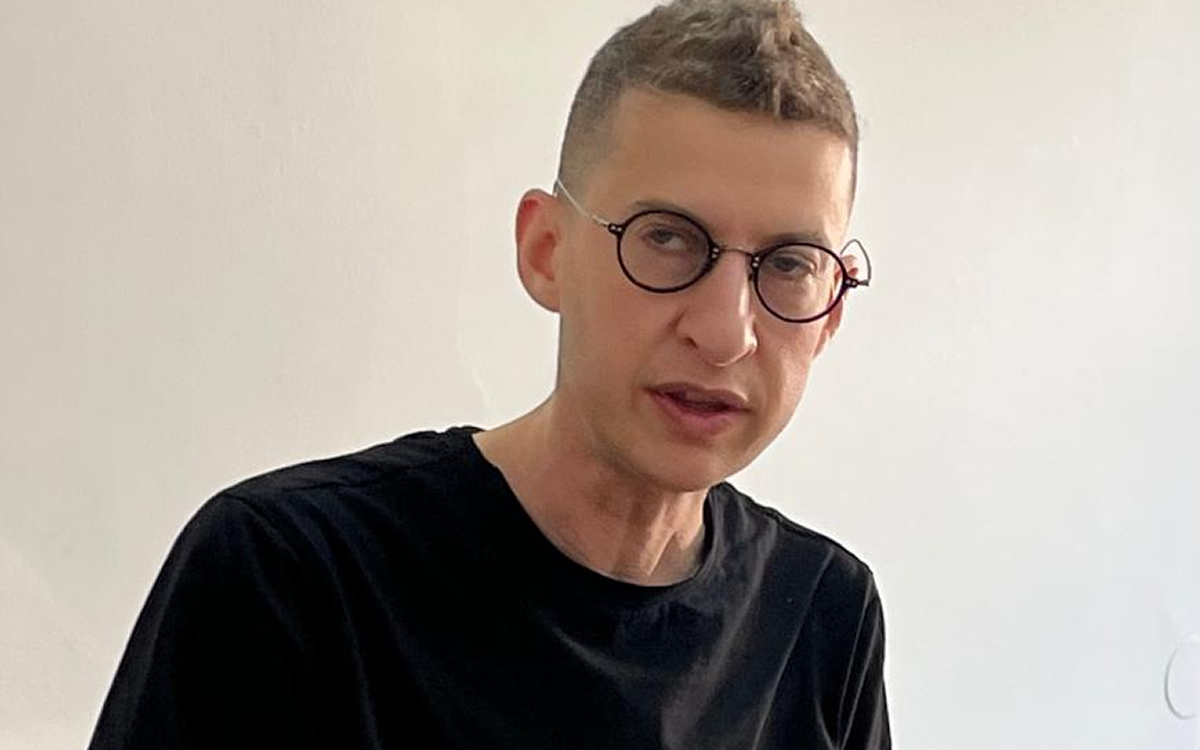 Israel's government has collapsed — and the county is headed to new elections for the fifth time in three years. In this renewed period of uncertainty, Israel's LGBTQ community has cause for particular concern. Any new coalition would likely welcome parties that oppose LGBTQ inclusion back into government, posing a clear and imminent threat to their human rights.
But amidst this trepidation, there is still much to celebrate: 30 LGBTQ leaders from the U.S. met with their counterparts in Israel this month. The backdrop was Tel Aviv Pride, one of the largest in the world. The leaders were there for more than celebrations. They came to learn. As with past A Wider Bridge trips, North Americans travelling to Israel and Israelis travelling to North America shared strategies for building LGBTQ inclusion, fighting conversion therapy, protecting young people needing shelter, and building vibrant pride centers. Pride celebrations got their start in the U.S. and will take place in more than 60 Israeli cities this month. Over the years, both of our countries have imported many successful approaches from one another. But one American import to Israel is less than welcome: Political transphobia. Let's not let it become something that unites our nations.
As leaders of groups in Israel and the U.S., we've watched with sadness as trans kids in America have been put in harm's way through legislation making their medical care less available and prohibiting their teachers and school counselors from providing the lifesaving support they need. And it turns out that the same retrograde forces fighting trans inclusion in the U.S. are backing similar efforts in Israel. There have always been opposition to LGBTQ rights, including trans inclusion in both countries and around the globe. What's new is a vastly well-funded campaign — with plenty of American backing — directed at attacking the Israeli trans community. While the fight for LGBTQ equality in Israel hasn't been easy, historically the community hasn't been used as a political cudgel. That's changing, and we're ringing the alarm bell.
Groups like the Kohelet Forum, which is largely American-funded, are trying to take their American brand of anti-trans hate to Israel. While think tanks and policy shops aren't a new phenomenon in Israel, Kohelet has adopted the broader American model of political change-making. They've launched a constellation of organizations working informally together to usher in transformational policy change. With the support of Kohelet and others, the anti-trans movement has exploded in Israel.
Their orchestrated effort comes at a very unfortunate moment. Ma'avarim, Israel's most prominent trans organization, and the entire Israeli trans community have worked tirelessly for years, building careful relationships, educating important allies — and is making tremendous advances due to an Israeli government that was willing to embrace many key goals. There are historic opportunities to implement new life-saving policies including access to healthcare, legal recognition of gender identity, and diversity in the education system. All of this is now in jeopardy. Just as these successes are coming to fruition, the anti-trans movement is using social media and other tactics to spread disinformation and false accusations such as "men in dresses raping women in bathrooms." These fabrications are felt by many in the trans community to be like anti-Semitic blood libels — made-up stories that lead to fear, hatred, and even violence. They help fuel anti-trans advocacy and lobbying to advance exclusionary policies and legislation to deny Israeli transgender persons their dignity and rights.
The new anti-trans movement has several distinctive features that require new responses. Firstly, unlike the traditional opposition for LGBTQ rights that springs from religious and social conservatives, anti-trans advocacy is now often fronted by self-styled "progressive" women. They bring with them established connections within liberal circles. Secondly, the central arena of the "progressive" anti-trans campaign is both traditional and social media — drawing on existing networks with hundreds of thousands of followers, while trans community organizations have minimal presence in social media beyond the trans community. Thirdly, the funding being poured into anti-trans campaigns eclipses the budgets of LGBTQ organizations. In Israel alone, the groups waging battle against the trans community have budgets in the tens of millions with hundreds of paid staff, many of whom work on anti-trans campaigns.
None of us should sit idly by while these attacks on the trans community take place. As in other countries, this anti-trans hate movement poses an immediate threat to the safety and wellbeing of transgender and gender non-conforming persons. We cannot allow them to have their very existence denied.
But it doesn't stop there. While transgender persons are the immediate targets of hate and violence, anti-trans campaigns have far-reaching political aims: dividing the liberal bloc of women's, LGBTQ and minority rights, instilling hate, and turning liberal democratic societies against a newly created enemy from within. Anti-trans propaganda has proved instrumental in spreading disinformation and conspiracy theories that further undermine democratic values in society.
The eyes of the world often look to Israel on LGBTQ rights. Dana International, a trans woman from Tel Aviv, won the Eurovision music contest, became an international hero, and played a role in ushering greater acceptance of the trans community.
The world will be watching after Israel's new elections: Will they continue to make progress in affording rights and protections to LGBTQ people? Or will they turn back the clock? Now more than ever, fighting the anti-trans movement must be a top priority not only for the transgender community but for LGBTQ people, feminists, and the wider progressive community in Israel- and in the United States.
Ethan Felson is the executive director of A Wider Bridge, an organization that fights for LGBTQ inclusion, counters anti-Semitism, and strengthens relationships between the LGBTQ community in Israel and North America. Elisha Alexander is the founding director of Ma'avarim, Israel's leading NGO advocating for the transgender community.
Celebrating Pride within the military
Advancing equality and inclusivity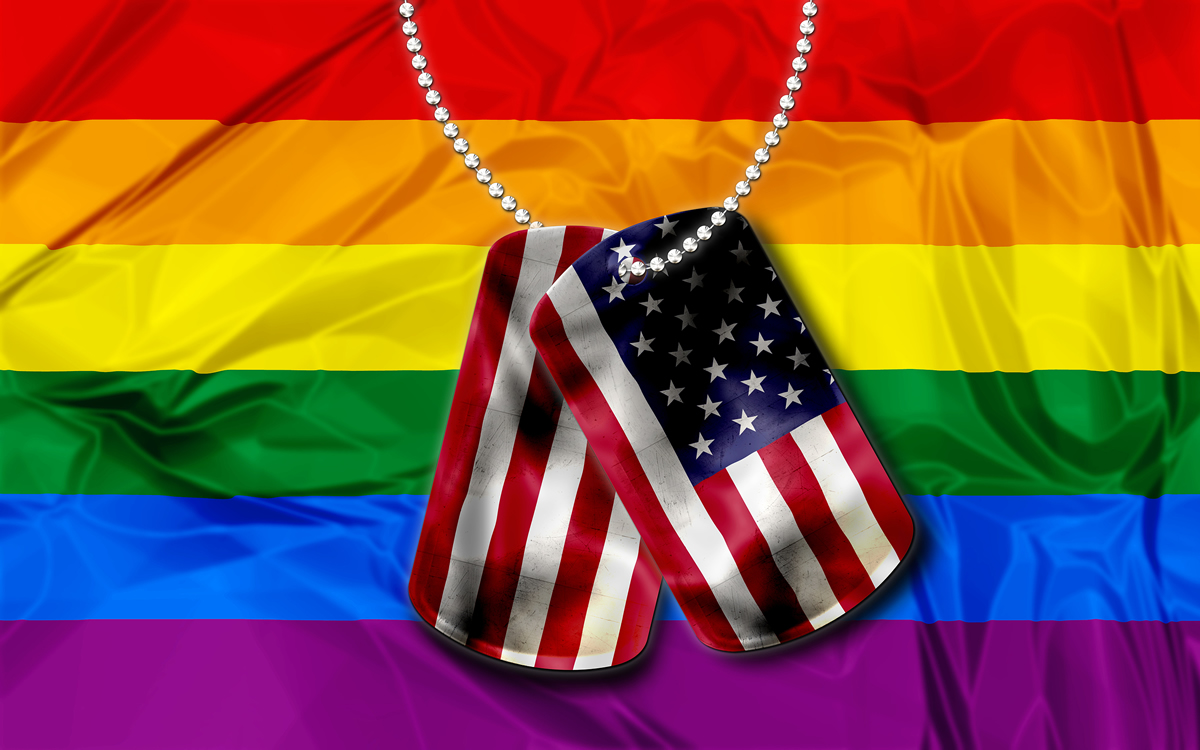 Discrimination weakens us and when it exists within a community like the military, where its members constantly rely on each other to survive, it is particularly destructive. As a Black man and veteran, I have first-hand experience of the very real and prevalent discrimination that exists within our military. But racism is just one type of prejudice the military community is grappling with; LGBTQ+ discrimination is another.
Last Pride month, I called upon fellow Americans to consider each individual's role in helping champion and support long-awaited change for LGBTQ+ servicemembers and veterans. Now, almost exactly a year later, the progress we've seen is minimal at best.
Out of a veteran population of 19 million, an estimated 1 million U.S. veterans identify as LGBTQ+. Yet, in spite of their significant presence, LGBTQ+ veterans continue to face unequal treatment, blatant discrimination, and a far greater number of obstacles than their non-LGBTQ+ counterparts.
Throughout the history of the military, an estimated 100,000 LGBTQ+ servicemembers have been discharged from service simply because of their gender identity or sexual orientation. At least 14,000 of them were discharged under the "Don't Ask, Don't Tell" law. These other-than-honorable discharges have caused countless servicemembers to confront unprecedented and life-altering losses, many of them are still dealing with the ramifications today.
An other-than-honorable discharge is more than just a job loss. Its effects can compound further into a series of negative consequences far beyond the discharge itself. Those who are forced to leave the military under such circumstances are not likely to be allowed to re-enlist in the Armed Forces or reserves. Bad paper discharges also hamper future employment opportunities for LGBTQ+ veterans, particularly in the government. This significantly affects the financial security and the overall career trajectory of many.
The direct impacts of these discharges, as well as the constant burden placed on LGBTQ+ veterans to avoid them, have led to horrible health consequences for too many. Ex-servicemembers who were forced out of the military under DADT have reported debilitating mental health issues, including depression and trauma disorders. Thus, it is no surprise, that DADT has left a legacy of high suicide attempt rates (15 times higher than veterans overall) among LGBTQ+ veterans.
Other than honorable discharges under DADT also led to housing instability among LGBTQ+ veterans. Often ineligible for housing vouchers afforded to other veterans, coupled with financial insecurity, many LGBTQ+ veterans have experienced homelessness. Long after the DADT repeal, LGBTQ+ veterans are still struggling with homelessness.
LGBTQ+ servicemembers today have inherited major burdens from the era of DADT and even earlier. They are still less likely than non-LGBTQ+ active-duty servicemembers to report that they are currently covered by any form of health insurance, less likely to report owning a home, and are four times more likely to report an overall financial difficulty getting by.
COVID-19 has only amplified the dangers faced by at-risk veterans over the past two years. My organization,
Iraq and Afghanistan Veterans of America's comprehensive care program, the Quick Reaction Force (QRF), has seen a nearly 500% increase in veterans reaching out for help since the start of the pandemic. 72% of the outreach included veterans seeking support for mental health needs, economic insecurity, homelessness, or a combination of those issues.
Our nation has failed to protect those who dedicated their lives to protect others. So how do we push for change? Passing the Equality Act into law is certainly a start. The bill aims to expand federal civil rights protections and prohibits discrimination based on sex, sexual orientation, and gender identity. The bill passed the House with bipartisan support, and advocates are pushing for a vote in the Senate in the coming months.
In addition to the Equality Act, Congress must work to include the proposed "Truman Amendment" to the FY 2023 National Defense Authorization Act (NDAA). The amendment aims to ensure that eligibility for service in the military is not influenced by race, color, national origin, religion, or sex (including gender identity, sex characteristics, or sexual orientation) of an individual. Such non-discrimination policies, while significant on their own, are limited in their application and enforcement as executive orders. Through inclusion in NDAA, the Truman Amendment would codify these protections into law.
Policymakers saying they are "encouraged" by the advancement of legislation like the Equality Act and Truman Amendment in Congress without working to actively pass them, is not enough. We must call on our Senators to pass the Equality Act and to include the Truman Amendment in the NDAA.
While we cannot undo the harm suffered by LGBTQ+ servicemembers and veterans, it is our responsibility to ensure that their sacrifices are recognized and they are given the acceptance and protection they are owed. Together, we can achieve this.
Jeremy Butler is a Navy veteran and the CEO of the HYPERLINK "https://iava.org/" \t "_blank" Iraq and Afghanistan Veterans of America.